[FREE] How to Download YouTube Subtitles/Closed Caption?
April 16, 2020
YouTube's automatic audio transcription for videos is called "Closed Captions". With the ASR technology, there is no doubt that YouTube video subtitles are useful for many foreign audiences speaking different languages. The original intention of this function is to provide convenience for hearing impaired users all over the world by converting video sound into text subtitles. The software engineer who developed this function is also a deaf.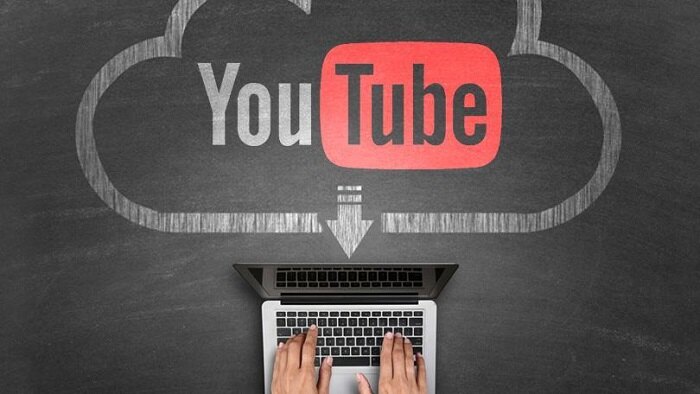 Part 1. Can I Download YouTube Video with Subtitles Embedded?
It's always feasible to download subtitles and closed captions (cc) from YouTube videos, because YouTube videos and subtitle files are generally separated as independent files when being uploaded to YouTube.
That's why it's impossible to download both the YouTube video and the subtitle file together unless these two were already embedded before being uploaded to the platform. Or, you can only download them respectively and combine them together later. To download a separated subtitle of the YouTube video and combine it with the video, directly jump to Part 3 and see how.
So when you access a YouTube video with translation, first of all, you need to check whether the video you want to download is added with closed captions files.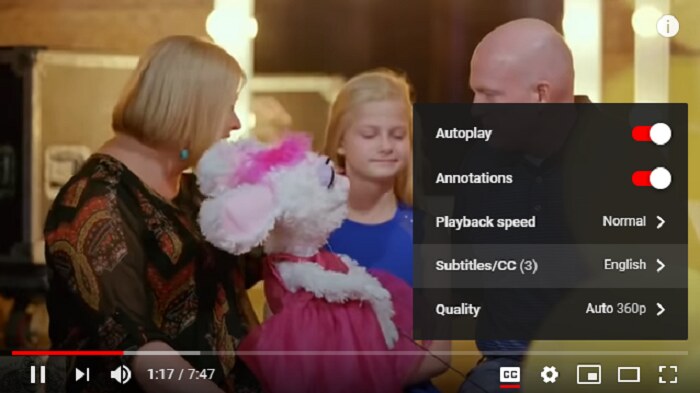 NOTE: SRT files, known as SubRip format files, contain subtitles/closed captions information for videos such as the sequential number of subtitles, start and end timecode, subtitle text. Besides, SRT file itself does not store any video data.
[Tips] Check If the YouTube Video Has Closed Captions to Download Separately
STEP 1. Open the YouTube video with subtitles you want to download.
STEP 2. Click the subtitle icon beside the gear button on the video, which is displayed in "CC", then a notice will show up and ask you to select the language you need in "Settings".
STEP 3. Go to "Settings" by hitting the gear icon. If there are different languages files provided, that means the video has uploaded different subtitles for audiences to choose. If there is only an auto-translation option, it means that the video doesn't have added closed captions files.
Next Let's learn about how to download closed captions of a YouTube video in SRT file.
Part 2. How to Download Closed Captions from YouTube in SRT file?
When you decide to download subtitles from a YouTube video, you can download them with the help of a subtitle downloader. There are many YouTube subtitle downloaders provided on the Internet. Here, we recommend two most professional and safe YouTube subtitle downloaders to you.


1. How to Save Closed Captions from YouTube to Windows/Mac?
The first tool I would like to introduce is
VideoHunter
.
In fact, downloading YouTube subtitles is only one of the amazing functions provided by VideoHunter, which is dedicated to serve users to download high-quality video or audio from online video websites. Moreover, the online video websites VideoHunter supports are not limited to the mainstream video-sharing platforms like YouTube, Facebook, Instagram, Vlive, Tumblr, Dailymotion, Bilibili, and other 1,000+ websites.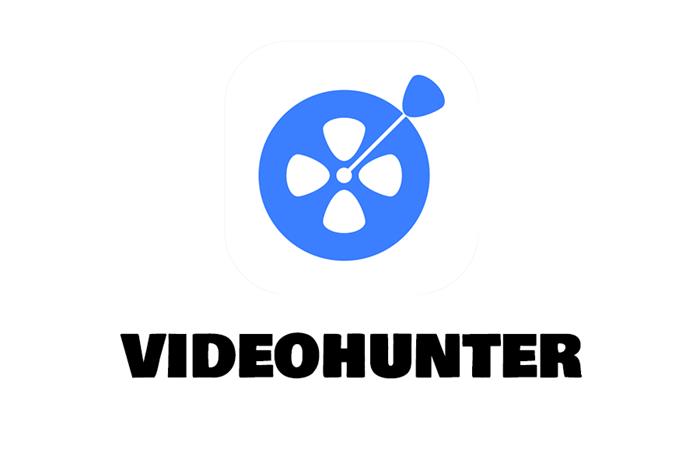 Meanwhile, VideoHunter is not only a downloader but also a video/audio converter, which provides users with the mutual conversion between 20+ media formats. While providing these services, VideoHunter can also guarantee high-speed and high-quality process.
NOTE: Video Converter is only available on Mac version currently. Win will also add it in the near future.
To download the subtitle of YouTube video as SRT file, the steps are very simple. Now, download the subtitle from YouTube video by following the instructions below.

STEP 1. Install and launch VideoHunter on your computer. In the interface, you should click "Downloader" in order to download subtitle files from YouTube video in SRT format.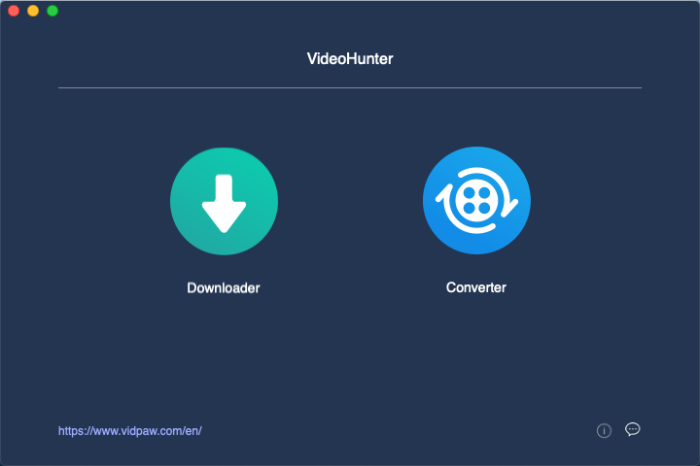 STEP 2. Move to YouTube website and find the video you want to download. Please make sure it has the closed captions. Then you need copy the URL of the YouTube video and paste it in the download bar of VideoHunter bar, then click on the "Analyze" button.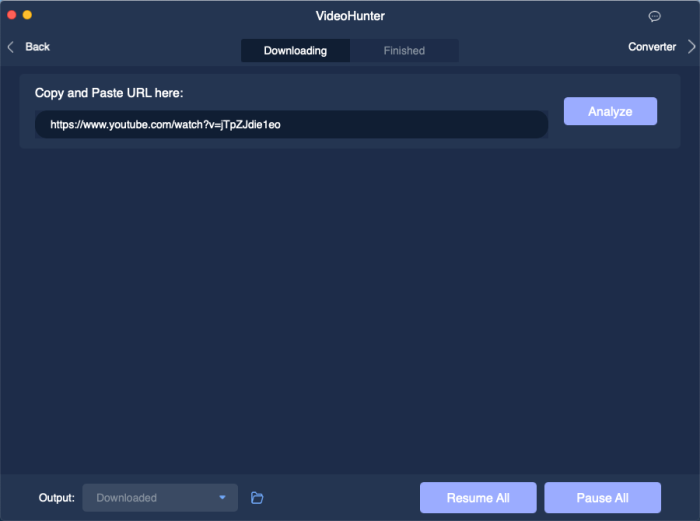 STEP 3. It will load the information of the YouTube video and extract the closed captions if the video has. You can select to download the one in the language you need. Just hit the "Download" button and the YouTube video subtitles will be downloaded offline.
Once the download is completed, you can find the SRT file downloaded in the local folder you choose.
2. How to Download YouTube Subtitles without Software?
Another more convenient way to download YouTube subtitles is to do it without using a software. To do this, you only need an online YouTube subtitle downloader. Hence, I would like to introduce VidPaw Subtitle Downloader to you.
VidPaw Subtitle Downloader
is specially designed to help users download online video subtitles with highly specialized and professional service. Although it is an online tool, it can also guarantee a high-speed downloading experience to users.It can detect all the added closed caption files added to the YouTube videos and allow you to download for free.
VidPaw Subtitle Downloader is also simple to use as other VidPaw online downloaders do. The specific downloading steps are as follow:
STEP 1.
Head to the YouTube and access the video you want to download. After making sure that the video is equipped with an extra uploaded subtitle files, copy the URL of the YouTube video from the address bar.
STEP 2.
In your browser, navigate to VidPaw Subtitle Downloader now. When you have pasted the URL of the YouTube video to the downloading bar, click the "Download" button.
STEP 3.
After VidPaw Subtitle Downloader analyzed the URL and read all the uploaded closed captions, you can select the language you need and click the "Download" button to save the subtitle file in SRT format offline.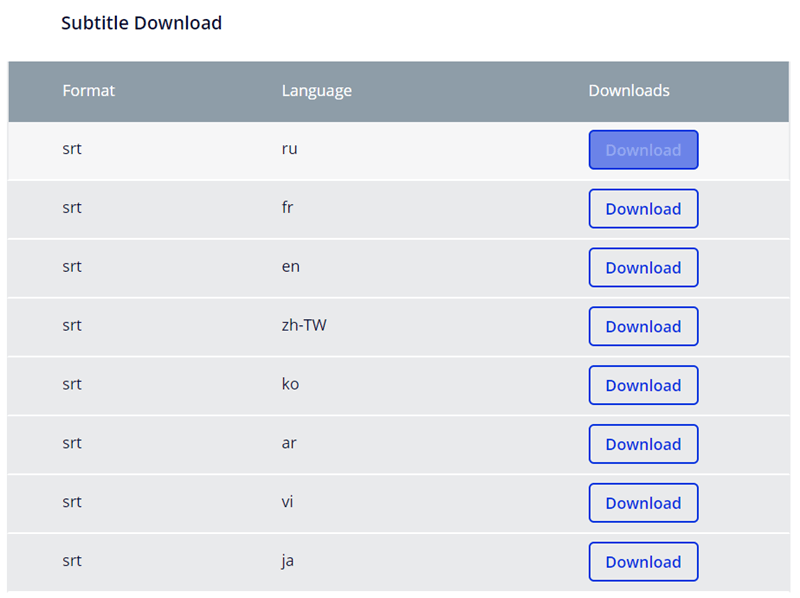 After that, you can upload SRT file to embed subtitles in the video.


NOTE: You can also directly open the YouTube video on a browser. Next, type "paw" after "youtube" and hit "Enter" button. And then, you can download the subtitles according to the language you need.
Both of the above methods download YouTube video closed captions in SRT file separately. After downloading YouTube video and the closed caption separately, you can make full use another program to combine them together again with only simple clicks - that is using Video Converter Ultimate. The tutorial will be showed in the next part. Read on.
Part 3. How to Combine YouTube Videos and Subtitle Files Together?
Video Converter Ultimate can easily combine YouTube videos with subtitle files together, which is just one helpful function provided by the software. CVideo Converter Ultimate is a video and audio converter with comprehensive functions. It includes the following features that make people bow to it:

* Facilitates professional conversion between 300+ video and audio formats;
* Support high-quality video conversion, including 4K, 1080p HD, 720P HD, etc. without quality loss;
* Support converting between popular formats such as AVI, MKV, MOV, MP4, MP3, WMV, WebM, M4V and FLV, etc. ;
* 6X faster conversion speed with an acceleration mode added;
* Supports simple video editing features such trim video, crop video, add watermark, apply effects, etc. to adjust the video/audio before converting.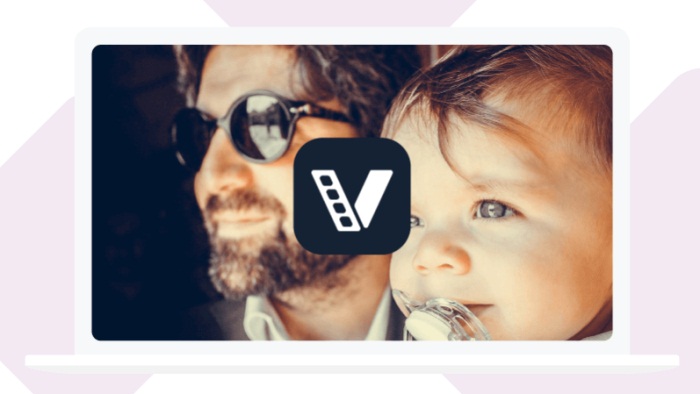 Now follow the tutorial to combine YouTube video and the subtitle file again in Video Converter Ultimate.
STEP 1. Install and launch the Video Converter Ultimate on your PC. Click "Add Files" To add the downloaded YouTube video to Video Converter Ultimate.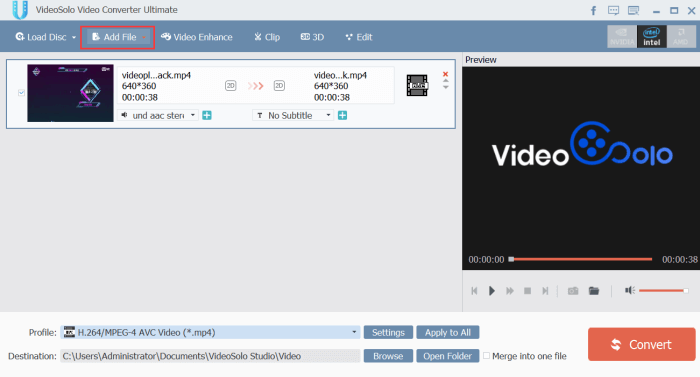 STEP 2. After uploading the video to the software, you will notice a "No Subtitle" section under the video information. By clicking the "+" icon, then you can upload the YouTube subtitle file on your computer for adding to the YouTube video.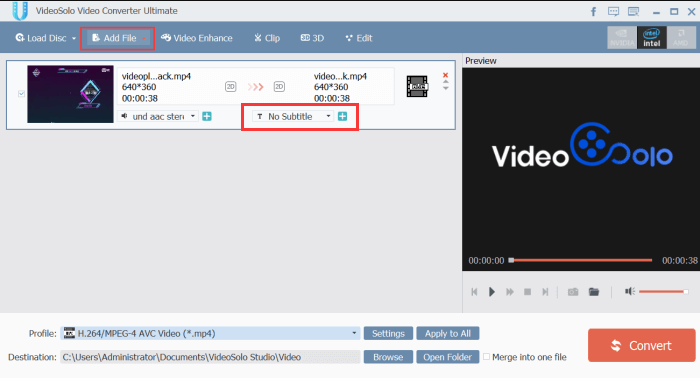 STEP 3. Finally, simply click the "Convert" button and Video Converter Ultimate will combine the YouTube video and subtitle file together.
When the conversion is done, the downloaded YouTube video and subtitle file can be merged together. If the YouTube video has its own embedded subtitle, directly use VideoHunter and you can get the high-quality translated YouTube video for offline playback. It does great help to all of you.
Excellent

Thanks for your rating.