Nowadays, people must have heard about Blu-ray Disc/Folder, which is a tool that is used for storing high quality video/audio contents. We know that the higher quality the video is, the larger size it needs to occupy. Blu-ray Disc/Folder is designed for storing these large video/audio files, because the storage space of a Blu-ray Disc and Folder can be up to 25/50GB high. However, a drawback of using a Blu-ray Disc/Folder to store videos should be that users need to use a Blu-ray Driver to access the contents inside it, then they can be played.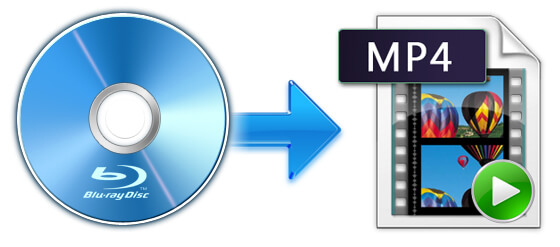 This arises inconvenience because people fail to play the Blu-ray videos at anytime on any device they like. When there has no Blu-ray Driver or player, the Blu-ray content is unavailable to be played. So people are seeking for ways to save the video content from Blu-ray Disc/Folder to a common format, so playback is more convenient. To help figure out this problem, we made this blog here to help. Read below and you can learn an easy solution to rip and convert the Blu-ray Disc/Folder content to MP4 on your Windows or Mac.
Part 1. Recommendation: Blu-ray Ripper
To rip and convert the Blu-ray Disc/Folder to MP4, you need the help of a professional Blu-ray ripper, so that the quality will remain original, and your playback experience can be maintained as it used to be. The ripper that I want to introduce to you is Blu-ray Ripper.
Blu-ray Ripper is a full-feature ripper, which provides the best ripping service to let its dear users to save the Blu-ray videos out of Blu-ray Disc/Folder to common formats with high quality. There are 300+ video/audio formats available for free selections, and it concludes most popular and mainstream formats, such as MP4, MKV, MOV, FLV, M4V, MP3, AAC, OGG, WAV, M4A, etc. Besides, users can output the contents according to different devices, for example, iPhone 11, iPhone X, iPhone XS, iPad Pro, Samsung Galaxy, etc. There will have options in Blu-ray Ripper directly.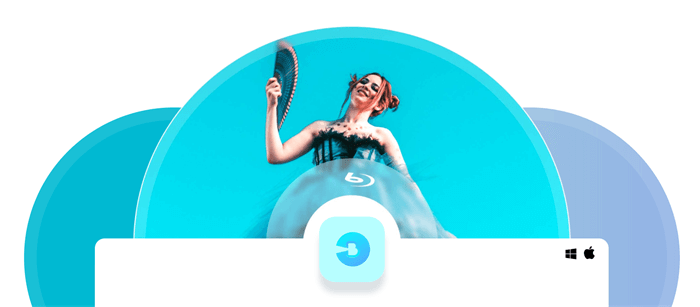 Not only that, Blu-ray Ripper can rip the Blu-ray Disc/Folder with very quick speed because there are multi-threading, multi-core and GPU acceleration technology embedded in the program to make the performance to be more speedy. At the same time, users are free to adjust the parameter settings in their own preferences. Resolution, aspect ration, bitrate, frame rate, video encoder, audio channels, sample rate, audio encoder, etc. can all be set if you need.
More surprisingly, Blu-ray Ripper has video editing functions, so before outputting the Blu-ray videos, users have the chances to edit them by using these tools. The basic editing functions such as Trim/Crop/Rotate, Brightness/Contrast/Saturation adjustment, add subtitle/audio tracks/3D effects, are all available in Blu-ray Ripper. With so many useful functions, Blu-ray Ripper can be the best choice for you to rip the Blu-ray Disc/Folder.
Part 2. How to Download and Install Blu-ray Ripper on Windows/Mac
If you have been attracted by Blu-ray Ripper's amazing features, why don't download the program and give it a try to get your wanted Blu-ray Disc/Folder converted to MP4 right now? Here are the simple steps to show you how to download and install Blu-ray Ripper on computer including Windows and Mac.
STEP 1. Firstly, if you want to become the register user, you need to purchase the program and get a license code on its official website, VidPaw. Just go to the platform and navigate to the online store for purchasing it.
STEP 2. After purchasing the item, you would get the license code in your email (which you use to purchase Blu-ray Ripper). Then you should open Blu-ray Ripper after installing it on your Windows/Mac. You would notice a pop up window that asks you to register the full version.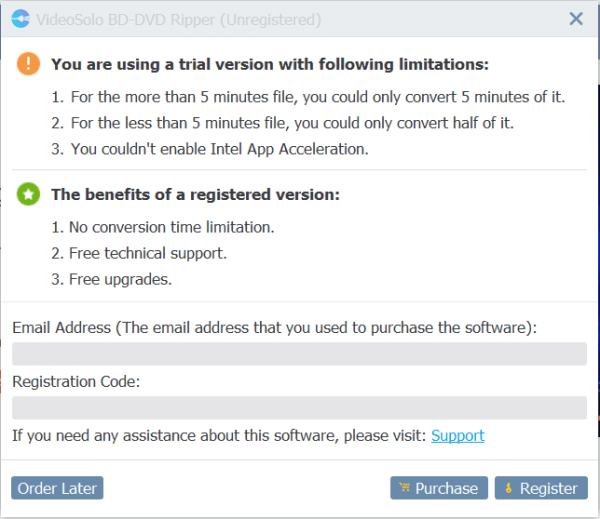 STEP 3. Now, please enter the email you used to purchase Blu-ray Ripper as well as the license code you got just now. Then hit Register and all things are done.
NOTE: If you are the free user, after skip the register step and directly enter the interface of Blu-ray Ripper, then you can use the service directly.
Part 3. How to Rip and Convert Blu-ray Disc/Folder to MP4 on Windows/Mac
After downloading and installing Blu-ray Ripper, now you can use the program to rip and convert your Blu-ray Disc/Folder to MP4 with simple clicks. In the following, you can read about the steps on using Blu-ray Ripper. Check them now.
STEP 1. Open Blu-ray Ripper and Load Blu-ray Disc/Folder
Because in the former part, you have downloaded and installed Blu-ray Ripper to your Windows/Mac, now just launch the program on your computer. In the top left side of the toolbar in Blu-ray Ripper, click the "Load Disc" option, then select "Load BD Disc" or "Load BD Folder" according to your need for importing the Blu-ray content to the program.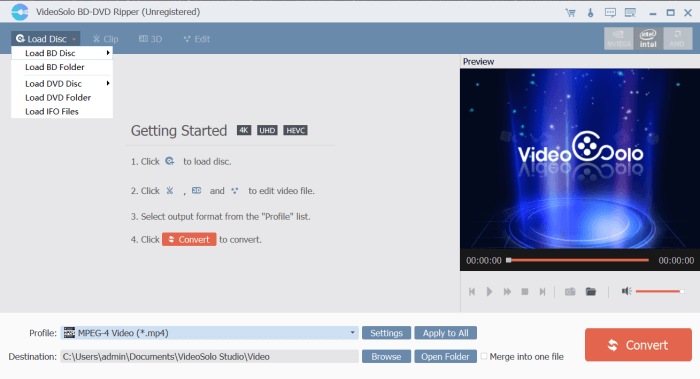 STEP 2. Edit the Blu-ray Content
After loading the Blu-ray content from Blu-ray Disc/Folder to Blu-ray Ripper, you can simply edit the video by using the tools provided in the program on the tool bar, such as "Clip", "3D", "Edit".
STEP 3. Choose MP4 and Other Video Settings
Finishing editing the Blu-ray video, then, you need to select MP4 as the output format. Under the workplace, you can browse the "Profile" section to find MP4 from 300+ output formats. Then beside, you can also click "Settings" to make more advanced video settings such as adjusting the resolution, ration, bitrate, frame rate, video encoder, etc.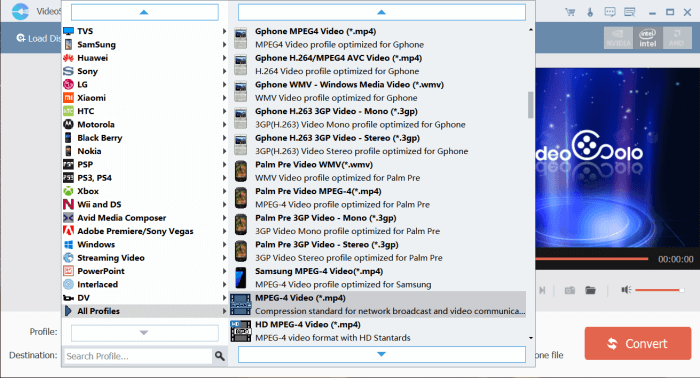 STEP 4. Choose Output Folder and Rip the Blu-ray Video to MP4
Under "Profile", you are also available to choose an output folder for saving the ripped Blu-ray MP4 video on your Windows/Mac. Finishing all the choices, easily click the "Convert" icon on the right side, and you can rip and convert the Blu-ray Disc/Folder to MP4 on your computer.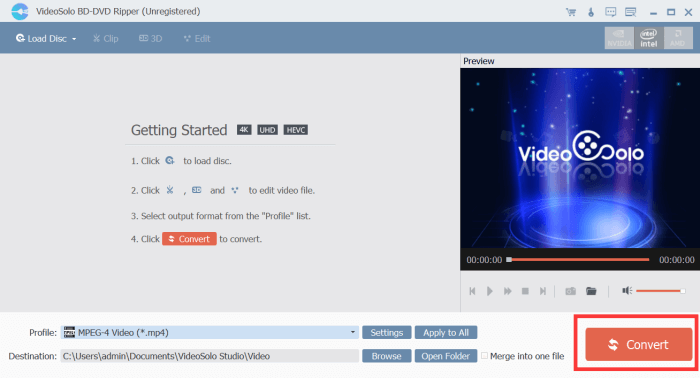 After getting the Blu-ray Disc/Folder to MP4 on your computer, you can play the Blu-ray videos on any of your devices at anytime and anywhere you like. Blu-ray Ripper just sets the Blu-ray content free from the limitations caused by Blu-ray Disc/Folder. Don't hesitate and try Blu-ray Ripper if you need!