Funny Videos Download | Top 5 Best Funny Videos Sites List
There's no doubt that laughter is the medicine to help people to get rid of a bad mood. Lovely animals, adorable babies, and hilarious memes can make you giggle for a whole day. Sometimes, when I meet some funny videos and memes on the Internet, I would like to share it with my friends. But I'm always wondering where can I get more funny videos? How to download funny videos, memes? If you have the same question as mine, you can go on reading this post so as to find the answers.
Video Tutorial:
Part 1. 5 Funny Meme Videos to Make You Laugh
Here I choose the top 5 funniest videos from YouTube. Hope these videos can make you laugh hard!
TOP 1. WATCH and TRY TO STOP LAUGHING - Super FUNNY VIDEOS compilation
Likes Rating: 176K
View: 62M
TOP 2. 10 BEST PRANKS AND FUNNY TRICKS || Tik Tok Memes Compilation by 123 GO!
Likes Rating: 286K
View: 54M
TOP3. CLEAN VINES YOU CAN SHOW YOUR GRANDPARENTS
Likes Rating: 61K
View: 33M
TOP 4. 11 Funny DIY Couple Pranks || Tik Tok Memes and More
Likes Rating: 193K
View: 24M
TOP 5. TRY NOT TO LAUGH - Best BACK TO SCHOOL Fails Compilation 2018 | Funny Vines
Likes Rating: 134K
View: 23M
Part 2. Top 10 Best Funny Videos Sites to Get Amused
So, where can you find more funny videos, memes? Actually, it's not difficult to get funny videos and memes. As for funny memes, it's very easy to create by yourselves. Find a funny picture and add some hilarious words on it. Then, you can share it with your friends. But it seems that this method will cost much of your time.
Therefore, many people prefer to download funny videos and memes from others.
When I'm chatting with my friends on Whatsapp, we will send lots of new memes and funny video clips to each other. You might be curious about the places to get the latest funny videos and memes. If you are a person who also love collecting and sending new and funny videos, the following 10 sites will help you a lot.
1. YouTube
Obviously, YouTube is the largest video hosting site around world. You can most funny video clips on it. Simply "funny video" on its powerful search engine, billions of related videos will be listed in seconds. However, if you prefer funny memes or pictures, YouTube is not your destination.
2. Instagram
Instagram is a photo and video-sharing online service, allowing users to share their funny videos, photos with others. Also, it's a good place to enjoy funny videos, photos with no doubt. Usually, these funny stuff will be classified into different hashtag. You can explore video clips and memes according to hashtag.
3. Funny or Die
When it comes the best funny video website, Funny or Die must be counted on the list. If you want to stream comedy videos, TV shows or films, Funny or Die website is the best place to go. Go through billions of funny videos, you can find your favorite one definitely.
4. 9Gag
Literally, 9GaG is created to tell jokes to make the world laugh. 9GaG focuses on providing a platform for users to upload humorous GIF, video clips, pictures or share "user-generated content" from other social media platforms such as Facebook, Instagram, Twitter. What's more, 9gag.com allows users to upvote their favorite post and leave comments. I bet that you'll spend your whole day on this website once you open it.
5. Cracked
It is said that Cracked website aims to offer abundant funny videos, photos, articles in American humor. As one of the most famous funny websites around the world, you can find billions of hilarious videos, comics, articles based on different topics like sports, video games and celebrities.
Part 3. How to Download Funny Clips and Videos without Software
You can easily save funny memes from any sites without limitations, but as for funny videos, you might need a tool to help you. For many people, screen recording can be the first choice. But there are some problems on screen recording - complex recording operations, low video quality and so on. To avoid all these issues, VidPaw Online Video Downloader can be the best choice for you.
Why Choose VidPaw to Download Funny Videos?
First of all, it's a website offering free online download services. That means you don't need to download any software or applications to your devices. Just bookmark VidPaw Online Video Downloader as your favorite site, you can access it at any time you want. Of course, it has lots of features worth mentioning.
Supports downloading online videos from more than 1,000 sites.
Offer 100% free and safe video and audio download services.
Supports download subtitles from online videos.
Offer many helpful online solutions like YouTube to MP3 Converter, Facebook Video Downloader, Instagram Video & Photo Downloader and so on.
Require no login with a personal account;
Supports to download online videos to MP4, 3GP, WEBM in 144p, 240p, 360p, 720p, 1080p, 1440p, 2K, 4K, 8k;
Supports to download audio files to MP3, M4A, WEBM in 64kbps, 96kbps, 128kbps, 256kbps, 320kbps;
Therefore, if you want to download a funny video, VidPaw must be the best choice
to
you. What's more, the operations to download an online video are extremely easy for everyone to make it. Let's see how to do it.
For Windows/Mac Users:
STEP 1. Copy the Funny Video Link from YouTube
You can find billions of funny videos from YouTube to laugh hard. First, you need to copy the funny video' link from YouTube for the later operations. Then, you can move to VidPaw YouTube Video Downloader.

STEP 2. Paste the Video URL to VidPaw Online Video downloader
On the landing page of VidPaw Online Video Downloader, you'll see a blank bar lying in the middle of the screen. Paste the video link to it, then, hit "Download" to move on.

STEP 3. Choose a Perfect Output Format and Quality
In this step, you are allowed to choose the best output format and quality for your downloaded video. MP4 format and HD quality are recommended to choose for videos.

STEP 4. Start Downloading
After that, directly click on the "Download" button to start downloading the funny video you want.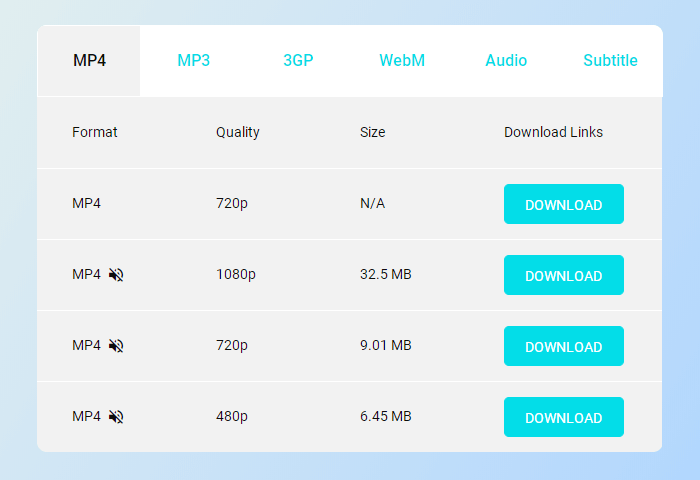 It's always convenient when downloading online videos without software. However, a better way is served here. That being said, it's VideoHunter. Let's take a quick look and see what it can do.

- Download online videos from 1,000 sites
- Download batch videos at once
- HD MP4 in 8K, 4K, 2K, 1080p based on original resolution
- HD MP3 in 320kbps, 256kbps, 198kbps
- 6X Fast download speed

How does it works? Let's take a quick look.
Step 1. Download and install VideoHunter to Win or Mac.
Step 2. Paste your desired video link to search bar.
Step 3. Start analyzing the video.
Step 4. Download funny videos in desired quality.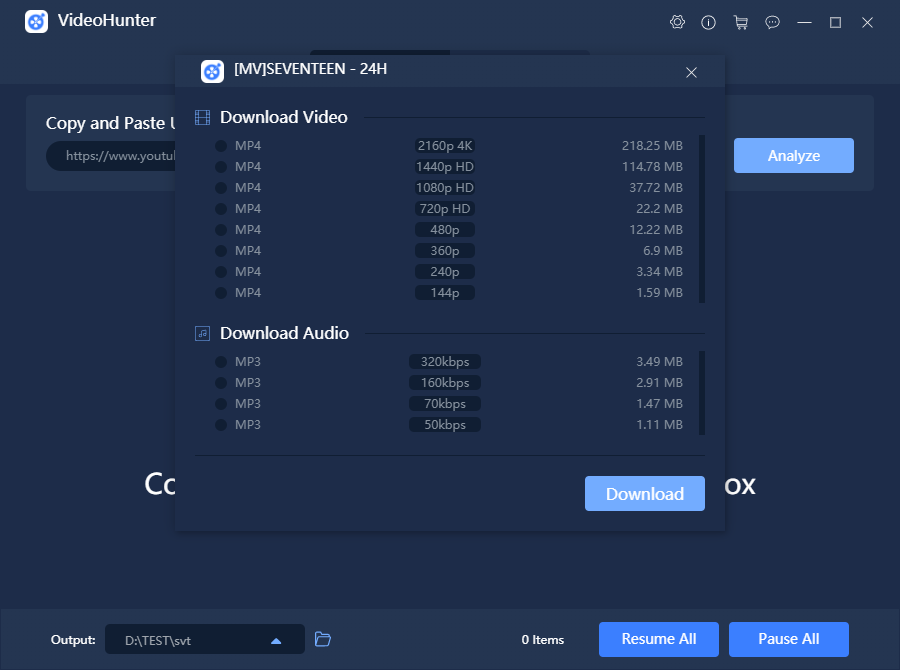 If you also want to download the funny videos to MP4, 3GP in HD on you mobile devices like iPhone/iPad, Android phone/tablet, keep on reading the following tutorial.
For iPhone Users:
STEP 1. To begin with, copy the funny video URL from YouTube, then download the Documents app on your iPhone/iPad.
STEP 2. Open the built-in browser in Documents app to access VidPaw Online Video Downloader.
STEP 3. Paste the funny video URL to the blank bar on the landing page. > Tap "Download".
STEP 4. On the video download, pick a suitable output format and quality for your video.
STEP 5. Last, click "Download" to end this download process.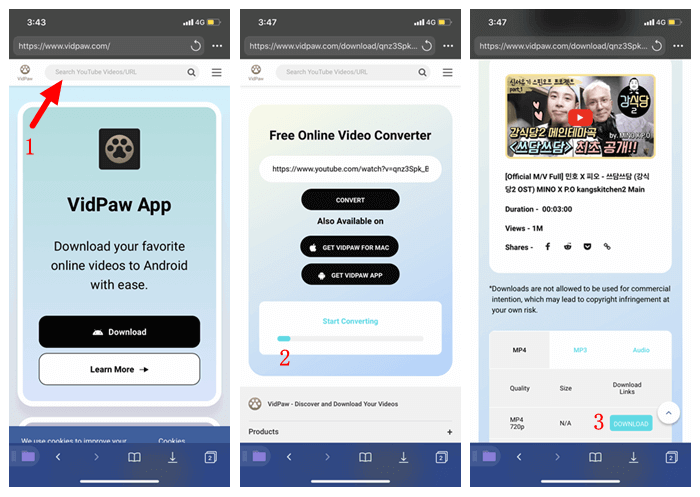 For Android Users:
STEP 1. Open a funny video from YouTube on any Browser.
STEP 2. On the address bar, use "www" to replace "m". > Add "paw" behind "youtube".
STEP 3. After tapping the Go ahead button, you will move to the video download page and be allowed to choose the output format and quality for your downloading funny video. (MP4, 3GP format might be suitable for mobile phones.)
STEP 4. Then, you can tap on "Download" to get the offline funny video.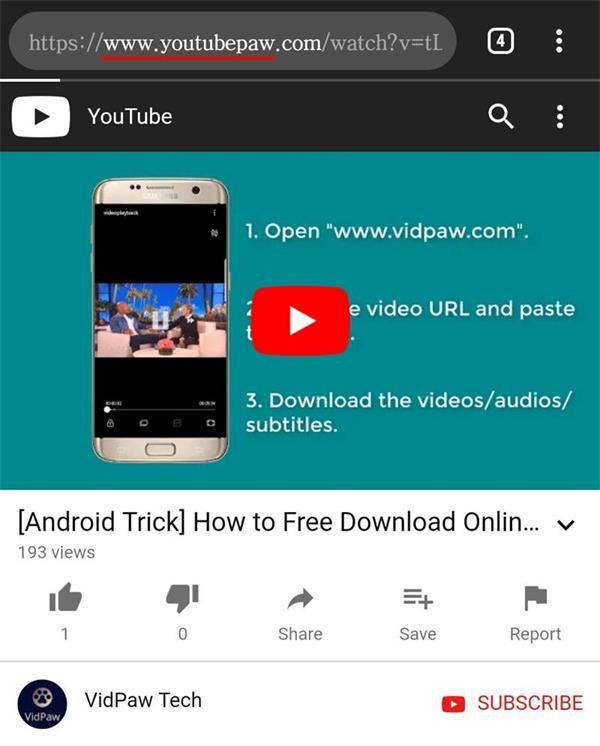 Within a few seconds, target funny videos will be saved on your PC or mobile phone. Why not have a try and share it with your friends?
Topics:
Funny Video
HD Video
Video Site
Excellent

Thanks for your rating.
VideoHunter
View Plan Options