Increasing people rush into YouTube to pick the interesting video clips. The latest statistics from Streamlabs showed that the number of monthly active streaming media users has risen more than threefold.


With a bunch of interesting content on the website, you might wonder how to download YouTube videos free. In the light of storage space on your PC or mobile device, we recommend you to employ an online YouTube video downloader,
VidPaw
.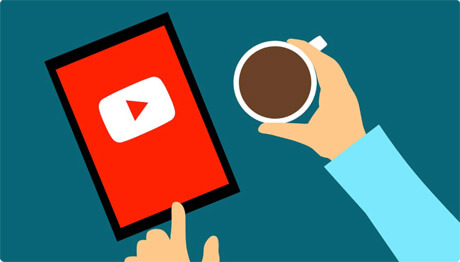 Why VidPaw takes the seat? You may ask. Well, VidPaw's superior performance greatly answers it. First, you can open VidPaw website on almost all browsers to access the online YouTube video. Format and quality are within consideration with several choices optional.
With VidPaw, you are able to enjoy fee-free and ad-free service to download YouTube videos online. There are some ways to use
VidPaw YouTube video downloader
, each of them
being
an easy and quick download pathway.
Part 1. Download YouTube Videos Free with VidPaw
The normal way to download YouTube videos with VidPaw is
using the URL link
. Simply, you can work it following:
STEP 1. Copy video link from YouTube website.
STEP 2. Paste video link in the VidPaw bar.
STEP 3. Click the "Start" button.
STEP 4. Select video & audio format and quality.
STEP 5. Click the "Download" button.

Immediately, you succeed in downloading YouTube videos for free on VidPaw. Now, you get the chance to enjoy the offline YouTube videos discarding the slow or poor internet connections. It's better to bookmark the website address on your browser to quickly locate it. Also, there are another two approaches for your consideration. Go on to check it. Maybe the next is more to your need.
Part 2. Download YouTube Videos with VidPaw Extension
Extension adding
makes it easier to use the software entity directly on browsers. As it is, you are able to add VidPaw extension on your commonly used browser to freely download YouTube videos.
For fresh extension users, you need to install Tampermonkey on your Chrome, Microsoft Edge, Safari, Opera Next, and Firefox.


Then, please follow:
STEP 2. Click "Install" button.
STEP 3. Return to the YouTube video page and refresh.
STEP 4. Click the VidPaw icon below the video.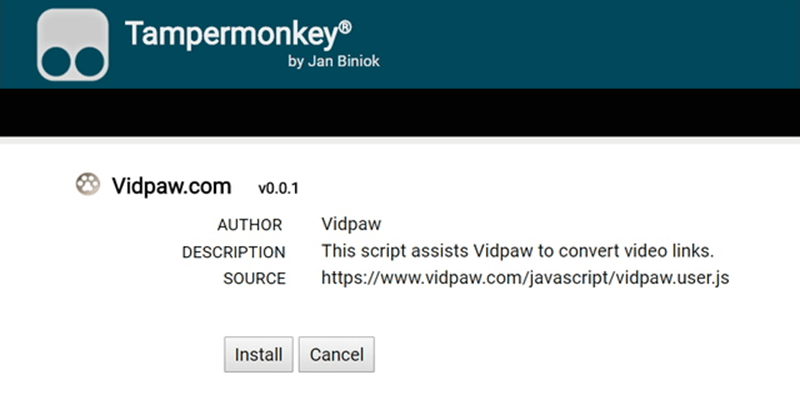 A few minutes later, you will be notified the accomplishment of the download task. Get your time to watch your favorite YouTube video. You will love the free YouTube video downloader once you get to try VidPaw extension. Anyway, there is an equally convenient method to download YouTube video via the VidPaw website.
Part 3. Download YouTube Videos by Changing URL
As the title tells, we get to use the URL link in this part. Differently, we directly make some changes to the URL.
Here are the steps:
STEP 1.
On the YouTube video page, go to the address bar. For example, "www.youtube.com... " We then type "paw" behind "youtube", so the link changes to "www.youtube
paw
.com..."
STEP 2. Press the Enter key and surprisingly you will be redirected to the video download page on VidPaw.
STEP 3. Continue the download steps, that is, click the "Start" button → select video & audio format and quality → click the "Download" button.

In this way, you don't need to remember the website address of VidPaw and reduce the copy-and-paste work. I really enjoy this way as anytime I meet a cute YouTube video I can preserve it as quickly as possible.
To download YouTube videos for free, VidPaw is a credible tool and downloader. URL copy and paste, extension adding, and UPL changing all prove you the easiest ways to YouTube video download. Also, VidPaw is really a thoughtful downloader with the clear and simple interface page, open-to-all free service and unlimited video download numbers. Believe it or not, you get to experience VidPaw yourself and feel the difference.
[Tips] Some Detailed VidPaw Options
Video Output Choice
Quality:
144p, 240p, 360p, 720p, 1080p, 2K, 4K,8k
Audio Output Choice
Quality:
64kbps, 96kbps, 128kbps, 256kbps, 320kbps
Language Option
English, French, Español, Deutsch, Japanese, and Chinese
As an excellent free YouTube video downloader website, you can reach
VidPaw
on your PC, Android & iOS mobile phone, and any portable devices which are network connected. Actually, VidPaw is also able to download videos from other video websites. You can explore more advances on it.

Published on June 02, 2018