How to Convert MOV to MP4 Within One-shot
This is a multimedia age, when people rely heavily on media contents like movies, TV shows, video clips, music, etc. for having fun and entertaining themselves, keeping their minds relaxed even works and life are so stressed out. For keeping the video contents, many video formats are invented. Today, there are so many popular video formats we would usually meed in daily life, and MOV is one of the leading video encoders.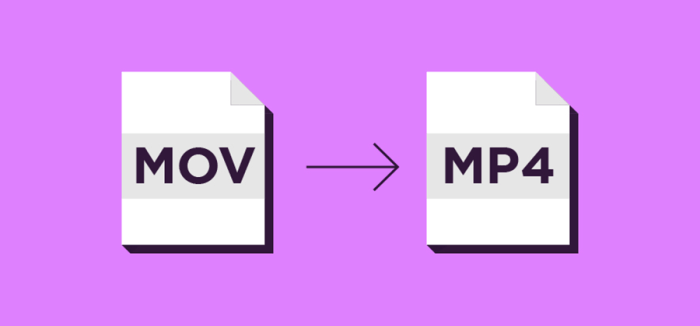 Although MOV format is popular, there are still some incompatibility cases happens between the format and platforms, programs, or devices. Some users who feel annoyed with this trouble start to wonder whether there has way to convert MOV to MP4, the most widely used format, which is also a standard among so many video formats, so that they can keep the MOV videos still playable on more platforms and devices?
That's what I am going to introduce today. Keep on reading.
Part 1. What Is MOV Format?
Developed by Apple, MOV is the name of the file encoder, working as a QuickTime file format. For years, MOV has been used for store different types of media content, including video, audio, and even text in the same file through different tracks, like we would mostly use it for storing videos like a movie, which includes video track, audio track, and subtitle, standing for text track.
MOV is invented as a standard and basic video format for Mac devices. Due to this attribution, you may fail to play MOV videos on many players as well as devices. Under this situation, you would wonder how can you get the MOV videos playable on the devices or players that don't support it.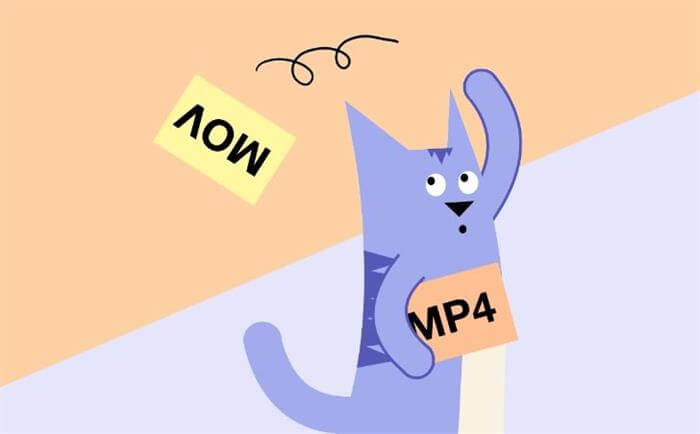 As we known, MP4 is the most widely-used video format, and it is also the standard among so many formats. MP4 is nearly supported by all programs and devices. So are there any ways we can adopt to convert MOV to MP4, enabling our MOV videos are able to be played again? Luckily, we got an outstanding video converter that is available for converting MOV to MP4. Let's view it below.
Part 2. Outstanding Video Converter on Windows and Mac
ConvertAnyVid is the brilliant video converter that I want to recommend to both Windows and Mac users. Easily and quickly, ConvertAnyVid has excellent ability to convert videos to different formats with fast speed, high quality, and easy steps. Giving no troubles to users, even a green hand can grasp this tool with ease and convert the video/audio to 300+ formats within a short time.
With ConvertAnyVid, you are able to get the converted files supported by all popular and latest devices as well as gadgets, including the new iPhone, Sam Sung, Huawei, etc. models.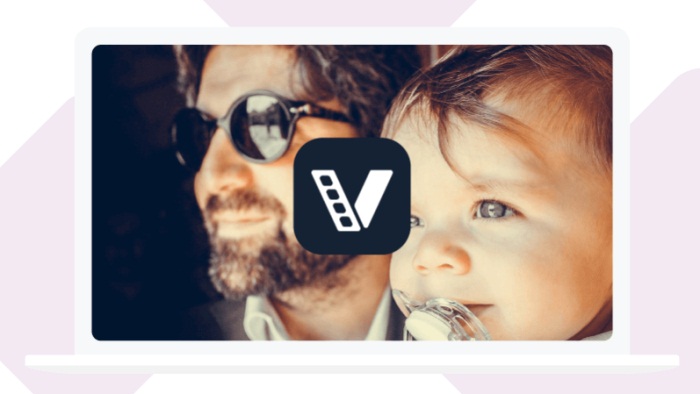 Not only that, ConvertAnyVid allows users to fully manage and control the quality of the output videos by themselves. Just a simple click in the video converter for selecting a high resolution you like to preserve the video, you will get it outputted in a short time. Those popular quality like 1080p HD and 4K Ultra HD are available in ConvertAnyVid.
More surprisingly, ConvertAnyVid has equipped with a CPU acceleration option for Windows, enabling people to convert video/audio with up to 6X faster speed. The fluent in-app navigation allows users to have a really good using experience. That's why so many loyal users will stick to the program. Other than this, ConvertAnyVid has other features, for example, merger the video clips into one complete video, or edit and enhance the videos with some free video editing tools.
Easily Convert MOV to MP4 with ConvertAnyVid
Now let's come to the guide to see how can we convert MOV to MP4 with ConvertAnyVid in just several simple clicks.
STEP 1. Download and Install ConvertAnyVid
At first, you should go to the official product page of ConvertAnyVid. Select to download Win or Mac version according to what system you are using.
STEP 2. Add MOV to ConvertAnyVid
When you install ConvertAnyVid, launch the program on your computer. In the interface, you can drop the MOV file to the program directly. Also, you can click "Add File" in the top left corner for selecting file as well as folder on computer for adding.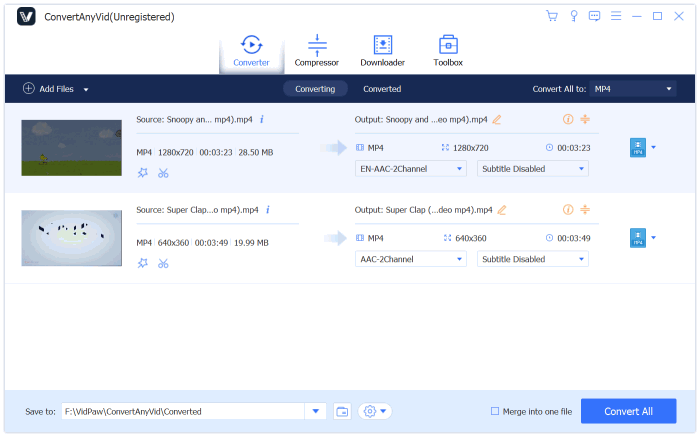 STEP 3. Select MP4 As Output Format
Please make sure that the MOV file is well imported to ConvertAnyVid. Then, as you can notice that, there is a format menu on the top right corner, where you can select the output format as MP4. Also, after importing the MOV file, you can directly select MP4 on its information bar.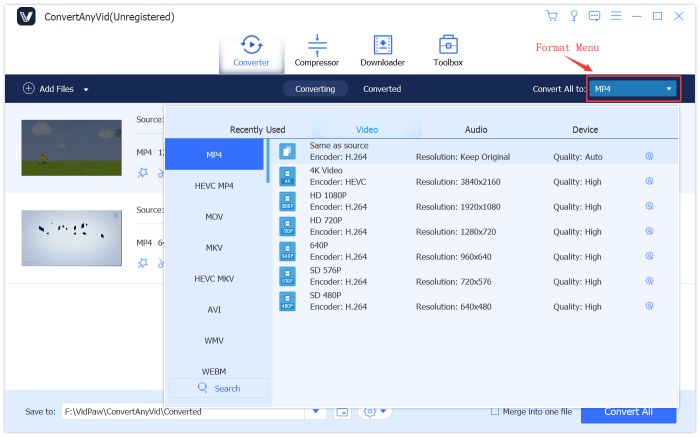 STEP 4. Convert MOV to MP4
Finally, when you have set the output format as MP4, just hit the "Convert" button in the lower right corner to start converting the MOV video to MP4 format. It would only cost very short time for finishing the conversion. Wait for it patiently!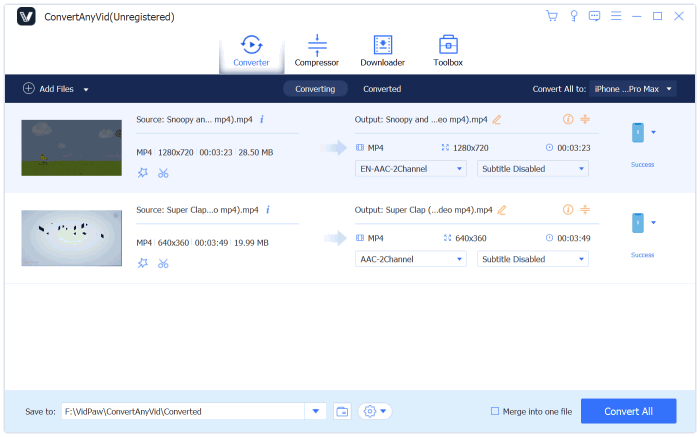 [TIPS] How to Convert MOV to MP4 with VLC
Other than ConvertAnyVid, actually, VLC, a media player, also has the ability to convert video format, so you can try it for converting MOV to MP4 freely. Simply follow the steps stated below.
STEP 1. Firstly, you should download and install VLC on your computer. You can search for it on Google, and go to the official website for downloading.
STEP 2. After installing VLC, open it and go to "Media > Convert / Save". In the pop up window, click "Add..." to import the MOV file from computer to VLC. After adding, hit "Convert / Save" button to continue.
STEP 3. Now you can choose the output format for the video. Let's select "Video - MPEG-4 + AAC (MP4)" in "Profile". Then, in "Destination", you can browse the computer and choose an output folder to save the converted video. Finally, just hit "Start" button to convert MOV to MP4 with VLC.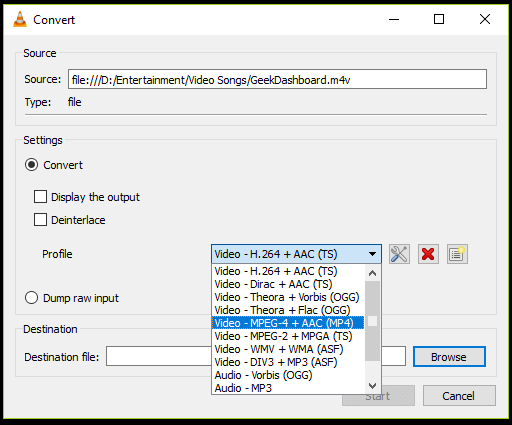 Now you get two ways to convert MOV to MP4, and both of them are free for using. With ConvertAnyVid and VLC in hand, you are able to play MOV files on most players or devices, even they don't support the files at first. Just convert MOV to MP4 with these simple ways when you need, then enjoy the videos without limitations!
Excellent

Thanks for your rating.
ConvertAnyVid
View Plan Options