[TIPS] How to Record Computer Screen for Free
Today, people rely on their laptops and computer to handle all kinds of things, from students to businessmen. A variety of activities can be done with a computer, for example, having an online meeting with customers, playing video games, attending online lessons, etc. Sometimes, people may want to save this instant information, which would not be happened once again, for keeping the important data from them. So they require a recorder for recording the computer screen.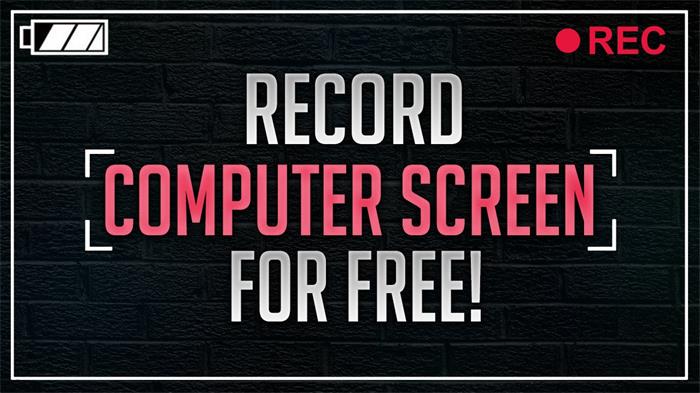 How could that help? Let me give you some examples. Like the online lessons, by recording them down, you can playback for many times as you need to remember the knowledge better; by saving the online meetings, you are sure not to miss some important information or ideas that came up by your customers or bosses. Recording down the computer screen sometimes offers great help to users. But how? In the following, you can get the best recorder to help you record the computer screen without hassle.
Part 1. What Is RecordAnyVid?
RecordAnyVid would be the best partner for your computer screen recording process. Being voted as one of the best screen recorders currently, RecordAnyVid has accumulated a large number of loyal users. There are many reasons why people choose RecordAnyVid. The first thing should be its clear interface.
Without wasting too much space, the interface of RecordAnyVid is quite intuitive and simple, allowing users to grasp how it works very quickly. The main functions such as Video Recorder, Webcam Recorder, Audio Recorder, and Screen Capture, are just listed on its interface. You can quickly go to the one you need and start recording pretty easily.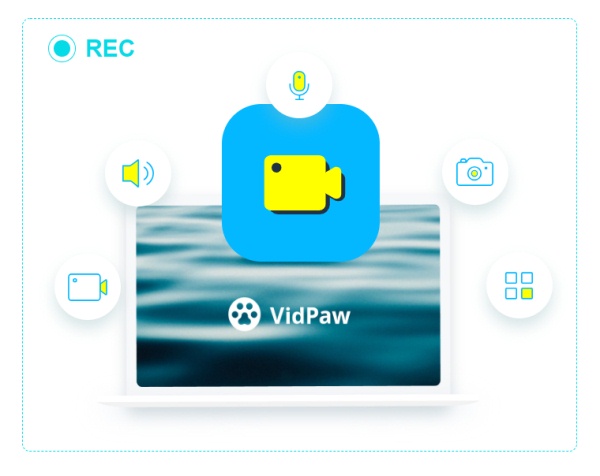 Secondly, RecordAnyVid provides high output quality for both video and audio recording, making sure that users can have good stream back experience after getting the recordings. In addition, various popular output formats also provided for users to use randomly. You can just choose the one you need for saving your recordings.
There are more amazing features contained in RecordAnyVid, for example, the lock window, drawing panel, shortcuts, around mouse capture mode, etc., are all the free tools you can use inside the program. RecordAnyVid can be a really good choice if you want an easy-to-use but multifunctional recorder.
Part 2. How to Get Full Version of RecordAnyVid
RecordAnyVid provides two versions for both Windows and Mac. You may wonder what are the differences between these two. Let me show you here.
If you are going to use the free version of RecordAnyVid, you would have the following limitations:
1. You can record and save each recording for only 3 minutes in maximum.
2. RecordAnyVid has provided video/audio editing function, but you can not use it if you are just a free user.
But there are still the special features provided for both free and paid users. For example, both users can enjoy the screen capture function without watermark on it; free upgrade as well as technical support are also provided for all users.
After reviewing the comparison between RecordAnyVid's free and full version. Do you want to purchase the full one immediately? Here are the steps you should follow to get the full version of RecordAnyVid.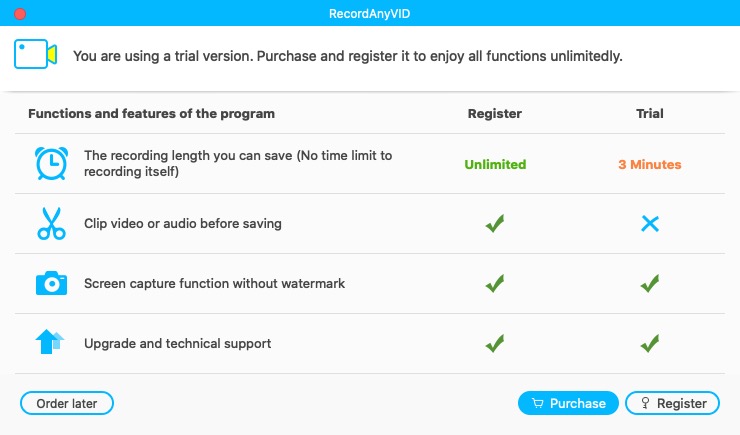 STEP 1. Firstly, you need to open the product page of RecordAnyVid. Then, choose Win or Mac version according to the system you are using, then click "Purchase" icon, and you would be sent to the purchase page for finishing the payment.
STEP 2. Remember to enter the email address correctly while purchasing RecordAnyVid. After the payment is done successfully, a confirmation email would be sent to your email address, with a license code in it. Check whether you can receive the email. Generally, the email should be sent within an hour after purchase. So if you can't get one, contact the support team immediately.
STEP 3. After getting the license code, you can launch RecordAnyVid on your computer now. The moment before you enter the main interface, a pop-up window would show up and ask you to register the full version. Just enter the email address you used to purchase the software and the license code you have received. Then simply click on the "Register" button, and you can use the full version freely.
Part 3. Easy Steps to Record Your Computer Screen for Free
No matter you are using a free or full version of RecordAnyVid, the recording steps are almost the same. Just spend a minute to see how to use RecordAnyVid to record your computer screen within a few simple steps now!
Video Tutorial: How to Record Your Computer Screen for Free
STEP 1. Firstly, please go to the official site to download RecordAnyVid to your computer. Make sure you have installed the right version on your Windows/Mac. Purchase the program if you need it, but we sincerely recommend you to use the free trial version at first.
STEP 2. Then, open RecordAnyVid program. If you need to record the computer screen, then you should choose Video Recorder. After going into its section, except for the set resolutions it provides, you can customize the size of the recording area, deciding how large the screen you need to record.
Also, you can turn on the system sound or microphone sound for recording both of them down together.

STEP 3. Finish all the settings and you can just start recording your computer screen by clicking on "REC". Then you would see RecordAnyVid will just count down from 3 and begin to capture your computer screen. Wait patiently for the recording to be finished.
STEP 4. If the recording is ended, click the stop button to end the recording. Then RecordAnyVid will send you to preview the video that you just recorded. In this section, you can clip or trim the video to fit your needs. Finally, give a click on "Save" then you can save the recording offline. If you feel unsatisfied with the recording, just hit the "Re-Record" icon and restart the process again.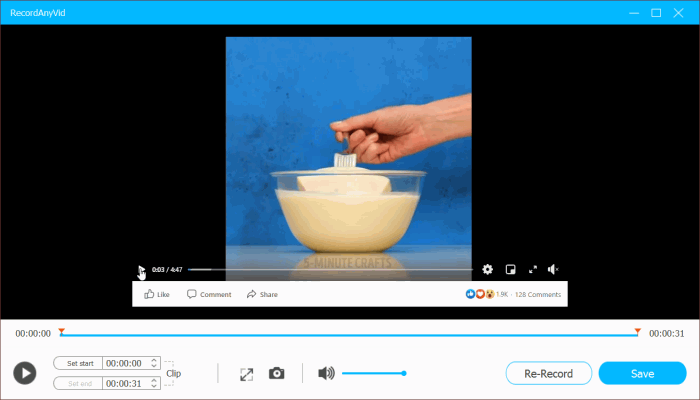 Recording your computer screen is just such an easy task with the help of RecordAnyVid. I believe that you are sure to grasp this tool within a short time because this is the most convenient and simple recorder I have ever used. Hesitate no more and just record your computer screen when you need with RecordAnyVid in hand!
Excellent

Thanks for your rating.
RecordAnyVid
View Plan Options