Hot! Download YouTube Videos Easily in iPhone
July 04, 2018
It's often the problem for me finding ways to download YouTube video in iPhone. An honest YouTube buff knows that you are only able to watch the fantastic video contents online on the popular media platform. A simple search on the Internet proves other alternative ways to download YouTube videos in iPhone. For my part, I would like to show you one easy and reliable download method.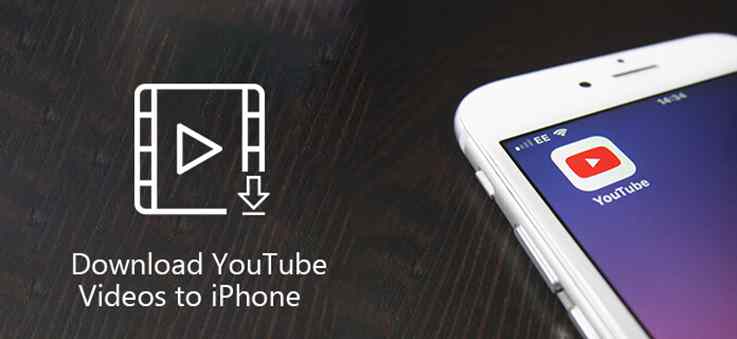 Why People Want to Download YouTube Videos in iPhone
It's not hard at all to explain the needs to download YouTube videos in iPhone. iPhone series have become the popular phone choice along with us for its advanced technology and superior performance. Honestly, I prefer the iPhone 8 for the familiar Home button. Maybe someone will feel cool for the sharp OLED screen and 3D face ID design.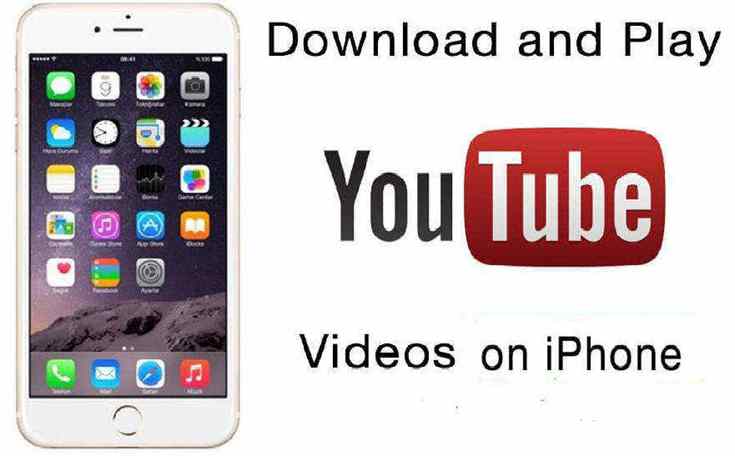 Well, all in all, it is really pleasant to watch videos with high resolution on iPhone screen. And, don't you feel a little pity to leave the large inner storage space alone? (The recent iPhone X has provided the versions with 64GB and the amazing 256GB) Anyhow, I just need an easy way to download YouTube videos in iPhone.

Step-to-step Guide to Download YouTube Videos in iPhone
The cute way for the YouTube video download in iPhone I've searched for is called VidPaw, or exactly VidPaw.com. As it is, it is a website downloader. That's great as you can save space for more interesting videos. The VidPaw is highly recommended to YouTube videos in iPhone mainly due to the following features.
The VidPaw as a website downloader brings you the easiest download path. You don't need to worry whether your iPhone type fits the downloader. Anytime you open the browser and enter the website, you can start to download YouTube videos. Rarely your browser is unfriendly to VidPaw. If it does, return the feedback to the customer service and perhaps next time your browser will be included.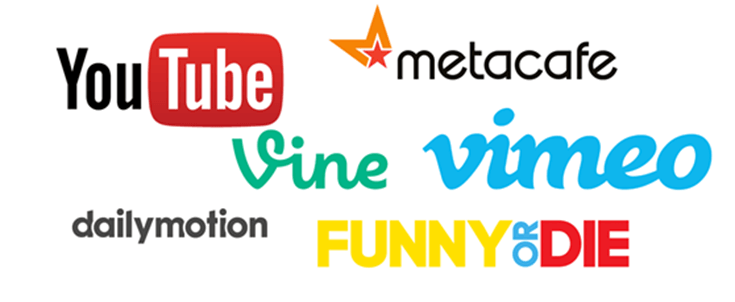 Open To All & Easy To All
VidPaw offers completely free service to help you download YouTube videos in iPhone. No payment is required. A common problem in front of video download is whether the operation step is within easy reach. People hate any complicated movements even the result is not bad. VidPaw wins my heart for the really really easy to handle operation steps. For example, you can see yourself in the following tips.

STEP 1. Go to App Store and download Documents. Then launch it.
STEP 2. Open a favorite YouTube video page. Navigate to the address bar, and copy the URL link.
STEP 3. Tap here to enter the VidPaw website. Then paste the URL link into the search bar. Tap "Start". Note that you can bookmark the website for convenience.
STEP 4. Slide up your iPhone screen. You will see the bottom is the download choices for quality and format. Select as you need. Then tap "Download".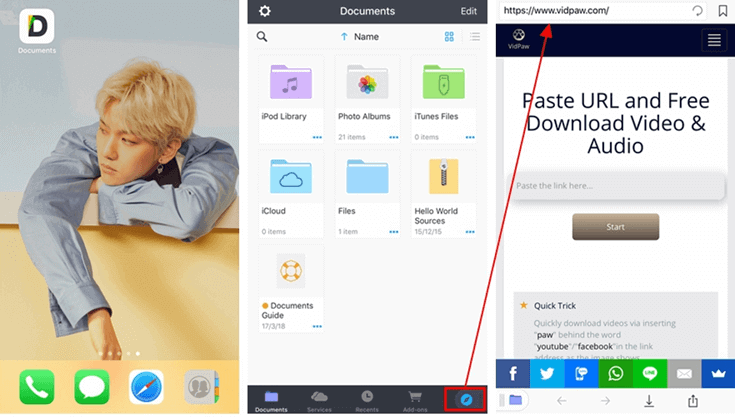 Till now, you have finished the download process and just wait for the task to be completed. I did it to download YouTube video in my iPhone X and feel no difference in sound fidelity and picture resolution. That's the true reason why I expect your employment with VidPaw to download YouTube videos in iPhone.

[Tips] Small Trick to Use VidPaw Easier
If you continue reading this part, you are lucky to get a small trick for VidPaw and will really like the YouTube video downloader. The VidPaw trick is still something about the URL link with different practices. Check the details below.

STEP 1. Go to App Store and download Documents. Then launch it and go to the YouTube video page.Navigate to the address bar.
STEP 2. Differently, please move the typing position behind "youtube" in the address bar, and type "paw" later. Seemingly, the URL link changes from "www.youtube.com..." to "www.youtubepaw.com...". Then enter the new address.
STEP 3. You will be directed to the VidPaw page with the URL link already in the search bar. Then, tap "Start" > select video & audio quality and format > tap "Download".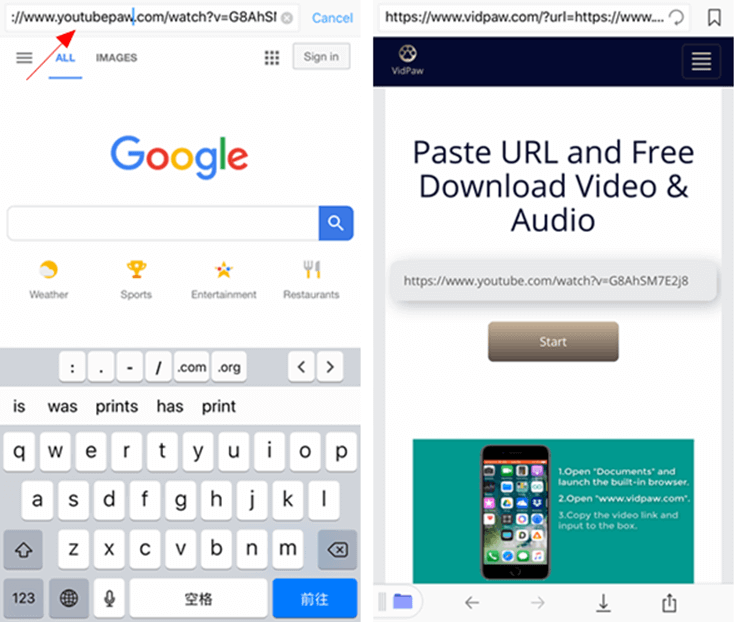 Following the above steps, you're also available to download YouTube video in iPhone. Individually, it's a more convenient approach as you just change the URL link and will be transferred to the VidPaw download page.


Actually, there are some more ways to download YouTube video in iPhone with VidPaw. If your browser supports extension function, you can get to find the available VidPaw extension for a quick touch. This is also a worthy try. After all, wish you a fabulous YouTube video amusement in iPhone.


Published on July 04, 2018
Excellent

Thanks for your rating.