List of No. 1 Singles on Billboard Hot 100 Chart of 2019
While this may be a bit late, the list of Billboard Hot 100 number one singles of 2019 still gets to you. Also, you can stream and download the song you like from the following playlist.
2019 had seen big records from popular artists like Taylor Swift, Ariana Grande, Celine Dion, Coldplay, and Ed Sheeran. It is also surprising to see the reunion of Jonas Brothers. Even Westlife, the legendary Irish boy band reunited and released their album "Spectrum".
This year also emerged a bunch of new artists you've definitely seen their names appearing on posters. For instance, Billie Eilish, her hits "Bad guy" held the top spot on several international music charts. And Lil Nas X, who was unknown to many people before, his song "Old Town Road" occupied the top spot of the Billboard Hot 100 singles chart for an unprecedented nineteen weeks.
And Mariah Carey added color to the year's Billboard Hot 100 chart when her timeless holiday single "All I Want For Christmas Is You" hit number one on the chart, earning her the most No.1 singles for a solo artist in history and making her the first artist ever to have a number one single in the '90s, '00s, '10s and '20s.
Now let's take a look at these No. 1 singles on Billboard Hot 100 Chart of 2019. They're listed in chronological order. In addition, there are some quick ways to download these songs on different platforms like Windows/Mac, iPhone, and Android.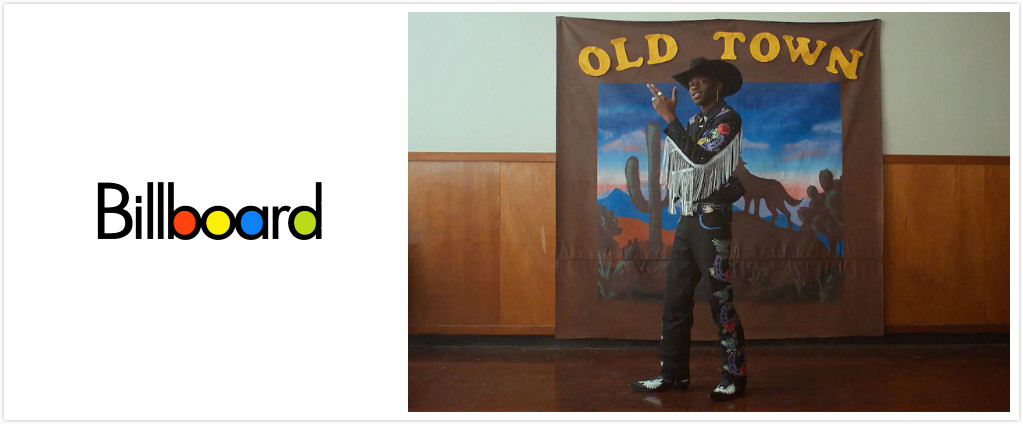 Part 1. 16 No. 1 Singles on Billboard Hot 100 Chart of 2019
2019 produced sixteen No.1 singles on the Billboard Hot 100 chart. In the first week of 2019 chart, the first number one single was Ariana Grande's 2018 single "Thank U, Next". Lil Nas X's "Old Town Road", featuring Billy Ray Cyrus, led the chart for a historic nineteen weeks.
Lady Gaga and Bradley Copper

Lil Nas X featuring Billy Ray Cyrus

Shawn Mendes and Camila Cabello

16

All I Want for Christmas Is You

Mariah Carey
Part 2. Free Methods to Download All Hot Songs to MP3 for Playback
Some musicians provide their music for free so it is possible for you to download and listen to their music offline. Instead of switching different platforms and installing software, here is a useful tool allowing you to directly download hit Billboard singles to common operating systems like Windows/iMac, iOS, and Android. VidPaw YouTube to MP3 Converter brings convenience.
What is VidPaw?
- VidPaw is a 100% free download website which enables you to download online video and audio from popular websites such as YouTube, Instagram, Facebook, and Vimeo.
- VidPaw supports users to convert and download various contents to popular formats like MP4, MP3, and WEBM.
- VidPaw provides several helpful tools including VidPaw YouTube Converter and VidPaw Subtitle Downloader to let you save contents you need.

YouTube is a perfect destination to download your favorite Billboard No.1 singles. Read on to see how o download these billboard number one singles to different devices with VidPaw YouTube to MP3 Converter.
Method 1. Download No. 1 Singles on Windows/Mac
STEP 1. Find the billboard number one single that you want to download want to download on YouTube. Then copy the YouTube URL.

STEP 2. Navigate to VidPaw YouTube to MP3 Converter and select your preferred output quality in the drop-down menu. Paste the YouTube URL to the download box, and hit "CONVERT".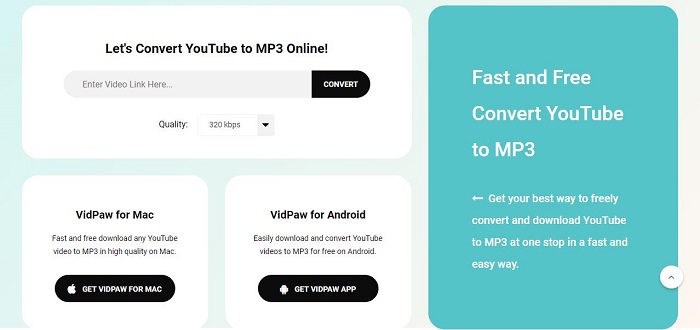 STEP 3. After VidPaw analyzing the YouTube link, the MP3 download link of your needed song will be presented on the page. Then click on to the download button.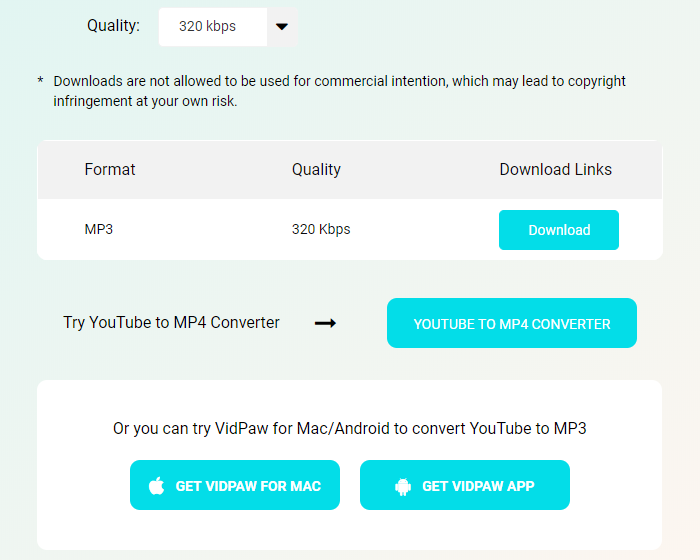 STEP 4. When the download process is over, the MP3 file is saved in the browsers downloads folder.
Method 2. Download Billboard Hot Songs on iPhone/iPad
Safari in iOS 13 offers many useful updates. One of the essential features is the new Download Manager. That said, you can directly download a Billboard No.1 single with VidPaw YouTube to MP3 Converter.
STEP 1. Copy the YouTube URL of your preferred Billboard single.
STEP 2. Head to VidPaw YouTube to MP3 Converter, select an output quality, and then long press the download field to paste the URL in it.
STEP 3. Hit the "CONVERT" button. VidPaw will start to convert the YouTube URL within seconds. After that, tap the download button on the website.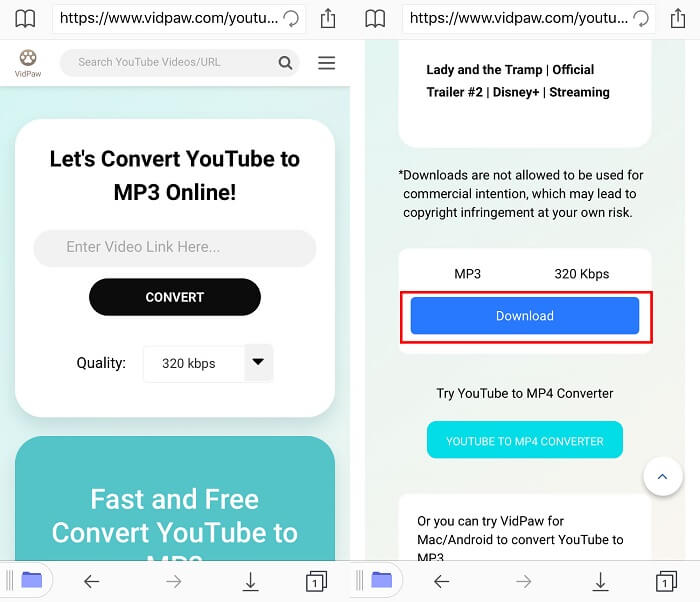 STEP 4. The browser will head to a new tab and ask for confirmation. Tab "Download" to proceed. A little download icon is displayed in the top right corner of the display. Tap on the icon and you will see the MP3 file or any other files that you've downloaded.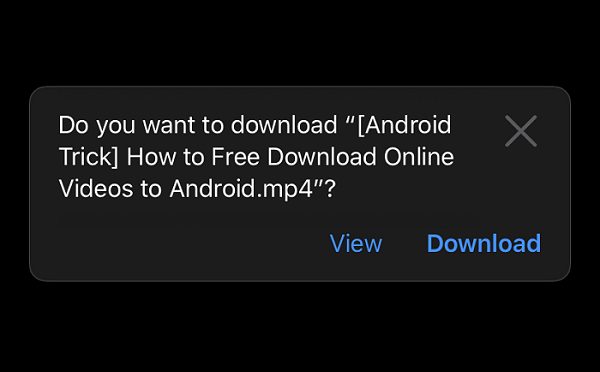 However, iOS 12 or below needs to download a file manager app "Documents" in App Store before starting to download the Billboard No.1 singles.

STEP 1. Launch "Documents", and then tap the browser icon in the bottom right corner. Open a video in YouTube and copy the YouTube link.
STEP 2. And then go to VidPaw YouTube to MP3 Converter. Choose an output quality and paste the URL to the download bar.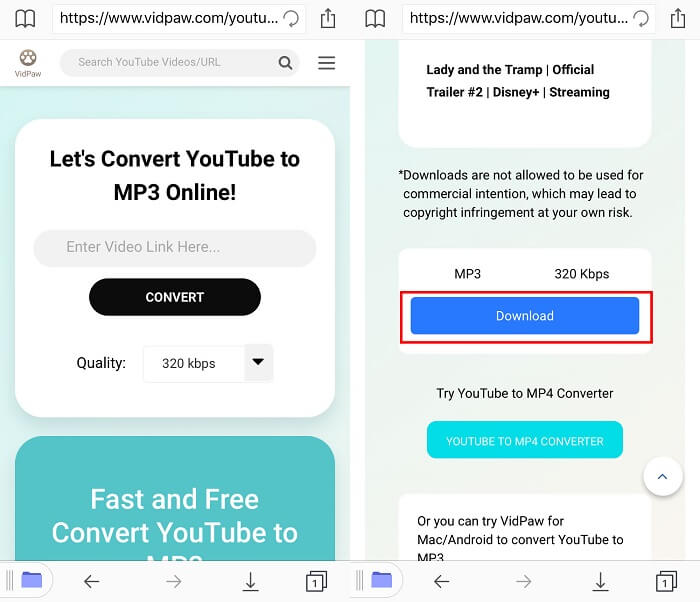 STEP 3. Hit "CONVERT", and then VidPaw will analyze the link. Now tap "Download" on the download page.
STEP 4. A pop-up window will be displayed, and you can edit the file name or change the output folder if it is necessary. Click on "Done" and your needed Billboard No.1 single will start to download. And you will find the MP3 file in the downloads section of "Documents".
Method 3. Download All Hot Songs on Billboard on Android Phone/Tablet
VidPaw also works on Android devices. Besides, there is a trick to easily download Billboard No.1 singles from YouTube.

STEP 1. Access to YouTube and locate your desired Billboard number one single.
STEP 2. Change the YouTube URL. Add "paw" after the word "youtube", and press the enter key. For instance,
"https://www.youtube.com/watch?v=xxxxxx" > "https://www.youtubepaw.com/watch?v=xxxxxx"

STEP 3. Your browser will jump to VidPaw where offers you the download link. And then, select your needed output format and output quality. And hit "DOWNLOAD" to proceed.
STEP 4. When the download process is over, you can find the file in downloads section.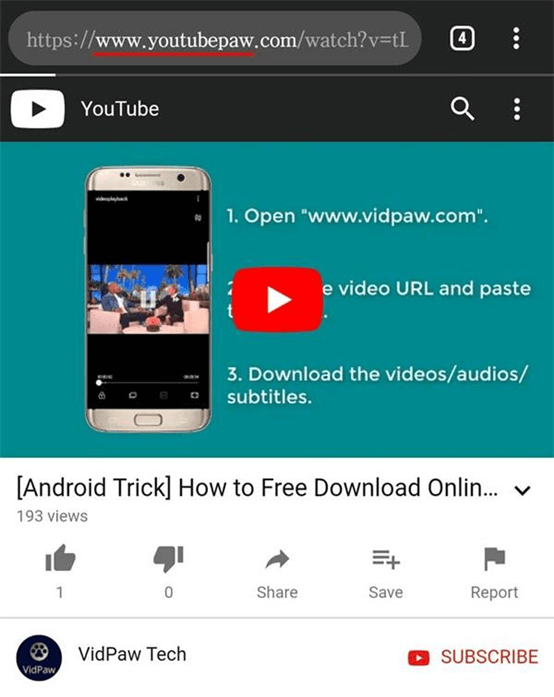 In the End…
After reviewing all these amazing songs, which is your favorite number one singles on Billboard Hot 100 charts of 2019? Feel free to leave your comments below, and don't forget to share this article with your friends if you find it useful.
Topics:
Music Streaming
Music
Excellent

Thanks for your rating.