The Best Solution to Download K-pop Songs Playlist At Once
July 02, 2020
The growth of K-pop culture in the worldwide becomes rapidly and noticeable in recent years. Nowadays, even in many western countries, K-pop songs gain much popularity and the K-pop idols have owned their strong fan base around the globe.

As the influence of K-pop keeps ascending, you can grasp some basic information about K-pop from this post. Better yet, if you've been familiar with K-pop, we also provide free solutions for you to download K-pop songs online. Now just scroll down and keep on reading.
[NEW] How to Download K-pop Songs on Windows/Mac Effortlessly
Are you a big K-pop fans and want to download K-pop songs to enrich your offline songs playlists more easily? Now you get a great helper to help, which is VideoHunter.
Offering amazing features and fast downloading service,
VideoHunter
serves people from all over the world to download online video/music for offline playback in the most effortless way. It has the ability to download videos from more than 1,000 sites, which include some popular platforms such as YouTube, Facebook, Twitter, Vlive, Vimeo, Dailymotion, and so forth.
Rather than this, VideoHunter also holds the following advantages that may be helpful to you:
* Various output formats offered, such as MP3, MP4, and WEBM;
* An extra video converter is provided, but it is only available on Mac now;
* 6X faster speed than other common video downloaders;
* Clean interface without ads, virus, malware, or spyware;
* Available to download videos in high resolutions, which includes 1080p, 2K, 4K, and 8K.
Now, follow me and know how to download K-pop songs playlists easily in one-shot.
NOTE: YouTube playlist download feature is only available on Mac currently. We promise to add it to Windows soon!
STEP 1. VideoHunter supports to download YouTube playlist directly. So you can go to YouTube and search for the K-pop songs playlist. For example, we offer several playlists here for you to download.

BTS: https://www.youtube.com/watch?v=XsX3ATc3FbA&list=PL6Ri1UOk51t7MAYeDqSQw8qDLLpz5DHyF
EXO: https://www.youtube.com/watch?v=pSudEWBAYRE&list=PL0CjomK8Xczy4aVnFQg4Wd8V0Abt71iNP
Seventeen:
https://www.youtube.com/watch?v=HXbVFpUTg6Q&list=PL1eXydFulIVokdgEuN5N3hG8BnZiewKZ4
BLACKPINK:
https://www.youtube.com/watch?v=IHNzOHi8sJs&list=PLJz9NxjsJsBSJOwDv2wMSf3-SI183gSpM
TWICE:
https://www.youtube.com/watch?v=mH0_XpSHkZo&list=PLAAZINzx3tiX-QZYj-z2kB8_QuCaTqU4T
STEP 2. As you get the URL of the playlist, open VideoHunter on Mac device. Enter "Downloader" and you should paste the URL of the K-pop song playlist to the frame bar. Then, click the "Analyze" button.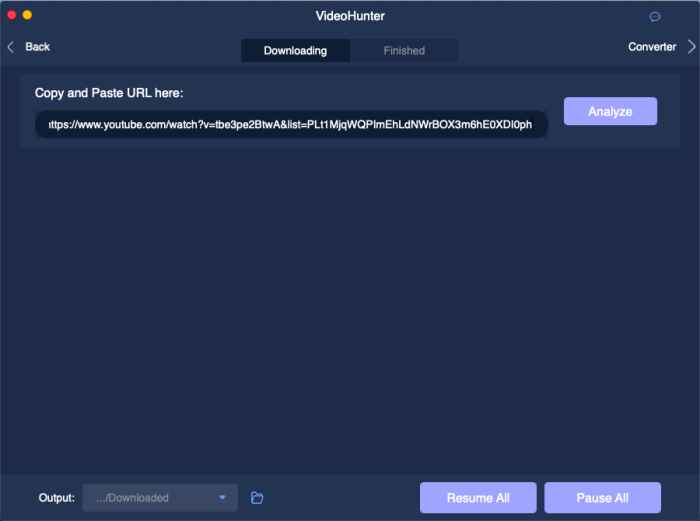 STEP 3. Just a second, VideoHunter would ask you whether to download the playlist or the single video clip. Select "Download Playlist" and it will read the list for you.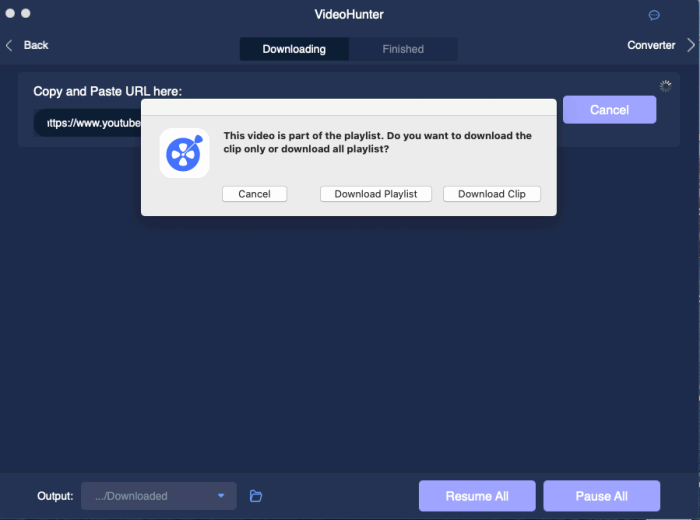 STEP 4. Choose the songs you want to download. On the top left of the window, you can select "Video" or "Audio" to keep these K-pop songs. Turn down to the bottom left corner, and you can select an output quality for saving them. Finally, click "Download" and the songs will be downloaded immediately.

Top 10 Kpop Songs Playlist You Can't Miss
To begin with, let's stream a list of the popular Kpop Song!
01. Sorry Sorry - Super Junior
02. Fantastic Baby - Bigbang
04. Ring Ding Dong - Shinee
07. Nobody - Wonder Girls
Brief Introduction of K-pop History
Modern K-pop idol culture started with the debut of a boyband, H.O.T., in 1996, which successfully hit the domestic Korean market and spread rapidly around teens at 10s. Since then, K-pop was deeply rooted as a kind of Korean culture.

Followed the success of those early idol groups such as H.O.T., Sechs Kies, Shinhwa, g.o.d, Fin.K.L, and solo singers like BoA (who is considered as "The Queen of K-pop"), Rain, etc., since 2003, the debut of TVXQ (a boy idol group) attributed to the great breakthrough of K-pop and helped its culture, as well as features, broke into Japanese market, which also set a milestone for the growth of K-pop.

After that, the second generation of K-pop idol groups also helped to forward K-pop trends to spread nationally. Super Junior, Girls Generation, SHINee, Wonder Girls, Big Bang, 2NE1, etc. are world famous K-pop idols group which assisted K-pop to enter Asian, Western countries successfully.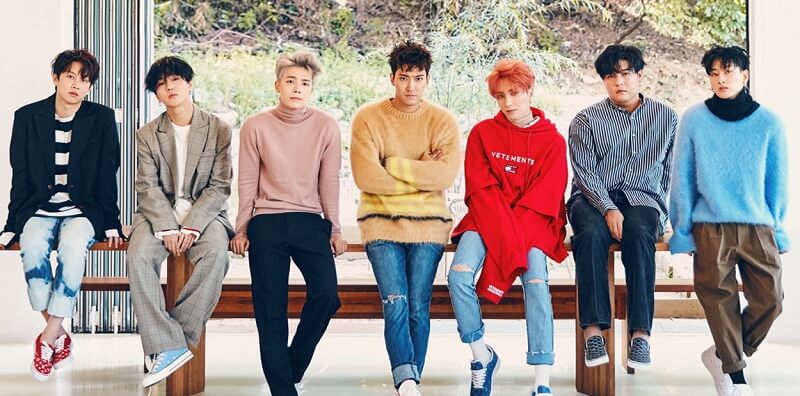 The influence of K-pop kept increasing. Since 2012, the release of Gangnam Style, a song sang by PSY, put forward K-pop to a highest international submit at that time. The music video of Gangnam Style on YouTube has become the first Korean mv which reached 1 billion views shortly. Later, after a boy idol group, EXO's debut, in 2014, EXO's first album, "XOXO", has gained 1 million sales around the global, which has been the first idol group that reaches over 1 million albums sales during this decade. Additionally, EXO also owns the largest fan base – over 400 million currently – worldwide. Since then, K-pop received more international success.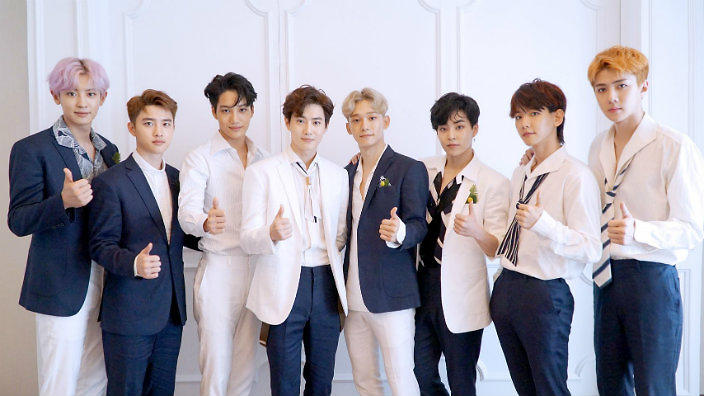 In 2017, BTS's win for BBMA also gave K-pop the international coverage to enter an English market. Then in 2018, BTS also became the first K-pop idol group, reaching No.1 on Billboard 200 with their new album, "Love Yourself: Tear". Meanwhile in the same year, EXO's single "Power" was also selected as the first K-pop song to be played at the fountain show in Dubai, which also prompted SM Entertainment to hold the very first SM Town concert in that country this year. Besides, "Power" was also selected to be played on 2018 FIFA World Cup.

Nowadays, K-pop has a great impact on the world and you can find it everywhere. K-pop idol groups such as Super Junior, EXO, iKon, are even invited to attend some global events such as the closing ceremony of Asian Games and Winter Olympic Games. K-pop songs are loved by lots of people at all ages around the world. And that's also why more people are searching for ways to get K-pop songs for offline streaming. Now, move on to the recommended top sources that can help you download K-pop songs.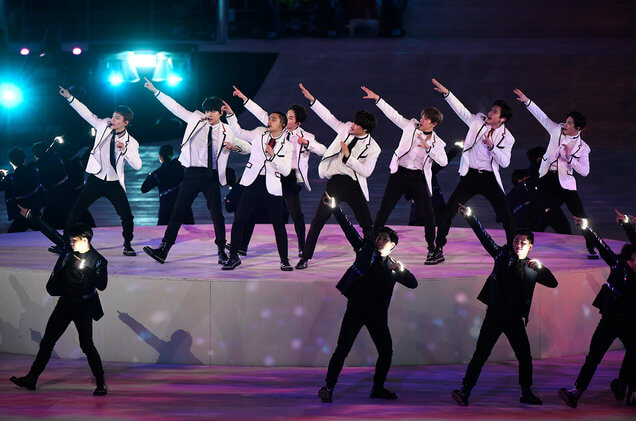 Top Sources to Download K-pop Songs
These top sources are provided for you to free download K-pop songs for offline streaming. Grasp the one you like by checking the list.
K2NBlog is a site that provides Korean, Chinese, and Japanese songs. On K2NBlog, you can easily discover a massive amount of K-pop songs for free. In addition, K2NBlog also collects OSTs appeared in Korean drama as well as music videos.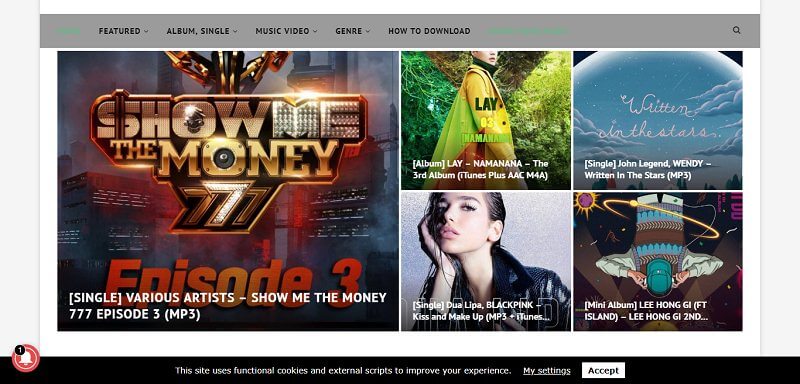 DLKpop is another useful website for streaming as well as downloading K-pop songs. DLKpop even offers ads-free playback for users who have done a registration on the site. You can discover the most popular songs here in DLKpop's top ranking chart.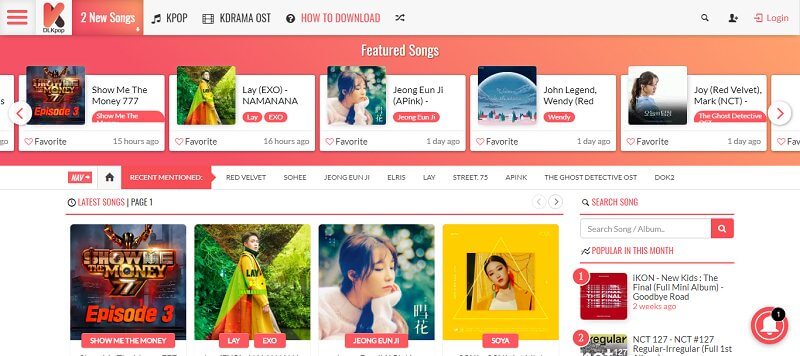 ilKPOP.com has a much simple interface but can help you have a quick access to the K-pop songs you are searching for. Just type the name of the K-pop song into the search bar and you can download it easily.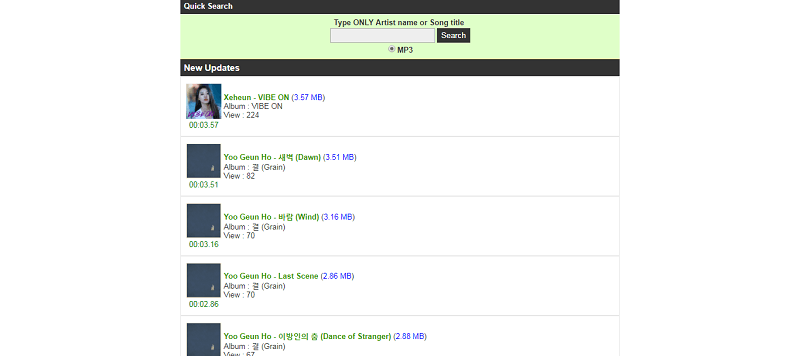 IGEO K-POP provides a comprehensive list for K-pop song & album, OST, full album and a mini album that have been released. It is also a highlighted feature of IGEO K-POP that it provides preview information for each album. Users can have a glance before downloading.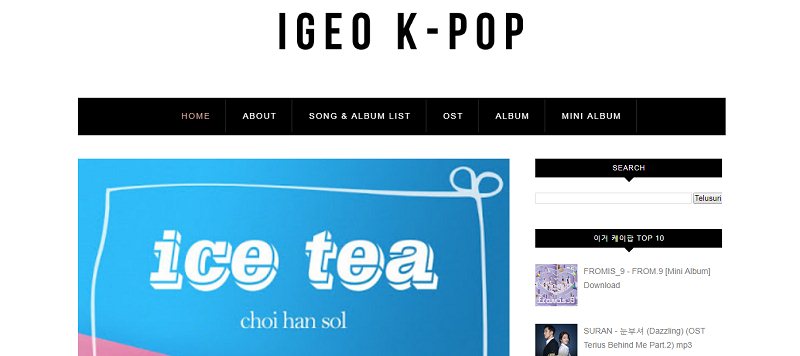 BeeMP3 is not just a site that provides various songs, it is a music search engine for locating MP3-audio files over the Internet. That means the crawler of this site indexes all the brand new and popular songs and then provides to users. People can easily search for any K-pop songs by entering the name of the song on BeeMP3.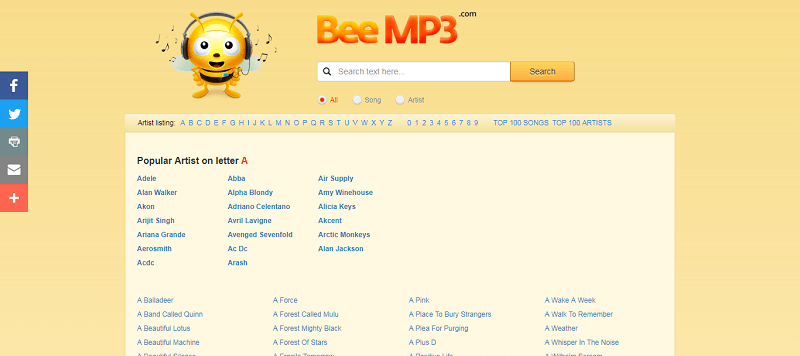 Now you have got new ways to play K-pop songs easily. You can head to the sites and try to download them for offline playback with VideoHunter or online sources when you need.
As K-pop songs and its culture are becoming more influential in the world, it would be a great choice to try these solutions to download K-pop songs for offline playback. Just enjoy your time with your favorite K-pop songs now!
Published on December 11, 2018
Updated on March 11, 2020
Excellent

Thanks for your rating.