Today, videos are becoming part of people's daily life.
It seems that we need videos everywhere -
For education purposes in classes
For presentations at meetings
Or for entertainment in spare time

Actually, there are lots of free video resources on YouTube, one of the world's largest online video websites. Some of them must cater your needs and you may want to download save YouTube videos and audio to iPhone directly.

Instead of leaving lots of videos buried under the massive amount of new ones and adapt them for appropriate use or collection, therefore, VIDPAW IS HERE.

If you are searching for ways to download videos from YouTube on iPhone/iPad, this guide is certainly your destination.

Now, let's head to the guide.
Part 1. VidPaw Online YouTube Downloader for iPhone/iPad
"Does VidPaw do help to download YouTube videos even the paid ones?"
"Would the output quality be low?"
"How much should I pay for VidPaw's service?"
…

Do you have the similar questions as above? Well, you have got to the right place. The comprehensive description of VidPaw is shown in this part.

VidPaw provides users around the global with its superior online video and audio download function. To begin with, you must know a few basic features of VidPaw.

Features of VidPaw Online Downloader
Support downloading online videos from over 1,000 sites, including YouTube, Twitter, Facebook, Instagram, Dailymotion, etc.
VidPaw is compatible with almost all browsers.
VidPaw online downloader is totally free for use.
There includes no ads on VidPaw's official website.
More free online tools are upcoming.

Want to know more about VidPaw? Keep your pace on.
| | |
| --- | --- |
| Output Video Format | WEBM, 3GP, MP4 |
| Video Quality | 144p, 240p, 360p, 720p, 1080p, 2K, 4K, 8K |
| Output Audio Format | M4A, WEBM, MP3 |
| Audio Quality | 64kbps, 96kbps, 128kbps, 256kbps, 320kbps |
VidPaw now supports up to 9 languages, includes English, French, Spanish, Deutsch, Italian, Russian, Portuguese, Chinese, and Japanese.
If the original video comes along with subtitles, you can also select to download desired subtitles as SRT files.
Part 2. How to Download YouTube Videos By Link on iPhone/iPad
With VidPaw, the YouTube online videos can be easily saved not only on computer, but also on mobiles such as iPhone/iPad. All you need is just a few simple clicks.

STEP 1. Download Documents on iPhone
Firstly, download Documents in App Store. Then launch the program on iPhone, and go to VidPaw.com inside it.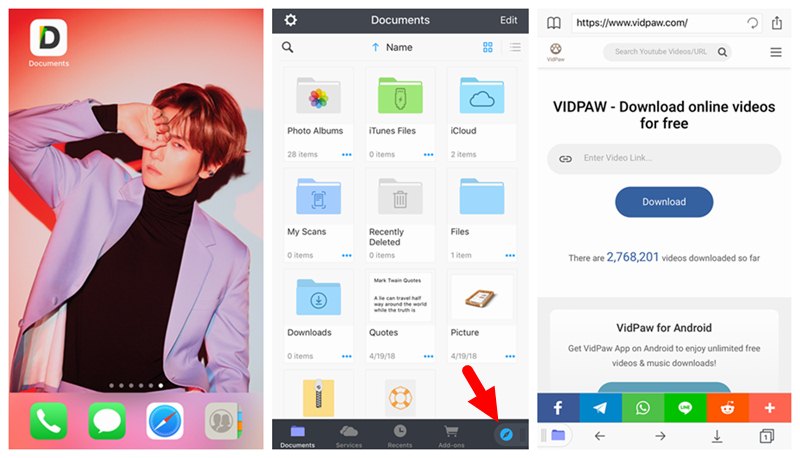 STEP 2. Copy and Paste the URL Link of YouTube
Open a video in YouTube. Then copy its link and paste onto VidPaw's main interface. After that, click on "Download".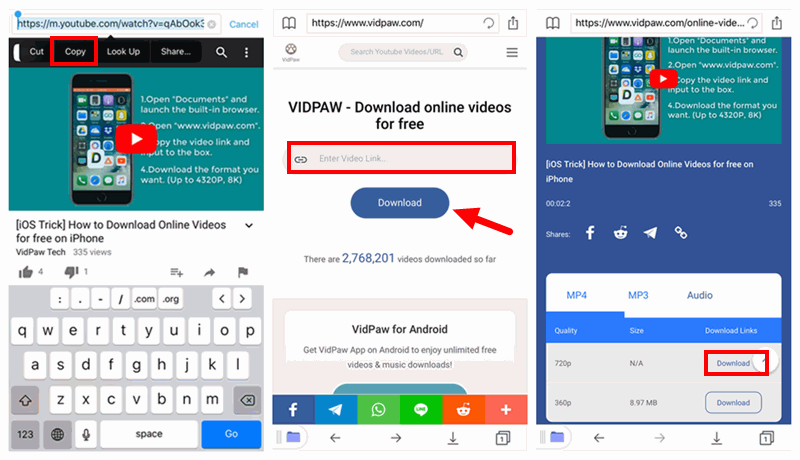 STEP 3. Start Downloading YouTube to iPad and iPhone
Scroll down to select the quality for your output videos, and simply click on the "Download" button. Then you would head to a popup window to edit the title of the video and select the output folder in Documents. When selection is done, click on "Done" in the upper-right corner. Then, you can download a YouTube video.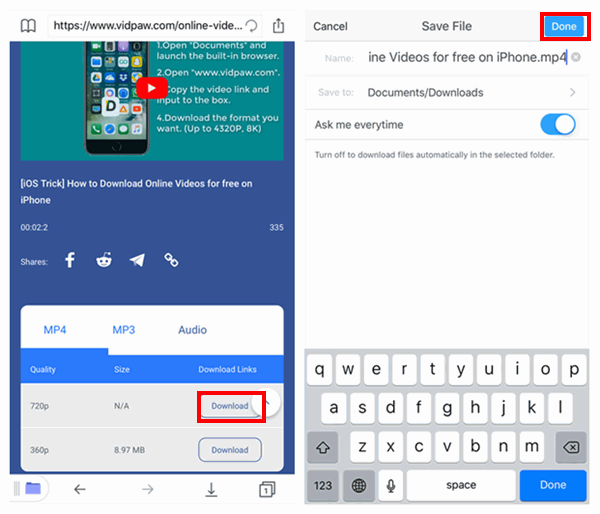 Then you just need to wait for the video to be downloaded. You can find it in the "Downloads" folder of Document. Now, enjoy the YouTube video offline!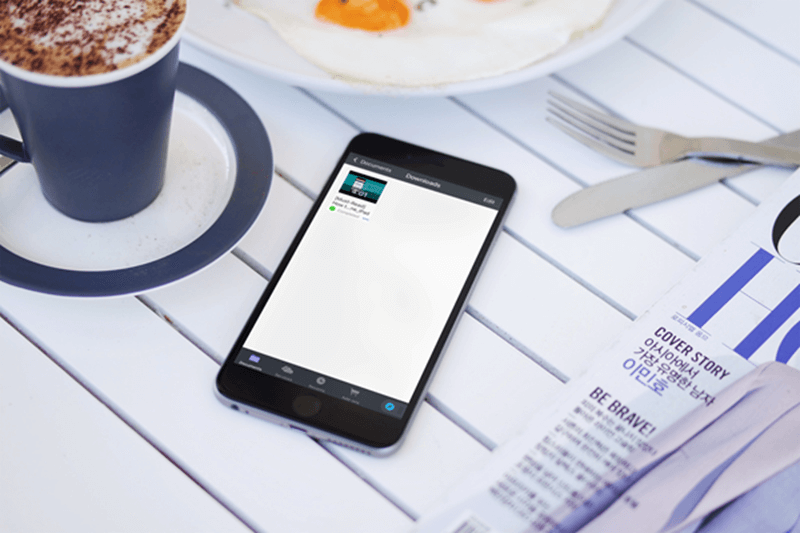 Small Tips on Using VidPaw
Some users may consider it troublesome to switch between two sites. Here you can try this simple trick.


STEP 1. Go to the YouTube video site you want to download in Documents.
STEP 2. Change the URL into www.youtubepaw.com.
STEP 3. Click on enter, and you can go to VidPaw to download the video directly.
Note: This method is only available for the videos from YouTube at present.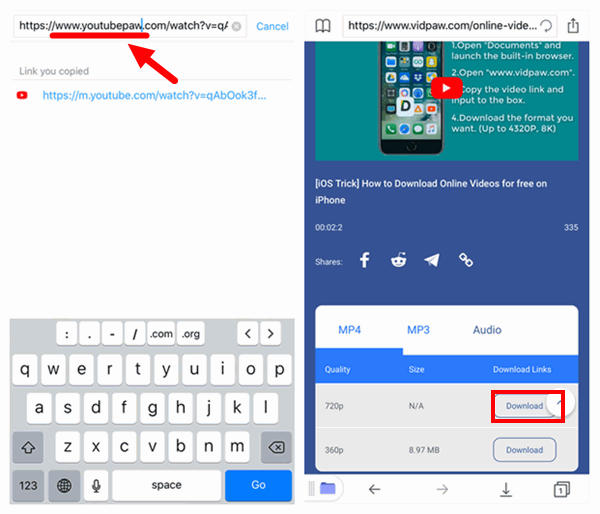 Part 3: FAQs About Downloading YouTube to iPhone and iPad
"How to dl YouTube to iPhone" is probably the most frequently asked questions and I'm sure you've get the idea from the previous 2 parts. By far, you may also have other questions, let's find out the answers together.

1. Is There A YouTube Downloader for iPhone and iPad?
Unfortunately, no. Since Apple is an exclusiveoperating system, apps are only allowed to be installed from its App Store.
Moreover, App Store will never ever allow any YouTube to iPhone downloader, or YouTube downloader for iPhone/iPad, or whatever to step out in its store.
Therefore, you can only download YouTube videos on iPhone with online YouTube downloader.

2. How to Download Videos on iPhone from Safari?
As the first answer to the first question says, iPhone/iPad users can only resort to online YouTube downloader.
However, if you're trying to download online videos on iPhone from Safari, you must find it unfeasible, for Safari is limited to disable directly downloading and save online videos and audios from sites like YouTube, Vimeo and so on.
Now, you should know why everybody is using Document to download YouTube videos by links.

3. Is it Possible to Download YouTube Videos to iPhone Camera Roll?
Yes, it is possible. However, not directly to Camera Roll. You have to use Document to download videos from YouTube at first and then manually move from "Downloads" to "Photos" so that you can view videos in Camera Roll ever after.

4. Is VidPaw Safe to Use?
Not only safe but also free. VidPaw Online YouTube video downloader has no access to reach users' information. Also, you don't need to log in for downloading YouTube videos. It's totally open. VidPaw also apply security database so as to ensure clean and safe use environment.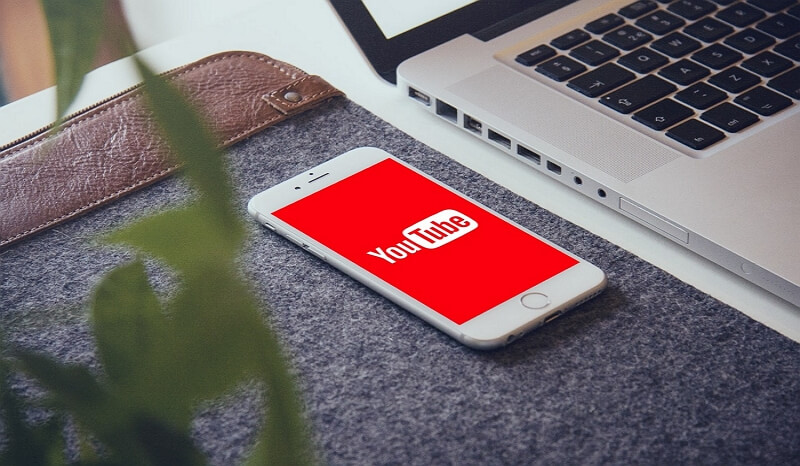 Part 4. [YouTube Tutorial] How to Use VidPaw on iPhone/iPad
Still confused about the tutorial of using VidPaw above? You can turn to the video tutorial here and you'll learn how to download a YouTube video.
Click here to directly watch the video on YouTube: How to Download YouTube Videos to iPhone?

I am sure you have got this awesome online video downloader now!

Share VidPaw with your friends if you like it!





Published on September 11, 2018