[Guide] How Can I Upload Music to Google Play Music
There are many music streaming platforms that are freely opened to people for having a good music playback experience, for example, Apple Music, QQ Music, Spotify, Pandora, etc. are some large international music streaming platforms. For Android users, the most popular one could be Google Play music, which allows users to own a large music library, storing up to 50,000 songs for free. It is also a good feature for those who have collected so many music they like from other platforms, or even the one they create by themselves, which is that Google Play Music allows users to upload the local music to its player, so that the music can be added into the music playlist for convenient playback.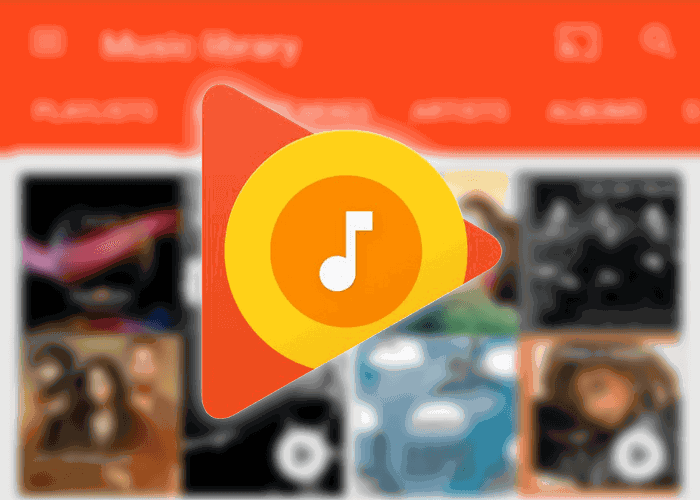 But some restrictions are set for uploading music to Google Play Music, and the one that people may commonly meet and does cause a trouble should be the format of the local music file, which is not supported by Google Play Music. In order to help you solve this problem, this guide will teach you how to convert the audio files to the formats that Google Play Music supports. It is easy to do an audio format conversion, so you don't need to be too concerned, and just follow the guide to finish the process. Let's start reading it now.
Part 1. What Formats Do Google Play Music Support?
First of all, it would be better for us to know about the formats that Google Play Music supports, which can help us to decide a right direction of what format of the audio files we should prepare. If we choose a wrong one, that means we waste other time.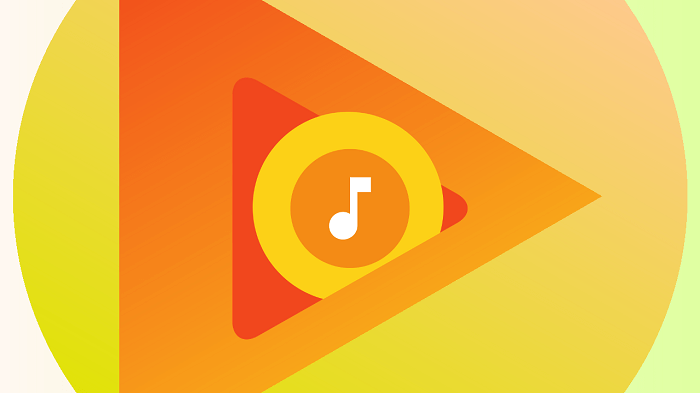 If you are using the Music Manager, or Google Play Music on Chrome to upload the local music from your computer to the Google Play Music library, you have to make sure that the audio is in the following formats: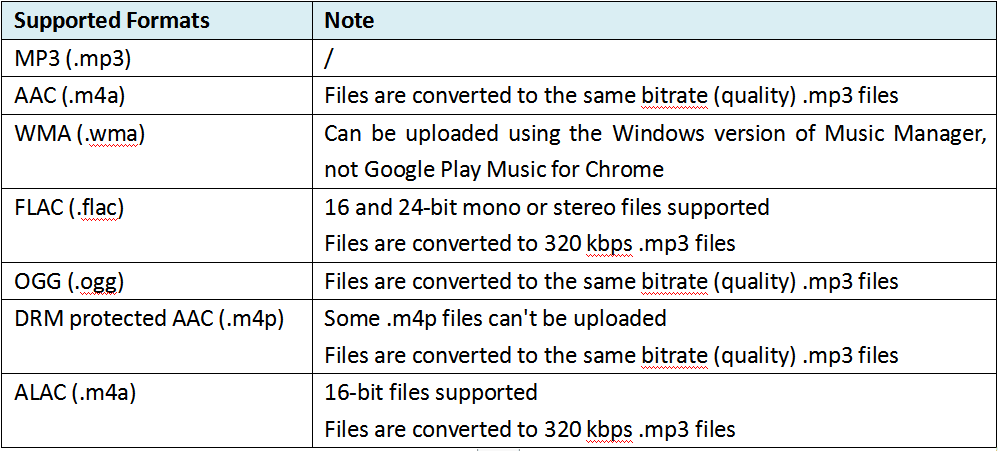 Other details that you should pay attention is that each music file you want to upload to Google Play Music should not exceed 300MB. Except for the above formats, other ones like WAV, AIFF, and RA formats are not supported for being uploaded to Google Play Music using the Music Manager or website on Chrome.
Part 2. How to Convert Audio Files to Formats Google Play Music Supports?
So what can we do if the music format we are holding now is not included in the list of the formats that Google Play Music supports? To deal with it, the only method is to change the format of the music into a supported one. So you may need the help of some audio converter like ConvertAnyVid.
ConvertAnyVid is a professional video as well as audio converter, that allows users to convert the files into 300+ formats casually. With a simple designed interface and multifunctional features, ConvertAnyVid has attracted so many users for using to convert the audio formats into the one that Google Play Music supports. As you can easily notice, ConvertAnyVid has divided the formats according to different devices, so you can easily select the one for the devices you want to convert even without searching for information on the Internet.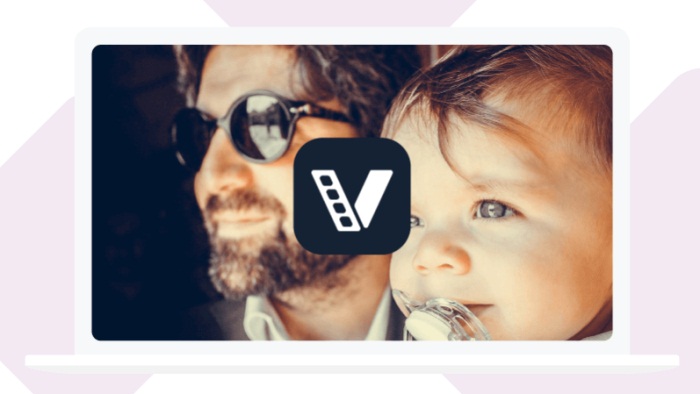 Besides, ConvertAnyVid guarantees the fastest conversion speed by providing a special acceleration mode for free selection on Windows version. Also, if you are a register user, you can add more files to ConvertAnyVid and do the batch conversion at the same time. So even you have lots of music files needed to be convert, ConvertAnyVid would just do it as soon as possible.
How to Convert Audio File to Google Play Music Supported Formats
Now you can follow the ConvertAnyVid guide and take these steps to convert the format of the audio to the one that Google Play Music supports.
STEP 1. Add Audio File to ConvertAnyVid
When you have downloaded ConvertAnyVid from the official website and install it, launch the program and go to the video converter inside. Simple by dragging the audio file you want to convert to the interface for adding. In addition, you can also choose Add File for selecting more files manually and input them to the interface of ConvertAnyVid video converter.
(Optional) STEP 2. Edit the File
ConvertAnyVid provides some free tools for you to edit the file that is going to be converted. By clicking the editing option you can use the provided features such as Rotate & Crop, Effect & Filter, Watermark, or Audio and Subtitle on the toolbar, you can use them for amending the file according to your need.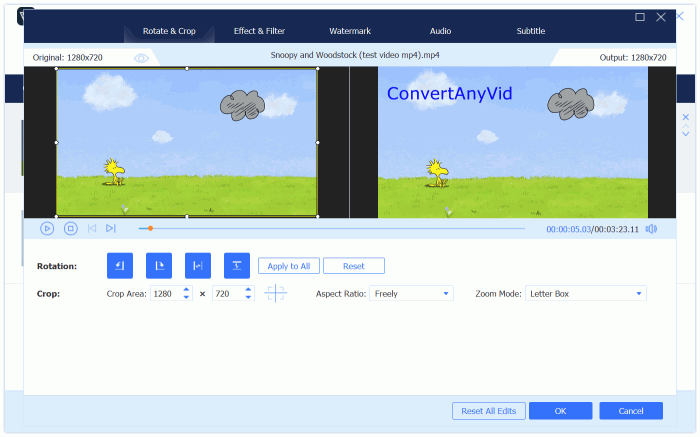 STEP 3. Choose Output Format that Google Play Music Supports
Now move to Convert All to section in the bottom part of the interface. By clicking on it and the list of output formats would be showed up in your sight. Then you can browse the list and find the one that Google Play Music supports. Clicking on the format and it will be selected.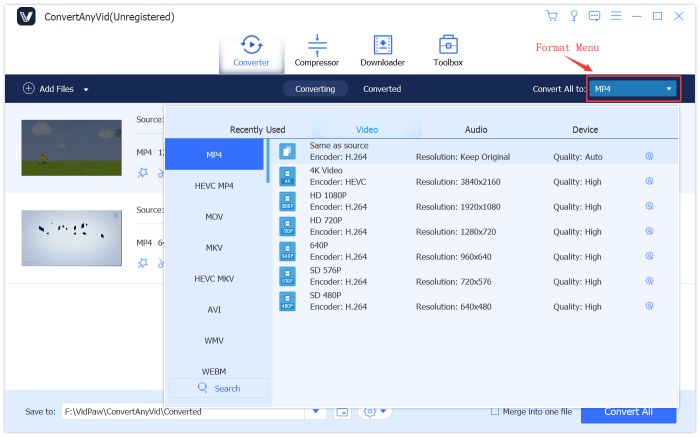 STEP 4. Convert the File
Under the workplace in the Save to section, you can also browse a location path on your computer to save the converted files, then you can upload them to Google Play Music more conveniently. When you have selected the output folder, now you just need to click on the Convert All button to start converting the file to the format you have selected. ConvertAnyVid will finish the job with a really quick speed.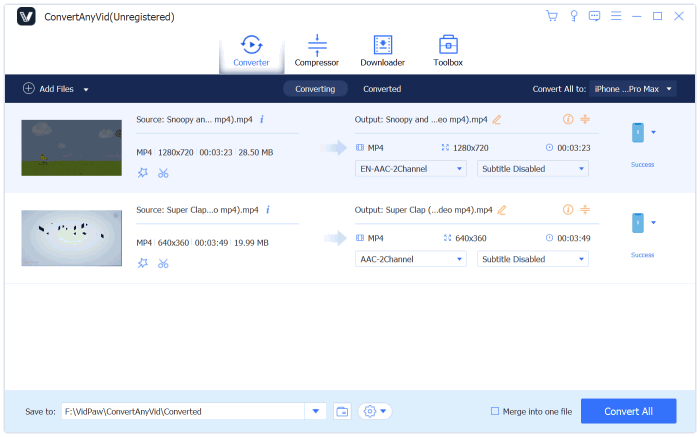 Part 3. Steps Taken to Upload Music to Google Play Music
When you get the music converted to the file that Google Play Music supports, now you have to move to the final step - upload the music file to Google Play Music for creating your favorite playlist and have a convenient playback in the future. Let's also see how to upload music to Google Play Music now.
STEP 1. Go to the Google Play Music online platform, and sign in with your Google account where you want to upload the music to.
STEP 2. After signing in the account, on the interface, please click on the Menu icon in the top left corner, and also choose the Upload Music option.
STEP 3. Then a window will be popped up, asking you to drag the songs or folders you want to upload to Google Play Music here for importing the music to the library. You can also select to upload the files by clicking the option SELECT FROM YOUR COMPUTER.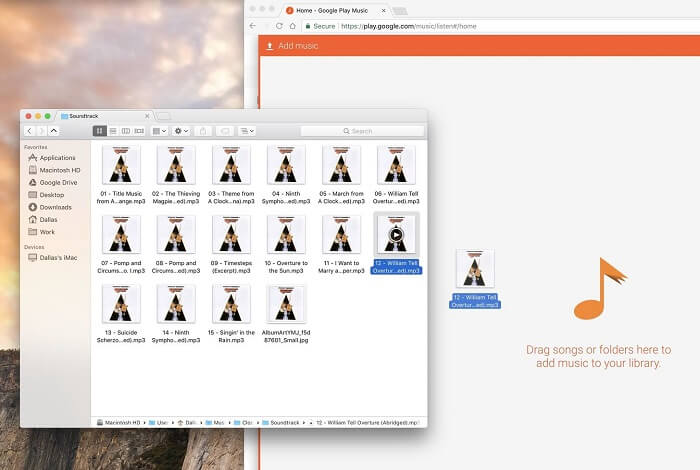 Note: Google Play Music has a function that users can select to upload music from a selected folder to Google Play Music automatically when there are music files in it. To enable this function, you only need to Menu > Settings > Add your music > Music from this computer, and choose a folder.
After uploading the music to Google Play Music, you can login your account on any other devices and access the music in your library for playback at anytime. This is quite convenient. So next time when you find that the music format is not supported by Google Play Music but you want to make it uploaded to the platform, just navigate to ConvertAnyVid for help!
Excellent

Thanks for your rating.
ConvertAnyVid
View Plan Options