Top 3 Ways to Convert WMV to MP4 Format Freely
WMV, which is short for Windows Media Video, is a video format that was firstly developed by Microsoft. Due to WMV is a compressed video encoder, so while comparing to some other formats, the size of the WMV file would be probably smaller.

Although WMV is one of the popular formats for using frequently nowadays, some Mac users may suffer the troubles that WMV is not supported by some Mac-based software, for example, iMovie, Final Cut Pro, QuickTime, etc. But if you still want to make the WMV file playable on the players or devices that originally don't support WMV format, you can try to convert WMV to other more common format like MP4. So today, we will introduce you 3 ways to do so. You can have a look now.
Part 1. Convert WMV to MP4 with VLC
The first method I would like to introduce is a free media player, VLC for converting WMV to MP4 format. VLC, whose full name is VLC Media Player, works to be a famous video/audio playback tool allows users to play files in. But a few users would know that VLC has hidden a video converter inside. So if you want to know how to convert WMV to MP4, this part is for you.
STEP 1. In the first step, you need to download and install VLC Media Player to your device. Then open the program and go to "Media > Convert / Save...".
STEP 2. In the Open Media window, please give a click on "Add..." to browse the folders on your PC to select the WMV files you want to convert to MP4. After finishing the selection, click "Convert / Save" and choose the "Convert" option.
STEP 3. Now, you are available to choose output format. In profile section, browse the format selection list and choose "Video-H.264+MP3(MP4)".
STEP 4. Finally, just choose an output folder to save the converted file, then click "Start" to begin the conversion to turn WMV to MP4.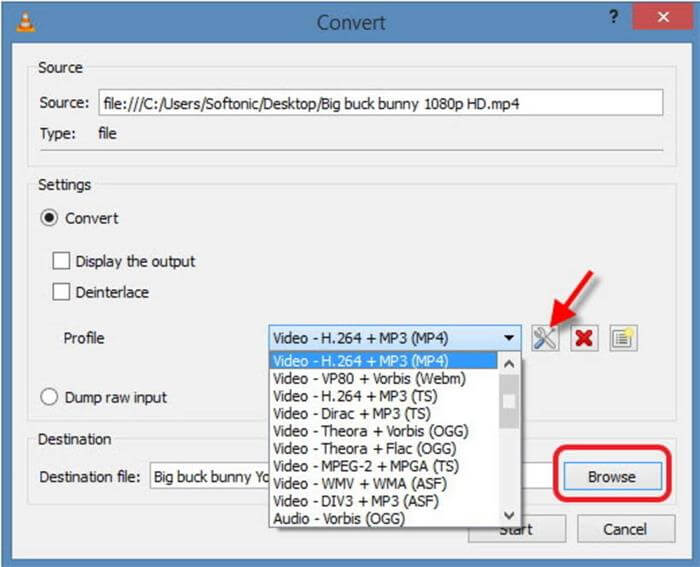 Part 2. [Recommend] The Best Way to Convert WMV to MP4 on Win/Mac
Besides VLC Media Player, another top video converter for both Win and Mac should be ConvertAnyVid. Why?
Other than a simple video converter, ConvertAnyVid unites both video converter and video editor inside the program, so that users can choose to edit their video files and convert them to the format they like in much easier way with only one software. ConvertAnyVid supports more than 300 formats, including those which are available on the devices like the new iPhone, Sam Sung, Huawei, etc. phone models. With ConvertAnyVid, you can find the format you need very easily because they are all well-sorted.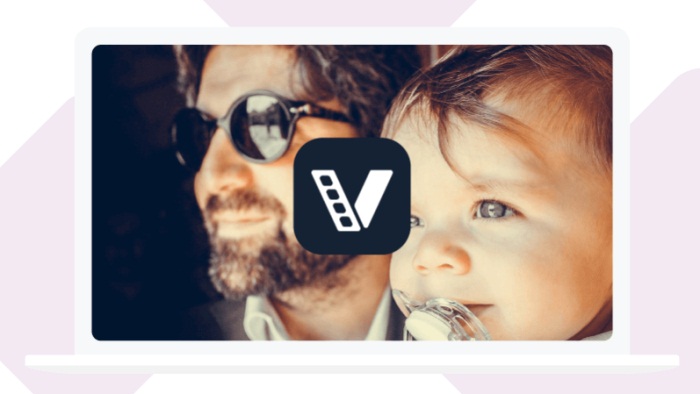 The conversion quality of ConvertAnyVid is also good and some high ones are freely provided such as 720p, 1080p HD and 4K Ultra HD. More importantly, to bring its dear users the most secure and well-performed environment, ConvertAnyVid contains absolutely no ads inside its interfaces. You can enjoy a fast, easy, and safe conversion experience while using ConvertAnyVid.
In the following, the steps for using ConvertAnyVid to convert WMV to MP4 are described. If you are the first time to use the program, just follow the guide to have a try!
STEP 1. Download Install ConvertAnyVid
At first, you are welcome to download ConvertAnyVid to your Windows or Mac device from VidPaw website. When you go to ConvertAnyVid product page, find the download icon for the suitable system you are using and click download button. You can try the free version before deciding whether to pay for purchasing the full version.
STEP 2. Add WMV File to ConvertAnyVid
After installing ConvertAnyVid on your device, open the program, and on its video converter main page, please drop the WMV file you want to convert here directly. You can also click "Add File" to import the files instead.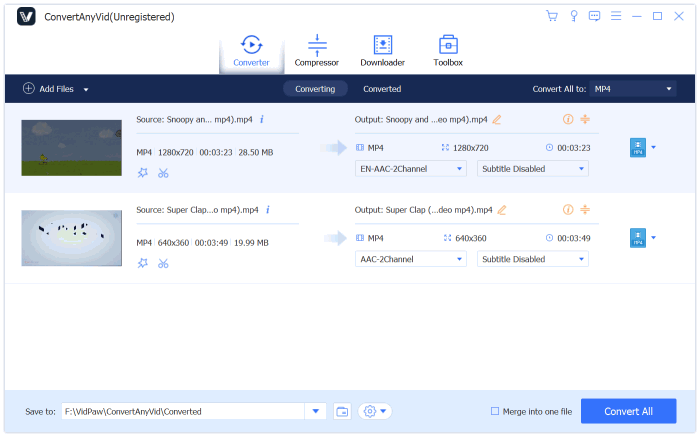 STEP 3. Select Output Format
Now it comes to the time when you need to select an output format that you desire to convert the video to. Browse the format menu in the below "Profile" section. Then find the MP4 format, you will see several options with different qualities that you can choose. Just select the one you like now.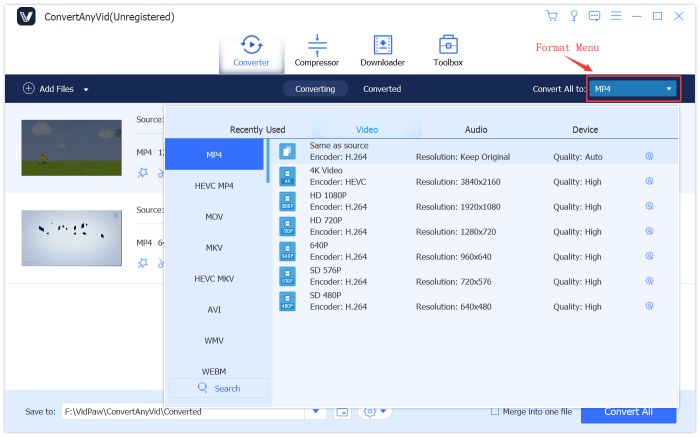 STEP 4. Convert WMV to MP4
Congratulations! Now you are in the final step! At this time, you need to select an output folder where you want to save the converted files. You can also leave it as the default one and do nothing. If you finish all settings now, please hit "Convert" to turn WMV into MP4 format.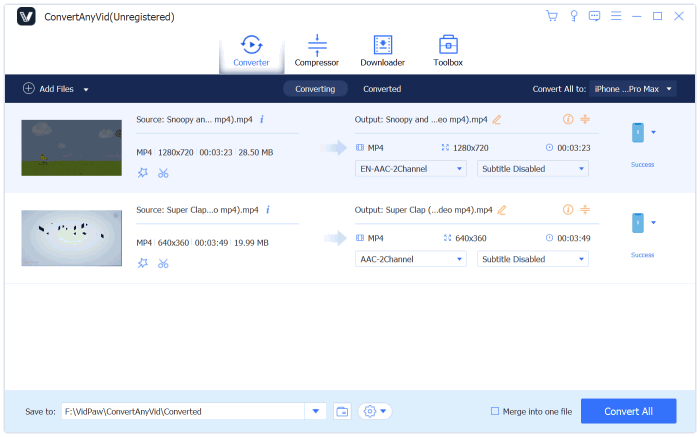 Part 3. Online WMV Converter to Convert WMV to MP4 Format
The final method to convert WMV to MP4 format is using a reliable online video converter, Convertio. The benefits of using an online video converter should be that you don't need to download a program, and just go to the website, then all things can be easily done. Convertio is simple to use and can perform well either. Let's see how to use it to convert WMV to MP4 now.
STEP 1. Go to Convertio website in your browser. On its interface, you will see a clear red icon, which you should give a click to add the WMV file to Convertio. Also, you are available to drop the file to the black area, and it will be added easily.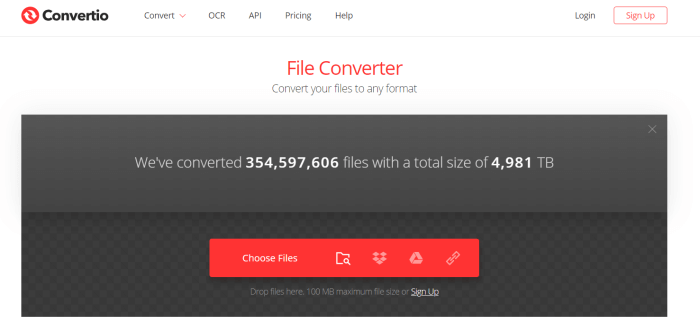 STEP 2. The file will be added very quickly. When you can see the imported file, you can begin to select an output format for it. Here you need to choose MP4 as the output format.When finish the choice, click on the "Convert" icon.

STEP 3. Now Convertio will begin to upload the file and convert it to MP4 for you. All you need to do just to wait the conversion done with patience.
STEP 4. When the conversion is finished, Convertio will show you a download option, clicking which and you can save the converted MP4 video to your device.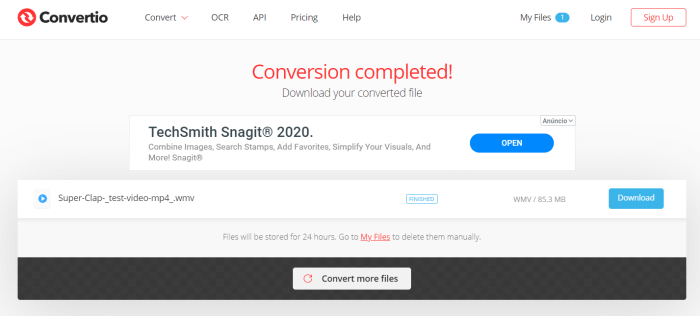 After converting the WMV to MP4, you can play them on more players or devices you like, because MP4 is widely supported! These three ways are all good choices if you get any video or audio that want to convert to different formats. So don't feel frustrated when you find the format of the videos you have is not supported by the media player you have installed. You can turn it to the one that it supports with the help of this blog. Share it with your friends if they are also finding ways to convert WMV to MP4!
Excellent

Thanks for your rating.
ConvertAnyVid
View Plan Options