There was an age for DVD several years ago, when the online streaming platforms were not so popular like today, and DVD disc was the main source to enjoy high quality movies, music videos, anime, etc. But do you remember that this would be quite troublesome? Especially when you extremely want to play the DVD disc but the DVD drive is broken!
That's also why the multimedia is so popular today - it is convenient for playback, and can be accessed on any device with a media player. Many people now would find the way to convert DVD using a video codec such as H.265 to keep the original quality of the content. But what is H.265? Is H.265 better or H.264? How to convert DVD to H.265? These problems will all be answered in this blog. Scroll down and read now!
Part 1. H.265 VS. H.264, Which is Better?
First, you need to know what is H.265. H.265, which is also named HEVC (High Efficiency Video Coding), is a video codec technology and the successor to MPEG-4 AVC/ H.264. H.265 can be used to store the video that is in pretty high quality. The maximum quality that H.265 can store can be up to 8K UHD, whose resolution can reach 8192x4320.
By comparison, H.264, whose full name stands for MPEG-4 AVC (Advanced Video Coding) and is the successor to MPEG-2 Part, is mostly used to encode the content like Blu-ray content. The coding capability of H.264 is less powerful than H.265, for it can only store the 4K content (resolution is 4,096x2,304).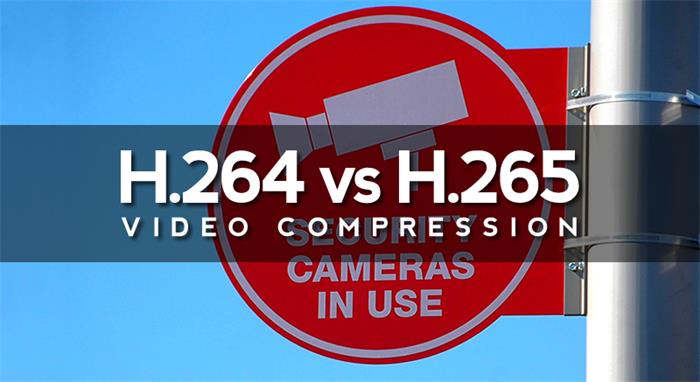 There are also other differences between H.265 and H.264. For example,
Frame rate - H.264 supports up to 59.94 fps; H.265 supports up to 300 fps;
Compression Model - H.264 uses hybrid spatial-temporal prediction model; H.265 uses enhanced Hybrid spatial-temporal prediction model;
Improvement to its successor - H.264 has 40-50% bitrate reduction compared to MPEG-2; H.265 has 40-50% bitrate reduction as the same level of visual quality.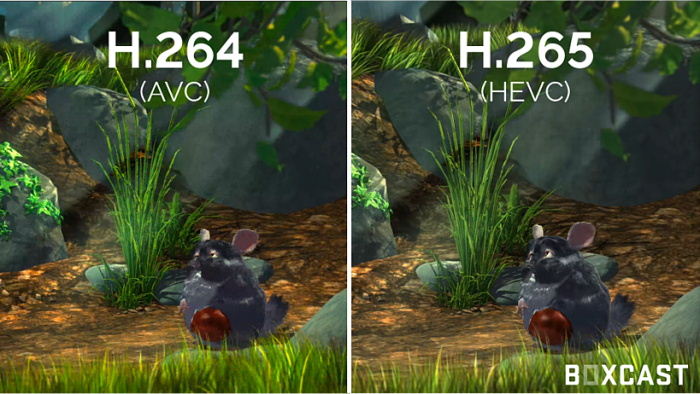 Drawing a conclusion, it is obvious that the encoded quality, resolution, and other capacity of H.265 is comparatively better than H.264. It is twice improved than H.264. Therefore, if the content stored in your DVD disc is higher than 4K, it is better for you to convert it to H.265 because you can get the original quality as before. That also means you need the help of a professional DVD ripper to help you rip DVD to H.265. In the following, I will introduce you the best DVD ripper, DVD Ripper.
Part 2. Quick Tutorial to Convert DVD to H.265 Format on Windows
DVD Ripper is the best tool that offers you the most wonderful and convenient DVD to H.265 ripping process. It is available on both Windows and Mac systems, also, both free trial and register versions are provided. You can try this tool to rip your DVD to H.265 for the first time before deciding to purchase it.
DVD Ripper possesses many sparkling features. For instance, there are many different formats can be selected to output the converted DVD, including MP4, MKV, MOV, FLV, M4V, MP3, AAC, OGG, WAV, M4A, etc. Second, the output quality processed by DVD Ripper is guaranteed to be losslessly. You can convert the DVD content to regular video in high quality like ultra HD, 4K, 1080p, and 720p.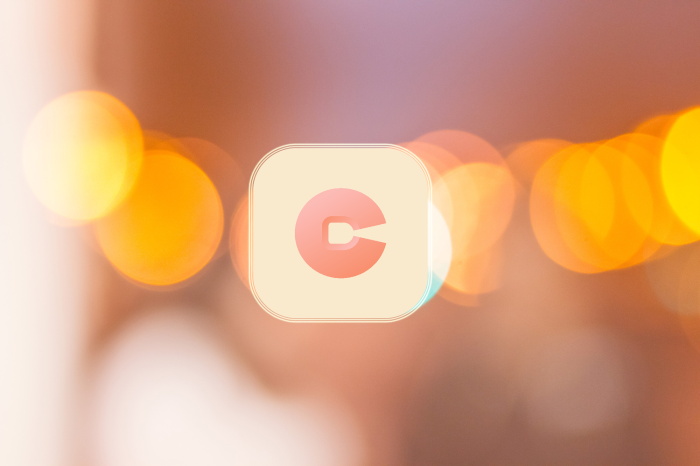 Know what? There are three acceleration technologies are applied to the program. Therefore, DVD Ripper allows up to 6x faster converting speed to let users convert DVD to the formats they prefer saving much time. In addition, before start ripping DVD, users can also edit and DIY the videos to meet their own satisfactions. DVD Ripper is a helpful and personalized tool for people with rich imagination.
As you are more familiar with DVD Ripper, now also grasp this quick tutorial to see how to convert DVD to H.265 format on Windows computer.
STEP 1. Install DVD Ripper and Launch It
First, download and install DVD Ripper on Windows. Subsequently, when the installation is done, directly launch RipAnyVid on your computer.
STEP 2. Insert DVD and Load It in DVD Ripper
Please insert the DVD to let it run in your computer. Then you should also go to DVD Ripper to let it detect the disc. Click on Load Disc > Load DVD Disc for importing the DVD content to DVD Ripper. After adding the DVD video, you can use the Clip, 3D, Edit functions provided on the toolbar to DIY the video before converting it.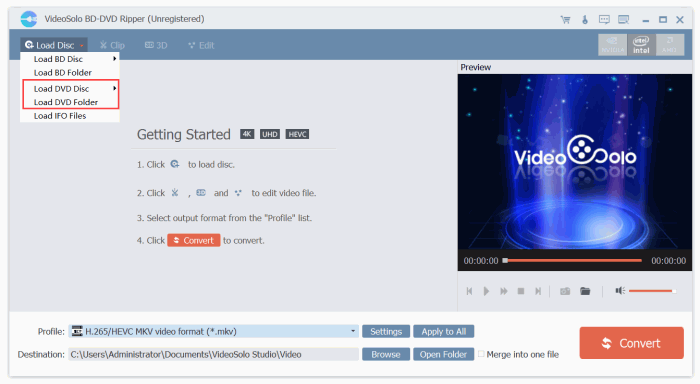 STEP 3. Select H.265 Format
Now please move down to Profile, where you should select an output format for the DVD video. Drop down the format list and you can browse to find H.265/HEVC MP4 video format (*.mp4). Just hit it and select as your output format.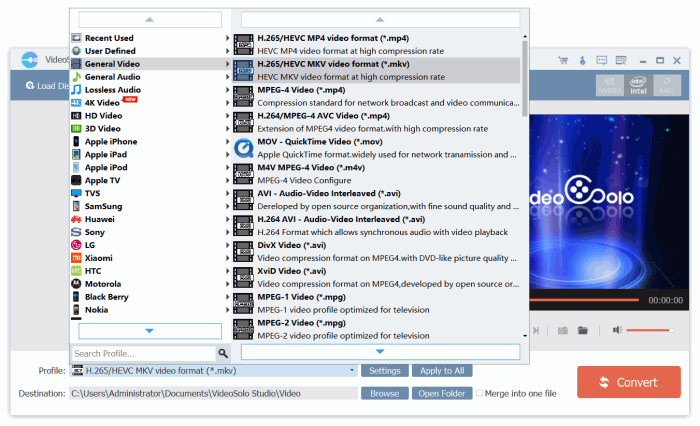 STEP 4. Convert DVD to H.265
If you want the output video to be saved in a specific folder, browse your computer in Destination and select the folder you prefer. When all is done, simple click on the Convert button on the right side, and DVD Ripper will start converting the DVD disc to H.265 for you.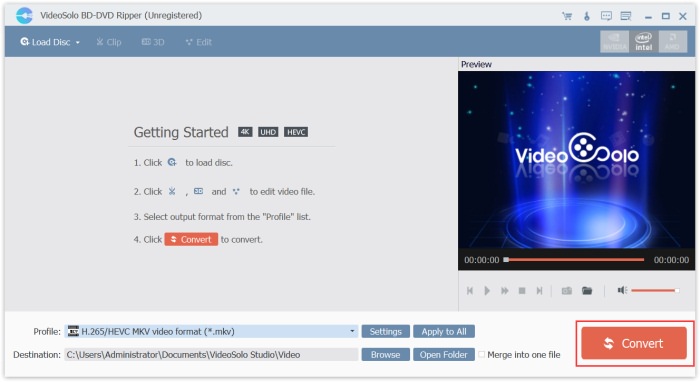 H.265 is an ideal choice to encode DVD content, because in most cases, the DVD content would be in high quality and resolution. Using H.265 can keep the most original quality of it, so you are sure to have the same streaming experience as playing the original DVD. When you need to convert DVD to more formats, RipAnyVid is the best choice for you. Just grasp this amazing tool and the simplest DVD conversion process to enjoy DVD content more freely!