With the continuous upgrade and development of digital video, people now have higher requirements towards the visual experience. To many people, Blu-ray discs look exactly the same as DVDs in both size and shape, and also their functions. But by comparison, Blu-ray seems to provide a better quality than DVD. So what are the exact differences between Blu-ray and DVD?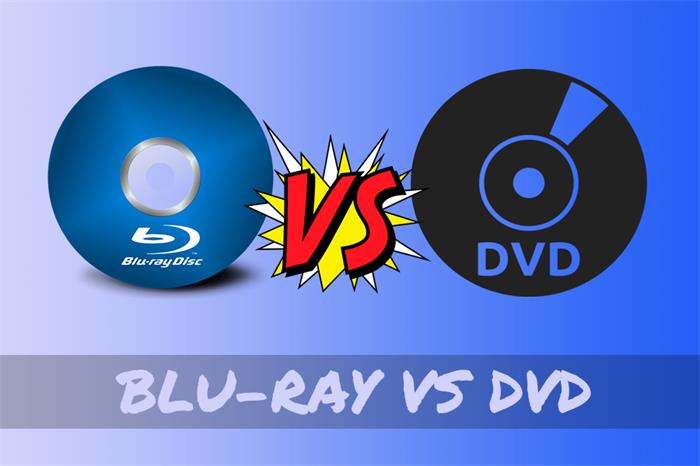 In fact, there are many differences between Blu-ray and DVD, for example, in storage capacity, image resolution, digital audio, player compatibility and 3D compatibility. For these differences, the general public still has a lot of confusion.
So what's the exactly differences between DVD and Blu-ray? Which one is better to choose? Now, you can check out the analysis below.
Part 1. The Differences Between Blu-ray and DVD
Both Blu-ray and DVD are a disc to store the media files with higher quality and larger sizes. DVD is an old format, Blu-ray is a new high definition format, which has some improvements compared with traditional DVD. Here we compare Blu-ray and DVD from five aspects.
1.Storage Capacity
Blu-ray disc uses a blue laser beam with a wavelength of 405nm to read and write content, while DVD uses a red light reader with a wavelength of 650nm. A single-layer DVD usually has a capacity of about 4.7-9.7GB, while a single-layer Blu-ray disc has a capacity of about 25 or 27GB, which is enough to record a high resolution movie for up to 4 hours.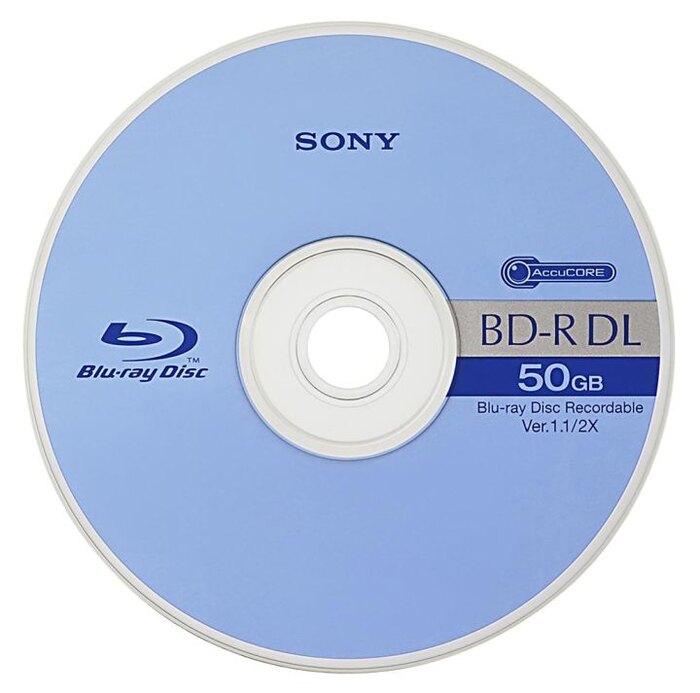 2.Image Resolution
Compared with ordinary DVD, the most popular feature of Blu-ray is its HD resolution. This is also the biggest difference between it and ordinary DVD disc. The lowest resolution standard of Blu-ray disc is 1080p. Now there are many Blu-ray discs on the market that have reached 4K. By comparison, DVD only supports the 720p standard definition image, so Blu-ray has better quality than ordinary DVD disc.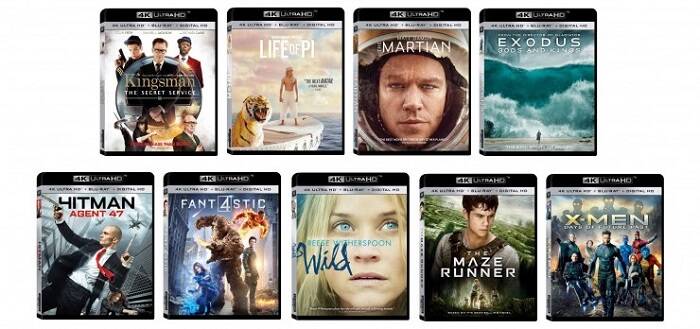 3.Digital Audio
The audio of Blu-ray can realize high fidelity and surround sound at the same time. Moreover, the Blu-ray player can decode the DTS and Dolby of disc, plus 5.1 channel, 7.1 channel or digital optical fiber and coaxial interface, which can truly reproduce the original sound of film and television. These make DVD DTS5.1's high compressed audio less competitive.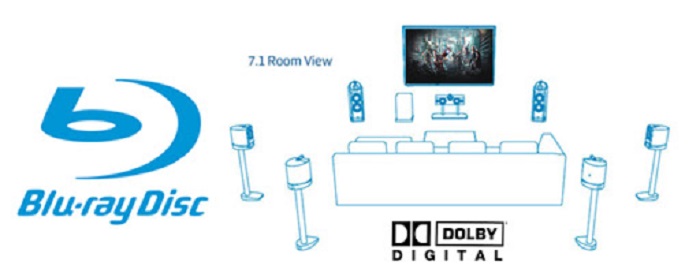 4.Player Compatibility
At present, all Blu-ray players in the market can play standard DVDs, but the Blu-ray discs cannot be played using standard DVD players. The reason is that the red laser used by the DVD player is too large to read the tiny grooves on the Blu-ray disc. The price of Blu-ray original disk is relatively high, which is also not conducive to storage. Therefore, to play Blu-ray discs, you need to purchase the specific Blu-ray player hardware.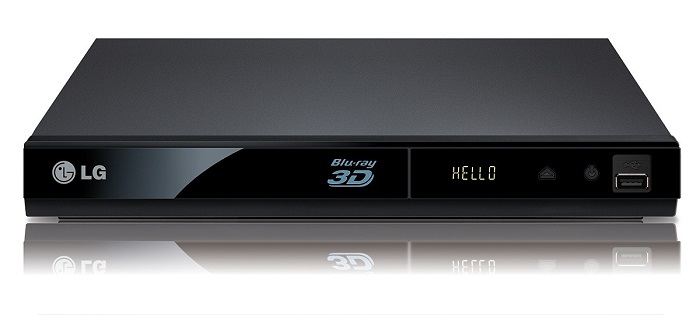 5.3D Compatibility
In theory, 3D movies can be recorded into DVD after compressing the video quality, but the film quality is not as good as the original Blu-ray 3D movies. Now almost all 3D movies are only recorded and saved on Blu-ray, and the 3D Blu-ray needs hardware to meet the original conditions by virtue of 3D glasses, Blu-ray DVD player and high refresh rate display.
Through the above comparison, I believe you should have a preliminary understanding of Blu-ray and DVD disc now. Is it to discover the benefits of Blu-ray. So the problem is that the Blu-ray player can only be used at home is not convenient. If you want to watch Blu-ray movies on any portable device, you can choose to rip them into common video formats, such as MP4, MKV, MP3.
In the next part, I would like to recommend you to use Blu-ray Ripper to rip the Blu-ray video to regular video formats.
Part 2. How to Rip Blu-ray Videos Easily
Blu-ray Ripper is a full-featured Blu-ray ripper that can easily rip Blu-ray disc to regular video/audio formats with high quality for various portable devices. Additionally, this amazing program is also a video editor. Blu-ray Ripper has enabled powerful and versatile editing features like effect adding, trimming, cropping, watermark adding to help you optimize the Blu-ray video before ripping and outputting it.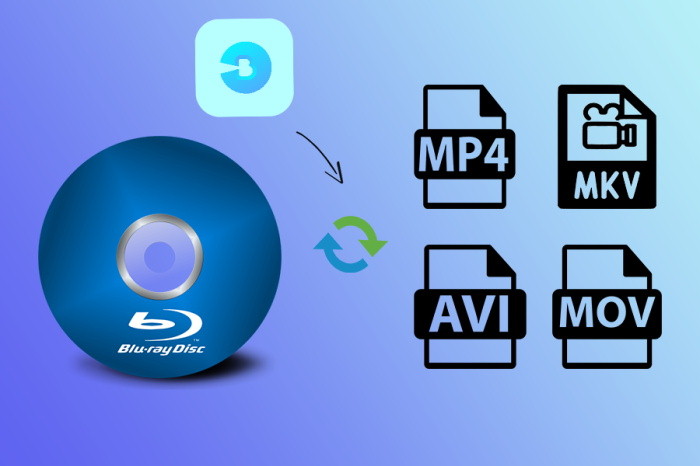 The most important thing about Blu-ray Ripper is that it's easy to get started. It's very friendly to new users, with an intuitive and simple-designed interface. You can download and experience it directly. Here are the specific steps to use Blu-ray Ripper to rip Blu-ray videos:
STEP 1. Download and Install Blu-ray Ripper
Download and install Blu-ray Ripper. The program provides free trial version for you to try it. You can download Blu-ray Ripper directly from our product page.
STEP 2. Import the Blu-ray Disc
Insert your Blu-ray disc to the Blu-ray disc drive, then launch Blu-ray Ripper and click the "Load Disc" > "Load BD Disc" button to have the Blu-ray content imported.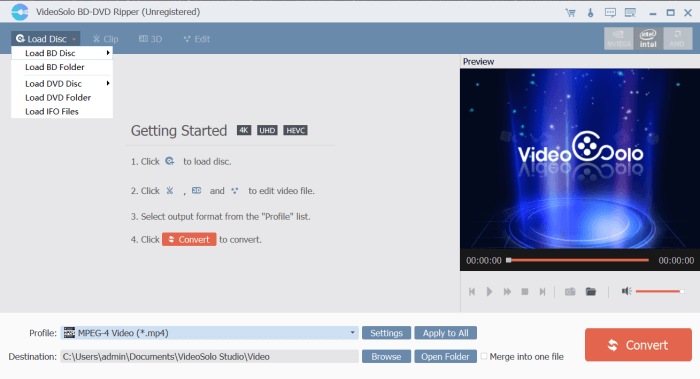 STEP 3. Select Output Format
Go to "Profile" and drop down the list to choose output format for the Blu-ray videos now. The fastest way is to input the name of the video/audio format you want in the "Search Profile" bar. For ripping Blu-ray videos to more advanced videos, you can also click "Settings" and adjust the video setting options according to your needs.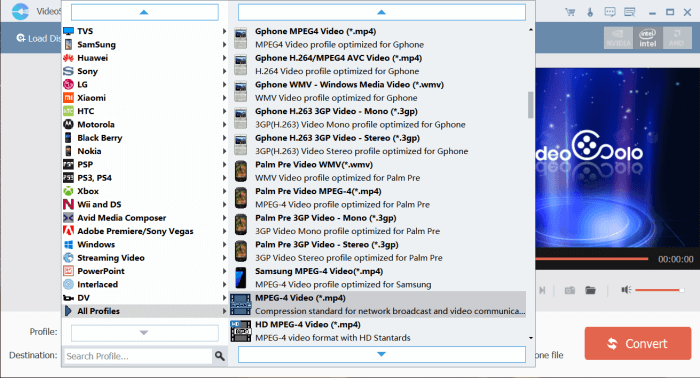 STEP 4. Start Ripping Blu-ray
Click the "Convert" button and it will back up the Blu-ray disc content to your PC immediately. You can view the conversion progress and are able to stop it at anytime.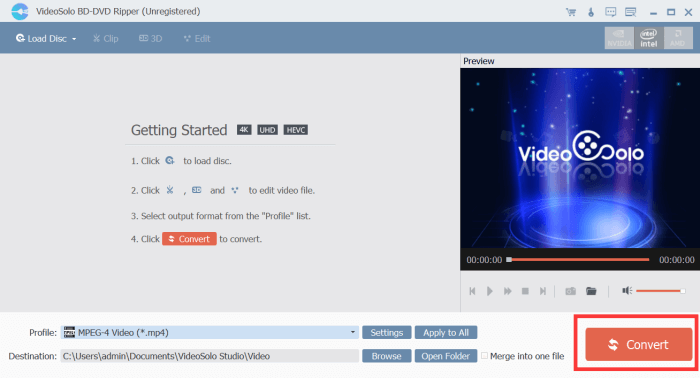 That's all! A moment later you will get a converted Blu-ray file with high quality, then just transfer the converted Blu-ray videos to your portable devices and use any media player for enjoying offline.
With Blu-ray Ripper, there should be no problem in the converting Blu-ray to regular videos. If you also have a collection of ordinary DVDs and want to back them up, don't worry. We also have professional software DVD Ripper for ripping and converting ordinary DVDs.
Part 3. How to Rip DVD Videos Without Any Limitation
DVD Ripper is highly recommended to you, which should be a great helper to rip DVD to other video formats with user-friendly interface and powerful capacity. DVD Ripper can help you rip video/audio from any DVD to popular formats for playing on portable devices like Samsung Galaxy Tab, Kindle Fire HD, Nexus 7, iPad, etc. to meet your different needs. Now download the program and start ripping DVD videos following the steps below.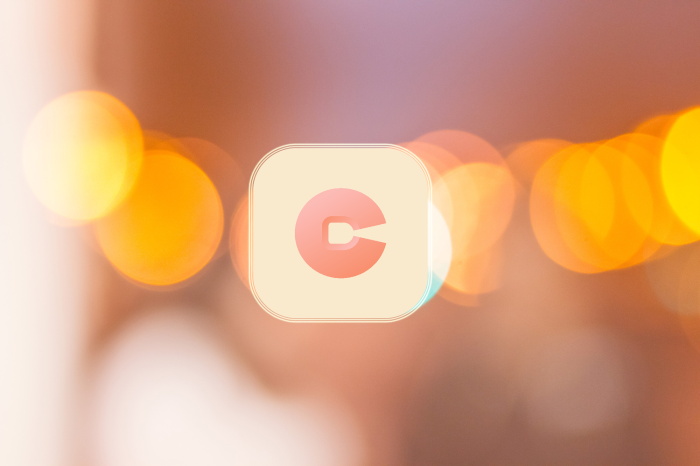 STEP 1. Import DVD Source
Launch DVD Ripper and insert your DVD disc into your PC drive, then click "Load Disc" > "Load DVD Disc" to select and import the DVD videos to the program. As you can see, you can preview the loaded DVD files in the previewing window on the right side.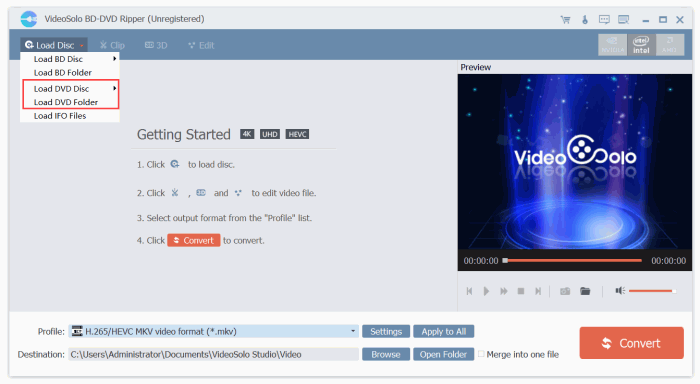 STEP 2. Choose Output Format
To convert DVD DISC to other formats, you can browse the format menu in "Profile", or click the "Settings" icon next to the "Profile" section and then choose MP4 or other formats you like inside the window. You can make more settings here as well.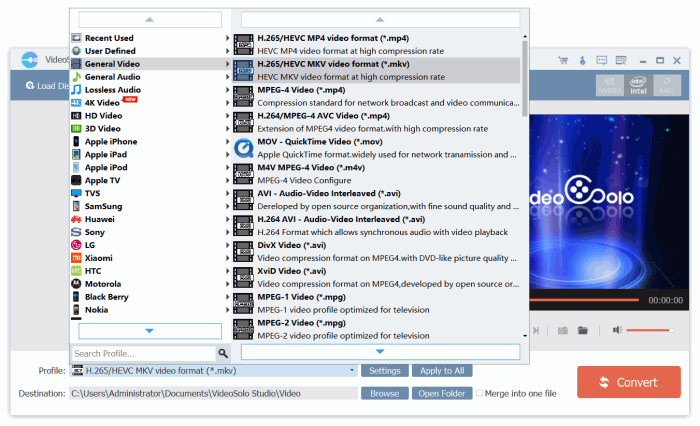 STEP 3. Choose Destination
Click on the "Browse" in "Destination" section, and you can select any location on your PC to store you converted DVD files.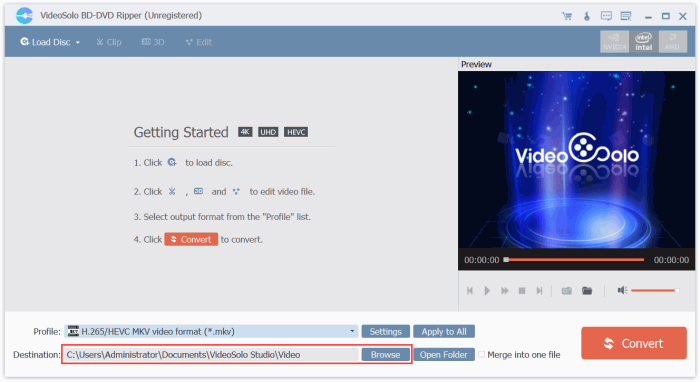 STEP 4. Start DVD Ripping
Hit the "Convert" button in the lower right corner of the main interface to start the conversion right now. DVD Ripper will automatically convert the DVD disc to the video/audio format you have chosen.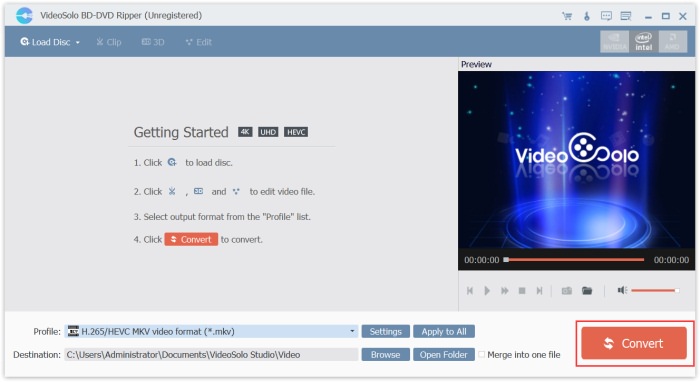 Once the conversion is finished, you can stream DVD movies on your other devices easily.
For the purposes like backup or transferring the great Blu-ray/DVD videos to portable devices for playback, you can try to rip them to regular video/audio formats with DVD Ripper and Blu-ray Ripper. Hope you can better enjoy your Blu-ray and DVD discs after reading this post.