Handbrake is an open source application enabling users to convert video/audio file formats and even rip DVD. If you are also the one who always get this kind of requirements, you must have heard about or very familiar with it. But each coin has two sides, although Handbrake is free and its functions are good enough for many people, it still has some limitations and would encounter errors. Do you also meet any of the problems like below?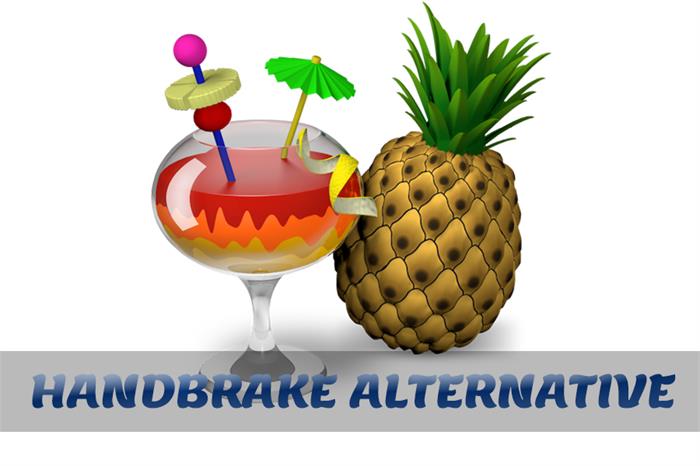 1. Fail to convert MKV to MP4, and audio conversion is also limited.
2. Beginners would feel hard to make clear about all the settings in Handbrake because they are more advanced and is not suitable for beginners to use.
3. Handbrake would not output the videos in order, and the video with sound may appear to be out of sync, which means that the video and audio of the same file will be accorded with each other.
4. At the end of the conversion, Handbrake is more likely to stuck. Also, during the conversion, sometime it would also crash.
If you are also bothered by this drawbacks of Handbrake, and longing to find another Handbrake alternative to help rip DVD to MP4, MKV, AVI or more formats, this blog is set for you. You will get 6 outstanding DVD rippers in the following part of the blog.
Part 1. Best DVD Ripper like Handbarke for Windows and Mac
In the first place of the recommendation list, DVD Ripper is going to be introduced. Working as an expert to rip DVD to ordinary formats, DVD Ripper can completely meet your needs to convert DVD disc as well as folder to different formats, including MP4, AVI, MKV, MPG, WMV, MOV, and so on. Also, you can extract the audio from DVD, and save the soundtrack in MP3, M4A, M4B, AIFF, or more audio formats.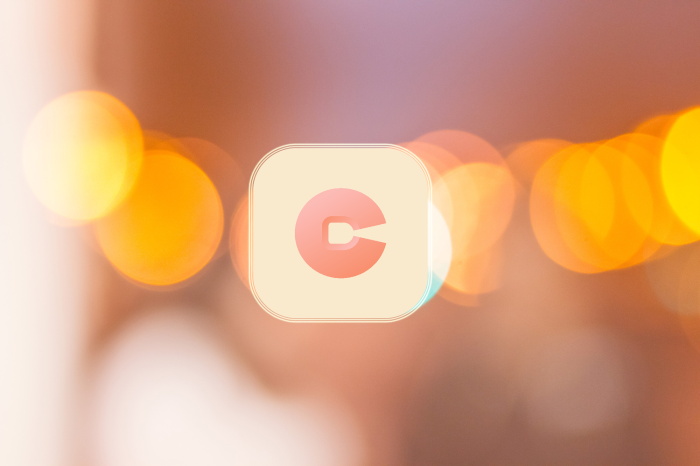 Other benefits that DVD Ripper can bring to you are also listed below:
DVD Ripper allows you to rip DVD to high quality videos in ultra HD, 4K, 1080p, 720p freely;
You can enjoy 6X faster DVD ripping speed if use DVD Ripper to convert DVD content;
Free and simple tools are offered inside DVD Ripper to let you DIY the DVD videos;
DVD Ripper can turn 2D videos to 3D without hassle.
After having a comprehensive understanding of DVD Ripper, why not give it a try to rip your DVD to MP4, MKV, AVI as the Handbrake alternative? Let's see the steps you should follow below!
STEP 1. Open DVD Ripper and Load DVD
Remember to download and install DVD Ripper to you computer first. At the same time, you need to input the DVD dis to let it run on your computer. Then, launch DVD Ripper and enter its main feed. Drop down "Load Disc" menu and choose "Load DVD Disc" option to select adding your DVD disc for inputting the content to DVD Ripper.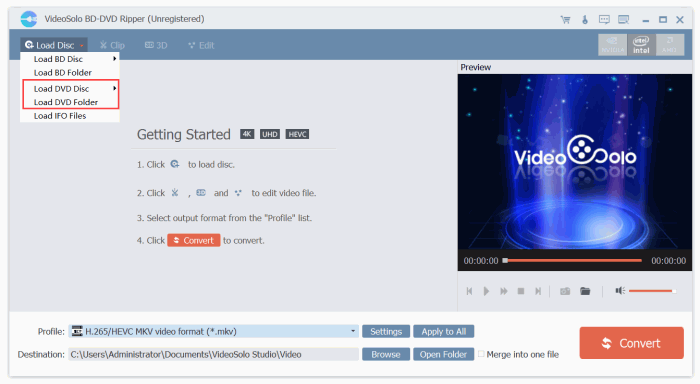 STEP 2. Select Output Format
Before ripping your DVD, it is available for you to edit it if you want to make it your type. The editing tools in DVD Ripper are free for using. Then, go down to "Profile" and select an output format for your DVD videos. You can find lots of output format here, including MP4, MKV, AVI and more.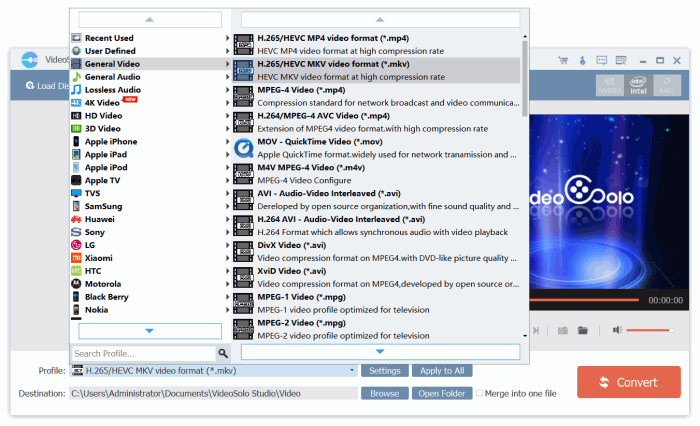 STEP 3. Rip DVD
Then, go to "Destination" and you are able to choose a specific path to save your video. You can also leave it by default. Congratulations when you have gone through all these basic steps! Now, just hit the "Convert" button, and you can rip DVD to the select format on your computer! When the conversion is done, just freely enjoy the video offline!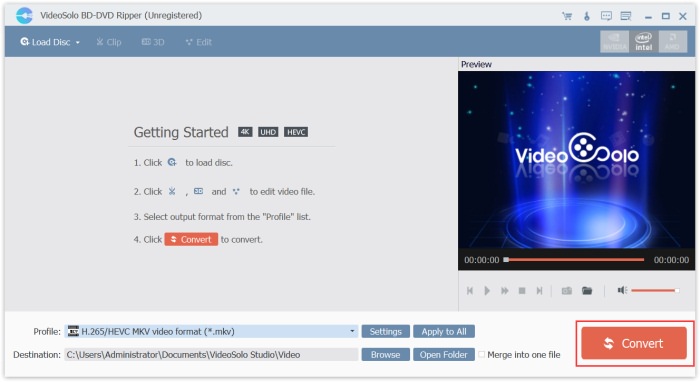 Part 2. More Handbrake Alternative to Rip DVD to Any Format
DVD Ripper is the easy-to-use but high quality DVD ripper that everybody can use to rip DVD to ordinary formats. So it is a simplified and good alternative to Handbrake, especially for the beginners.
Also, except for DVD Ripper, there are also other good Handbrake alternatives that can help rip DVD to other formats, including MP4, MKV, AVI, etc. Here are the top 5 of them. Let's give a look one by one!
1. VLC
Many people know about VLC, which is a leading media player in industry, providing free and high quality streaming service to let users enjoy all formats of video/audio playback. More than that, I would like to note you that, VLC is also a hidden DVD ripper as well! You may doubt that whether VLC can work properly to rip DVD to video formats. The answer is certainly a YES. VLC will deal with the DVD ripping professionally, try to convert the video/audio with lossless quality. Also, it is not complicated to use VLC to rip DVD. If you have installed it, try this function for once and you will surely be impressed by VLC!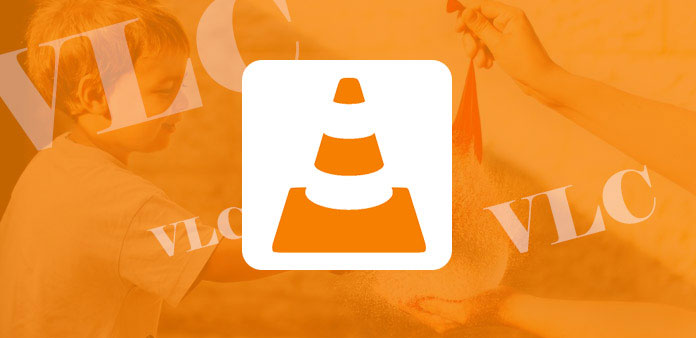 2. DVD Shrink
This one is also a famous rip DVD software for Microsoft Windows system, which is DVD Shrink. Like VLC, DVD Shrink is also an open source program offering the rip DVD windows solutions to deal with content ripping. Just as its name goes, DVD Shrink aims at bringing down the occupied storage of the DVD, free the content out of the disc and save in common formats. For sure, DVD Shrink will try its best to keep the quality as the original one, without compressing for too much. So it is also a reliable DVD ripper to backup your DVD content in video formats.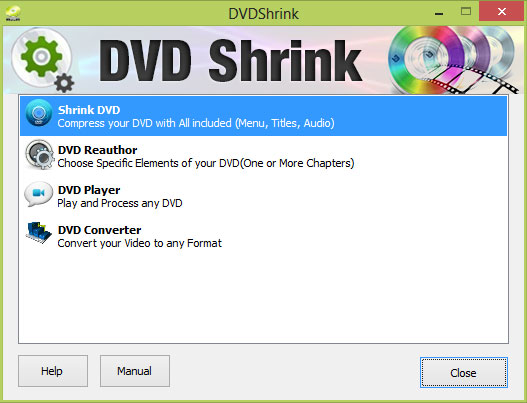 3. Freemake Video Converter
Freemake Video Converter a familiar tool for its entry-level video editing features and also easy-to-user video converter. It can turn all kinds of videos and audios to other formats for outputting, such as AVI, MP4, WMV, FLV, 3GP, DVD, Blu-ray, MPEG, and so forth. It is also working as a good DVD ripper, providing the easy function to let users convert DVD disc to these formats as well. So if you want a multifunctional rip DVD software, Freemake can be your choice.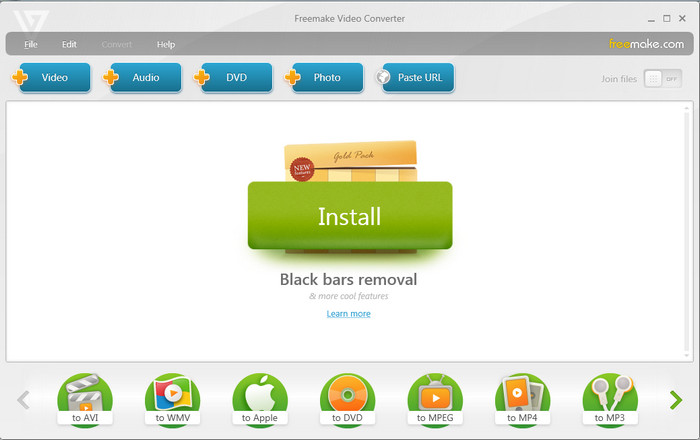 4. MakeMKV
Just like its name, MakeMKV is a powerful program that can convert all sorts of videos to MKV formats, including DVD and Blu-ray discs. It has a powerful transcoder system, which can read the content in DVD and Blu-ray disc, then, rip it to common format MKV. By getting the MKV videos, you can play them on any media players that support MKV video playback, and enjoy the content more easily in the future. So if you like MKV format and want to rip DVD to MKV, MakeMKV can be your choice.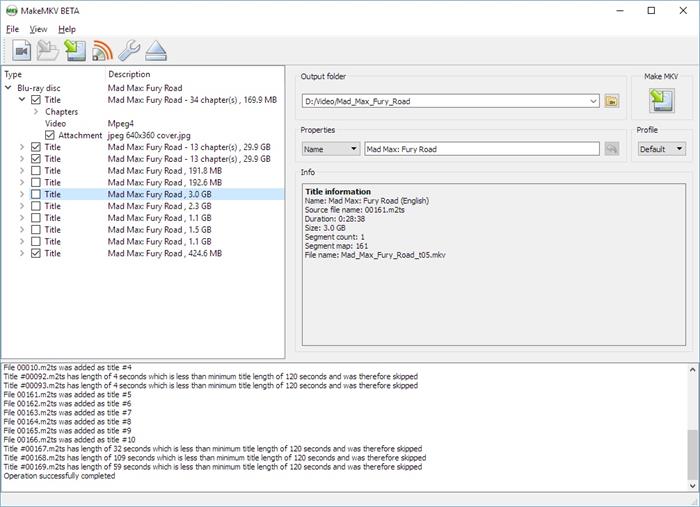 5. DVD Decrypter
Like DVD Shrink, DVD Decrypter is a software that is developed for Microsoft Windows system. Knowing from its name as well, you can easily know that DVD Decrypter can decode the DVD disc, and help to rip the video to various kinds of formats as users like. By ripping DVD to common video, you can save a copy of the DVD backup and without worrying that the disc would be damaged or scratched. But pay attention that DVD Decrypter can not copy DVD that is protected by some latest systems such as XProject.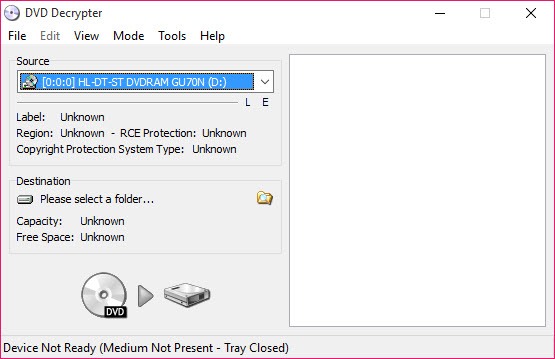 DVD Ripper is a must for people who want to save their beloved DVD disc in digital copies. These 6 alternatives to Handbrake are all good choices, and you just need to choose the one that most suits your need. Now, get the one you prefer and start ripping your DVD to common video formats!