[Solved] What is the Best Format to Rip Blu-ray to Your PC?
Nowadays, I believe all of you pursue a high quality and a right format for your downloaded videos or audios because you want to watch and hear the contents flexibly. But have you ever considered why you want a high quality and a correct format? According to a new study by USC and the Australian National University, the quality of the videos or audios affects people's attitudes towards what they see and hear. Therefore, whether you trust the source of the information depends largely on what your see and hear.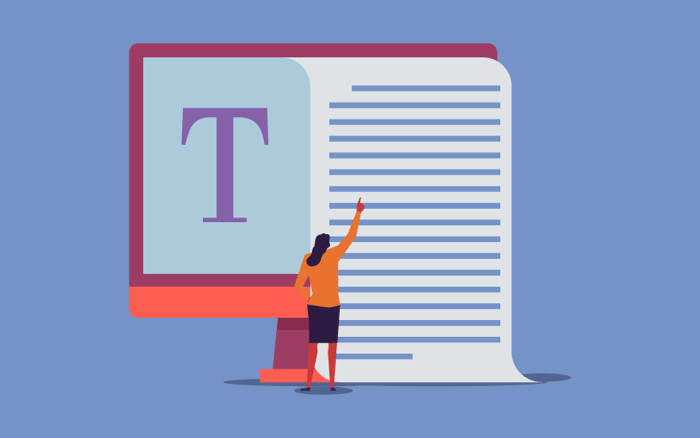 As a result, it is wise for all of you to choose the highest and best format for your quality and audio, especially to save the content ripped from Blu-ray Disc or Folder, which are mostly in high quality. So, what is the best format you can use to encode your ripped Blu-ray content so that you can keep the Blu-ray video/audio with its original quality? Now let's forward further!
Part 1. What is the Best Video Format For Blu-ray Ripping?
In a nutshell, MP4 is the best format for saving the Blu-ray content. Developed by International Organization for Standardization, MP4 format, whose full name is MPEG-4 Part 14, is the most widely-used format in the world, and is regarded as the standard among so many video formats. MP4 format can be used to store and handle the data of videos, subtitles, and still images, allowing users to play them back on most mainstream devices as well as media players.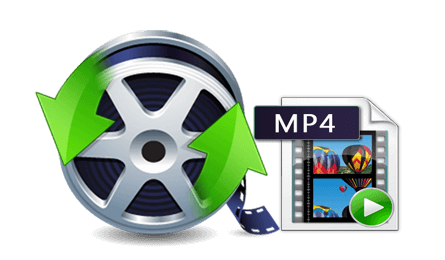 How does MP4 handle data? There are some secrets about its specific codecs. To handle the data of videos, MP4 format has the codecs of MPEG-4 Part 10 (H.264) and MPEG-4 Part 2. For audios, MP4 format allows to encode the content with the codecs like AAC, ALS, SLS, TTSI, MP3, and ALAC. On the other hand, MP4 format uses MPEG-4 Timed Text to handle the data of subtitles.
MP4 format is universally accepted because of its user-friendly features. The most outstanding one is that it is highly compatible with plenty of devices such as iOS, Android, macOS and Windows operating systems, and other video playback applications. Consequently, it will be very flexible for video lovers to use MP4 format to store files, because the playback is much easier and you can also to deliver the MP4 files among different people conveniently, thanks to its great compatibility.
As a result, if you are seeking for an ideal format to save the Blu-ray content, MP4 can be a great choice, not only for its high compatibility, but also the guaranteed quality.
Part 2. What is the Best Audio Format For Blu-ray Ripping?
Except for video format, if you ask me what the best audio format to save Blu-ray audio content, MP3 will be my top choice on the list. Formally, MP3 is written as MPEG-1 Audio Layer III or MPEG-2 Audio Layer III. Developed by Moving Picture Experts Group, it is a coding format for digital audios. Like MP4 format, MP3 is also a highly compatible and flexible format which can be used on various devices and media players.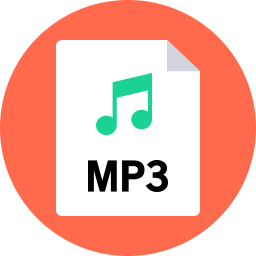 Additionally, MP3 format allows music lovers to store large audio files with high quality. However, if you prefer a smaller audio file in order to save the storage space, using MP3 format can reduce the size with only slight compression on the audio file. As a result, MP3 format is pertaining around the world.
Furthermore, if you want to keep the original quality of the audios, I would like to introduce some audio formats which would reduce the file size without compressing the audio file and guarantee you advanced enjoyment. They are FLAC (Free Lossless Audio Codec), ALAC (Apple Lossless Audio Codec), and WMA (Windows Media Audio).

FLAC is accepted by many devices and applications while ALAC is supported by only iTunes and iOS. In addition, WMA has the lowest efficiency on compressing and is not supported by as many as devices and applications as FLAC. So, you may consider FLAC as the main alternative as MP3 format because it offers similar advantages as MP3 format.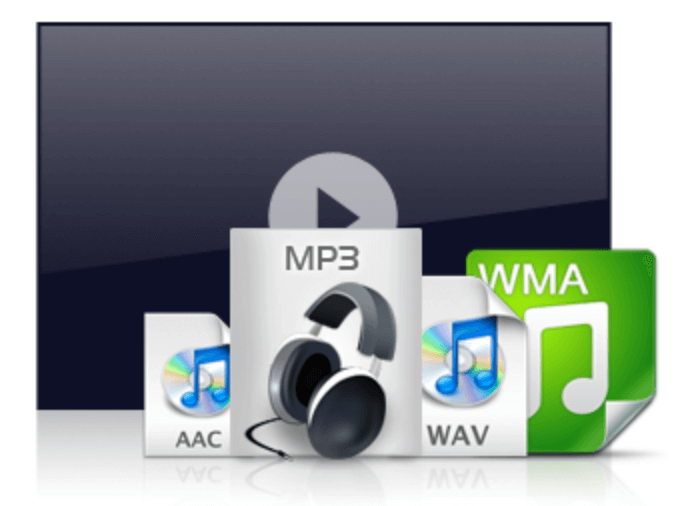 Part 3. Recommendation: The Best Blu-ray Ripper - Blu-ray Ripper
After introducing the best formats to rip Blu-ray MP4 and audios, I would like to highlight the best Blu-ray ripper: Blu-ray Ripper if you want to rip the Blu-ray content out of a Blu-ray Disc or Folder and save it to ordinary formats like MP3 and MP4. Equipped with powerful, professional, and reliable Blu-ray converter, ISO converter, and 3D converter, Blu-ray Ripper can help you rip and convert any Blu-ray files to high quality such as 720p, 1080p, and 4K with popular formats including MP4 and MKV losslessly.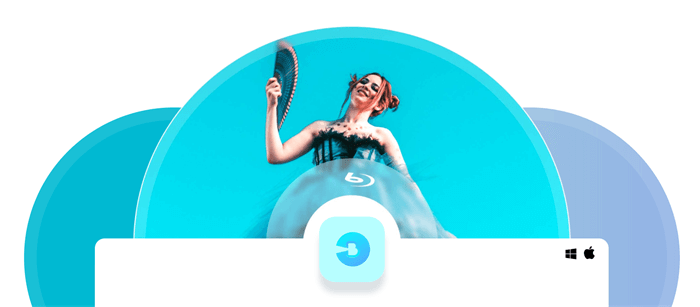 Within Blu-ray Ripper, you can edit the files using the free video editing tools such as trimming, cropping, or rotating. What's more, you are able to add subtitles, text, and watermark to the video if you need. Brightness, contrast, and saturation are other adjustment are also available for you to edit the Blu-ray content. Before starting to rip the Blu-ray video/audio out of the Blu-ray Disc/Folder, you have chance to preview the edited content in Blu-ray Ripper.
Another function which is worth mentioning is that Blu-ray Ripper (registered version) can help you accelerate the conversion speed while ripping Blu-ray files, with its in-app NVIDIA GPU Acceleration, Intel App Acceleration, and AMD App acceleration. After finishing all your editions for your the Blu-ray video/audio, you can rip the content and save it immediately on your device no matter whether you are using Mac or Windows operating system.

Now let's move on to see how to rip Blu-ray files!
STEP 1. Download and Install Blu-ray Ripper
Please open a new tab in your browser and navigate to the official product page of Blu-ray Ripper. You will see a Download button in the middle of the website. Please click on it to download Blu-ray Ripper. Then also follow the instruction to install it properly on your computer. As for whether to choose the free version or the register one, I recommend free trail would be better if you are the first time to use Blu-ray Ripper.
STEP 2. Load Blu-ray Disc/Folder
Now please plug in your Blu-ray Disc to your computer and open Blu-ray Ripper. After you see the main feed of Blu-ray Ripper, please click on Load Disc >> Load BD Disc on the top right corner and open the Blu-ray video/audio from the Blu-ray Disc that you would like to rip.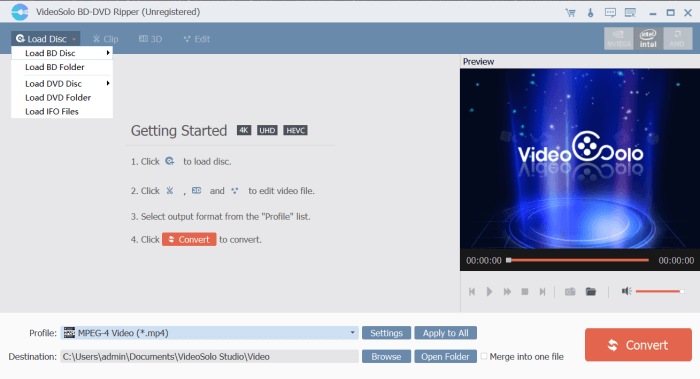 STEP 3. Edit the Blu-ray File and Choose the Output Format
After opening the Blu-ray content, you are able to edit the file in Blu-ray Ripper, including trimming, cropping, and rotating the file.
Then you can tap the drop-down list beside Profile and select General Video or General Audio or other options according to what final format you want to encode the Blu-ray video/audio.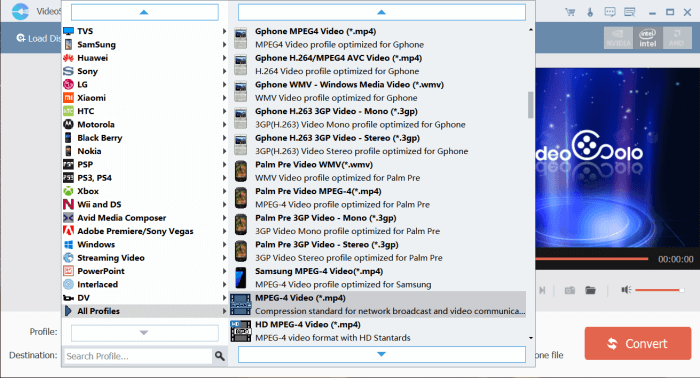 Additionally, you can adjust the video/audio such as its parameters like the bitrate, brightness, and contrast to make the file approach the effect that you want in Settings beside the format menu.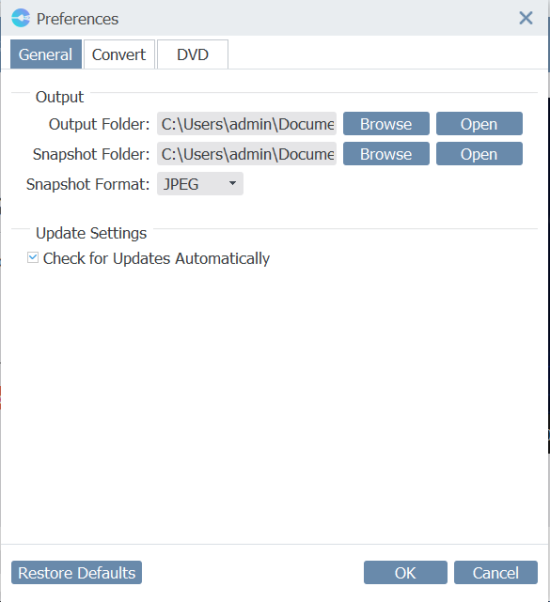 STEP 4. Rip Blu-ray to Common Format
Next, you may need one more step before starting to rip the Blu-ray file, which is selecting a destination folder for saving the content. Please locate Destination under Profile to find a place on your computer to store the converted files. Subsequently, you can click on Convert to start ripping the Blu-ray video/audio to your select output format.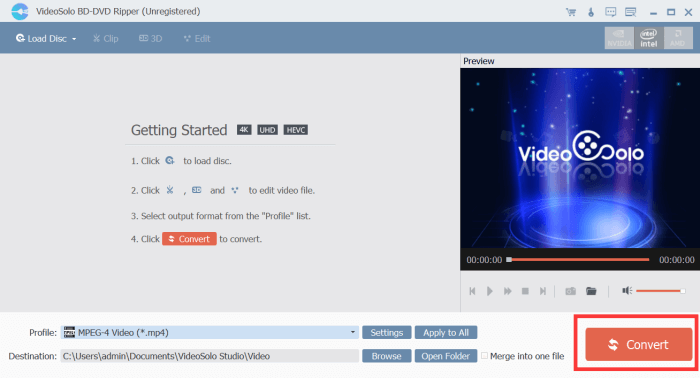 Up to now, you know all the procedures of using Blu-ray Ripper to rip Blu-ray content to common formats like MP3 and MP4. Before ripping, you need to consider which format you prefer. Make sure that you have chosen the format you need, and you can enjoy the Blu-ray content more flexibly and conveniently. Now just try to use Blu-ray Ripper to rip your first content from the Blu-ray Disc/Folder!
Excellent

Thanks for your rating.