7 Best Blu-ray Burning Software for Windows and Mac
As Blu-ray, which has a great storage capacity to store a high definition movie, becomes more common like CDs and DVDs, more people are starting to buy computers with built-in Blu-ray burners or buying external burners. But it could be difficult to choose a Blu-ray burning software for there are too many available in the market.
Don't worry. In this article, you will get to know 7 best Blu-ray burners for Windows and Mac. Also, main features of these software will be listed so that you can choose according to your needs.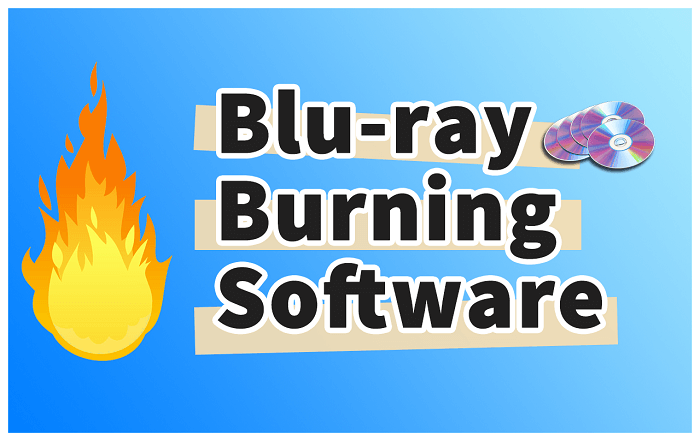 1. Blue-Cloner 6
Blue-Cloner is an easy to use Blu-ray burning software. If you want to burn a 1:1 copy of perfect quality, Blue-Cloner is a great option.
The program provides both Express and Expert burning modules. The former mode helps you burn an identical or compressed copy of a Blu-ray movie with a few clicks. The latter mode enables you to customize your burning process step by step and you will find some useful compression tools, which makes it possible to shrink a large Blu-Ray movie to fit onto a smaller blank Blu-ray or DVD.
Features:
1. It makes exact copies of your favorite Blu-ray movies.
2. It burns excellent-quality discs.
3. It can bypass copy protections.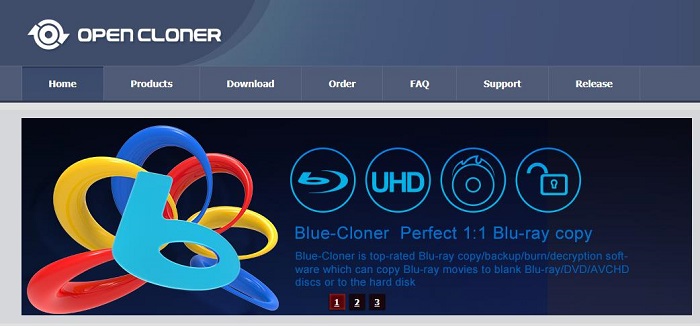 2. Wondershare DVD Creator
Wondershare DVD Creator
is another powerful Blu-ray burning software that performs well on both Windows and Mac. It supports various Blu-ray discs, for example, BD-R, BD-SE, BD-25 and etc. Additionally, you can burn videos in 150 video formats.
Features:
1. It can burn videos to Blu-ray disc at fast speed.
2. It has a user-friendly interface which allows you to preview your contents.
3. It allows users to burn 150 formats to Blu-ray disc, Blu-ray folder, DVD disc and DVD folder.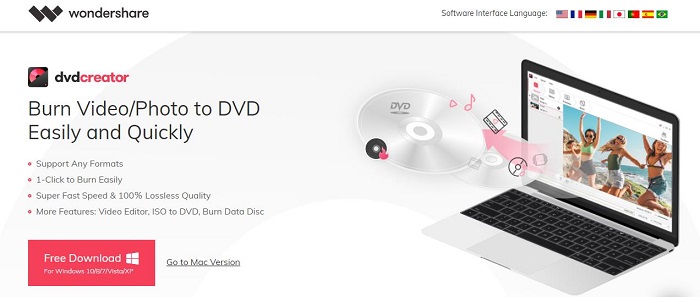 3. Leawo Blu-ray Copy
Leawo Blu-ray Copy is one of the most comprehensive Blu-ray burners which can decrypt, rip, copy and burn Blu-rays on Windows, Mac and even blank discs. This software supports you to burn Blu-rays in 1:1 copy without quality loss. However, the biggest drawback of this software is that it provides no compression option for Blu-ray movies. Despite that, this is a powerful and simple to use Blu-ray burning software.
Features:
1. It allows you to add 3D effects to 2D movies.
2. It provides basic video editing features for editing your video.
3. It equips with powerful backup and archiving tools.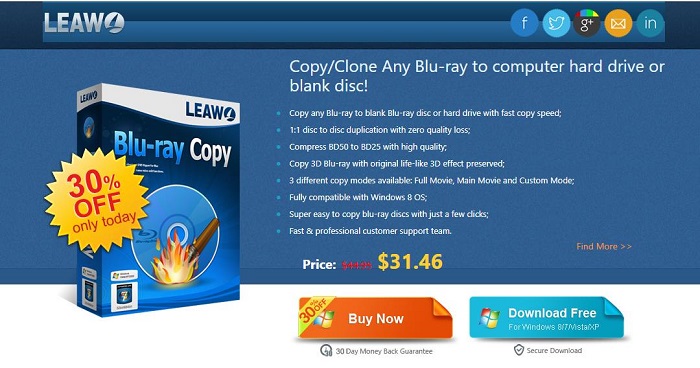 4. DVDFab Blu-ray Copy
If you want to burn a 3D Blu-ray movie, DVDFab Blu-ray Copy can help you out. In addition, this Blu-ray burner provides five burning modes which can fulfill your various needs. And even some commercial Blu-ray titles can be decrypt because the software gives users a built-in decrypter to circumvent protections.
Features:
1. It allows you to burn Blu-ray at flash speed.
2. It supports you to choose the titles, chapters, audio tracks and subtitles that you want, and customize your own menu.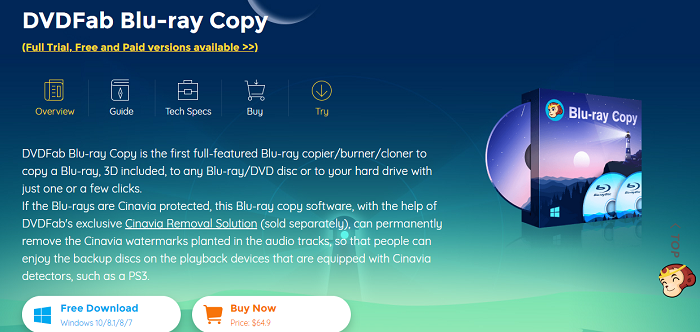 5. Ashampoo Burning Studio
Ashampoo Burning Studio is an easy-to-use Blu-ray burner which walks you through the Blu-ray burning process step by step. This software offers an array of optical disc-authoring tools. And the interface is clean which gives you access to all the useful burning tools in the main window. Besides, you can also burn a movie-only copy of the discs.
Features:
1. This software allows you to make several types of Blu-ray discs, DVD, and even CDs.
2. Its Blu-ray burning tools perform excellent.
3. Just a few clicks, you can burn a copy of a Blu-ray movie with no hassle.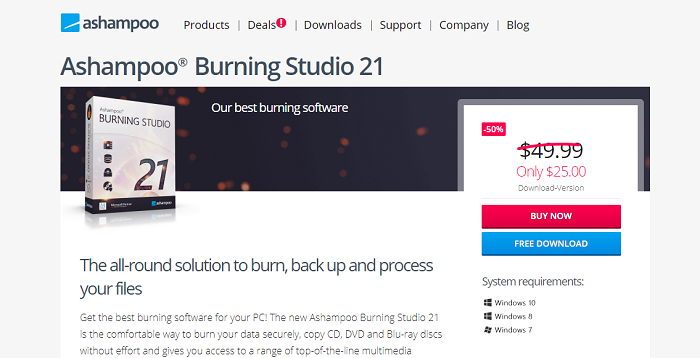 6. BurnAware
BurnAware is very simple Blu-ray burning software that you should not miss out. You can use it to burn a Blu-ray or audio CDs for backup. It also has a straightforward interface. All the functions are clearly presented in the window so that you can easily find the tool you would like to use.
Features:
1. The free version allows you to create bootable discs.
2. CD and DVD are supported by BurnAware.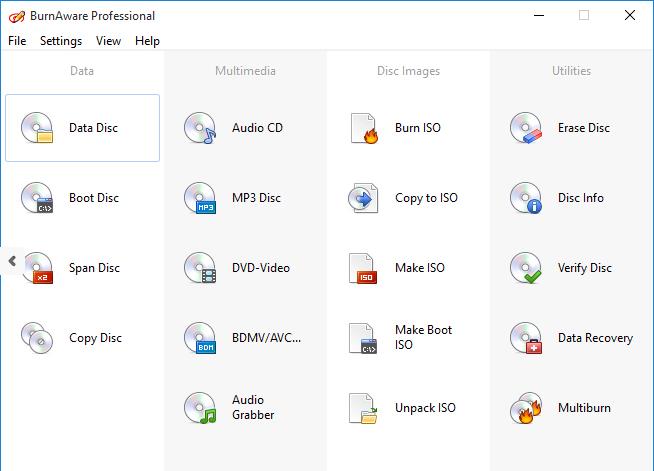 7. Express Burn
As its name indicates, Express Burn enables you to burn a Blu-ray with high speed. With this Blu-ray burning software, you can easily burn audio, video files to Blu-ray, DVD, and CD. This is a handy Blu-ray burner for beginners, which satisfy most of your needs. However, it does not support to burn a commercial DVD.
Features:
1. Express Burn allows you to burn CD, DVD, or Blu-ray discs.
2. Express Burn features with a well-organized interface that is easy to operate.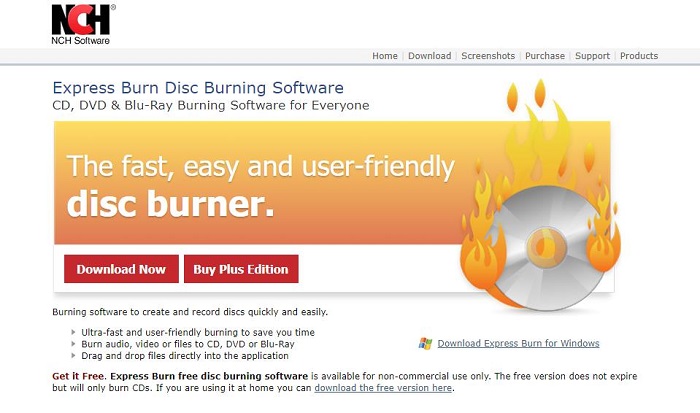 Conclusion
Now the detailed information about these Blu-ray burning software is all presented. Do you have an idea to choose which of them? If you have any better options for Blu-ray burning, feel free to give us suggestions. And don't forget to share this article with your friends if you find it useful.
Excellent

Thanks for your rating.