In October, 2018, A Star Is Born, a soundtrack album, which is to the same name of a musical movie, played by Lady Gaga and Bradley Cooper was released. Gaga and Cooper co-wrote and produced most of the songs on the soundtrack for A Star Is Born. Commercially, the soundtrack debuted at number one in the US, making Gaga the only woman with five US number one albums in the 2010s, and even broke her tie with Taylor Swift as the most for any female artist this decade. Let's get to know this once fashion icon and pop music star again and take a look back at Lady Gaga's previous big hits.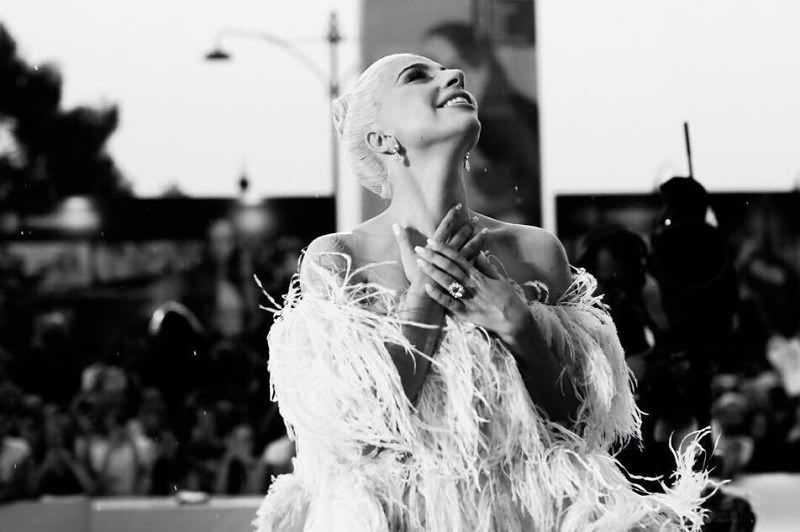 Part 1. Introduction of Lady Gaga
Lady Gaga was born in 1986, in a privileged Italian family in Manhattan, New York. She has a sister, who is six years older than her. At that time, her name was Stefani Germanotta. Many people see Lady Gaga as a weird pop star because of her dazzling look, but her music talent is often overlooked.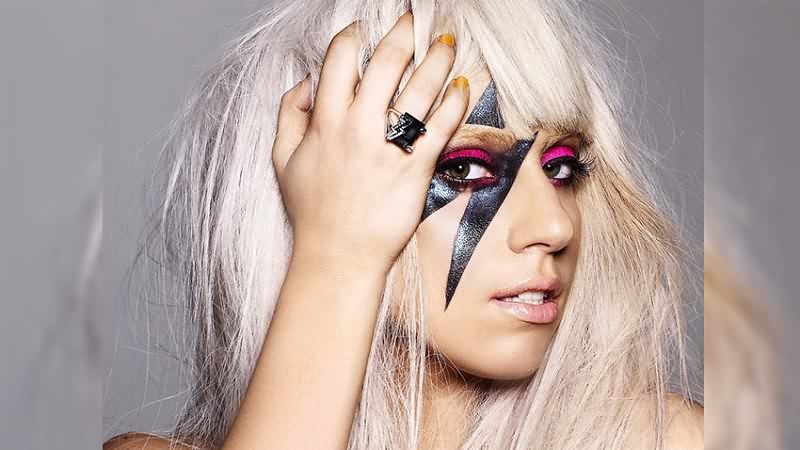 In fact, Lady Gaga is a talented music prodigy who learned to play the piano at the age of 4 by listening only to the music. When she was 13 years old, she wrote her first piano ballad, and she began to perform publicly at the age of 14. Lady Gaga, a 15-year-old solo singer, was admitted to New York University's School of Art at the age of 17 to major in music. Don't think it's easy. There are only 20 of them in the world each year.

Young Lady Gaga wrote about art, religion and social politics. She also wrote analytical academic reports and essays. But just as foreign Internet technology gurus like to drop out of college, Lady Gaga was not satisfied with what the school can teach. She dropped out of school, left home and began to concentrate on her music career.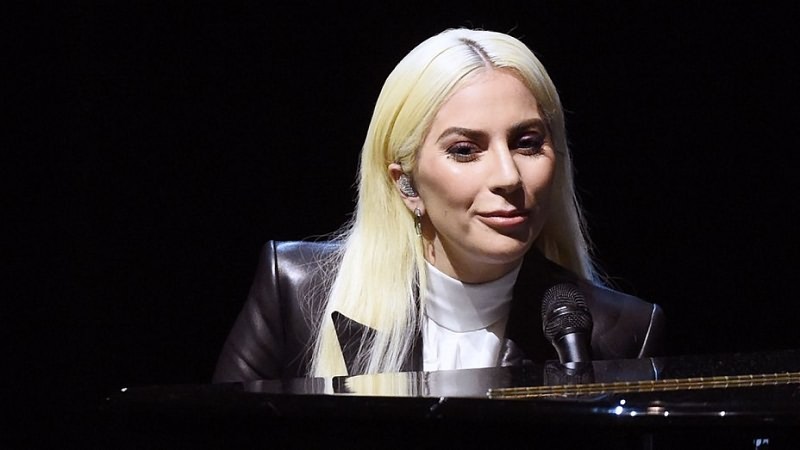 She arrived in Los Angeles in 2008, from Stefani to Lady Gaga, and her first single, "Just Dance", released in April, which became US Billboard Champion single. Five months later, the second single, "Poker Face", was released, becoming a champion single in 20 countries and topping the US billboard charts. Gaga's first album, The Fame, even sold 24,000 copies in its first week. Since 2009, Lady Gaga has been a big hit, winning countless awards.

Part 2. Lady Gaga's Popular Albums
The Fame Monster is a reissue of American singer Lady Gaga's debut studio album, The Fame (2008). Every song on this album made a great sensation. This album embodies many unique charms of Lady Gaga and tells the world that this girl with a bow in her hair is just a vaguely weird and glamorous pop star, but also a talented artist.

Moreover, no songs or music videos have changed the pattern of pop music like Bad Romance, and Telephone has brought those who have moved pop music from two directions (Beyoncé to R&B, Gaga to dance / electronic music) together, which will shape the pattern of pop music in the years to come. This is a remarkable achievement for an album, which was originally intended as an accessory to The Fame.
Lady Gaga's second album, Born This Way, is ambitious. This view is sometimes exaggerated, but as time goes on and the hindsight becomes clearer and clearer. This innate view sounds more avant-garde than ever before. Unlike The Fame, whose sound had an immediate effect, the impact of Born This Way is taking time. In this album, Gaga took a rock and roll style while maintaining her supreme dominance over all pop music. Born This Way, it's going to get better over time; we're just beginning to feel the impact.

Best songs: "Born This Way", "Edge of Glory", "Marry The Night", "Government Hooker", "Heavy Metal Lover".
When it comes to the album ARTPOP, many would say it destroyed Gaga's dominance of pop music. But ARTPOP is actually a unique feat of pop music, and Lady Gaga pushes electronic music to incredible heights. However, she flew too far away from the public's aesthetic and expectations. The album did not appear on the best year-end list and did not receive any awards. But this marks an era of pop culture, and people begins to think about the question that whether it will hinder the development of art when musicians create the same type of music over and over again. Unfortunately, Lady Gaga is the one who leads the question.

Best Songs: "Gypsy", "Dope", "G.U.Y.", "Venus".


These are three of Lady Gaga's most popular albums, and I often hear fans who are complaining about their troubles: Lady Gaga YouTube music videos must be watched online or we have to download app for offline playback. Qe can't download directly Lady Gaga's YouTube songs on the website. Now, to solve the fans' problems, I'll show you how to download Lady Gaga's YouTube video songs efficiently and directly online in this post.
Part 3. Download YouTube Lady Gaga Songs with A Few Clicks
You can now download YouTube Lady Gaga songs with VidPaw, which can help you directly download Lady Gaga YouTube music videos and even a whole playlist from YouTube in your desired formats and with optional quality.

Amazing features about VidPaw:
☆Supports videos from 1000+ video websites
☆No registration necessary and offers unlimited downloads
☆Don't need to install other software because the service works just online.
☆Compatible with mobile phones and the latest web browsers
☆Download YouTube videos HD resolution with fast downloading speed

VidPaw provides users with three ways to download YouTube Lady Gaga songs to different devices - Windows/Mac, iPhone/iPad, and Android. Now, just follow these detailed steps and enjoy YouTube Lady Gaga songs at anytime you want.
3.1 How to Download YouTube Lady Gaga songs on Windows/Mac
STEP 1. Go to YouTube website and find the Lady Gaga songs you want to download. Then copy the link of that page from the address bar.

STEP 2. Open VidPaw on a new page. In VidPaw's homepage, paste the URL into the download bar. Then click on "Start" button to load the download information of YouTube Lady Gaga songs.


STEP 3. When the information of YouTube Lady Gaga songs is loaded, you can see that VidPaw provides you with different quality for video and audio download. According to your own preference, you can choose one to download. Click the "Download" button to wait for watching or listening Lady Gaga YouTube songs offline on your device.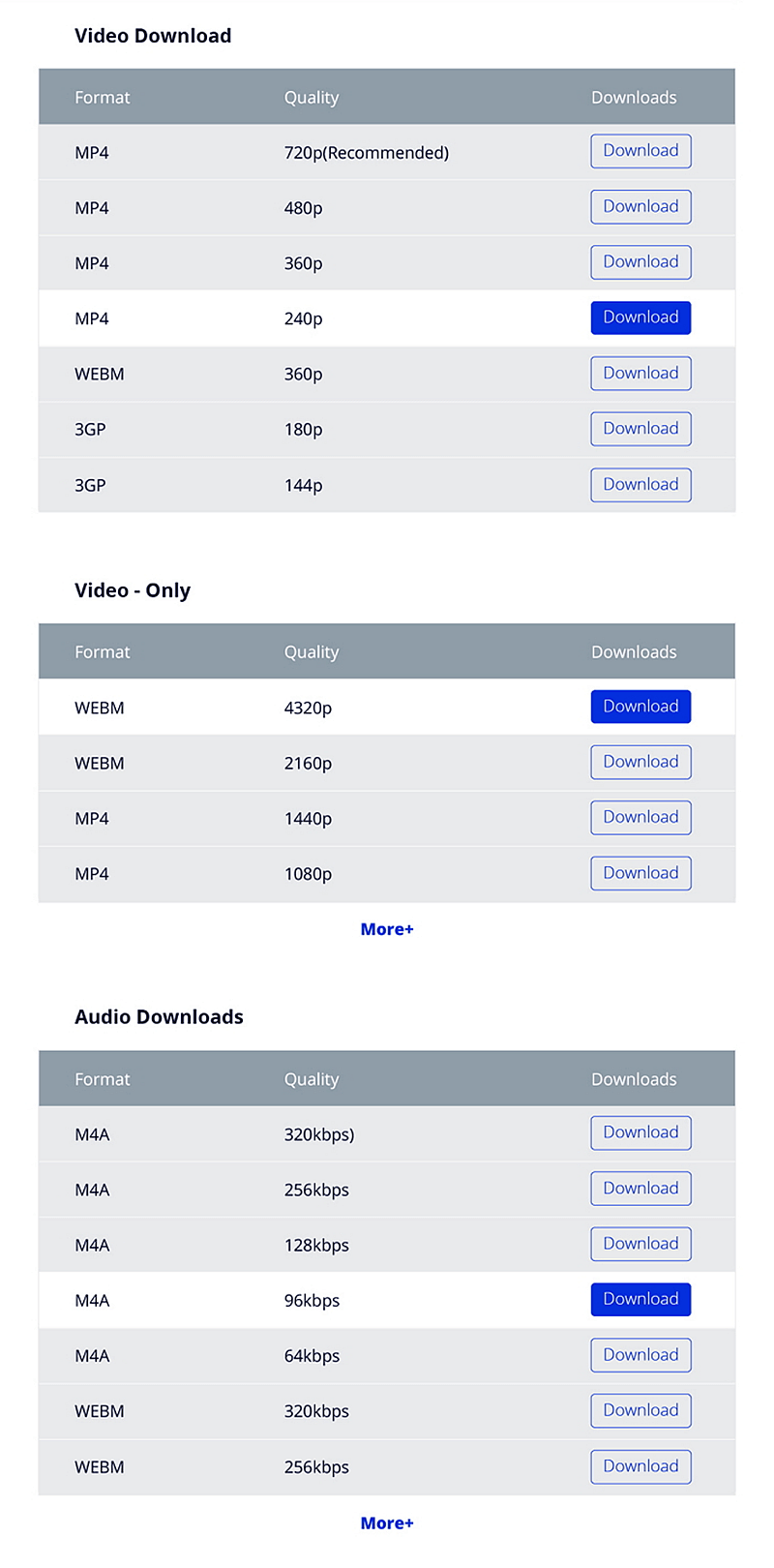 3.2 How to Download YouTube Lady Gaga songs on iPhone/iPad
STEP 1. Before downloading YouTube Lady Gaga songs,you need go to App Store and download Documents on your iPhone/iPad. Then you should open Documents to launch the built-in browser and go to VidPaw.com inside it.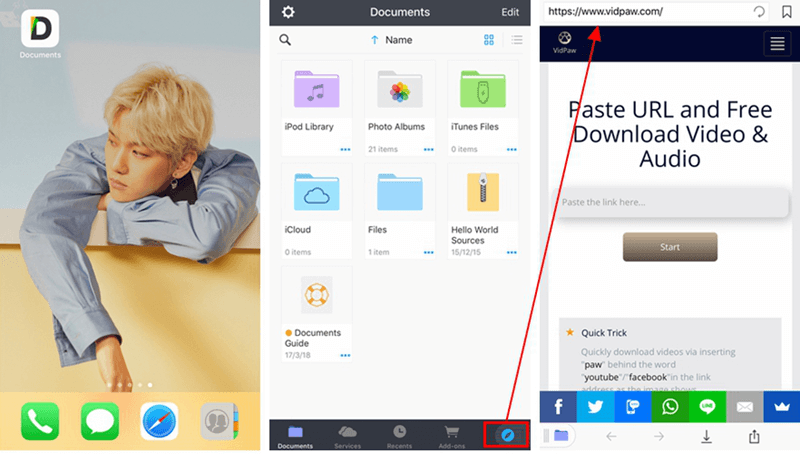 STEP 2. Go to YouTube and find the YouTube Lady Gaga songs video to find the desired video. Copy the link of the video and paste it to VidPaw in Documents.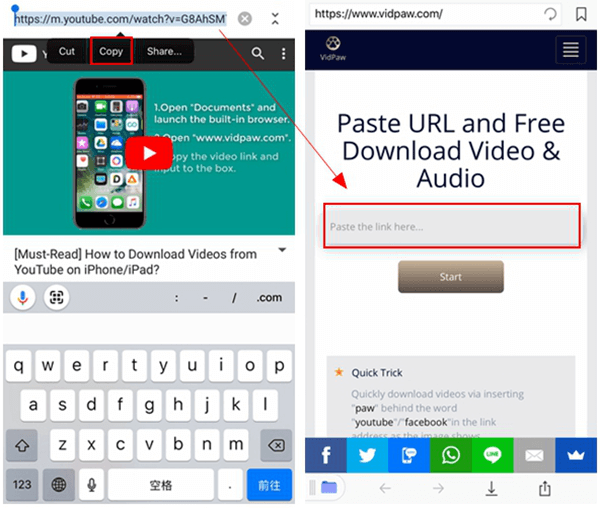 STEP 3. Tap on the "Start" button. Scroll down to select the video format you want to download, then tap on "Download" button.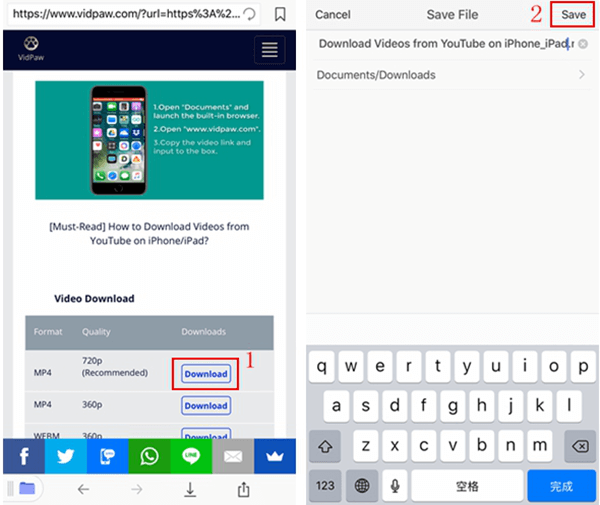 STEP 4. After tapping the button, there will be a pop-up window that allows you to select an output folder in the Documents. When you select it, it will start to download the video.
3.3 How to Download YouTube Lady Gaga songs on Android
STEP 1. Open the browser on Android and head to the YouTube Lady Gaga songs video you desired.

STEP 2. Directly copy the URL of the YouTube Lady Gaga songs video in the address bar and paste the URL into the search bar in VidPaw. Then Tap "Start" button to start loading the video.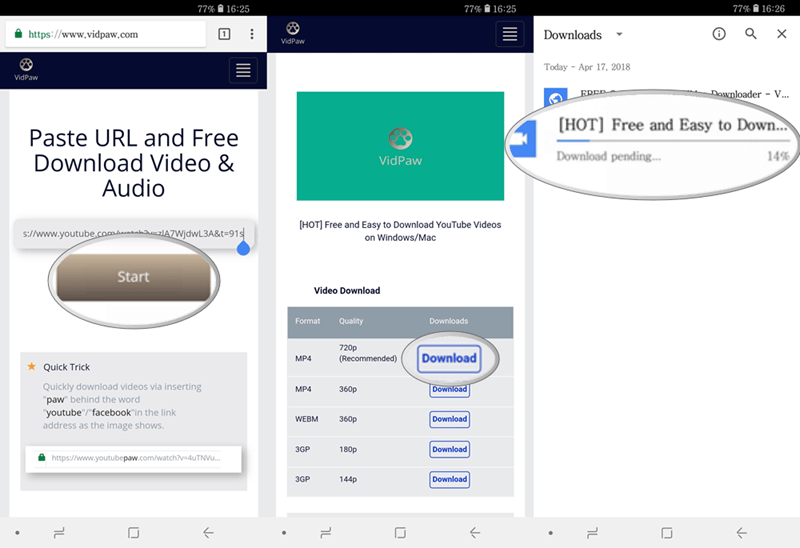 NOTE: VidPaw provides users with different formats and qualities. You can select the desired file quality in the download window and then tap on the Download button.
STEP 3. Just waiting for the download to be completed, and then the YouTube Lady Gaga songs can be played on your Android.
VidPaw has a quick way. But it is only available for downloading videos/audios on YouTube at present.

STEP 1. Head to the YouTube Lady Gaga songs video in YouTube (iPhone/iPad users should open the video site with Documents' built-in browser).
STEP 2. Insert "paw" after the word "youtube" and change "m" to "www" (if you are using mobile). For example, change "m.youtube.com" to "www.youtubepaw.com".
STEP 3. Press Enter, and you can go to VidPaw to download the YouTube Lady Gaga songs directly.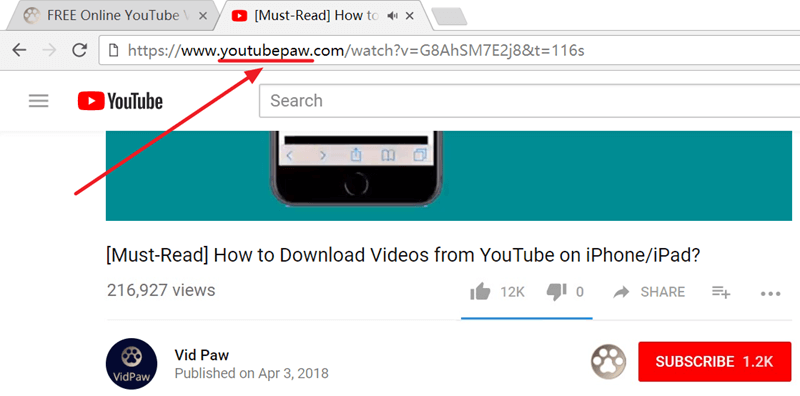 You can't miss the best YouTube online video downloader - VidPaw. With this free online video downloader, you can download YouTube Lady Gaga songs on different devices and you can watch the Lady Gaga's music video at anytime and anywhere. Try it and say goodbye to YouTube's annoying advertisments.


Published on December 16, 2018