How to Download Instagram Videos on Android by Using VidPaw App?
June 22, 2019
Many people love browsing Instagram nowadays. It is a great destination to find creative photos and inspiring videos. Although Instagram doesn't offer a feature to download photos or videos, people can save photos by taking a screenshot and save videos by using a screen recorder. However, the image quality or the video quality is not as perfect as the original version.

Therefore, it is necessary to find an Instagram video downloader to download an Instagram video without loss of quality. Enter VidPaw App, a downloader that enables you to download Instagram videos on Android. Saving your favorite Instagram videos is no longer difficult. Let's check out how to download Instagram videos on VidPaw App.
How to Download Instagram Videos on Android?
Follow the steps below to quickly download Instagram videos to your Android devices.
Note: If you fail to install VidPaw App on your Android, go to "Settings" > "Security"to check if the "Unknown sources" option is turn on.
STEP 2. Launch the Instagram app, and find the Instagram video you want to save on your Android.
STEP 3. Tap on the three dots icon in the upper-right corner. Then tap "Copy Share URL".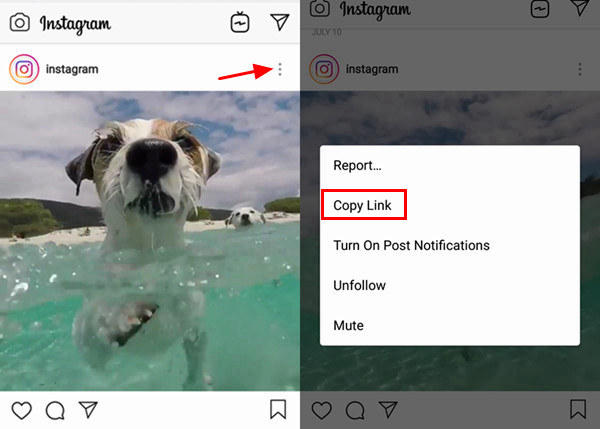 STEP 4. Launch VidPaw App, then long press the field on the top of the main page to paste the URL.
STEP 5. After the link is successfully analyzed, fill the box to select your preferred video format and quality, then tap "Download".
STEP 6. Your favorite Instagram video will start to download within seconds.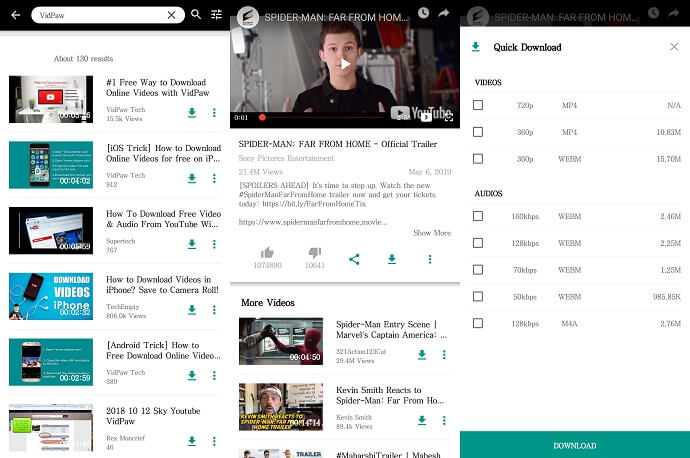 That's it. You've downloaded an Instagram video on your Android. And the video is placed in the "Downloads" where you can find it by tapping on the download icon on the upper right corner of VidPaw's main page.
Is VidPaw App Free to Use?
You may wonder if it is free to enjoy the full service of VidPaw App. Good news is that VidPaw is a 100% Free downloader which means you can download unlimited online videos with VidPaw App. What's more, VidPaw is an Ad-free downloader which guarantees you the best user experience. Also, you don't have worry about infecting virus if you directly download and install VidPaw App from its official website.
What Else Can I Do with VidPaw?
Perhaps you are a little bit unwilling to download a new app on your Android if just for downloading Instagram videos. But wait… What if I tell you there are many amazing functions that you will definitely need and like on VidPaw? Sounds interesting, right? Read on to know more valuable information about VidPaw App.
Powerful Online Video Downloader App
In addition to downloading videos from Instagram, VidPaw App is able to download online videos from over 1,000 video websites. That said, you can easily download videos from sites including YouTube, Facebook, Twitter, Dailymotion, and Vimeo. Not sure if VidPaw supports downloading videos from the site that is unfamiliar to many people? You can check if the site is listed on this page. Or send an email to request.
Stream YouTube Videos on VidPaw App
VidPaw App is also integrated with the function of downloading YouTube videos and streaming YouTube videos on a single app. Therefore, you can simply search for the YouTube videos that you are interested in on VidPaw App, then watch it without switching to open a new app on your Android.
As a professional video downloader app, VidPaw provides you with stable download service so that you can download videos in 1080 144p, 240p, 360p, 720p, 1080p, 2K, and 4K with ease. Also, there are many common video and audio formats available on VidPaw App.
- Video Format: MP4, WEBM
- Audio Format: M4A, WEBM (Bite rate maximum up to 320kbps.)
In the End…
Now you know that a reliable third-party downloader can make downloading Instagram videos or any other online videos super easy. Enter VidPaw App to download cool Instagram videos. And maybe after several times of offline playback, you could get inspired by the video and create a new and amazing short video. Once you are up and running, you will never have to worry about whether your favorite Instagram videos are deleted.
If you find this article useful, don't forget to share it with your friends.
Excellent

Thanks for your rating.