How to Free Download Facebook Videos With VidPaw App on Android Phone/Tablets
June 23, 2019
Since Facebook is one of the biggest social media sites in the world, you can always find interesting and cool videos as you refreshing your Facebook page. You may want to figure out how to download the Facebook video that you particularly liked but don't know how, especially when Facebook doesn't give a straightforward solution to download Facebook videos.

Then this article is supposed to help you deal with the problem. Read on to see how to use VidPaw App, a powerful Facebook video downloader app, to make downloading Facebook videos possible.
What's Special in VidPaw App?
VidPaw App is more capable than you might have known. With a well-designed and Ad-free interface, VidPaw App is friendly to everyone to download Facebook videos as easily as possible. It can be well-functioned on Android phones and tablets for brands such as Samsung, HUAWEI, One Plus, Xiaomi, Vivo, Oppo, and etc. Here is the information about VidPaw App that you want to know.
Many downloader apps on Android claim to let you download Facebook videos for free but set limits when you are using them. For example, you may need to subscribe to a membership if you want to download videos in 1080p. You may need to pay for downloading a premium version after you downloaded a certain number of videos (probably 10 or 20).

However, with VidPaw App, there is no limit on the number of videos that you've downloaded. You can easily save online videos in HD resolution for 100% FREE.
Powerful Online Videos Downloader
In addition to Facebook videos, VidPaw App is able to download online videos from different video sites. That's said, you can download videos from YouTube, Instagram, Vimeo, Dailymotion, and etc. This site has shown all the videos sites that VidPaw App supports, but if you can't find the one you need, you can send emails to request a new site.
Preferable Formats and Quality
What kind of format and quality that VidPaw App provides? This should be the question that many people are concerned about. As you enter the URL of a video/audio file, VidPaw will smartly detect the URL and display the downloading information. Video formats include
MP4
,
WEBM
, while audio formats include
M4A
, and
MP3
(
will be added in the new version
).
A Guide on Using VidPaw App to Download Facebook Video
Here are the steps for a reliable process that will always work on your Android devices.
Note:VidPaw app is only supported on Android by now. iOS users and PC users can navigate to vidpaw.com to download Facebook videos.
STEP 1. Launch Facebook App or access to Facebook.com, then open the Facebook video which you want to download.
STEP 2. On the Facebook app, hit the share button, and then tap "Copy Link". Or if you open the website, copy the video URL on the address bar in your browser.
STEP 3. Open VidPaw App, and then paste the URL to the box in the main page, then tap the download button.
STEP 4. VidPaw will analyze the link then head to a page where you can select format and quality
STEP 5. Choose your preferred format and quality, then tap "Download"
STEP 6. You will find the Facebook Video on the "Downloads" section. (Tap the download button on the upper right of the main page.)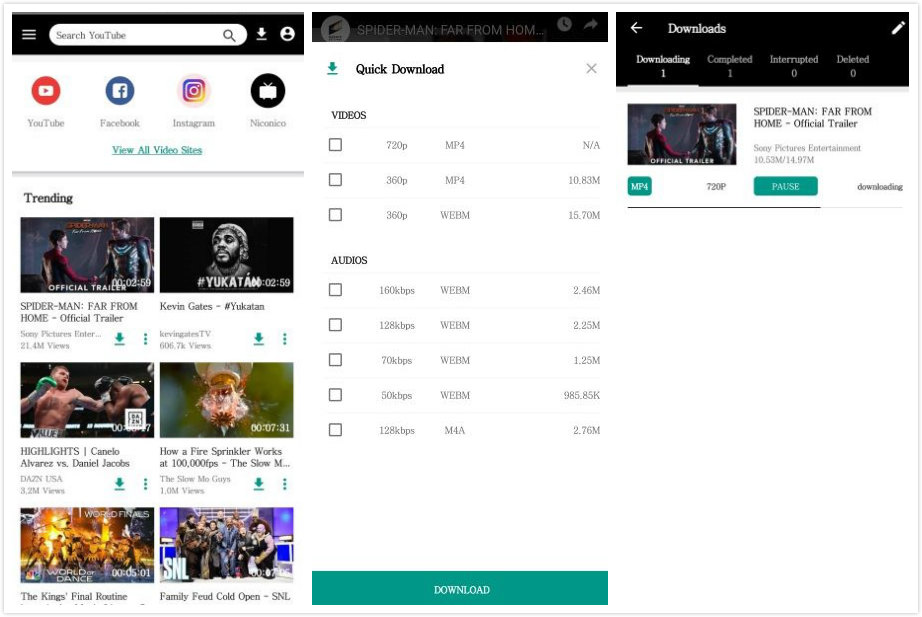 Summary
With VidPaw App, downloading Facebook videos to your Android is not that tricky anymore. You can download cool Facebook videos shared by others, or you can back up your Facebook video contents by using this downloader.
We expect you could make the best use of this article and get to know how to download Facebook videos to your Android phone/tablet easily. We appreciate if you can share this article with your friends if you find it useful.
Excellent

Thanks for your rating.