Have you found the video you want to save on Facebook? Are you worried that the video will be deleted before enjoying it? Do you want to save Facebook videos in your phone for future viewing? Or do you want to download Facebook videos in HD?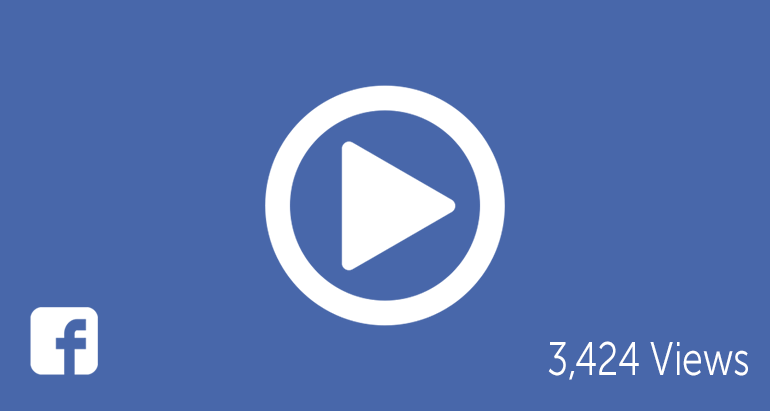 More and more people like to upload videos directly to Facebook for sharing with more people. Facebook is very popular all over the world. Facebook videos, occupy large amount of resources online, has a huge number of videos uploaded every day and get more than 400 million views per day. However, most of Facebook users can only add them to the saved item when they meet their favorite videos, and cannot watch offline. Even when uploader deleted the video, it was hard to retrieve the video.

In order to solve the above problems and download high-quality Facebook videos, you need a powerful Facebook video downloader to help you. According to the methods provided in this guide, you can download any video uploaded to Facebook. Let's get it!
Introduction: The Best URL Video Downloader Online - VidPaw
VidPaw is a free online video downloader to save videos from the Internet to watch offline, which aims at supporting video download service from more and more websites, and provides with many convenient, and useful features. VidPaw is a so clean and pure online video downloader that it doesn't have any virus and annoying pop-up ads. As an online versatile solution, VidPaw provides many online tools for people to choose - Facebook Video Downloader, YouTube to MP3 Downloader, Subtitle Downloader.

If you want to get the more latest news from VidPaw, follow its official Facebook account - @VidPawOfficial
Amazing features about VidPaw:
Customize your language version
VidPaw speaks 8 languages: English, Français, Español, Deutsch, 日本語, русский, 中文简体, and中文繁體.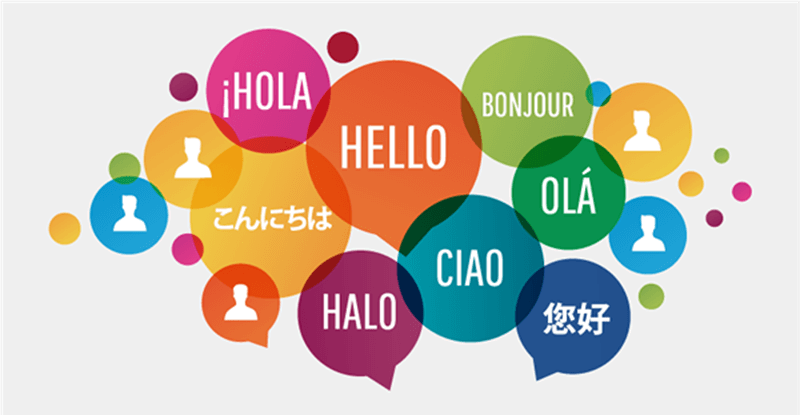 Download Free Video from 1000+ Sites
VidPaw is a free video download site that supports online videos from over 1000 video sites, which helps you get free online videos like Facebook, YouTube, Vimeo, Vevo, and Vimeo, etc.
Here's a list of VidPaw supported sites.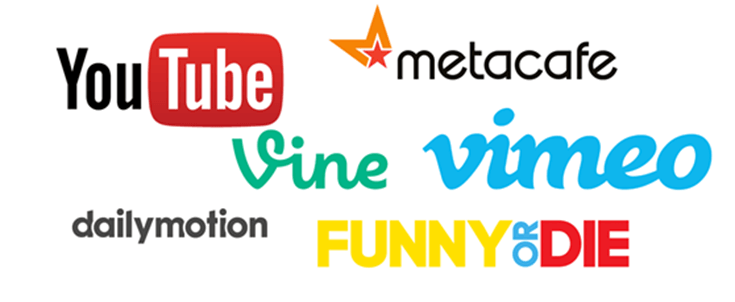 Different Video Qualities including HD Video Download Online
| | |
| --- | --- |
| Video Formats | WEBM 3GP MP4 |
| Video Quality | 144p 240p 360p 720p 1080p 2K 4K 8K |
| Audio Fomats | M4A WEBM |
| Audio Quality | 64kbps 96kbps 128kbps 256kbps 320kbps |
Part 1. Download Facebook Videos to MP4 on iPhone/iPad
Step 1. Download Document on iPhone/iPad
For iPhone/iPad users, you need to go to App Store and download Documents first. Then launch the app and open the Documents's built-in browser to log into Facebook and browse the video you'd like to download.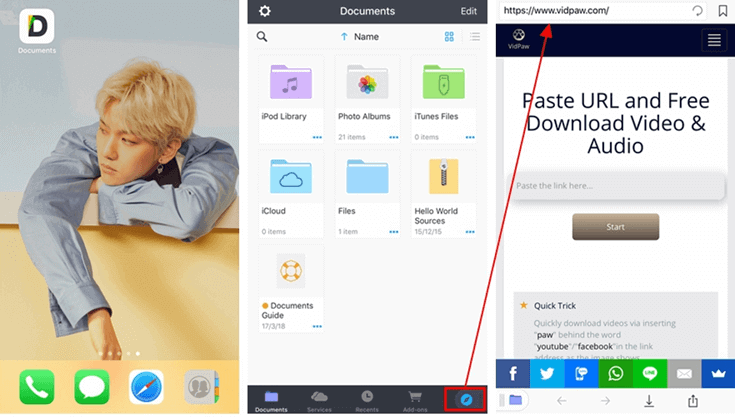 Step 2. Copy and Paste the Facebook Video Link
Directly copy the link of your Facebook video and paste it in the bar of VidPaw interface. Then just tap on the "Start" button to load the video. When the refreshed page is loaded, you can choose the video quality according to your needs. Once the selection is done, you can tap on the download button to begin downloading the Facebook video.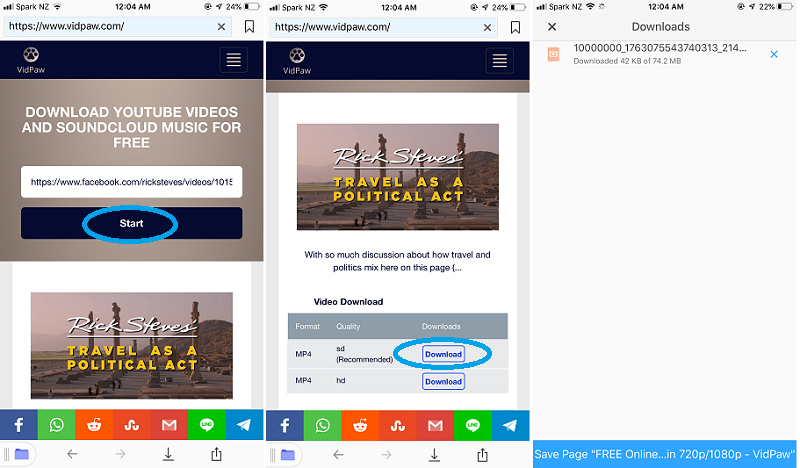 Step 3. Select Output Folder
When you tap on the Download button, there will be a pop-up window that allows you to select an output folder in the Documents. You can find the downloaded HD/SD Facebook video in that folder when the download is completed.
Part 2. Download Facebook Videos to MP4 on Windows/Mac
Step 1. Copy the URL of the Video
Open Facebook to find the video you want to download. If the video in your timeline, you can get the link by right-clicking the video and select Show video URL from the drop-down menu that appears. Then click the URL and press Ctrl+C or right-click and select Copy from the drop-down menu.

Step 2. Paste the URL into the VidPaw
Then open the best Facebook online downloader - VidPaw. Paste the URL into the search bar and click on the "Start" button.

Step 3. Select the Output Format and Quality
You'll see the format and quality list for the Facebook video. There will be selections of MP4 range from high quality to low quality. Just select one of them according to your needs. Once you've selected video format and quality, click on the "Download" button next to quality and it will start to download.

Note: When you click on the Download button, the video might pop up in a new window. Right-click the video and select "Save video as" in the pop-up menu.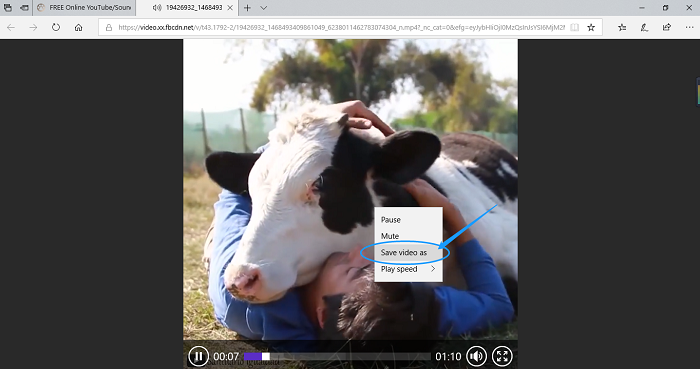 It only takes a short wait to get your favorite Facebook video on your Windwos/Mac forever.
Part 3. Download Facebook Videos to MP4 on Android
Step 1. Go To the Facebook Video in Browser
Open the browser on Android and go to the Facebook video you want to download. Copy its URL from the address bar at the top of your browser window.

Step 2. Paste the link to VidPaw
Go to VidPaw homepage. Paste the link of the Facebook video into the download box and tap on the "Start" button. Then VidPaw will find the video and refresh the page instantly.

Step 3. Select your desired quality
You can select your desired quality and tap on the Download, then the video will pop up in the new window. Just press the video long enough to click on save the video from the pop-up menu.


Without any software or extensions downloaded to your computer or mobile devices (iOS & Android), it's also free to use and there's no limit on downloading videos with VidPaw. As a Facebook user, if you have a habit of saving video when you see it on Facebook, then you can't miss the best Facebook online video downloader - VidPaw. With this free online video downloader, you can download Facebook videos on different devices at any time and anywhere. Try it and you won't regret it.
Published on August 17, 2018