[Recommendation] Best YouTube to MP3 Converter on Android
July 31, 2019
Every day, there are a great many people access to YouTube, and YouTube essentially becomes a significant part of people's life. You can search through a great amount of copyright-free Vlog music. You can also find many creative cover version of your favorite songs. Pitifully, YouTube doesn't provide a download option. So you may think about how to convert these YouTube videos to MP3, or is there a free tool to convert YouTube to MP3?


We are happy to tell you it is possible to convert YouTube to MP3 for free. This article will tell you all about the best YouTube to MP3 Converter on Android. Keep on reading then you can follow the steps to convert and download those copyright free music from YouTube.
Part 1. Best YouTube Video to MP3 Converter 2019 - VidPaw
Probably you may not hear of VidPaw, but it can be considered as the best YouTube to MP3 converter in 2019. Here are the reasons.
Totally free, no registration neither installation required.
VidPaw is a 100% FREE online video downloader. You are not required to install any unrelated apps but enjoy its full download service without spending any extra fee. In other words, you don't have to worry about malware which can do harms to your phone.
On VidPaw, no annoying ads will disturb when you're browsing or downloading YouTube videos. The clean interface is proof that VidPaw is dedicated to giving you fluent navigation.
Run on different platforms.
VidPaw is also a flexible downloader which can smoothly work on most devices and operating systems. Whether you are using Windows, MAC OS, Android, or other operating systems, VidPaw can always perform well and help you download online audios or videos.
You may curious if there is download quota or duration limit to download long videos when using VidPaw. Good news is that VidPaw doesn't set any quota of enjoying its download service. So you can download online videos as many as you need.
Compatible with lots of websites.
What's more, VidPaw is designed to grab videos or audios from over 1,000 sites. So if you find an interesting video on any video platform, copy and paste the direct link to see if VidPaw can download it.
Besides, VidPaw also launches an app version for Android users who are interested in experiencing new apps. Give a try. Click to download
VidPaw App
.
Part 2. How to Convert and Download YouTube Video to MP3 Online?
With VidPaw, convert and download YouTube video to MP3 doesn't require you any technical knowledge in computer science. VidPaw is without any doubt a "user-experience" oriented YouTube to MP3 converter that enables you to use the easiest way to download YouTube video to MP3.


Read on to learn how to convert and download YouTube video to MP3.


STEP 1. Copy the URL of the YouTube video that you need to convert to MP3.
STEP 2. Open VidPaw | YouTube to MP3 Converter in your browser, scroll down the menu to select your preferred MP3 quality and paste the URL to the download bar.
STEP 3. After seconds to analyze the video link, the MP3 download link is presented on the download page. Hit "download".
STEP 4. When the download process is over, you can find the MP3 file in the downloads folder in your browser.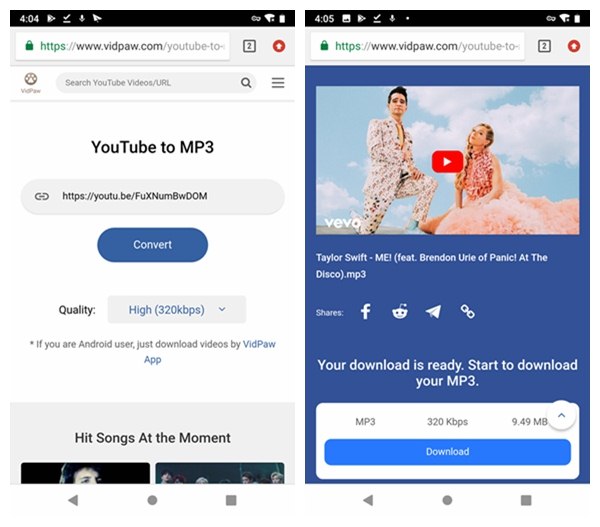 There is another easy trick to convert and download YouTube videos. By changing the YouTube video link, you can also download YouTube video to MP3. Simply add "paw" after "youtube" in the address bar, and go to the new site, you can also get the download link.


For example, change the URL to:
Part 3. How to Convert and Download YouTube Video to MP3 with VidPaw App?
We also suggest you download and install VidPaw App on your Android devices. VidPaw App may even faster and stabler than using the website version.

STEP 1. Launch VidPaw App, and enter the keywords of the YouTube video that you want to download.
STEP 2. Tap to open the YouTube video on the search result page, then tap on the download icon.
STEP 3. VidPaw will automatically open a tab and give you options to choose your desired output quality and format, then tap "download"

Your preferred YouTube video is downloading, and you can find it in the downloads section.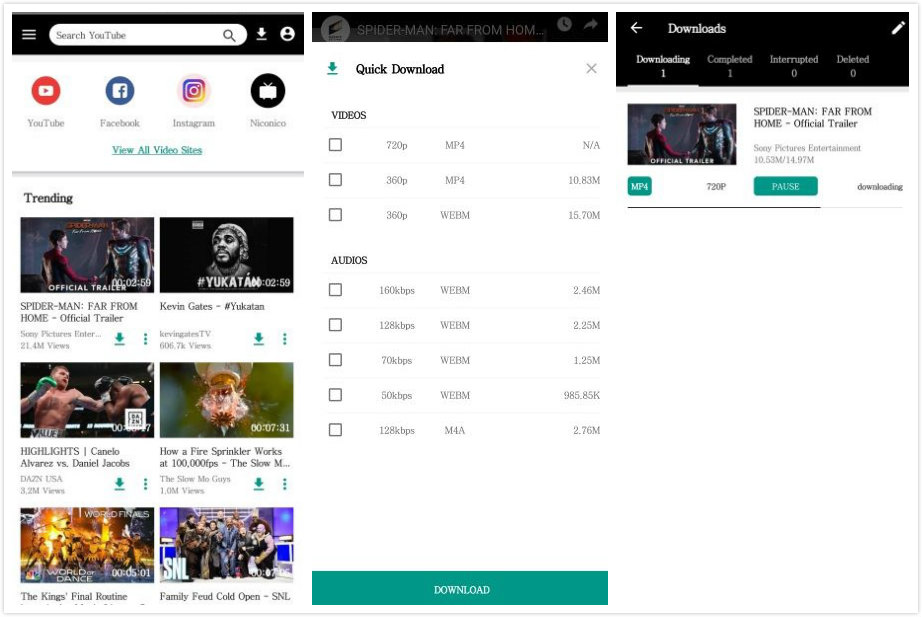 Conclusion
After all, if you are searching a user-friendly YouTube to MP3 converter, VidPaw is the professional one that can help you download in all quality quickly and efficiently. Besides, if you love streaming YouTube videos on your Android, VidPaw App can be your new choice which integrates with a proficient search engine to find your favorite YouTube videos and a powerful downloader which makes downloading job no longer rocket science.
Excellent

Thanks for your rating.