How to Screen Capture Any Video by Using Screen Recorder
After work, many of us love to watch some videos on streaming websites for relaxing. And sometimes we also want to save them into our devices for later view. However, many online videos are not available for downloading.
Most of you may simply give up in front of such condition. But I want to tell you this problem can be solved with ease. Actually, you can screen record the video you like. The process is super easy. And in this blog, I would like to show you how to screen record a video using the best screen recorder –
RecordAnyVid Screen Recorder
.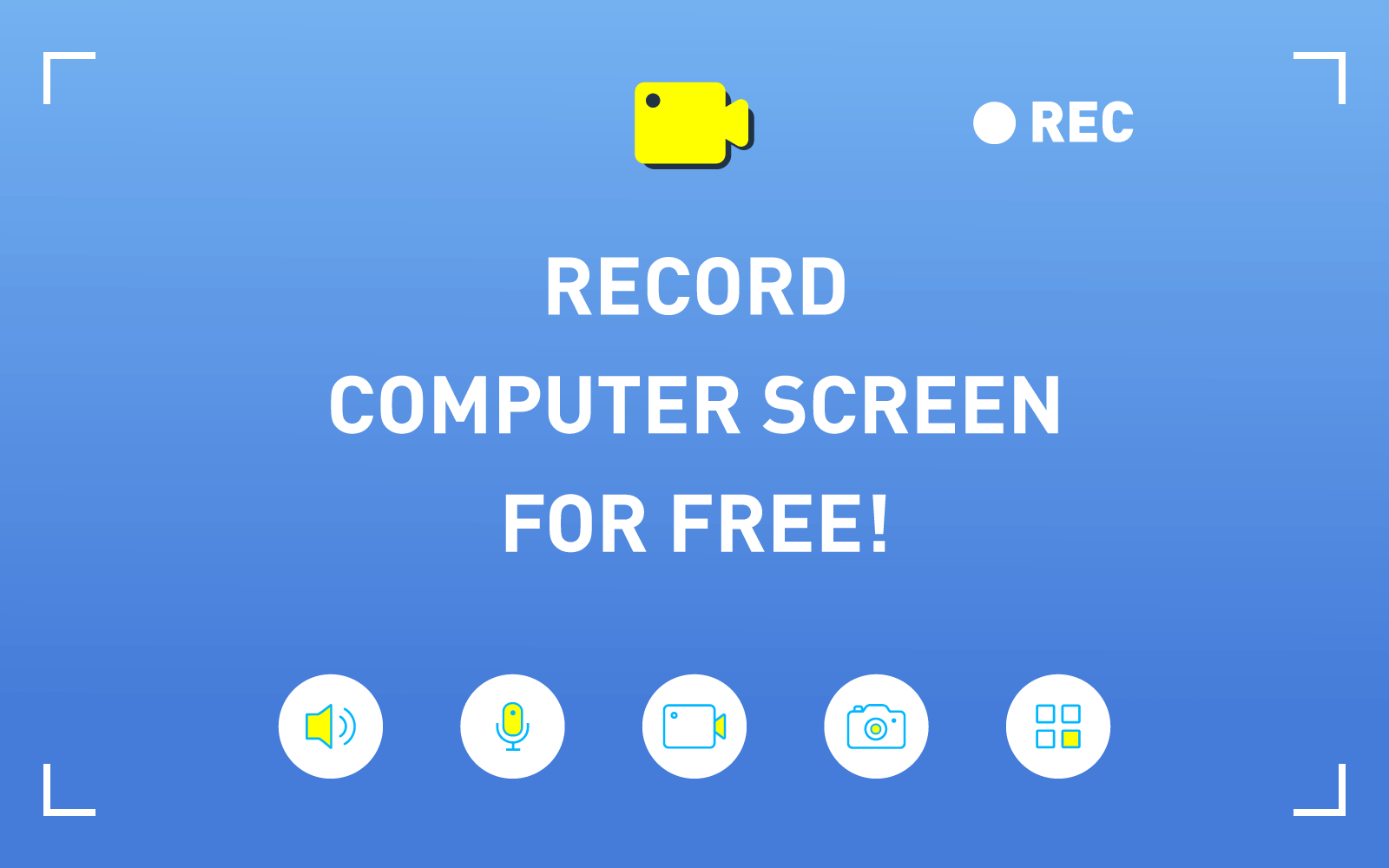 Part 1. What is RecordAnyVid?
RecordAnyVid is a screen recorder that helps you record any video on Windows and Mac computers. With it, you can save your favorite online videos you found unable to be downloaded. And with its most comprehensive features, this powerful tool can satisfy nearly all your demands when you do your recording.
Features:
1. Customized Audio Setting
RecordAnyVid enables you to record both microphone and system sound. By turning off microphone, you can prevent the disturb of environment sound with ease.
2. Video Preview
Before saving the recorded videos, you have the chance to preview your works.
3. Various Video Format
RecordAnyVid supports various output formats for video, such as WMV, MP4, MOV, F4V, AVI, TS, and Gif.
4. High Video Quality
RecordAnyVid can record and output any online video with high quality.
RecordAnyVid provides users with two versions: one is the free version with some function restrictions; another is the professional version which users can get all services on RecordAnyVid by purchasing the license code. Next are their differences.
The difference between free version and paid version:
1. Time Length:
Free version allows you to save a no more than 3-minute video; paid version has no limit.
2. Clip Function:
Free version doesn't support clipping before saving the recorded video; paid version has no limit.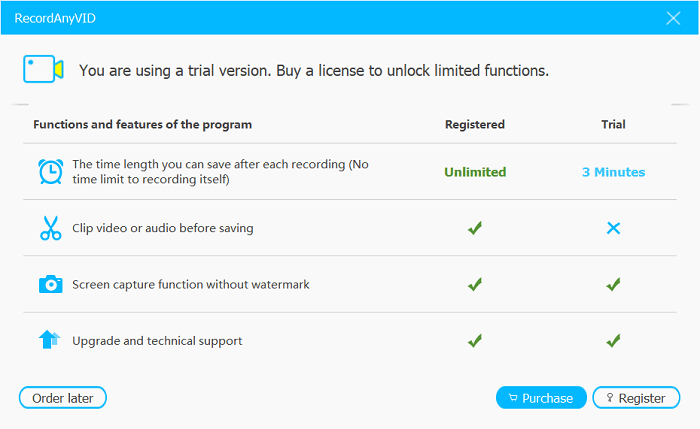 So how to use this great tool? In the following parts, I will tell you the detailed procedures. Now, just move on and try RecordAnyVid while following the tutorial.
Part 2. How to Use RecordAnyVid on Windows
RecordAnyVid is well compatible with Windows/Mac computers. In this part, I'll show you everything about how to use RecordAnyVid on Windows 10/7/XP. Besides, you can easily get the download link of RecordAnyVid software on its official page.
After the installation of RecordAnyVid, you can begin your trip on how to record computer screen to get any video on Windows 10/7/XP.
STEP 1. Choose Video Recorder
Run RecordAnyVid on your PC, then you'll see this interface. Choose the first recorder - "Video Recorder" to start off.

STEP 2. Define Record Setting
In this step, you can preset the preference settings based on your need.

① Choose Record Area
Full screen recording is set by default. If you just want to record certain place of the screen, you can customize the recording area.
② Set Audio Record
By default, both system sound and microphone are turned on. If you don't want to record the environment sound, you can disable the Microphone option.
③ More setting
If you want to do more settings such as output format and quality, click "More Setting".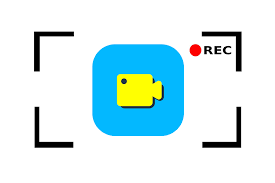 STEP 3. Record Video
Now, tap "REC" to start recording. Then play the video in full screen. If you need, you can edit the video by adding text, arrow, circle or some elements to highlight some information in the video. When finished, click "stop" to end the video recording.

STEP 4. Preview & Clip & Save Video
Tap "Play" to check your video. If you want to cut off any part you don't need, set the start time and the end of this section . When you think the video is well done, Save it to your device.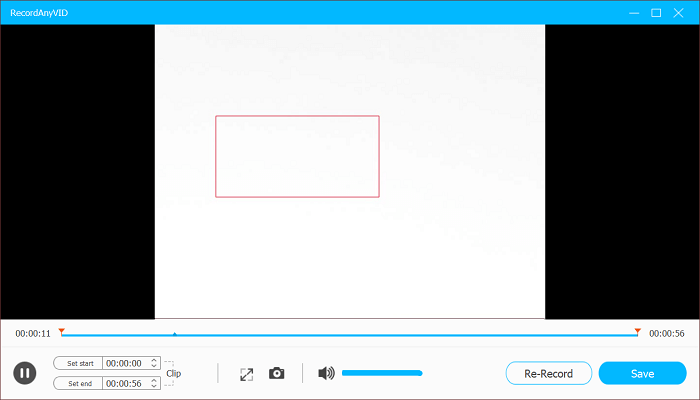 Part 3. How to Use RecordAnyVid on Mac
If you are a Mac user, RecordAnyVid is also available to use. To begin with, download RecordAnyVid software on the official page. When the installation is finished, you can start to use it by following the tutorial below.
NOTE.
Sometimes, you might fail to install RecordAnyVid when finish downloading. To fix this situation, you can enable the "
Allow apps downloaded from: Anyway
" option in System Preference.
STEP 1. Choose Video Recorder
Lannch RecordAnyVid on your Mac and click "Video Recorder" to move on.

STEP 2. Define Preference Settings


① Choose Record Area
RecordAnyVid allows you to record full or a part of the screen. In common, we choose to record video full screen.
② Set Audio Record
System Sound and Microphone options are enabled by default. For better output audio quality, you can turn off the Microphone option to prevent the noise from outside environment.
③ More setting
For more settings, click "More Setting" to redirect to the Preference page.

STEP 3. Record Video
Now prepare the video you would like to record. Then click "REC" to start recording and play the video in full screen. When the record is done, click "stop" to end it.
STEP 4. Preview & Clip & Save Video
Before you save the video, you can have a preview. If you only want to save a clip of the the whole long video, select the start time and end time to cut it off. Then hit "Save" and define a path to save the recorded file.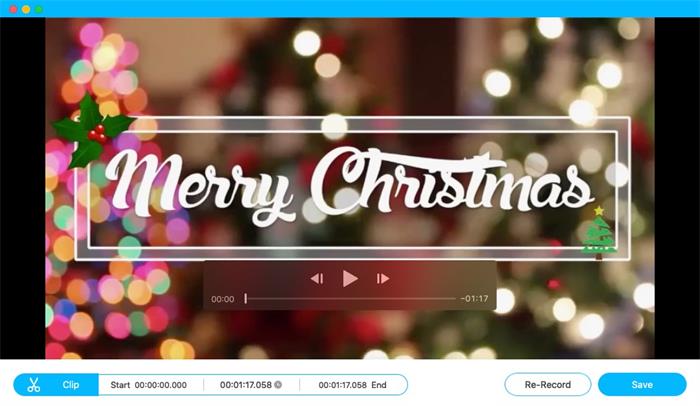 Part 4. Recommendation: Powerful Online Video Downloader
Apart from RecordAnyVid, VidPaw Online Video Downloader is also a useful tool to save online video. It is a powerful Online Video Downloader which can grab any online video from nearly all websites for free. It can perform well on all kinds of browsers and devices. Thus, you don't need to worry about the compatibility problems. With great performance, it enables you to download your favorite video with the highest quality and speed. Welcome to have a try!
Excellent

Thanks for your rating.