Full List of Pulp Fiction Soundtrack Songs to Enjoy
The talented director Quentin Tarantino produces many classics. His directorial debut Reservoir Dogs, which he wrote, directed, and acted in as Mr. Brown, caught many critics' attention and became an immediate hit. His following work Pulp Fiction in 1994 is another masterpiece. It is an unconventional crime movie featuring with innovative narrative structure, amazing screenplay, black humor, and great acting performance.
In addition, music in Pulp Fiction is placed in a strategic manner, which perfectly conveys wit and humor of a scene. Here we've cultivated a full playlist of Pulp Fiction soundtrack for fans to stream or download to MP3. Besides, you may get a lot of information of this classic cult movie in the following part.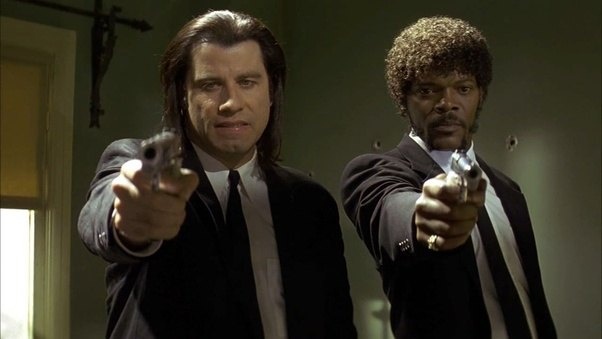 Part 1. Pulp Fiction Soundtrack Full List
A soundtrack always plays a significant role in a movie. A good soundtrack gives a movie personality. It makes the movie cool and likeable as the right music plays out.
Pulp Fiction's soundtrack can be classified into the best movie soundtracks. Quentin's wise selection of music gives the movie a distinctive personality. The iconic Pulp Fiction soundtrack contains a mix of surf rock and 70's soul. It introduces contemporary audiences to musical gems from the past and also matches with the scene and delivers a bit of subtle dark humor and amazement.
The soundtrack of Pulp Fiction is so important that the movie would have been less exquisite if without the music. It consists of nine songs from the movie, four tracks of dialogue snippets followed by a song, and three tracks of dialogue alone. The soundtrack reached No. 21 on the Billboard 200 in 1994, and over 1.6 million units were sold in that year.
Now let's take a look at this incredible Pulp Fiction soundtrack.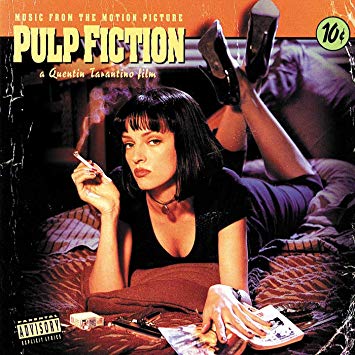 1

Pumpkin and Honey Bunny/Misirlou

2

Royale with Cheese (dialogue)

8

Zed's Dead, Baby/Bullwinkle Part II"

9

Jack Rabbit Slims Twist Contest/You Never Can Tell

10

Girl, You'll Be a Woman Soon

11

If Love Is a Red Dress (Hang Me in Rags)

12

Bring Out the Gimp/Comanche

14

Personality Goes a Long Way
Part 2. Everything about Pulp Fiction
The title, Pulp Fiction, refers to the pulp magazines and hardboiled crime novels popular during the mid-20th century, known for their graphic violence and punchy dialogue.
The movie begins with a title card which gives the dictionary definitions of "pulp". This scene arouses the audience's curiosity to wonder what kind of the story this movie is about. And when they finish watching this movie, they are likely to find out that this is a movie featuring an ironic combination humor and violence. The entire story is pertinent to the title to some extent.
Narrative Structure
(Spoilers Alert)
Traditionally, movies follow a chronological order. But Pulp Fiction is a tribute to obscure movie genres. The entire movie takes a nonlinear approach, which is changed to three interrelated stories:
- The Date
- The Gold Watch
- The Bonnie Situation
Each story contains a clue linked with three different storylines, namely, the drug, the gold watch, and the glowing suitcase.
And the movie is constituted by seven narrative sequences, just like a collage of seven pieces. It begins with a couple who decide to rob a diner, then moves to the story of Vincent, Jules, and Butch. Finally, the movie goes back to narrate the story at the beginning.
Memorable Scenes
The Dance Scene
When talking about Pulp Fiction, many people will think of the infectious dance scene between Vincent Vega and Mia Wallace. According to the actor Travolta, quite a bit of the dance was improvised. And the interesting part is that audiences can get the pop cultural references of his dance moves, for example, a fun dance move based on the Batman.
The Opening Car Scene
The screen writing in Pulp Fiction also leaves a deep impression on the audience. For instance, the introduction of Vincent Vega and Jules Winnfield is brilliant. As the two hitmen are on their way to work, they talk about cheeseburgers and rumors about their boss killing a man because the man gives his wife a foot massage. The dialogue is so realistic that it just sounds like the random talk in daily life. And the two actors' acting are really natural that helps the audience quickly immersed in the scene.
Acclaims and Influence
Pulp Fiction has always been regarded as one of the most significant films of its era. And it is one of the best modern examples of unconventional timeline used in movies. It gives audiences a new experience to enjoy a movie with no definite final goal, but just to know a story. Besides, Pulp Fiction was awarded eight major awards from a total of twenty-six nominations, including a Best Original Screenplay win at the 67th Academy Awards.
In the End
It is no doubt that Quentin Tarantino is an impressive experimental director. And Pulp Fiction is the type of movie that people who love it would watch it over and over again and find new details every time they watch. What is your favorite scene in Pulp Fiction? And which soundtrack leaves a deep impression on you? Feel free to share your opinion.
Topics:
Music Streaming
Movie Soundtrack
Music
Excellent

Thanks for your rating.