Top 9 Kisscartoon Alternatives for Watching Free Cartoons Online
Despicable Me、How to Train Your Dragon、Zootopia、Toy Story are all familiar cartoons that we love so much. Which site do you prefer to stream cartoons online? For cartoon shows lover, great sites with rich cartoon content and clear navigation structure will help them find their favorite cartoons in minimum time. As we all know, kisscartoon is a wonderful choice but there are other kisscartoon alternatives that deserve attention.
Part 1. Introduction of Kisscartoon
Kisscartoon is a great website that provides free cartoons in HD quality. You can search for the latest cartoons and the hottest cartoons here from all around the word. The best part of it is that it's free of charge so you can watch cartoons as many as possible.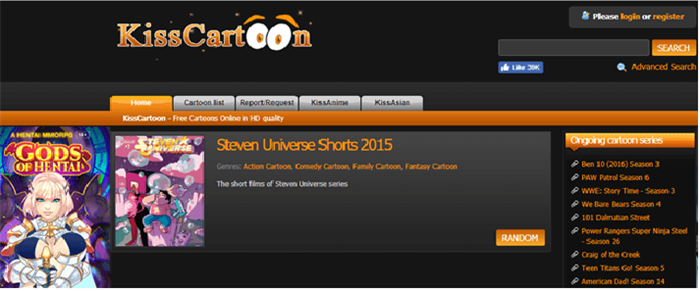 Part 2. Top 9 Kisscartoon Alternatives for Watching Free Cartoons Online
If you get bored with Kisscartoon's recommended contents or you fail to find your favorite anime on it, a Kisscartoon alternative may be your best choice. Here are top 9 Kisscartoon alternatives for you to choose. They may have something in common with Kisscartoon yet own their different sites' styles.
1. Crunchyroll
Crunchyroll is a great site for anime lovers. With its massive database of over 25,000+ anime episodes, Crunchyroll has captured anime lovers' hearts. Besides anime, there are manga, drama, music, electronic entertainment and other interesting series that are waiting for you to expore.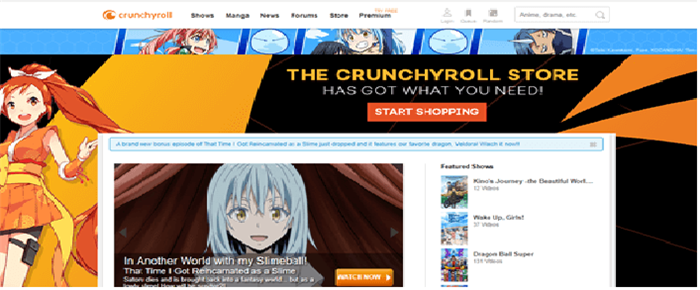 2. 9Anime
When it comes to specific anime shows, 9Anime is a great site that you can't miss. You can search for anime shows ordered alphabetically from A to Z with ease. Therefore, it takes you little time to find your favorite cartoon on 9Anime. On the other hand, the high quality of cartoon videos is also a great advantage that 9Anime has. One sentence to summarize this website: With the shortest time to get the best entertainment experience.

3. Kissanime
From the website's name you can suppose that Kissanime is a similar imitation of Kisscartoon except the color combination. However, this Kisscartoon alternative has a key difference from Kisscartoon. It focuses on Anime shows and therefore doesn't provide all type of Cartoon series.

4. Cartoons On
Cartoons On catches users' attention with its user-friendly interface and high-quality contents. Once you begin to browse the website, you will be fascinated by various cartoon shows and can't wait to add them to your favorites. The most surprising feature of Cartoons On is that you can choose any of the characters from the list and soon you'll get a large collection of cartoon shows based on that particular character.

Do you still recall the days when you are obsessed with Tom and Jerry series? This cartoon shows used to be telecasted on Cartoon Network and is popular with a great number of cartoons lovers. Cartoon Network offers cartoon shows along with songs, funny moments and trailers that you will never get bored of.
Another useful Kisscartoon alternative which is called "WCO" by Cartoon lovers. Its Cartoon Categories include Adventure, Comedy, Fantasy, Science Fiction, Mystery, Action, and Drama, which is far beyond other Kisscartoon alternatives.

7. YouTube
As the largest video sharing website in the world, you can't not miss YouTube for your great Kisscartoon alternative. YouTube offers various genres of cartoons from every decade so that you can easily find your desired cartoon by just simply search in the search bar. By the way, I think that one of the reasons I recommend YouTube as your Kisscartoon alternative is that it features an Android app called YouTube kids, which especially designed for kids.

8. Nickelodeon
Compared with all Kisscartoon alternatives above, Nickelodeon is more comprehensive. It is worth noting that Nickelodeon is a popular American basic cable and satellite television network at the very beginning. Nowadays it offers other services including games, playlists, clips and so on, in order to better satisfied user's requirements. Besides, this website requires no registration and you can browse through the website directly.

Disney Junior is a popular kids' channel which offers anime cartoons, games, videos and other activities that can enrich kids' extracurricular activities and you don't have to worry about the quality of each show. Kids can easily find their favorite anime on it. Besides, there aren't any needless widgets on the website, which makes the platform a real clean one.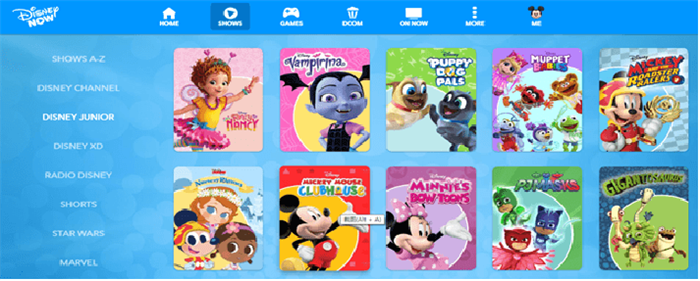 These top 9 Kisscartoon alternatives have their own unique features which all guarantee you to stream the most wonderful cartoons online. Don't forget to comment if you think that there are other Kisscartoon alternatives that should be listed here.
Excellent

Thanks for your rating.