How to Download YouTube Videos on Your MacBook
You can find billions of solutions to download YouTube on any device. But most downloaders you can find on Google are created for mobile or Windows computers. What about YouTube Video Downloader for MacBook? You might find that it's quite hard to choose a best one.
If you are eager to find a tool to help you download YouTube Video on Mac,
VidPaw for Mac
is here for you. Trust me, it's the best YouTube Video Downloader for Mac ever. With it, you easily get any HD YouTube video to MP4 for free without any limitation.
Now, let's move on to know more about VidPaw for Mac!
Part 1. VidPaw - The Best YouTube Video Downloader for Mac
I think you might be curious about Why VidPaw YouTube Video Downloader is the best for Mac. First of all, you might want to clearly know what VidPaw for Mac is.
VidPaw for Mac is a video downloader software, specializing in offering powerful video download services for Mac users around the world. It supports to download and convert videos from over 1,000 sites, including YouTube, Facebook, Instagram, V Live and so on.
To know more about VidPaw for Mac, let's check its highlight features below.
Free Trial
VidPaw for Mac offers a FREE trial for users to use. However, You don't need to worry that the free version will bring poor performance because you can also download unlimited HD videos under the free trial of VidPaw for Mac. Moreover, it allows you to download 5 QHD and UHD videos in 2K, 4K, 8K as well.
MP4 Conversion
VidPaw allows converting YouTube videos to MP4 and other frequent-used formats like 3GP, WebM. If you want to convert YouTube videos to audio in M4A, VidPaw for Mac supports as well. Moreover, you can download and convert your wanted videos and audio at one stop.
Download Music Videos
VidPaw for Mac has the ability to download any music video from YouTube to MP4 in HD. What's more, it's the best choice to save the latest songs. For sure, the whole download process is easy to make it.
QHD/UHD Video Download
Higher video quality will bring a better watch experience. With VidPaw for Mac, you can not only download HD videos but also QHD and UHD videos.
User-friendly Interface
Obviously, user-friendly interface design is one of the key features to obtain more users. VidPaw for Mac has a clear and easy-understanding interface to make sure every user has a satisfying experience on using VidPaw for Mac.
Part 2. Free Download YouTube to MP4 on Mac With VidPaw for Mac
To download YouTube videos to MP4, you just need to move a few steps on VidPaw for Mac. No complicated step is needed.
Next, let's see how to download YouTube to MP4 by using VidPaw for Mac.
STEP 1. Download and Install VidPaw for Mac.
You can directly download VidPaw for Mac on the official website. Beforehand, enable "Allow apps downloaded from: Anywhere" option in System Preference to make sure the installation goes successfully.
STEP 2. Copy YouTube Video Link.
To begin with, copy the video link from YouTube just like what is required while using Online Video Downloader.

STEP 3. Paste YouTube Video Link on VidPaw for Mac.
Launch VidPaw for Mac, then you'll see a download bar on the interface. You just need to paste the YouTube link you just copied to it. > Hit "Analyze".
STEP 4. Download YouTube to MP4.
After clicking "Analyze", a pop-up window will show up, listing all download choice for you. Choose MP4 as the output format, then select a suitable video quality. After that, click on the download button to start downloading YouTube to MP4.
STEP 5. Enjoy MP4 YouTube Video.
Last, you can move to the "Finish" section to catch all your downloaded YouTube videos in MP4. Now, let's enjoy!
Part 3. Fast Download YouTube to MP4 on Mac Without Software
If you are still not sure if VidPaw is powerful enough to help you, you can try
VidPaw Online YouTube Video Converter
first. Without downloading any software or application, VidPaw can help you convert any YouTube video to MP4 on Mac.
Here's the detailed tutorial on using VidPaw YouTube Video Converter.
STEP 1. Copy the Video Link from YouTube
First, find your wanted video on YouTube. Copy its link on the address bar, or hit the share button to get it.
STEP 2. Paste the Video Link to VidPaw YouTube Video Converter
Navigate to VidPaw YouTube Video Converter. You'll see a blank bar on the landing page. Paste the video link to it. > hit "Convert".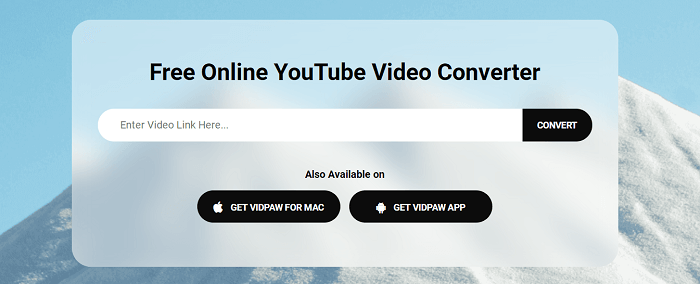 STEP 3. Choose MP4 as the Output Format.
After that, you'll automatically move to the download page. Select a proper output quality for the MP4 file.
STEP 4. Start Downloading.
Now, no more click is needed. You just simply click on the "Download" button and wait for a few seconds. Then, you wanted YouTube video will be saved on your MacBook.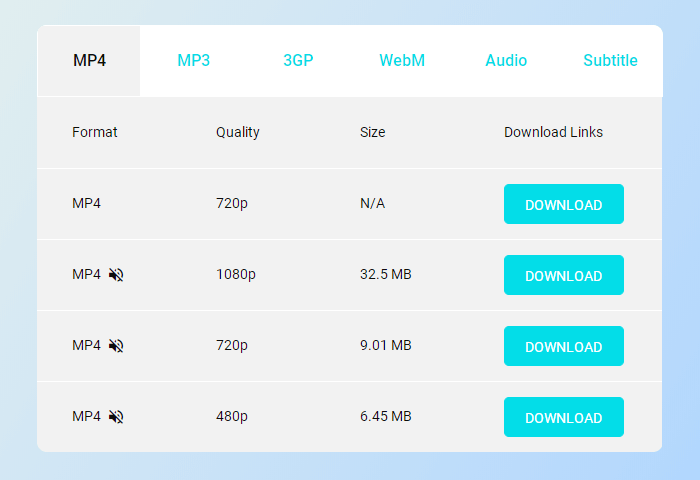 In the End
VidPaw for Mac is the best partner for macOS users to download YouTube videos on Mac. It can be your YouTube to MP3/MP4 Converter. Without any complicated operation, you can easily save any YouTube video you want.
Excellent

Thanks for your rating.