Best Sia Songs Downloader - Free Download and Enjoy Sia Songs, Albums
I was always wondering how can music touch someone's heart? How can I get moved from a song? But I finally find the answer when I have listened to Sia's songs. It's hard to have the same feelings with her life experience, but I'm still attracted and touched by the information what she wants to express from her music. To deeply enjoy her music, I would like to download Sia's songs to my phone, computer.

I'm still impressed by the music video of Chandelier, which is released in March 2014, even I have watched it over and over again. The cooperation of the amazing dance performance and Sia's beautiful voice just like a meteorite strongly hit my heart. There is no doubt that Chandelier is the key for Sia to entry Billboard chart as a lead artist because it peaked at No.8 on the US Billboard Hot 100.
Additionally, Sia has lots of awesome music and songs. I would like to share my favorite Sia's all songs and albums with all of you who are reading this post.
Part 1. My Best Sia Songs List
Top 1. "Chandelier" (2014)
Top 2. "Taken For Granted" (2000)
Top 3. "Titanium" with David Guetta (2011)
Top 4. "Elastic Heart" featuring The Weeknd and Diplo (2015)
Top 5. "Cheap Thrills" (2016)
Part 2. Sia's Best Albums You Must Listen to
No 1. 1000 Forms of Fear (2014)
No 2. Colour the Small One (2004)
No 3. We Are Born (2010)
Part 3. Sia Upcoming Concert in 2019
Friday 26 July 2019 – Sunday 28 July 2019
Fuji Rock 2019
Naeba Ski Resort, Niigata, Japan

Get more information about Sia's upcoming concert HERE.
Part 4. How to Free Download Sia's Songs and Album with Ease?
Some of you might be wondering how to download Sia's songs and albums for free. As we all know, music streaming platforms require to subscribe to the membership to get the music before the expiry date. If you are looking for a reliable solution to download Sia's songs for offline playback, I'll recommend you VidPaw Online Video & Audio Downloader, which has the ability to download Sia's songs for free without any limitation.

What's VidPaw? Is VidPaw Online Video & Audio Downloader safe to use? VidPaw Online Video & Audio Downloader is a professional video streaming and downloading platform, providing powerful and free download services for the world. It has the ability to download online video and audio from over 1,000 sites, for example, YouTube, Facebook, Instagram, Dailymotion, Twitter.

Moreover, VidPaw does not require users to log in with personal accounts, so you don't need to worry that private information will be collected by it. What's more, VidPaw also offers many different output formats and quality to choose.


Video Formats - MP4, 3GP, WEBM
Video Quality - 144p, 240p, 360p, 480p, 720p, 1080p, 2K, 4K, 8K
Audio Formats - WEBM, M4A
Audio Quality - 64kbps, 96kbps, 128kbps, 256kbps, 320kbps
But! If you are iPhone/iPad users, you need to download a file manager, Documents app beforehand. Okay. Next, I'll show you the detailed tutorial to download Sia's songs and albums with ease by using VidPaw Online Video & Audio Downloader.
Method 1. Directly Click the Download Button to Download Sia's songs to MP3
Unlike many downloaders, VidPaw Online Video & Audio Downloader offers a download button to users. You don't need to open another tab to access the video and get the video link. You can directly search your favorite Sia music video on VidPaw. Let's see how to do it.

STEP 1. Search Sia Songs on VidPaw
You can directly enter the song's name as the keyword to search the music video from Sia, like Chandelier, Elastic Heart, Cheap Thrills, I'm in Here and so on.

STEP 2. Click the Download Button
When you access the music video tab, you will see a download button below the video. Simply click on it, then, VidPaw will automatically move to the download page of your favorite Sia's song.
STEP 3. Choose a Suitable Output Format and Quality
VidPaw supports to download video and audio file at one stop. If you want to download Sia's music video, you can choose MP4 as the output format. If you prefer to download Sia songs to other formats, VidPaw also can help you.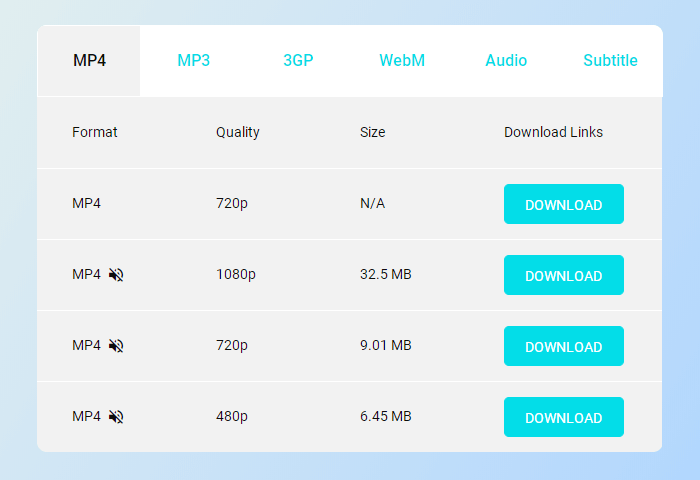 STEP 4. Start Downloading Sia Songs
After all the operations above, you can click the "DOWNLOAD" button to continue downloading Sia's songs. Just for a while, you can freely enjoy Sia's music on your PC, Android phone/tablet, iPhone/iPad.
Method 2. Download Sia's Songs for Offline Playback with Video Link
In addition to the method above, VidPaw supports to download video and audio with the video link. It's easy to operate as well.

STEP 1. To begin with, copy a Sia song's video link from sites like YouTube, Facebook, Twitter, Instagram, Dailymotion.
STEP 2. Navigate to VidPaw Online Video & Audio Downloader and paste the video link to the blank bar. > Click "Download".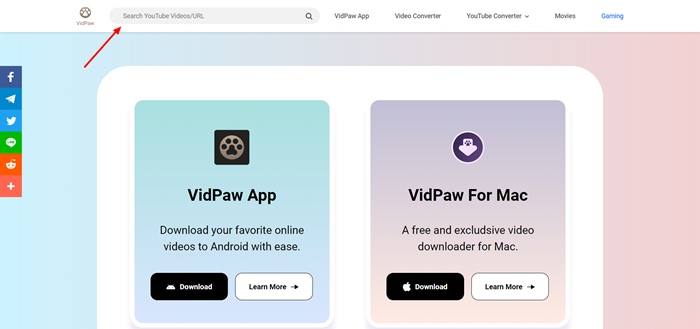 STEP 3. Pick up a suitable output format and quality.
STEP 4. Click on the "DOWNLOAD" button to start downloading Sia's song with ease.
What's your favorite song from Sia? Now, you might have mastered the solution to download all songs by Sia. Let's have a try! If you know some Sia fans, why not share this post with them?
Topics:
Music
YouTube to MP3
Sia
Excellent

Thanks for your rating.