10 Best Summer Movies of All Time to Get in the Summer Holiday
Refer to fun summer activities, you may think of going swimming,surfing, or even walking on the sandy beach. But all these are very physical activities. If you want to relax yourself, then watching summer movies is a great choice! Here I list 10 best summer movies of all time to get in the summer holiday! Select some to enjoy according to your preference.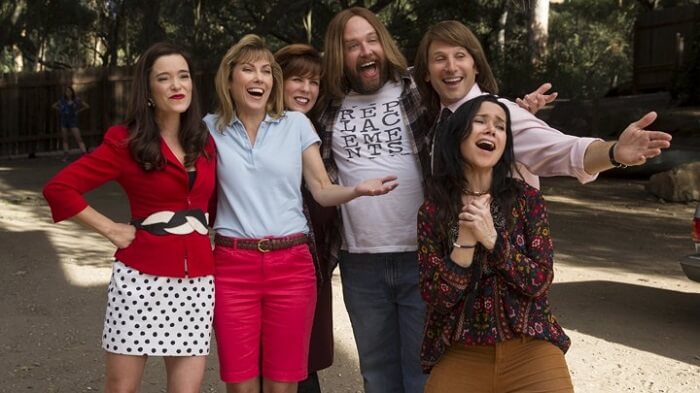 1. Wet Hot American Summer
Release Date: July 27, 2001
Summer Vibes: Camp, mess halls, lakes, athletic socks
Duration: 97 minutes
Genres: Comedy & Romance
Stars: Janeane Garofalo, David Hyde Pierce, Molly Shannon, Amy Poehler
Directors: David Wain
Country: America
Story: The storyline is around a firewood camp in the year 1981. The camp director Beth falls in love with the local astrophysics professor while he is busy trying to save the camp from serious trouble.
2. I Know What You Did Last Summer
Release Date: October 17, 1997
Summer Vibes: Beach bonfires, reckless summer nights, horror movie clichés
Duration: 101 minutes
Genres: Horror & Mystery
Stars: Jennifer Love Hewitt, Sarah Michelle Gellar, Ryan Phillippe, Freddie Prinze Jr.
Directors: Jim Gillespie
Country: America
Story: Julie James and her friends drive to the beach after attending a party,but, unfortunately, they hit a pedestrian by accident on the road. Everyone turns white with amazement but they decide to keep it a secret after calming down. When Julie decides to move on and kick off her college lives, an unexpected letter breaks her quiet life.
3. Summer School
Release Date: July 22, 1987
Summer Vibes: Amusement parks, beach trips, Hawaiian shirts
Duration: 97 minutes
Genres: Comedy & Romance
Stars: Mark Harmon, Kirstie Alley, Kelly Jo Minter, Shawnee Smith
Directors: Carl Reiner
Country: America
Story: Thirty-five-year-old Freddy Shoop is a Phys Ed teacher of a high school, he is blackmailed by the school's Vice-Principal Phil Gills, who asked him to teach the remedial English class during summer school. Freddy has his unique counseling method which helps them a lot.
4. Tommy Boy
Release Date: March 31, 1995
Summer Vibes: Road trips, swimming pools, life jackets
Duration: 97 minutes
Genres: Comedy & Adventure
Stars: Chris Farley, David Spade, Rob Lowe, Bo Derek
Directors: Peter Segal
Country: America
Story: Tommy Callahan Jr. is a clumsy guy who recently graduated college after attending for seven years, his father wishes him to follow his footsteps and take over the auto parts factory, so Tommy has to fight against all odds and guard the villain around him.
5. Adventureland
Release Date: April 3, 2009
Summer Vibes: Boring summer jobs, local amusement parks, house parties
Duration: 107 minutes
Genres: Comedy & Drama & Romance
Stars: Jesse Eisenberg, Kristen Stewart, Ryan Reynolds
Directors: Greg Mottola
Country: America
Story: The film tells that in 1987 a college graduate takes a low-wage job at his local amusement park. He is intended to touch the real society and turns out that it's a perfect course to make him more mature.
6. Grease
Release Date: June 16, 1978
Summer Vibes: First day of school, last day of school, sweet summer love
Duration: 110 minutes
Genres: Musical &Romance
Stars: John Travolta, Olivia Newton-John, Stockard Channing
Directors: Randal Kleiser
Country: America
Story: The story begins in the summer of 1958, greaser Danny Zuko and sweet girl Sandy Olsson meet at the beach and they fall in love with each other. Later they happen to find that they are in the same high school but things become a little bit complicated…
7. What About Bob?
Release Date: May 17, 1991
Summer Vibes: Lake houses, corn on the cob, wood-paneled station wagons
Duration: 99 minutes
Genres: Comedy
Stars: Bill Murray, Richard Dreyfuss, Tom Aldredge, Susan Willis
Directors: Frank Oz
Country: America
Story: Bob Wiley is a good-natured man while he suffers from multiple phobias and he turns to Dr. Leo Marvin for help. However, the doctor's leaving to spend the rest of the summer with his family and which makes Bob panic and he follows Leo to his vacation home...
This is a paragraph
8. The River Wild
Release Date: September 30, 1994
Summer Vibes: White-water rafting, baseball caps, oars
Duration: 111 minutes
Genres: Adventure & Crime & Thriller
Stars: Meryl Streep, John C. Reilly, Diane Delano, Kevin Bacon
Directors: Curtis Hanson
Country: America
Story: The teacher Gail Hartman is facing problems with her marriage with her workaholic architect husband Tom Hartman. They decide to take the family to raft down a wild river to see if their marriage could be saved. During the adventure, they meet two armed robbers and their lives are in danger.
This is a paragraph
9. Forgetting Sarah Marshall
Release Date: April 18, 2008
Summer Vibes: Hawaii, leis, bonfires, surfing
Duration: 111 minutes
Genres: Comedy & Drama & Romance
Stars: Jason Segel, Kristen Bell, Da'Vone McDonald, Mila Kunis
Directors: Nicholas Stoller
Country: America
Story: Composer Peter Bretter is in a five-year relationship with actress Sarah Marshall but they are not going well and Sarah announces that she is breaking up with him. Peter feels so down and he takes a trip to Hawaii. During the trip, he meets hotel concierge Rachel and starts to develop feelings for her. But can he really forget Sarah?
10. Jaws
Release Date: June 20, 1975
Summer Vibes: Beach towns, lifeguards, shark warnings
Duration: 124 minutes
Genres: Adventure & Drama & Thriller
Stars: Roy Scheider, Richard Dreyfuss, Robert Shaw
Directors: Steven Spielberg
Country: America
Story: The film tells the story of a young woman Chrissie Watkins going skinny dipping in the ocean at the dusk but her partial remains are found the next day and it causes great panic among people. An oceanographer Matt Hooper examines Chrissie's remains, and confirms she was attacked by a shark.
With so many best summer movies provided above, which one interests you? Welcome to interact with us and share your favorite summer movie!
Topics:
Summer Movies
Movie
HD Video
Excellent

Thanks for your rating.