Music in the 1980s was the most popular one in the past 50 years, according to a 2010 survey done by the digital broadcasting company Music Choice. The 1980s is the most diversified, eclectic and extravagant decade in recent cultural history. Dance music and new wave appeared in the 1980s. As disco gradually fell out of favor in the early 20th century, post-disco, Italian disco, European disco and pop music became more popular. In addition, Rock music continues to be popular with a large audience.

Music in the 1980s is the most influential page in the history of modern pop music. Here are five representative songs of the 1980s going to be introduced. The second and third parts of this post also contain a tutorial on how a free online music downloader help you download YouTube 80s Music.
Part 1. 5 Popular Music in 80s
I Wanna Dance with Somebody by Whitney Houston
"Whitney" is the second personal album Whitney published by Whitney Houston. The first single, "I Wanna Dance with Somebody" (Who Loves Me) is a dynamic dance music. The original creation was more in a country style and the production team thought it was inappropriate. After several discussions and modifications, it turned out to be a dance music. The song has won the top music charts in more than 20 countries, including United States, Canada, Australia and the United Kingdom. It has sold 5 million copies worldwide and brought Whitney a Grammy Award.
Beat It by Michael Jackson
"Beat It" is one of Michael Jackson's lead songs in his 1982 album - Thriller. It was one of the 500 classics in the history of the Rock Hall of Fame and one of Rolling Stone Magazine's 100 Best Rock Guitar solos. "Beat It" tells young people to avoid unnecessary troubles. Violence cannot solve all problems, but only hurts themselves. Perhaps more impressively, Michael used the form of singing to give well-meaning advice to the younger generation of Americans at that time.
Into the Groove by Madonna
"Into the Groove" has been covered by a number of artists. "Into the Groove" was originally recorded by American singer Madonna for the 1985 film "Desperately Seeking Susan". The song is Madonna's most played song on Billboard's Recurrent Airplay Chart. The song demonstrated Madonna's ability to create infectious dance music, and it was Madonna's first number-one song.
"When Doves Cry" is the masterpiece of the famous pop singer, Prince, from his 1984 album "Purple Rain". The theme of this song involved intermingled parental difficulties and a love affair. The song ranked number 52 on the Rolling Stone list of the 500 Greatest Songs of All Time.
Love Is a Battlefield by Pat Benatar
"Love Is A Battlefield", which features Benatar's reimagination of the songs that have inspired her throughout during her lifetime, describes the time when it is far away from the most sensuous and heartfelt recording of her brilliant career. The song shows Benatar's soulful jazz style. "Love Is A Battlefield" was ranked at number 30 in VH1's list of the 100 Greatest Songs of the 1980s.

Part 2. Download YouTube 80s Music to iPhone/Android
As YouTube has been uploaded various hot 80s music, though it provides no download access for users to save these 80s music for offline playback, you can get them with VidPaw for free. It provides multiple formats and quality, and you can choose your preferred format to download YouTube 80s Music video or audio.

Available Video/Audio Formats and Quality:

| | |
| --- | --- |
| Video Download | Support to download MP4, 3GP, and WebM in 144p to 720p with sound. |
| Video-Only | Support to download MP4, 3GP, and WEBM in 1080p, 1440p, 2160p, and 4320p with no sound. |
| Audio Download | Download videos as audio files in M4A and WebM from 64kbps and up to 320kbps. |
| Subtitle | Download Closed Captions in a certain YouTube video. |
VidPaw's Highlighted Features

Support to download video from more than 1000 sites;
Available on all browsers and various devices;
Free for using but provide with high output quality;
Contain no pop-up ads and bundled malwares.

Additionally, VidPaw is pretty easy to use. Now turn to the guide below to see how to download YouTube 80s music for offline streaming.
Way 1. Download YouTube 80s Music on iPhone/iPad
STEP 1. Download Documents
Go to App Store and download the app - Documents on your iPhone/iPad. Then you should open Documents to launch the built-in browser and go to VidPaw inside it.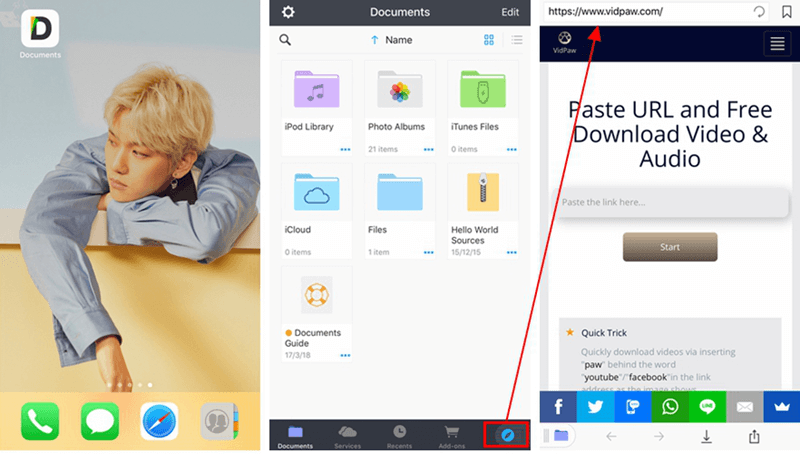 STEP 2. Copy and Paste the URL
Enter the page of YouTube 80s music in Documents built-in browser and find your desired 80s music songs. To download YouTube 80s music songs, you just need to copy the link of it and paste it to VidPaw. And tap on the "Start" button.

After tapping on the "Start" button, you can select an output format as well as quality, then tap on "Download" button.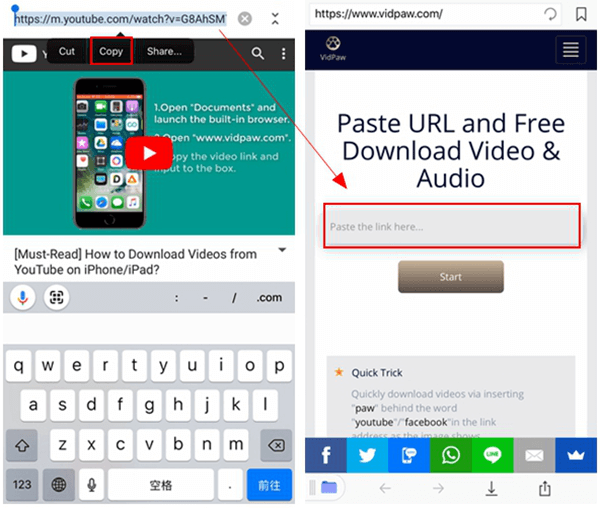 STEP 3. Download and Enjoy YouTube 80s Music offline
After tapping the button, there will be a pop-up window that allows you to select an output folder inside Documents. When you select it, it will start to download the YouTube 80s video/audio. After the download is completed, you can find your YouTube 80s music songs in the output folder of Documents that you choose and you can freely play it on your iPhone/iPad offline.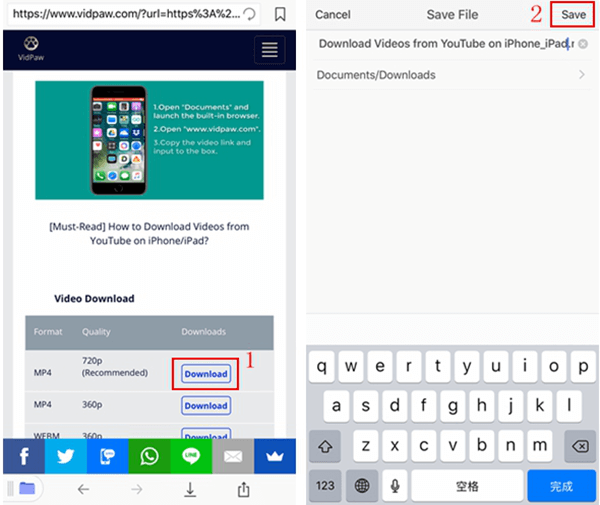 Way 2. Download YouTube 80s Music on Android
STEP 1. Open the browser on Android and head to the page of the 80s music song on the YouTube website.
STEP 2. Directly copy the URL of the YouTube 80s music song from the address bar and paste the URL into the search bar in VidPaw. Then Tap "Start" button to start loading the audio.
STEP 3. Then from the list, select an output format and quality for the video/audio you are going to download, and tap on the Download button. Just wait a minute and the YouTube 80s music song can be played on your Android.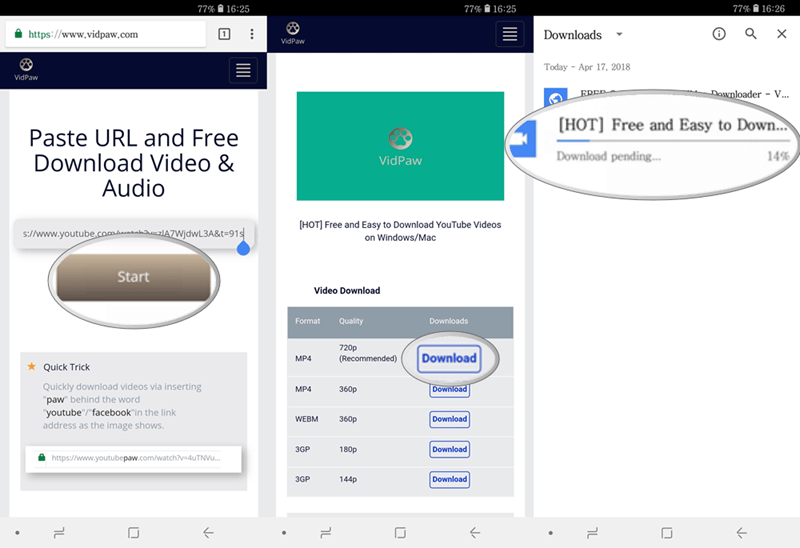 NOTE: At present, this way is only available for downloading videos/audios from YouTube.
STEP 1. Move to the YouTube 80s music video on YouTube and iPhone/iPad users should open the video site with Documents' built-in browser.
STEP 2. Add "paw" after the word "youtube" and change "m" to "www" (if you are using mobile) in on URL. For example, change "m.youtube.com" to "www.youtubepaw.com".
STEP 3. Press Enter, and you can go to VidPaw to download the YouTube 80s music song video directly.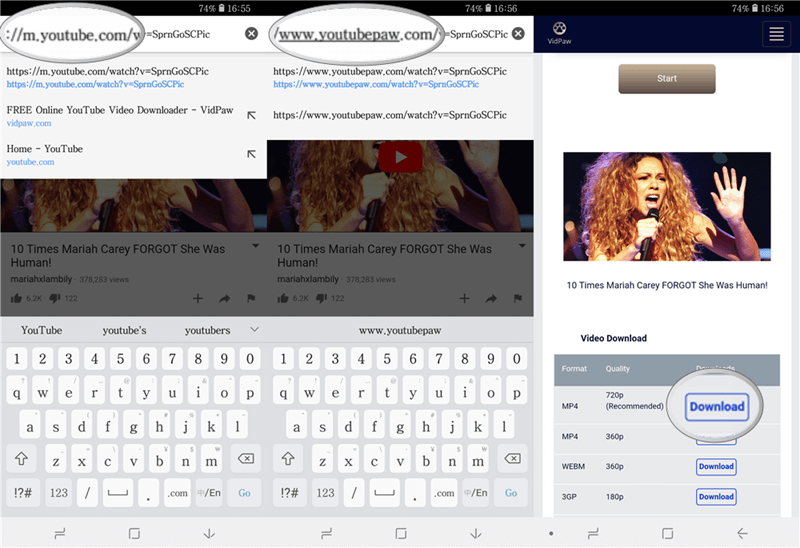 Part 3. Download YouTube 80s Popular Music to Windows/Mac

STEP 2. Install VidPaw Extension
When the installation of the Tampermonkey extension is completed, you need to install the VidPaw extension. Please click here: VidPaw Extension. Just follow up the instruction to finish installing VidPaw extension on your browser.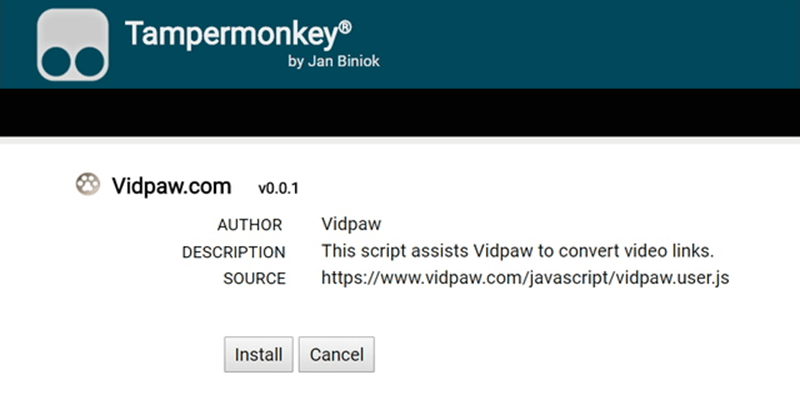 STEP 3. Download YouTube 80s Popular Music by Hitting the VidPaw Icon
Try to open your browser and move to YouTube to find your desired 80s popular music. And you will find a VidPaw icon under the video. Just click on it and you can download video to your devices.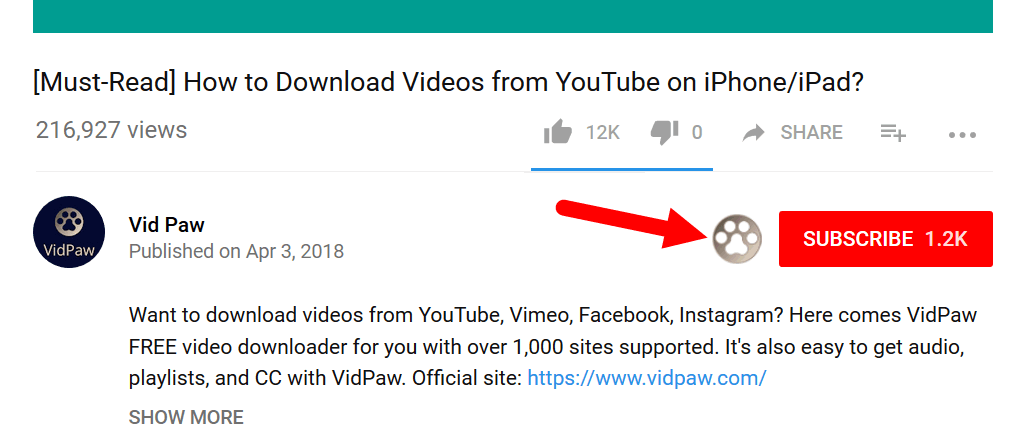 No ads involved, and no complicated settings, this reliable online video/audio downloader - VidPaw - ensures users to download YouTube 80s videos from YouTube with ease. VidPaw is definitely your best choice. So try it without hesitation!


Published on January 07, 2019