Are you a video editor who have needs of some video backgrounds? As we know, if you want to make your videos look more fantastic, some cool effects, or an attractive video backgrounds are necessary to get to the point, assisting you to make the whole video look awesome. For professional video editors, doing a video background is not a difficult task. But for the beginners who are not familiar with how to make good video background, it would be better for them to get some well-designed ones for using directly.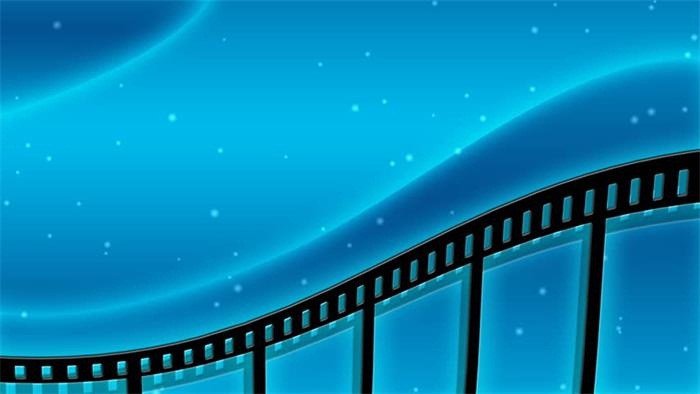 So today, except for introducing the great video effects (you may be more professional than me), I would like to offer you some copyright free video backgrounds that can be used directly, and three easy ways to save them offline so that you access to them whenever you need.
Part 1. The Best 5 Copyright Free Video Background Playlists for Free Using
We should not look down upon the power of the Internet, because we can almost get the exact video resources we need in all aspects here. So for the copyright free video background. Here we have collected five royalty-free video backgrounds that are completely free for using, up to thousands of videos in totally. You must be able to find the one you like the most from these lists. Click the title of the playlist and you will be navigated to its YouTube playlist for selecting.
1.Copyright Free Videos, Motion Graphics, Movies, Background
2.Free Background, SWEET DREAMS COLOUR FULL
3.AmazonSwamp - FREE Video Background Loops HD 1080p
4.Free HD beautiful animated Background
5.Video Background 117 AE Seamless Loop Texture Light Particles
Part 2. 3 Easy Ways to Download the Copyright Free Video Background for Editing Videos Offline
As you have chosen a copyright free video background, now another problem comes - how can we save it for offline using and editing?
VidPaw
is the tool we are searching for, which enables users to free download online videos/audios from over 1,000 platforms for offline collections. Video sites like YouTube, Vevo, Dailymotion, etc. and popular social platforms such as Facebook, Twitter, and Instagram, are all supported by VidPaw. Therefore, when you dig out or discover any video you want to save offline, VidPaw can greatly help you.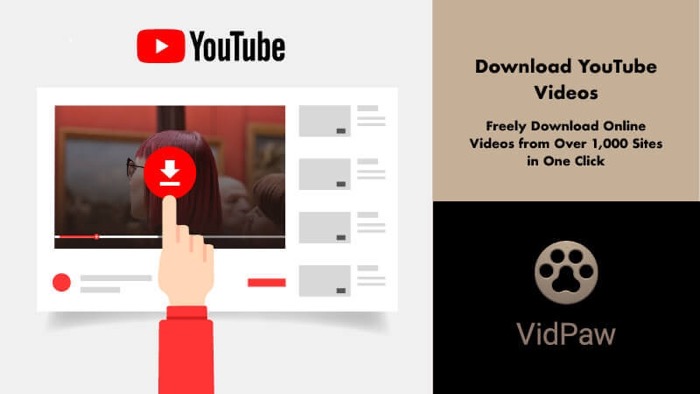 VidPaw offers different output formats and quality for users to choose randomly, such as MP3, MP4, WEBM, M4A and 3GP, with video quality ranging from 360p to 8K, audio quality from 128kbps to 320kbps. Users can absolutely get the one they need for saving their favorite videos/audios. Moreover, VidPaw is compatible with different devices, including iOS, Android, Mac, and Windows. This also means that VidPaw can be used more flexibly.
Are you an Android or a Mac user? VidPaw brings you a great news here! Currently, VidPaw App for Android and Mac are both available for using on corresponding devices. By installing VidPaw App on Android or Mac device, you can stream the videos and save them offline more conveniently. Just go to VidPaw App or VidPaw for Mac to download them if you need.
Back to VidPaw online platform, to help users use the download service easily, three solutions are avail for free selection. People can choose the way they feel the most convenient for using VidPaw to save online videos/audios offline. If you are a new users, simply go through the guidance below.
Solution 1. Download Copyright Free Video Background with URL
The most direct way to download online videos is using the URL of the video. By pasting the URL to the downloader, you can easily save it offline within a few clicks.
STEP 1. Copy the URL of the Copyright Free Video Background
To get started, please go to YouTube or the video page of the copyright free video background you want to use for editing or creating a new video. Like on YouTube, you can enter keywords like 'video background' and browse from the results. Or you can directly go to the video you like from the listed playlists above. After sorting the one you want to download, open its video page and copy its URL.
STEP 2. Paste the Video URL to VidPaw
Now that you have gotten the URL of the copyright free video background you want to use for offline video editing, please navigate the page to VidPaw.com. As the site is loaded in browser, you find a search bar located right on top of the interface. Here you need to insert the URL of the video you get, then click on the search icon beside the download bar. After that, VidPaw will resolve the URL for you.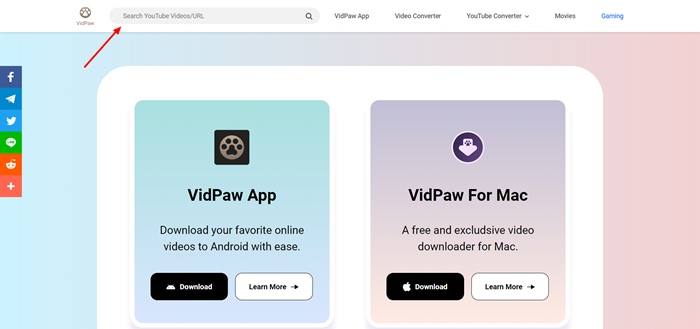 STEP 3. Download the Copyright Free Video Background
When VidPaw solves the conversion for you successfully, it will also generate a list of output formats and quality that you can freely choose to download the copyright free video background offline. There are up to 1080p you can choose for saving the video background, so the resolution of your editing video will also be high. After choosing, just hit the Download button to save the video background offline.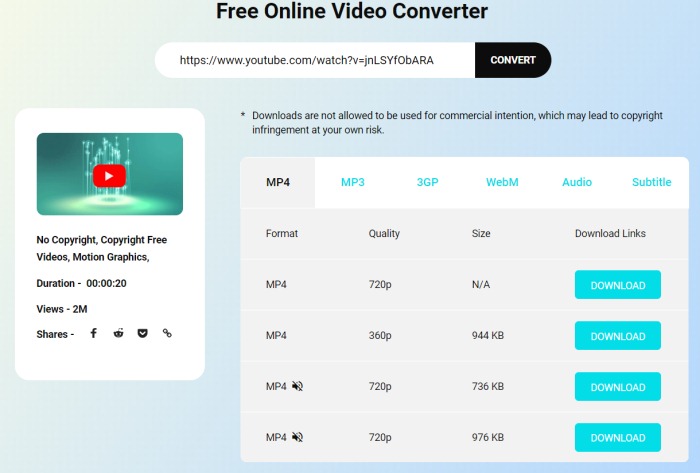 Solution 2. Edit YouTube Copyright Free Video Background URL to Download It
Here you get a quick way. If you are going to download the copyright free video background from YouTube, directly changing the URL of the video can help you download it within seconds. Let's see how it works.
STEP 1. Go to YouTube in the browser and then search for the copyright free video background you want to use as the background of your video. Then open its video page.
STEP 2. In the next, please click on the address bar and here you only need to add 'paw' behind 'YouTube'. So it will be changed like 'www.youtubepaw.com'.
STEP 3. Please press Enter key on keyboard for redirecting the page this new edited URL address. When it navigates, you will discover that the page is turned to VidPaw's download page.
STEP 4. Now you can choose the format and quality for saving the video offline. Directly hit the Download button and the video background will be downloaded.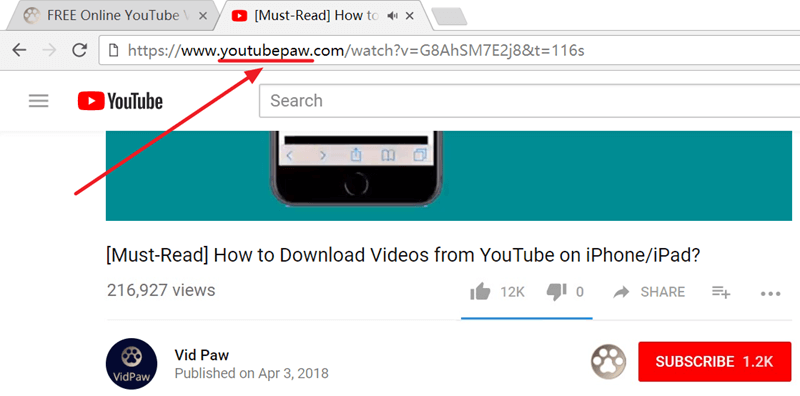 Solution 3. Download Copyright Free Video Background with VidPaw Extension
Before getting started, you may wonder how VidPaw Extension can help. Actually, by adding it to your browser, you are able to add a download icon to each online video, so that the whole download process can be simplified even you have tons of videos want to download. So how can we successfully install VidPaw Extension? Here are three steps you should follow.
STEP 1. Install Tampermonkey Extension
First, another extension, Tampermonkey, need to be installed. Tampermonkey is an extension manager that helps users to manage some installed extensions inside the browser. More than that, Tampermonkey can also enable a more fluent and stabler environment while VidPaw Extension is performing. Now please click on the hyperlink below according to the browser you are using for installing the right version of Tampermonkey to your browser.
Google Chrome Tampermonkey
Mozilla Firefox Tampermonkey
Safari Tampermonkey
Microsoft Edge Tampermonkey

STEP 2. Insert VidPaw Extension
Now, please add VidPaw Extension to your browser as well by clicking here: '
VidPaw Extension
'. The instruction to install it is simple.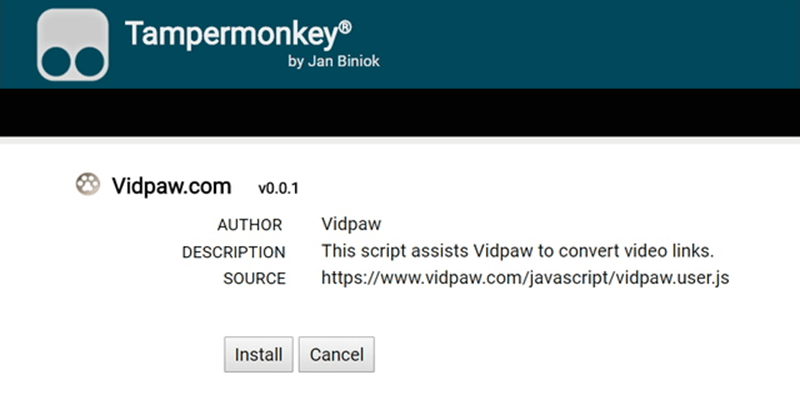 STEP 3. Download Copyright Free Video Background Now
When VidPaw Extension is added, now please turn to a video-sharing platform like YouTube, and directly navigate the page to the copyright free video background that you want to download. After scrolling down the page to the place below the video, you will discover the newly-added download icon. Just hit the button and you can directly download the copyright free video background with the output format as well as quality on VidPaw.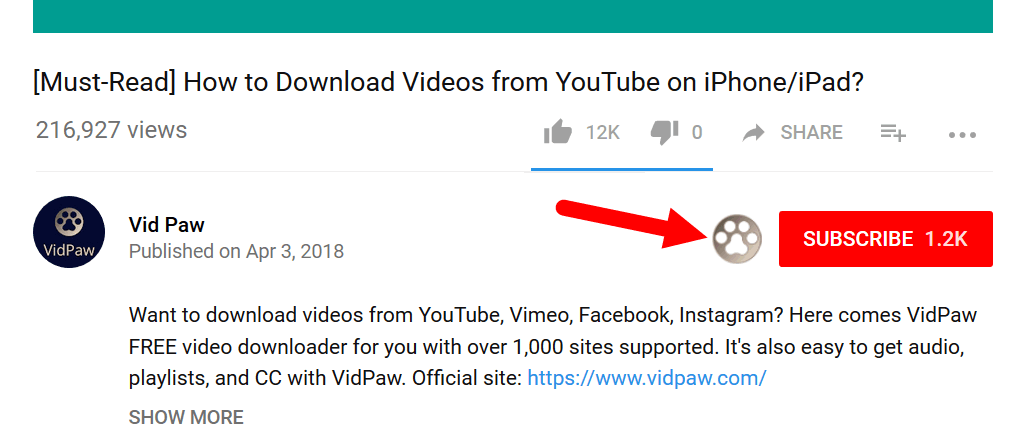 When you get the video background offline, you can freely use it for creating your own new video clips as you want. Don't worry about this will cause any copyright infringement because the video backgrounds are completely copyright free. Now just get the one you want and download it with VidPaw!