SaveFrom.net - A Free Way to Download Online Videos in Full HD
April 29, 2019
SaveFrom.net has been a reliable online video download site for a long time, which helps thousand of users to deal with the online video download problem without hassle. Nowadays, SaveFrom.net also provides an application with more convenient usage and user-friendly improvement, enabling people to download online videos in full HD simpler than ever before.


Downloading online videos with SaveFrom.net can actually fix many problems. For example, overcome the online video loading/buffering issue, make the video playback also available while there has no Internet connectivity, and free the online video for people to playback during their spare time period at anytime and anywhere. With SaveFrom.net, people can make full use of their time by downloading the online videos.
If people don't want to download software to occupy the device storage, you can still use its online video download. Just insert the URL of the online video to the download bar on SaveFrom.net, click on ">", and scroll down the page to submit "download video in browser". Then SaveFrom.net would form the download option for you.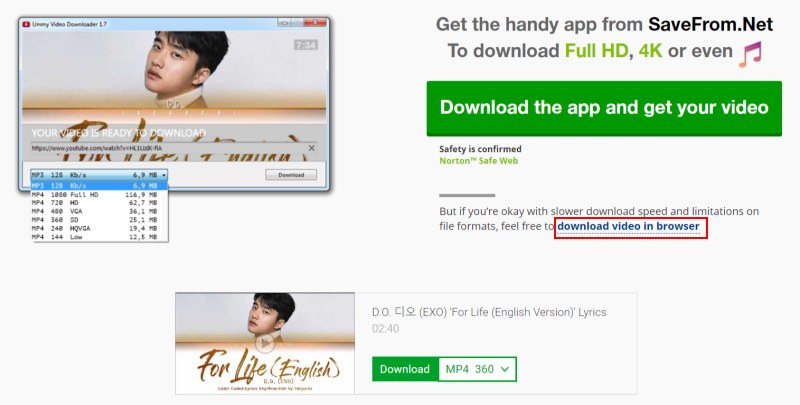 SaveFrom.net App Availability
Using SaveFrom.net app can free more professional functionality which can offer better output quality and much stable operating performance. But it requires users to subscription for the premium plan in advance. There are three provided.
One-month Plan
Price: $4.99
SaveFrom one-month subscription is set for those who want to experience the advance functionality offered by SaveFrom app, or users who would not use the app very frequently.
Six-month Plan
Price: $24.99 (now it costs only $19.99 for holiday discount)
The six-month plan provides full functions offered in SaveFrom app - download online video with full HD, and even 4K and 8K output quality, save music for offline playback, and so on. There exists no other extra payments after subscribing this plan.
Lifetime Plan
Price: $39.99
After subscribing for SaveFrom app's lifetime plan, you can use the app and its functions all your life without paying other subscription fee. Even after update, you can use SaveFrom freely.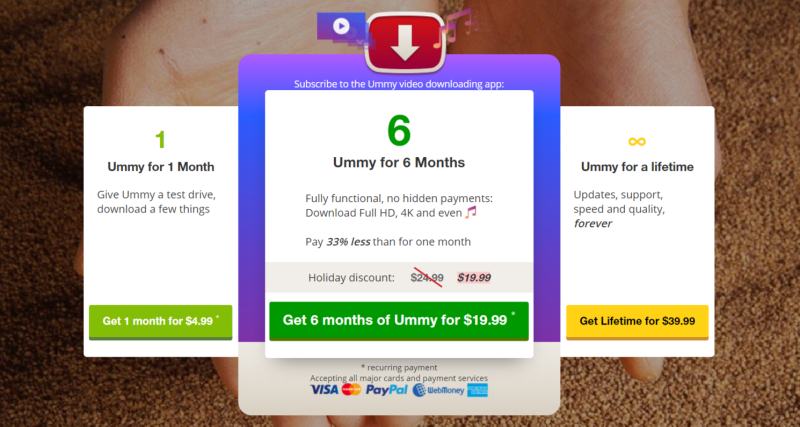 In addition, SaveFrom on-site download service provides a SaveFrom helper that can download online videos on Chrome with ease. Simply add the plugin to your browser and you can save the online videos within only one-shot.
It's your choice to select to download online videos with SaveFrom online video downloader or use the SaveFrom app. Both methods have their advantages and shortages. But all in all, SaveFrom is safe for online video downloading and the quality can be guaranteed. It's a good choice for you.


Published on April 29, 2019
Excellent

Thanks for your rating.