[100% Working] Easiest Way to Loop A YouTube Video
November 20, 2018
It seems you never get enough of your favorite YouTube videos and here you are, looking for the answer to this question - how to make YouTube videos repeat automatically. Now, you can throw your anxiety on us because we're going to teach you how to loop YouTube videos on PC, Android, and iPhone.
Part 1: How to Replay A YouTube Video on Windows/Mac?
Many people don't know how to loop a YouTube video and there's no clear button being displayed on YouTube. But actually, it's quite easy to turn on the "loop" option. Follow these steps and learn how to automatically replay a YouTube video on Windows and Mac.

STEP 1. Go to YouTube and play any one of those YouTube videos.
STEP 2. Skip the advertisement a few seconds later.
STEP 3. Right-click the YouTube video and you will see a pop-up menu.
STEP 4. Click "Loop" to turn on the feature. (You can turn it off by clicking "Loop" again.)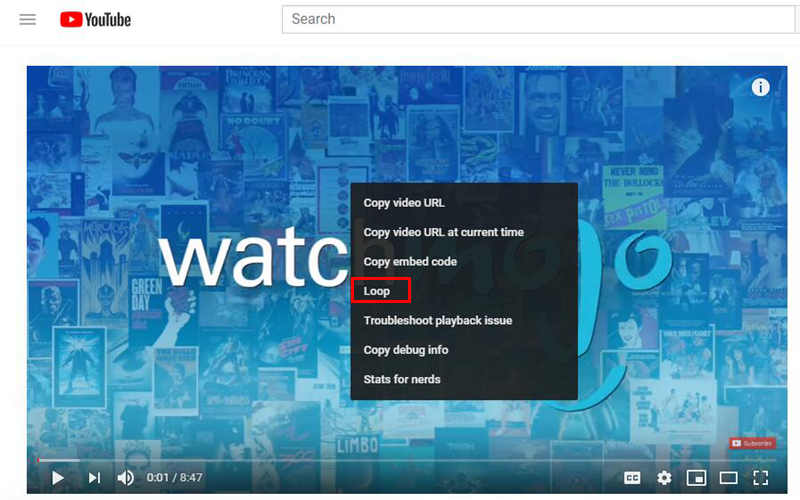 Part 2: How to Loop A YouTube Video on iPhone/iPad/Android?
For Android users, it's also very simple to access the "Loop" option. But you can't do it within the YouTube app. You have to use mobile browsers like Chrome and Firefox to open YouTube desktop site. The following tutorial will use Chrome as an example to show you how to loop a YouTube video on Android.

STEP 1. First, open Chrome and head to YouTube.
STEP 2. Find this "Three Dots" icon in the upper-right side of the Chrome and tap on it.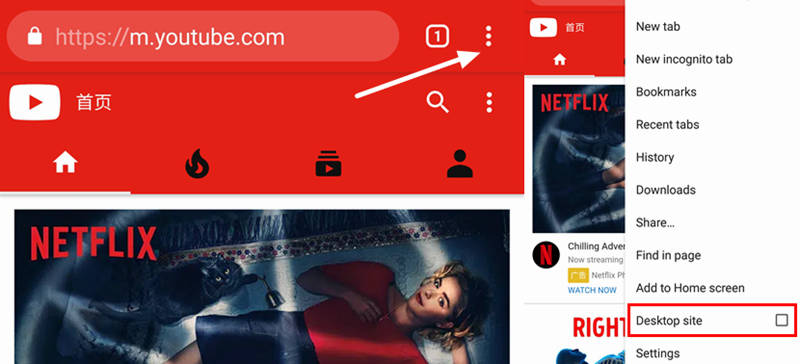 STEP 3. On the drop-down menu, tick the "Desktop site" and YouTube will reload into the desktop mode.
STEP 4. Play any YouTube video you want and skip the advertisement.
STEP 5. Long press the video and a menu will show up.
STEP 6. Tap "Loop" in the pop-up menu and the YouTube video will automatically replay.

Now, your selected YouTube video will play on a loop until you close the browser or disable the loop option by tapping "Loop" again.

For iPhone/iPad users, it would be a little different to activate the loop option and to be clear, neither the YouTube app nor the YouTube desktop site support video looping directly. But no worries, just a few more steps needed.

STEP 1. Open YouTube app and make sure you've already logged in. If not, register one or enter your email address and password.
STEP 2. Select a YouTube video to play.
STEP 3. Find this "Save" button below the video and tap on it.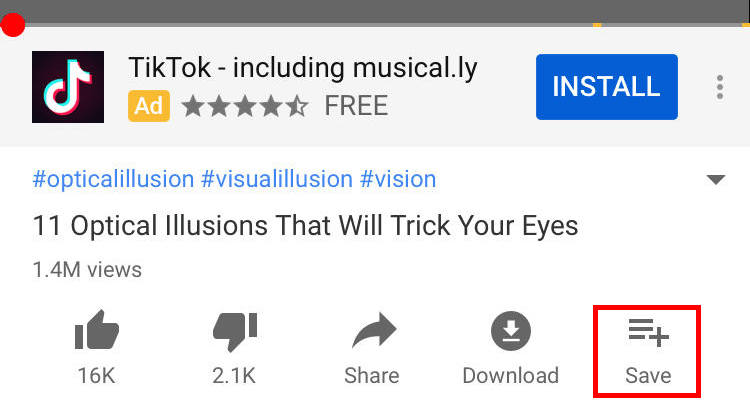 STEP 4. Tap "Create new playlist" on the pop-up menu. Follow and finish the instructions.
STEP 5. Go to Library open the new-created playlist.
STEP 6. Tap the red "Play" button and the video in the playlist will begin playing.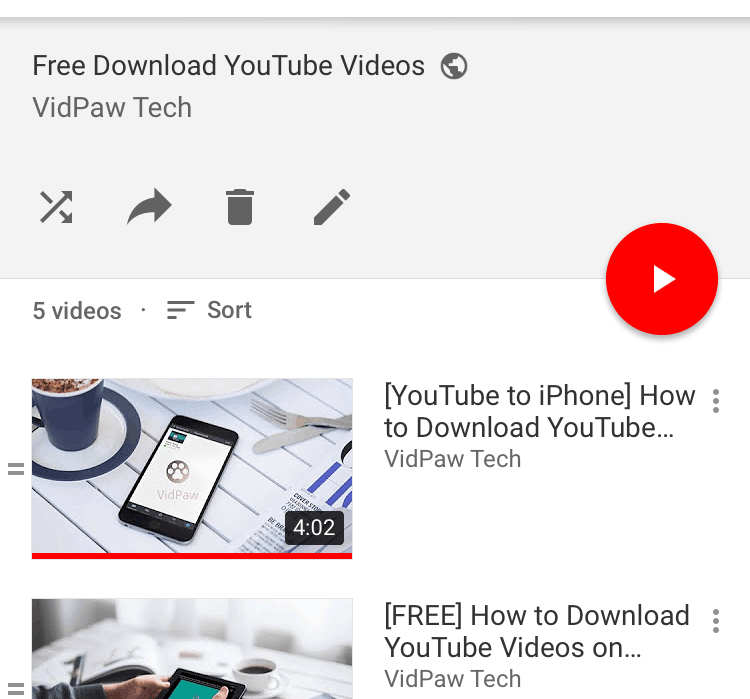 STEP 7. Open the playlist's options menu by tapping the downward-facing triangle icon right below the video's window.
STEP 8. Tap on the "Loop" icon and the video will repeat itself.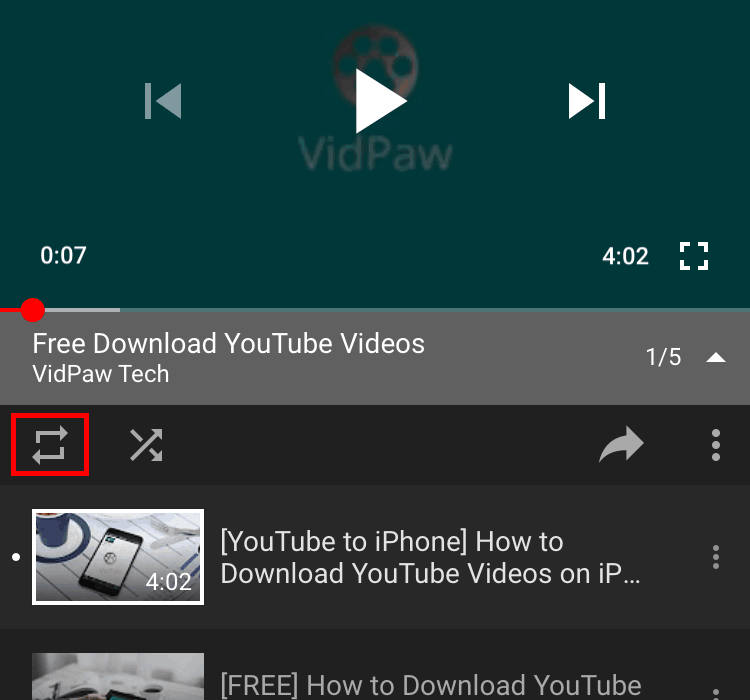 Tips: How to Make Multiple YouTube Videos Repeat?
Those who have gone through the tutorial for iPhone/iPad users must already know how to loop a YouTube playlist (Scroll up a little bit to check the tutorial if you don't). But how about making multiple YouTube videos loop on PC and Android? Actually, it's the same trick you use on iPhone/iPad and I will make it short by taking the YouTube desktop site as an example.

STEP 1. Find this "SAVE" button below the video and add the video to a playlist.

STEP 2. After you add several YouTube videos to your playlist, click the "Three lines" icon in the upper-left part of YouTube and you will see a pop-up menu.
STEP 3. Go to the LIBRARY and click the playlist you created.
STEP 4. Click "PLAY ALL" here and turn on the loop feature here after it switches to the video playing page.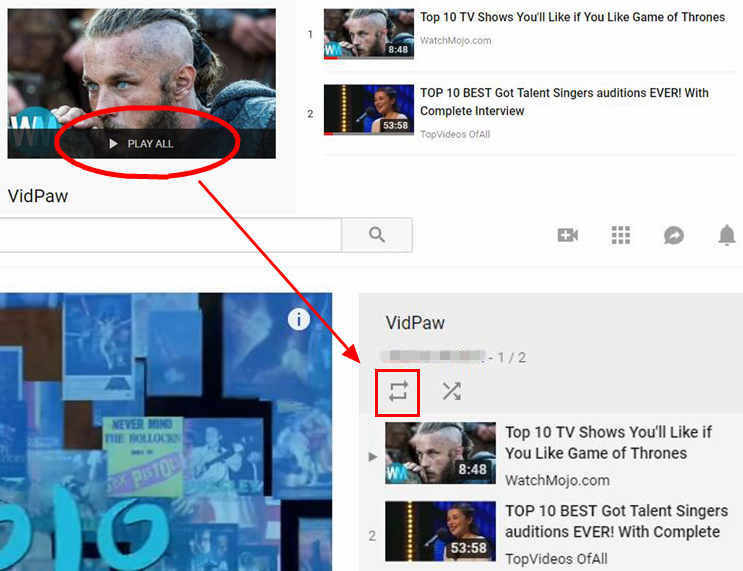 Now, I believe you've learned how to loop a YouTube video and even a playlist on PC, Android, and iPhone. It's time you used the acquired methods to loop your favorite YouTube videos. By the way, we're truly appreciated if you can share this blog to help other people. Have a good day!
Published on November 20, 2018
Excellent

Thanks for your rating.