The latest news: The world's most popular video streaming site - YouTube - seems to be breaking down on October 16, 2018, showing 500 Internal Server Error to the globe especailly people in UK and US according to downtime tracker DownDetector.

By the time of 8:00 PM on October 16, 2018, YouTube is back! You can check out the following screenshots from Team YouTube.

YouTube now has officially responded to this event on Twitter.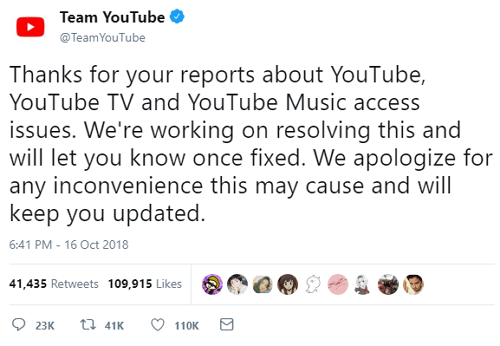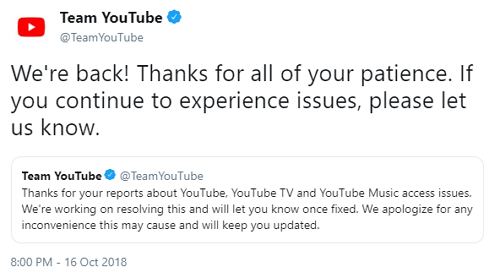 In the morning of today, people from around the world wake up and open YouTube as usual while they find out that the YouTube main page turns out to be a blank page with no videos showing.
Moreover, if you open a video URL, you'll come across a black screen with an error saying that "An error occurred. Please try again later."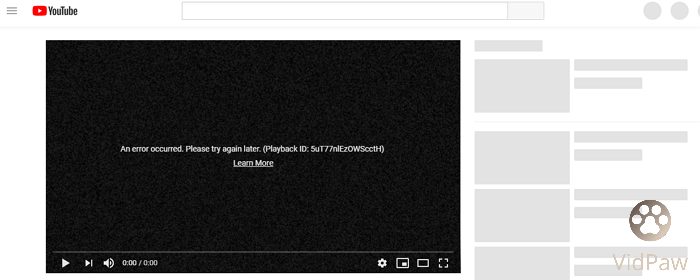 If you try to play a YouTube video embedded in a site, you'll run into a "500 Internal Server Error" with a picture of monkey and a bunch of texts as bellow.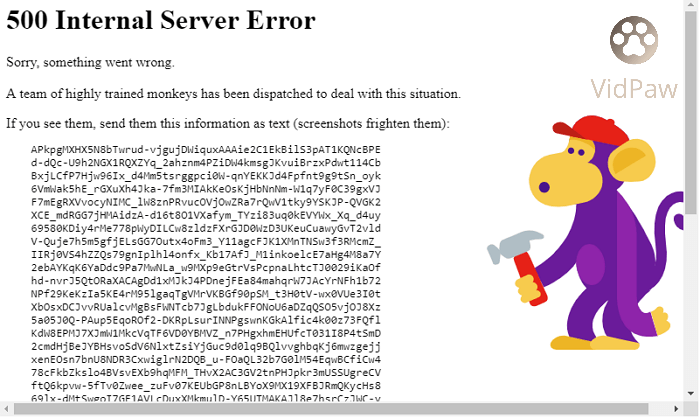 If you're seeing all of these, that means that you got some problems with YouTube, and probably these problems are caused by YouTube. Powerful and first-rated as YouTube tech support team is, they are not perfect. Sometimes, they cannot fix a problem or bug instantly and have to take time to fully resolve it. In such a case, 500 error will be shown to the public.
What is 500 Internal Server Error?
YouTube error 500 is a server-side error of YouTube itself and its "host" servers, meaning that the problem probably isn't with your computer or Internet connection. Commonly, there is no need for you to worry about your computer or mobile devices, but just wait for the recovery of YouTube.
[Official Solutions]How to Solve 500 Internal Server Error?
However, if you want to try fixing the Error 500 Internal Server Error. Here are are some simple workarounds that come from Google Support. You may take it a shot.

1. Refresh the page.
2. If you have many browser tabs open, try to close most of them except for the one you're using for YouTube.
3. Restart your browser.
4. Restart your router.
5. Restart your computer.
6. Update your browser to the latest version.
7. Use Google Chrome as your browser.
8. Delete the Chrome extension "YouTube Flash Video Player 57.0."

You may try all these above to solve the problem on your own. Also, you may consider submitting feedback to YouTube support team and let them help you out.




Published on October 17, 2018