Best Extension to Download Youtube Videos
June 14, 2018
Nowadays, the most common way to download online videos is to copy the URL of the video and paste it to an online downloader for downloading. This method is reliable and easy for people to grasp.

But how if you are going to download many YouTube videos? You will find that repeatedly copying and pasting YouTube videos' links between YouTube pages and online downloader's will be troublesome. And people begin to wonder if there have more approaches to get YouTube videos downloaded more conveniently.

Fortunately, this problem can be easily figured out by VidPaw, a superior online video downloader, which provides YouTube users with a powerful video download extension.
How to Use VidPaw Extension?
To use VidPaw extension to download YouTube videos, you need to follow two processes in the beginning – install it, then use it.
Install VidPaw Extension to Browser
STEP 1. Open VidPaw, and go to Extension section.
STEP 2. Scroll down to select the proper Tampermonkey and install it to your browser. But you have to pay attention that VidPaw's extension only supports Google Chrome, Mozilla Firefox, Safari, and Microsoft Edge at present.

STEP 3. Click on "VidPaw Extension" on this page when Tampermonkey has finished installing. Submit "Install" to add it to your browser.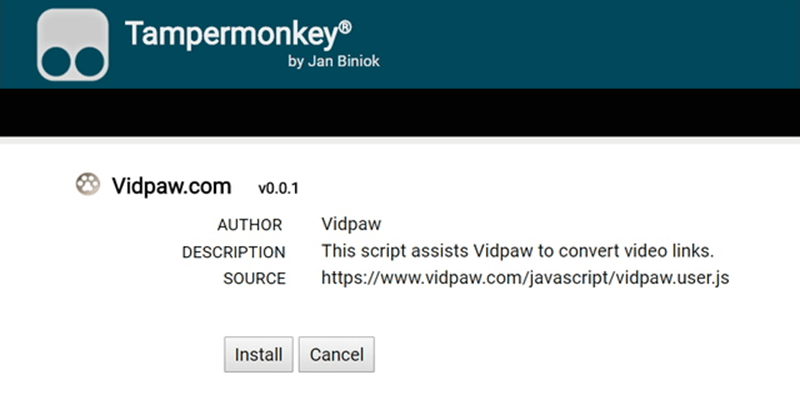 Download YouTube Videos with VidPaw Extension
Now that you have installed VidPaw extension to your browser successfully, you can begin to download YouTube videos freely.
STEP 1. Open a video page on YouTube and scroll down.
STEP 2. You will find a VidPaw logo right beside the "SUBSCRIBE" button. Click on it and you can turn to the download page on VidPaw directly.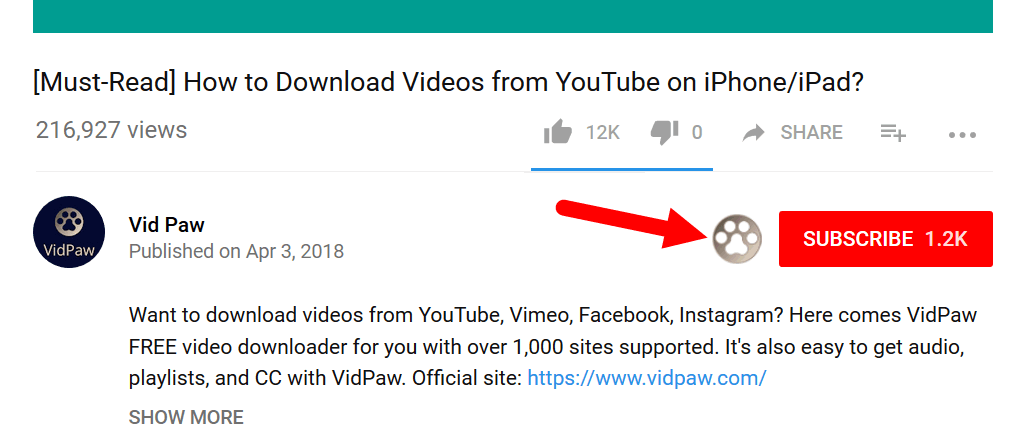 STEP 3. Select output format and quality for your YouTube videos.
Why VidPaw Extension Blows Others out of Water?
Except for VidPaw, actually, there are lots of extensions which provide online video & audio download service. But why VidPaw attracts so many users? How it blows others out of water? Here 3 reasons are listed.
Reason 1. Easy-to-operate
You just require few clicks to get VidPaw extension installed. When it is done, you can easily click on the VidPaw download button to get the YouTube videos you want. The operating process will be simple for everyone to grasp even you are a green hand.
VidPaw guarantees the output quality of the downloaded YouTube audio and video. As for video, the output quality can reach up to 8K, which audio is 320kbps. Users can select the output quality in their preferences.
NOTE: The output quality will have connection with the original quality of its video. If the original one is in a low quality, you cannot get it downloaded in 8k.
The traditional way to use an online video download is to copy and paste the URL of certain YouTube videos. Under this case you have to switch from site to site repeatedly. But with VidPaw extension, you can simply click on the download button and it will automatically turn to the download page, which has saved much time.
Now you have got some ideas about VidPaw extension. Is it your choice? VidPaw extension offers more convenient approach to get YouTube videos under your control. You can download and save them to your local folders for reviewing at anytime. VidPaw extension breaks out the traditional download method, helping users to enjoy the videos resources on YouTube freely.
Published on June 14, 2018
Excellent

Thanks for your rating.