SD card, also known as memory card, is able to offer external storage for devices.
It's always a great choice to store your stuff in external SD card before you deplete phone storage.
When it comes to downloading YouTube videso, some like to save YouTube videos offline in SD card.
Is it difficult? Not at all.
Now, let's learn the way around how to download videos from YouTube to SD/Memory Card here.
Free and fast.
Part 1: How Can VidPaw Help You?
Briefly, VidPaw offers an open-to-all and free online video download service. It provides you chances to acquire the video source from over 1000 video platforms including YouTube. As it is basically embedded in browsers (nearly all), no inner space is necessarily required on your mobile phone or other portable devices.
Afraid of quality loss? VidPaw gives you suitable format choices closest to the original video resolution and acoustic tracks. Just simply open VidPaw.com on your portable device, and you will get the chance to download YouTube videos to SD card for a convenient enjoyment and share. Now, let's try VidPaw on your own.
Part 2: How to Download YouTube Videos to SD Card with VidPaw
1: Download YouTube Videos to SD Card from Computer
STEP 1. Put SD/Memory card in a reader and hook up to your computer.
Note that you should make sure the computer can read your SD/Memory card.
STEP 2. Open vidpaw.com in Chrome, Firefox, Opera or whatever browsers.
STEP 3. Now, copy the link of the YouTube video you want to download.
STEP 4. Paste the link in VidPaw's search bar.
STEP 5. Select to download YouTube videos in desired format.
Supported video formats include MP4, WEBM, 3GP.
Optional video quality includes 144p, 240p, 360p, 720p, 1080p, 4K, 8K.
STEP 6. Choose to download and save YouTube videos to your SD/Memory card.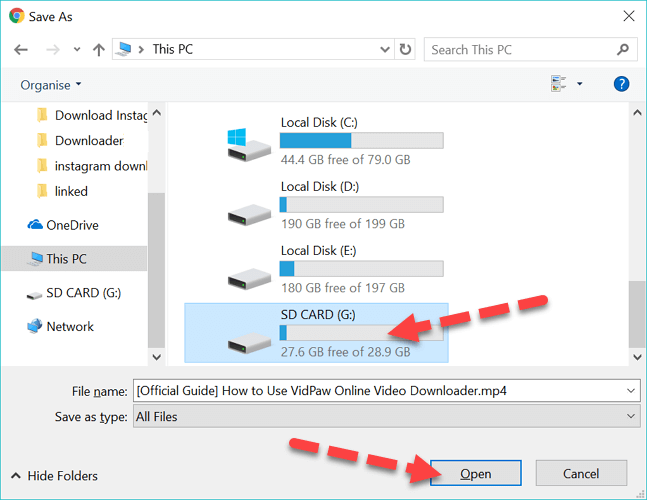 2: Download YouTube Videos to SD Card in Android Mobile
STEP 1. Open vidpaw.com on your browser in Android.
STEP 2. Copy URL of the YouTube video you'd like to download.
STEP 3. Paste the link in vidpaw.com and click "Start" button.
STEP 4. Select desired format and quality to beigin download YouTube videos.
STEP 5. After done downloading, move the downloads to your SD/Memory card.
Taking Samsung S9+ for examlpe, go to "My Files" > "Downloads" > Pressing on the video > "Move" > "SD card".
[Tips] 2 Simple Ways to Make Your YouTube Videos Download More Conveniently
In this part, we will introduce two simpler ways to use VidPaw to download YouTube videos to SD card.
Download ouTube Videos by Changing URL
Previously we've learned to download YouTube video through URL copy and paste. In fact, you can swiftly jump to VidPaw download page by changing URL link. It's not hard at all. You will love it once get to the easy operation.
STEP 1. Likewise, go to the YouTube video or playlist at the first start.
STEP 2. We can see the URL link is something like www.youtube.com... Move your finger behind "youtube" and type "paw", making the URL link into www.youtubepaw.com...
STEP 3. Enter into the new URL link. You will be redirected to the download page of VidPaw.
STEP 4. As the URL already in the search bar, you just need to: tap "Start" > select format and quality > tap "Download".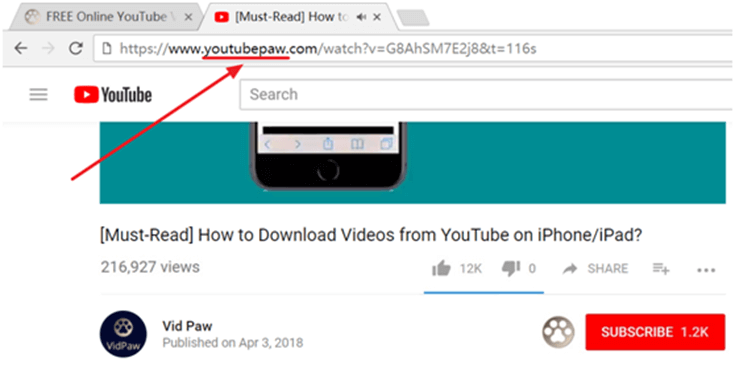 Of course, it will save you much effort to set the SD card as the default download place, and VidPaw will naturally download YouTube video to SD card. The magic of this method is that anytime you see a funny or impressive video on funny for favorites, you can meet a straightforward download access by moving your fingers.
The growth of extension is the welfare of software collectors with poor storage space. VidPaw has promoted the extension version as well. So, if your browser supports extension installation, add VidPaw extension! Google Chrome, Microsoft Edge, Safari, Opera Next, and Firefox are the popular extension supported browsers.

A reminder for fresh extension users is the essential step to install Tampermonkey on your browser first. Following are some green pathways for some.


Tap here to reach the VidPaw extension. Download and install it well. After that, when you open a YouTube video page, you will see a paw-like icon below the playback page Tap it and you will be transferred to the VidPaw download page and start to download YouTube video to SD card.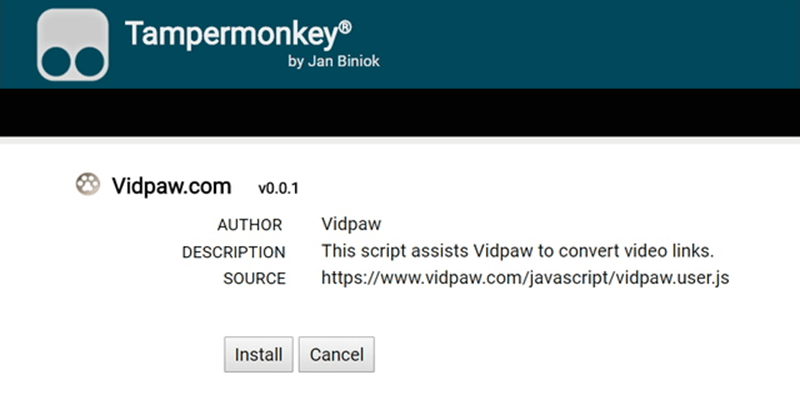 Want to get rid of the YouTube video disappearance due to device alternation? Come to VidPaw. There is the easiest way to download YouTube video to SD card for a permanent saving and sharing.


Published on June 29, 2018
Updated on August 18, 2018