Viewster Downloader - Free Download Viewster Videos Online!
September 03, 2018
• How can Viewster video be downloaded to iPhone X?
• Which online Viewster video downloader is best for 2018?
• I need to download a Viewster video about foreign language learning. What should I do?
• How do I watch Viewster movies offline on my laptop, android, and iPhone?
• How to download Viewster video while saving the subtitle file above?
• How to download Viewster video into various formats?
……

You may also encounter these problems while you are enjoying wonderful video resources on Viewster. In this post, we have provided some solutions to help you figure out the problems and enable you to download videos from Viewster. Just start reading now.
Part 1. Viewster Overview
Viewster is a global video on demand service which was founded in 2007, letting you have quick access to hundreds of movies, documentaries, TV series, and anime episodes for free. All of these are available completely legally via streaming and with free registration. To watch movies and series on Viewster neither external software nor registration is required.

The movies section at Viewster is very excellent. Viewster has more than 5,000 movies, where you can see both Hollywood movies and independent films from many countries. These films cover horror, comedy, science fiction, love, action, drama and other categories. Its catalog includes hundreds of films from many different decades: the seventies, eighties, nineties, and of course contemporary ones as well. You can also filter by genre (horror, action, comedy, etc.) and by language (the majority of the movies are in English). In addition, Viewster also offers short films and classic movies on the front page for your choice.

Viewster is an excellent app for those who love films, series, and anime. It lets you enjoy hundreds of episodes and movies by streaming directly from your Android, iPhone or other devices. But Viewster's video can only be viewed online, and can't be downloaded to the devices. If you are a Viewster fan and you are looking for a way that you can stream your favorite Viewster video and download them to your phone or computer for watching offline, then this article is just perfect for you.

Here's how you can download and save the Viewster video. It's simple and pretty easy. Just follow the steps below.

Part 2. An introduction to VidPaw Online Video Downloader
VidPaw Online Video Downloader is a totally free online video downloader which can help users to save videos from the Internet.

★No ads, virus, spyware, plugins
The best thing is you get all of it for free. No subscriptions, no charges. Furthermore, there will be no ads, virus, spyware, and plugins, which ensures your network security and provide users with a clean interface.

★1000+ global popular video supported sites
We do as our users demand. VidPaw supports videos from over 1000 sites, which means that you can download any online video you like from these sites. Click 1000+ sites to discover more videos.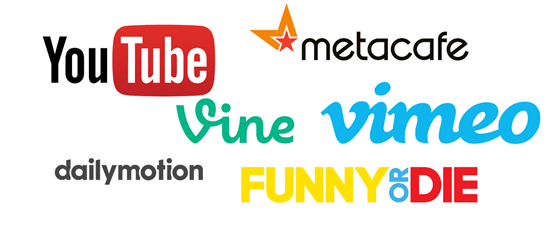 ★Available Video/Audio Formats and Quality
| | |
| --- | --- |
| Video Formats | Audio Formats |
| WEBM, 3GP, MP4 | M4A, WEBM |
| Video Quality | Audio Quality |
| 144p 240p 360p 720p 1080p 2K 4K 8K | 64kbps 96kbps 128kbps 256kbps 320kbps |
Part 3. Simple Solutions to Download Videos from Viewster
Solution 1. Download Viewster Videos to MP4 on iPhone/iPad
STEP 1. Download File Manager "Documents"
First, you need a file manager "Documents", which can let you download and save your favorite Viewster videos to iPhone or iPad Camera roll. Open your App Store and find the app "Documents", then install it on your iPhone.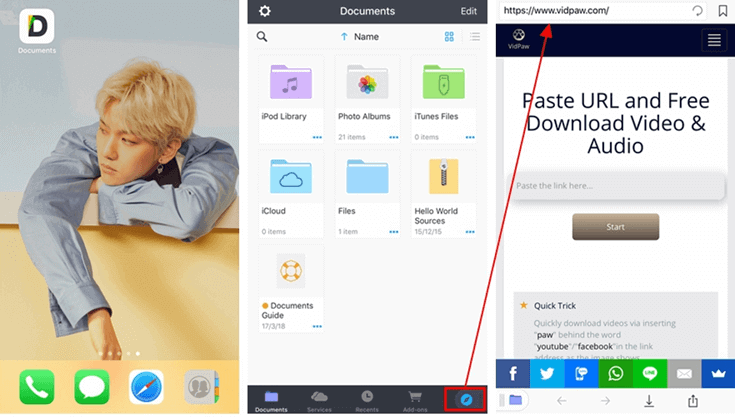 STEP 2. Copy the Viewster Video Link
Open Viewster website in Documents and move to the Viewster video you'd like to download to copy the video link. Go back to
VidPaw
and paste the Viewster video link in the URL box on the homepage, and tap on the Start button to load the Viewster video.
STEP 3. Select Video Format and Quality
After loading the video, you'll see a new page that contains the different output video formats and qualities. Choose the video format and quality you want to save and tap Download. After selecting a saved folder, the video will start downloading.
Solution 2. Download Viewster Videos to MP4 on Windows/Mac
STEP 1. Find the video you want to download on Viewster and copy the link of the Viewster.

STEP 2. Then go to VidPaw homepage, paste the link in the download box and right click on the button "Start" next to the bar. Shortly after the Viewster video URL is identified and loaded, the site will skip to the download page.

STEP 3. Then you will find it load a new page with download options about the output format and quality of the video. You need to pick your preferred video format and quality and just click on Download button.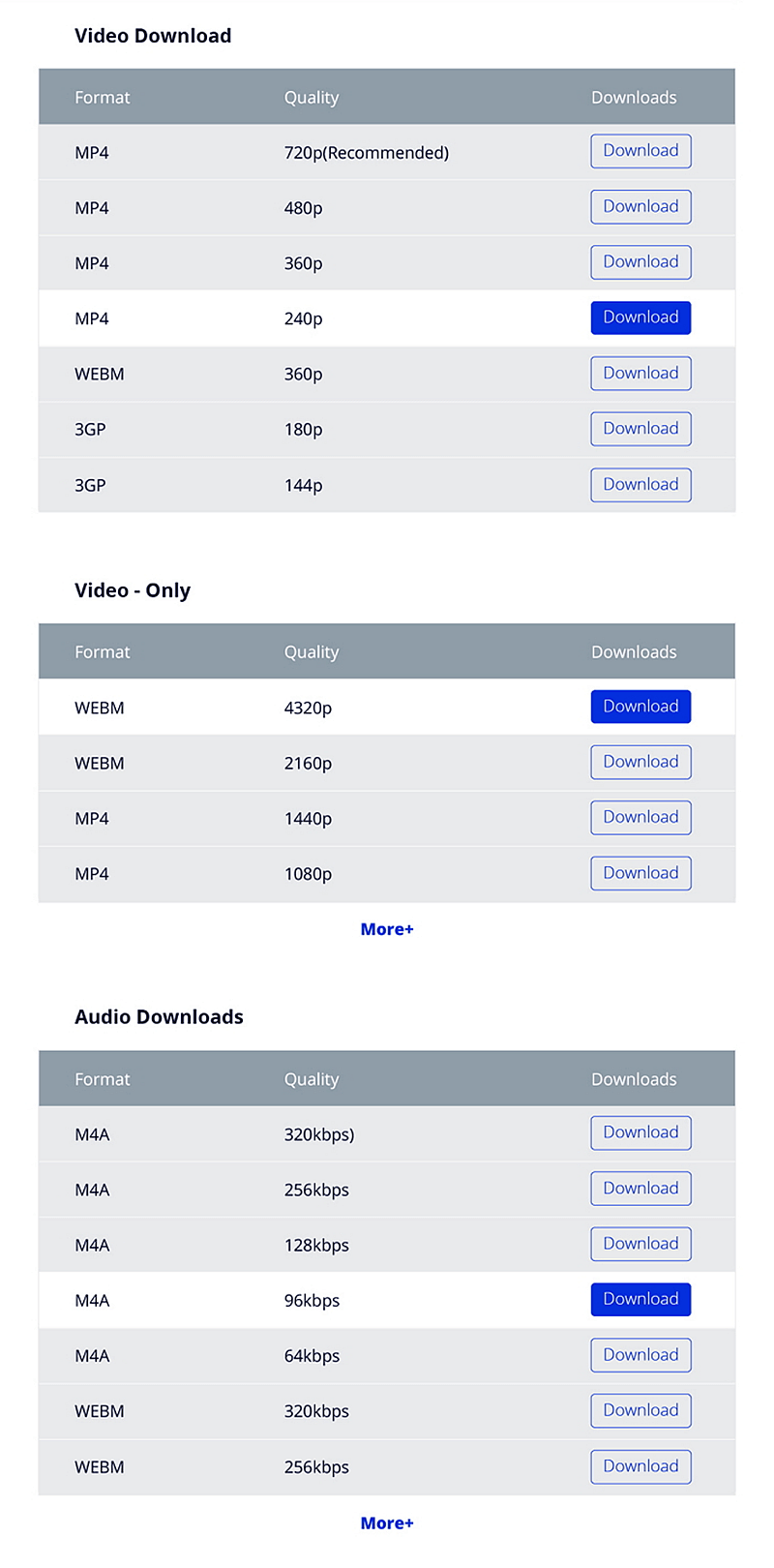 STEP 4. Rename the video and click the "Save" button, then the short video will be downloaded on your Win/Mac. If the download is not allowed after renaming, you can rename it after the download is completed.
Solution 3. Download Viewster Videos to MP4 on Android
STEP 1.Copy the Viewster Video Link
Open your browser and go to the video you'd like to download. Select the complete link and copy it in the top address box of the browser.

STEP 2. Paste the URL into VidPaw
Add a new tab to open VidPaw. Then copy its link and paste the URL of the Viewster Video into the download bar in the VidPaw's main interface. After that, click on "Start".

STEP 3. Select the Video Format & Quality You Like
On the new interface, select the video format & quality you like, click on "Download" button. then the HD Viewster video will be saved on your internal storage or SD card.

Note: Sometimes it will jump to a new page after tapping on the Download button. In the new page, you can download the video directly from the download button at the lower-right corner of the video, or you can choose to download the video from the pop-up menu by long pressing it.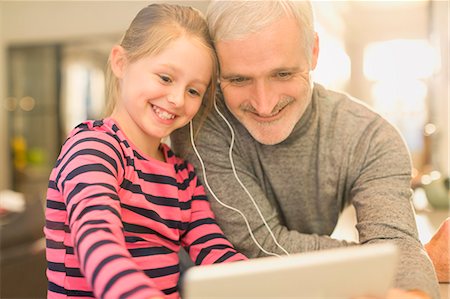 Note: In either of the above methods, there is one thing you should pay attention to i- if you find that the name of the saved file is in messy code, you need to rename it by yourself. But there are restrictions on some video sites, it can't be downloaded when you renamed the video. Just rename it after downloading.
Now you have a better understanding of how VidPaw works, right? Have you realized that there is no online video download tool that can be more efficient than VidPaw? Don't hesitate to give it a try. I believe you will like it. Moreover, you can transfer the downloaded Viewster videos from your pc or any other devices to another device and watch it with your friends & family whenever you want.
Published on September 03, 2018
Excellent

Thanks for your rating.