[Fixed] How to Free Download New York Times Video Online
December 13, 2018
The New York Times (shortened as The NYT) is an American newspaper founded in 1851. Nowadays, people can learn about not only the breaking news on The New York Times newspaper but also on its official website, watching the news in videos. Besides, some of you might need to download The New York Times videos because of the educational or informative purposes sometimes. However, most of you are getting trouble because you can't find any download button on the website.

Don't worry. This post aims to help you figure out how to download videos from The NYT on PC, Android, iPhone with VidPaw.

What's VidPaw Downloader?
VidPaw is your best partner to download any online video from over 1,000 sites including The New York Times. It's an online downloader, supporting you to download videos to MP4 in HD online. Additionally, VidPaw also enables you to download audio, video-only files and subtitles at the same one stop. Moreover, its downloading services are totally free to use.

With VidPaw Online Downloader, you don't need to download other download software to take up the space of the device. Simply add it to the bookmark, then, you can use it easily again and again. I can't find any tool better than it.

Next, let's check how to use VidPaw to download The New York Times videos with ease.
How to Easily Download New York Times Videos to 1080p Online on Win/Mac
Downloading New York Times videos is not a big deal if using VidPaw. Moreover, the whole downloading process only needs you a few minutes. Let's check the detailed tutorial below.

STEP 1. At the first step, get the video URL.
STEP 2. Input the video site into the blank bar of VidPaw. Then, click on the "Start" button.

STEP 3. Choose MP4 as the output format.
STEP 4. Click on the "DOWNLOAD" button.

If you are a mobile user using Android phone/tablet, iPhone/iPad, please keep on reading to get the exact tutorial.
How to Free Download New York Times Video to MP4 on Android
Likewise, VidPaw is also available to use on Android. You can open vidpaw.com on any browser like Chrome, Firefox and so on. No extra plugin is needed. With VidPaw, you are able to download any New York Times videos without any limitation. Here is how.

STEP 1. Copy the video URL of the New York Times in the beginning.
STEP 2. Go to vidpaw.com and paste the URL into the blank. > Tap "Start".
STEP 3. Choose a suitable output format and quality to download.
STEP 4. After that, tap on the "DOWNLOAD" button.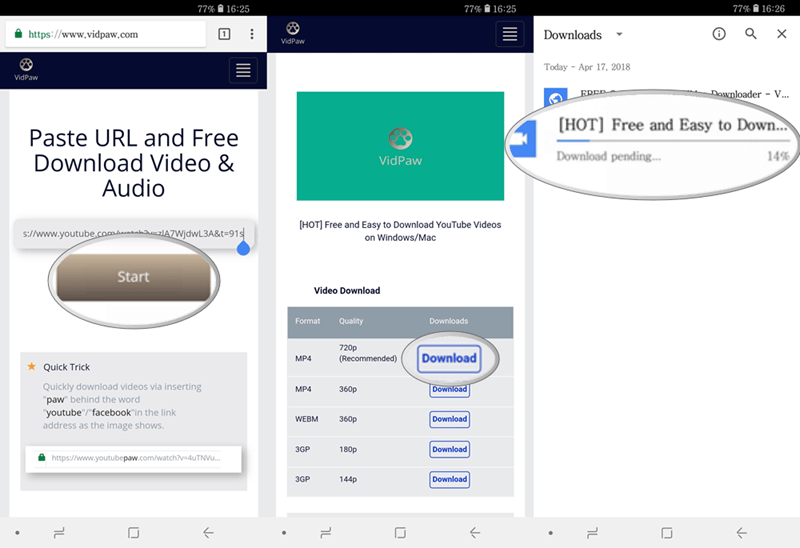 It's easy to operate, right? High-quality videos from the New York Times can be downloaded easily and freely. What's more, the next tutorial is suitable to those who use iPhone/iPad.
How to Download New York Times Video to iPhone by Using the URL?
Because of the restriction from Apple, iOS users are not allowed to download any files on Safari. If you want to free download any file like video, music on the Internet, you might need a file manager to help you. Let's see how to free download New York Times videos with VidPaw.

Something You Should Prepare Beforehand:
Documents app
A Video URL of New York Times

STEP 1. Open Documents app. > Activate the built-in browser by tapping on the icon at the lower corner. Then, Move to vidpaw.com.
STEP 2. Paste the video URL into the blank bar. > Tap the "Start" button. Then, you'll automatically move to the downloading page of the New York Times video.
STEP 3. Select a proper output format and quality. 720p is highly recommended.
STEP 4. Directly tap on the "DOWNLOAD" button.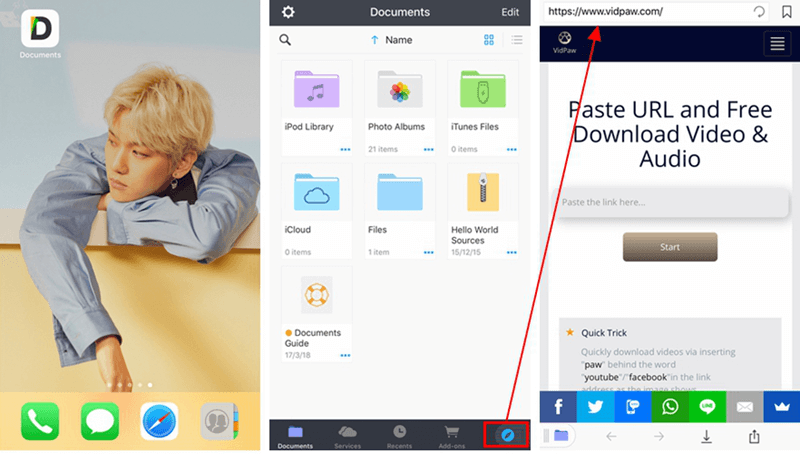 Now, I believe you've mastered the top 3 solutions to download The New York Times videos to MP4 online. Why not add vidpaw.com to the bookmark on your browser for later use much easier.
Published on December 13, 2018
Excellent

Thanks for your rating.