Download HIIT Training Videos for Doing Exercises At Home
December 15, 2019
As the correct health concept is spreading in more people's minds, the problem of fitness has gradually changed from "how to lose weight" to "how to lose excess fat". HIIT is considered as an effective way because it is proven to be able to burn a lot of fat in a short time through exercises. If you are not familiar with this exercise, don't worry.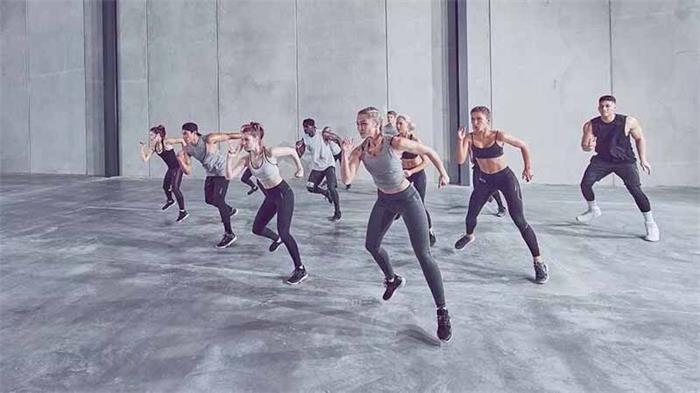 Here we will briefly introduce what HIIT training is and recommends five YouTube HIIT training videos that are suitable for beginner, with links to download these videos. If you are interested in HIIT and want to download YouTube HIIT training videos on PC/iOS/Android for doing exercises at home, take a little time to read this article and you'll get something useful.
Part 1. What Is HIIT?
HIIT is the abbreviation of High-intensity Interval Training. It is used to practice cardiopulmonary function and impact speed. Its purpose is to achieve high-quality fat and calorie burning in a short time. HIIT is very suitable for the fast-paced lifestyle of modern people because it does help to keep body healthy with a short-time exercise. HIIT doesn't need much equipment and you can also do the exercise at home.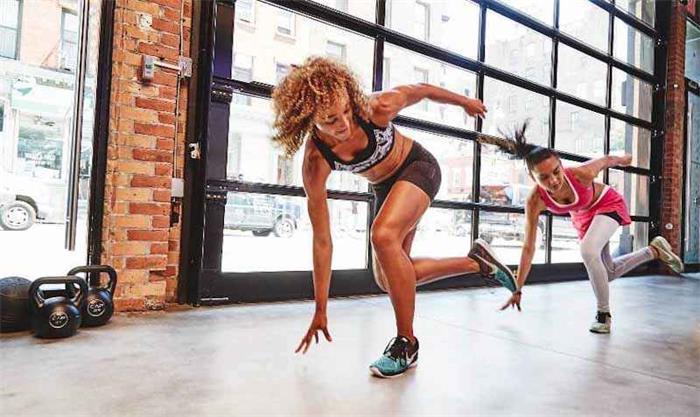 What sports can be practiced by HIIT?
HIIT has no limitations. It just burns calories fast by challenging both aerobic and anaerobic systems. So whether it is running, jumping rope, doing aerobics, using cardiovascular equipment can achieve the goal.
HIIT -- High Intensity Intermittent Training Method:
The routine of HIIT training is the continuous switching of high intensity and low intensity exercises. As a transitional stage of high-intensity training, in addition to reducing the pressure on cardiopulmonary function and alleviating physical fatigue, the more important thing of Intermittent training is to burn fat! In addition, intermittent training is very effective in improving metabolic frequency as well as in cultivating muscle tissue.
For ordinary fitness enthusiasts, a HIIT cycle usually lasts about 30-45 minutes, depending on the individual's physical condition. For beginners, you may not be sure about this training method at first. Before getting started, we can watch some HIIT training videos uploaded by fitness experts on YouTube for being familiar with the exercise. Next are five YouTube HIIT training videos for beginners. Go and check whether there is one you want to start with.
Part 2. 5 Recommended YouTube HIIT Training Videos for Beginners
1. 4-Minute Fat Burning Workout | Tabata for Beginners
2. HIIT Home Workout for beginners
3. 15 Minute HIIT Metabolism Booster - Total Body and Abs HIIT Workout


4. 30-Minute HIIT Cardio Workout with Warm Up - No Equipment at Home | SELF
5. BEST 15 min Beginner Workout for Fat Burning (NO JUMPING HIIT!!!)
In addition to the above videos, there are more HIIT training videos for beginners on YouTube. If you have some HIIT foundation, you can also search for some advanced YouTube HIIT training videos to practice at home. At the same time, don't worry about where the download links of other YouTube HIIT training videos can be obtained. I'll tell you how to download them on different devices in details below.
Part 3. Easy Ways to Download HIIT Training Videos on PC/iOS/Android
To download HIIT training videos, you just need to use a tool that can guarantee the quality of the downloaded videos and is able to perform with stable performance. VidPaw is a professional and reliable online video downloader for saving videos from Internet, which offers three simple ways for users using on different devices. VidPaw is also a totally ads-free and virus-free tool, which help users to download videos from supported 1,000+ websites in desired formats with 100% security.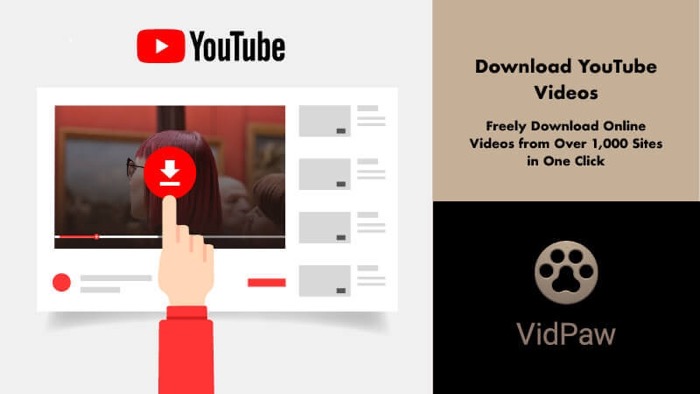 With high compatibility, VidPaw can be used on various browsers and devices freely. So the following part is the detailed steps of three ways users can use to download to YouTube HIIT training videos on PC/iOS/Android with VidPaw. Check them now.
Way 1. Download YouTube HIIT Training Videos on iPhone/iPad
STEP 1. We need to prepare an App on our iPhone/iPad before downloading YouTube HIIT training videos with VidPaw. Go to App Store and download the app -- Documents on your iPhone/iPad. Then you should open Documents to launch its built-in browser and go to VidPaw.com.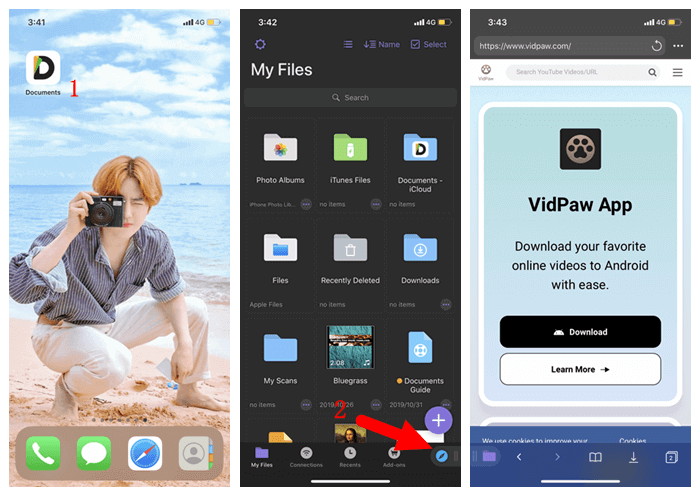 STEP 2. Enter YouTube in Documents' built-in browser and find your desired YouTube HIIT training video that you want to save for offline exercising. To download YouTube HIIT training video, you just need to copy the link of it and paste it to VidPaw.com. After that, tap on the "Download" button directly.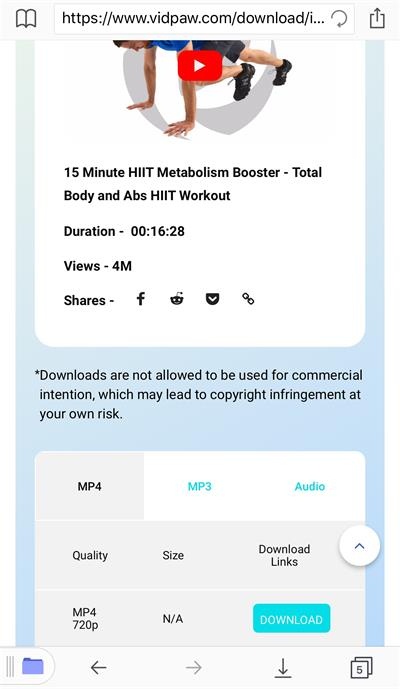 STEP 3. You can tap on "Download" button to download YouTube HIIT training video in the format and quality you like now. After clicking the download icon, there will be a pop-up window that allows you to select an output folder in the Documents for storing the HIIT training video. When you select one and hit "Done", VidPaw will start to download the HIIT training video for you.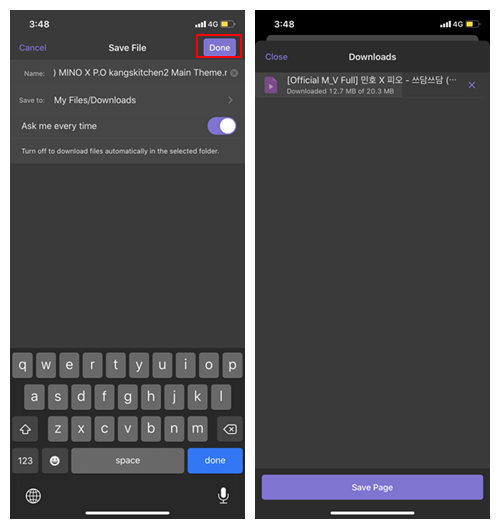 STEP 4. After the download is completed, you can find your YouTube HIIT training video in the folder of Documents you choose just now. Then you can freely play it on your iPhone/iPad offline while you have time to exercise!
Way 2. Directly Download YouTube HIIT Training Videos on Android Device
Downloading YouTube HIIT training videos on an Android device is similar to how to download these videos on an Apple device. But a difference is that we don't need to download Documents ahead of all for using its browser. The steps are as follows:
STEP 1. Open any browser on Android and head to the page of the YouTube HIIT training video you want to download on the website.
STEP 2. Directly copy the URL of the YouTube HIIT training video from the address bar of the video page. Then please open VidPaw and paste the URL into the download bar. After that, tap "Download" button to start loading the video information.
STEP 3. As the output selections are showed, feel free to choose one and tap on the Download button for downloading the video offline. Just wait for a minute and the HIIT training video can be saved and played on your Android device.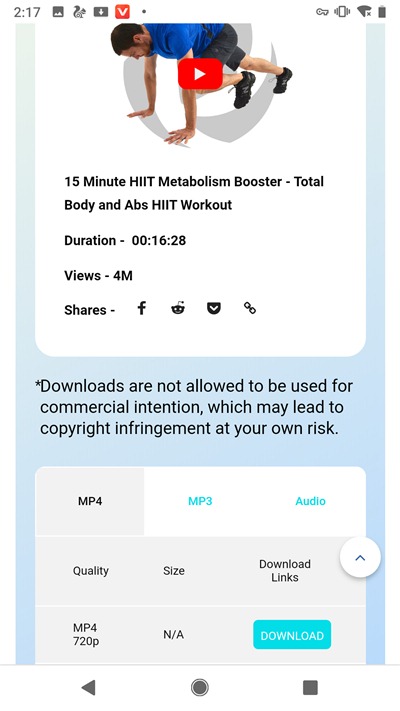 Way 3. Download HIIT Training Videos from YouTube on PC
STEP 1. Search for the YouTube HIIT training video you want for doing exercise at home. Then directly copy the link of it from the top address bar.
STEP 2. Open VidPaw and paste the link to the download bar. After that, simply click on the "Download" button.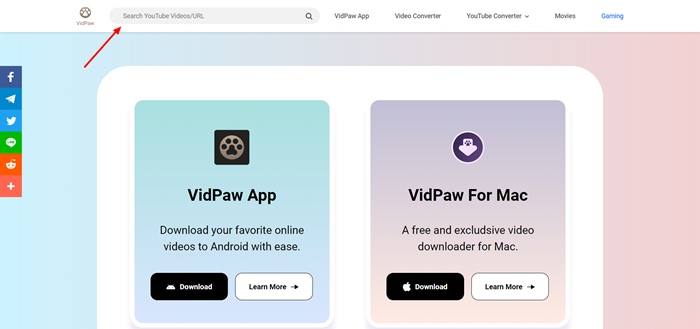 STEP 3. Once you've pasted the URL and hit on the "Download" button correctly, VidPaw will display the information of the YouTube HIIT training video as well as the download options for you. Select a proper format for saving the video, then click on the "Download" button.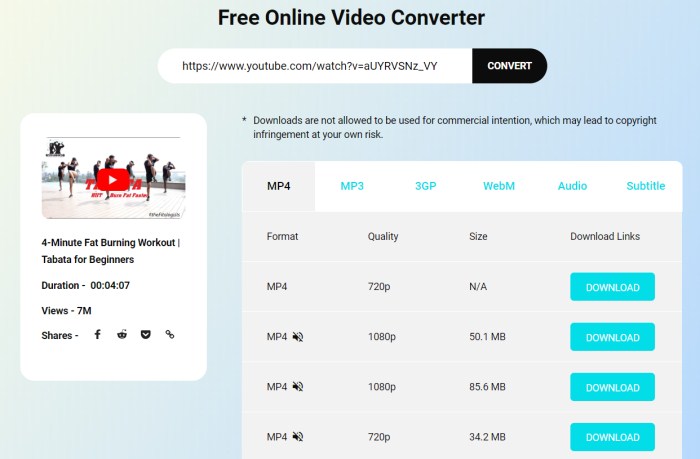 STEP 4. The whole downloading process will not take too long. Once you've downloaded the YouTube HIIT training video, you can find it in the browser's download folder. Then you can play it back on your PC freely offline when you need to do exercise by following the video.
It's not easy to take time for going to gym to do exercise after a busy day's work. But when you go home, you can still do HIIT in a short time through efficient exercise to burn fat for keeping healthy. Don't forget to use VidPaw to download these videos for having a more efficient exercising process. Let's get healthy and fitness together!
Excellent

Thanks for your rating.