Reliable Ways to Download YouTube Video & Audio on Firefox
July 31, 2018
Recently, YouTube reports that more than 1.5 billion active users are enjoying videos or audios on YouTube, which ranks the second, only less than Facebook. The longer its users enjoy the YouTube videos and audios online, the stronger desire they may hold - they want to get some reliable ways to download the YouTube videos and audios for watching offline.


Additionally, nowadays, with the improvement in performance, page loading, and intelligent browsing, people prefer to choose Firefox to surf the internet like watching videos on YouTube. So how can you download from YouTube Firefox? Are you looking for a Firefox YouTube Video Downloader? Or if you want to download them freely, fastly, and with no software?
Benefits of Watching YouTube Offline
There are many benefits to watch YouTube offline. With those downloaded videos on their phones or computers, users can neither spend money purchasing lots of mobile data to enjoy YouTube videos online nor wasting time to buff them. After downloaded, users can enjoy them smoothly without any lag. Moreover, it's easier for them to share their favorite videos or audios to friends by transferring them easily.
VidPaw
, a free online video downloader, allows you to free download videos and audios from 1000+ websites, including YouTube, Facebook, Instagram and so forth. Also, it is supportive to any devices, you can use VidPaw on all sorts of devices no matter its system is Windows, Mac, Android or iOS.
① Easy access to download YouTube for offline watching.
② Provide 6 languages - English,
French, Spanish, Turkish, Japanese, and Chinese
.
③ Support various output f
ormats such as
MP4, WEBM, 3GP for video, and M4A, WEBM for audio.
④ Download online videos for free.
Then let's turn to the detailed guidance.
Part 1. Download YouTube Video & Audio on Firefox By Copying URL
STEP 1. Head to the YouTube Video on Firefox
To begin with, open Firefox, then turn to the YouTube video or audio you want to download. Copy the link of it.
STEP 2. Paste the Link to VidPaw
Open another tab and go to vidpaw.com, and paste the link into the blank field. Click "Start" and more choices will show up.

STEP3. Select Desired Format and Quality to Download
Once you click the "Start" button, you can scroll down and see the output format table. After choosing the format and quality you want, click "Download" and wait for the download process done.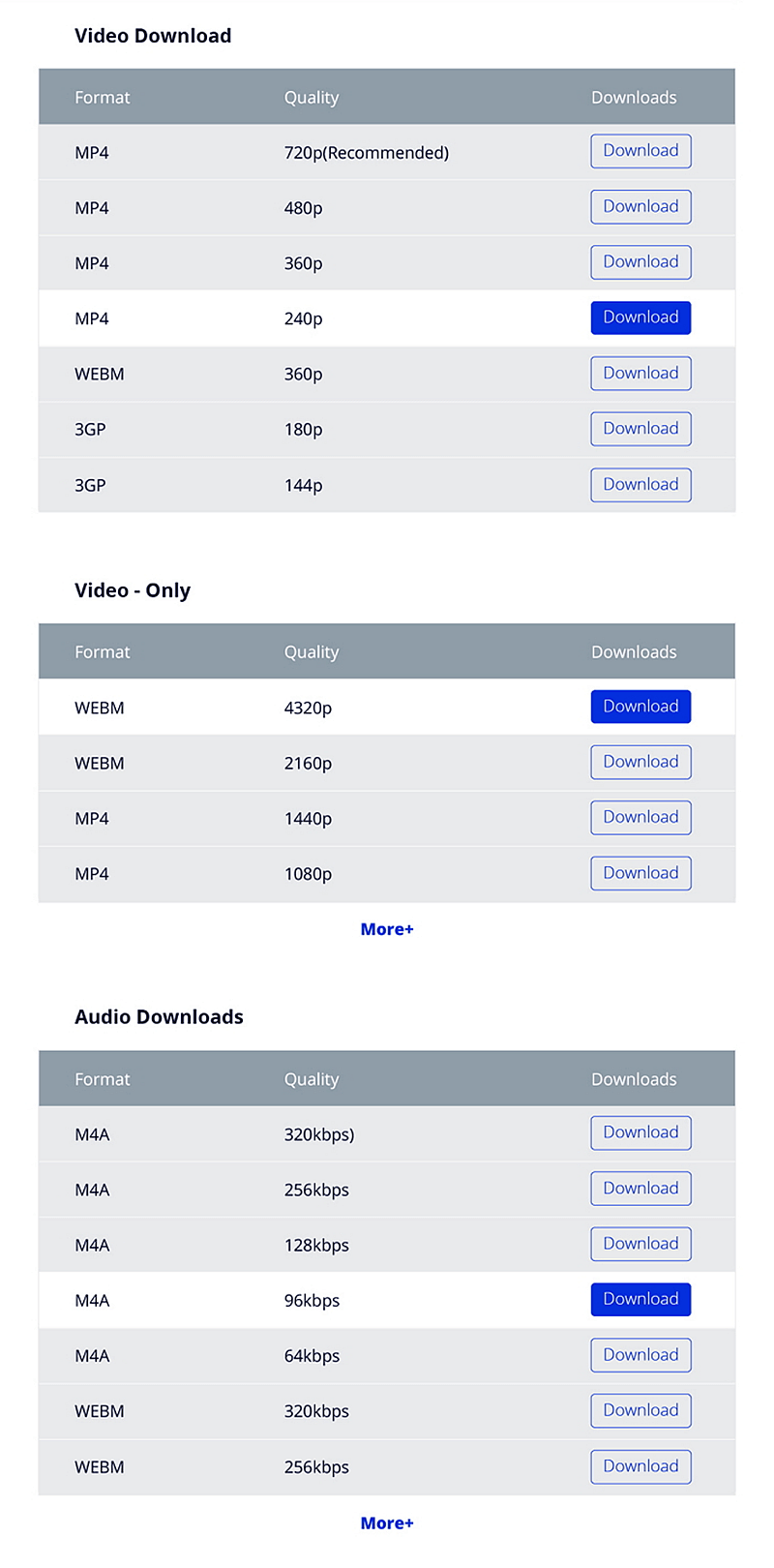 After that, you can enjoy videos or audios from YouTube directly on your desired device offline in Firefox. Enjoy it!
Part 2. Using VidPaw Extension to Download YouTube Video & Audio on Firefox
Using the VidPaw Extension is more convenient for you than directly paste and download online video address in VidPaw Home Page. Once you install VidPaw Extension in Firefox on your Windows or Mac computer, you would find that the downloading YouTube videos and audios becomes easier ever. What's more, there is no more extra plugin needed to download YouTube videos from Firefox.

STEP 1. Install the Tampermonkey Extension to Firefox
Adding Tampermonkey to Firefox at first can make VidPaw Extension run more stably and smoothly. Head to Mozilla Firefox Tampermonkey, then click "download" to get the Tampermonkey extension at first.

STEP 2. Add the VidPaw Extension
After installing Tampermonkey, click on VidPaw Extension here. As you can see from the below picture, click the "Install" icon to start installing VidPaw Extension to Firefox.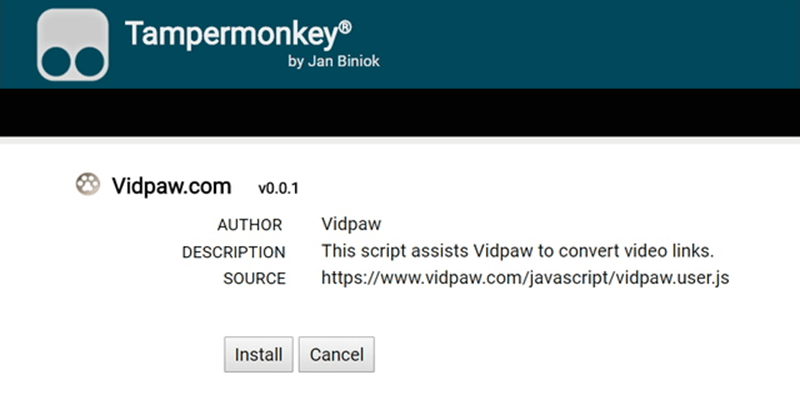 STEP 3. Click VidPaw Icon to Start Downloading Your Favourite YouTube Videos or Audios
Have finished the steps I have mentioned above? Congratulations! Now, the VidPaw Extension is successfully installed in Firefox. Now, back to the YouTube video and refresh the page. Then you will find the VidPaw icon below the video. Just click on it and you can start downloading your favorites now.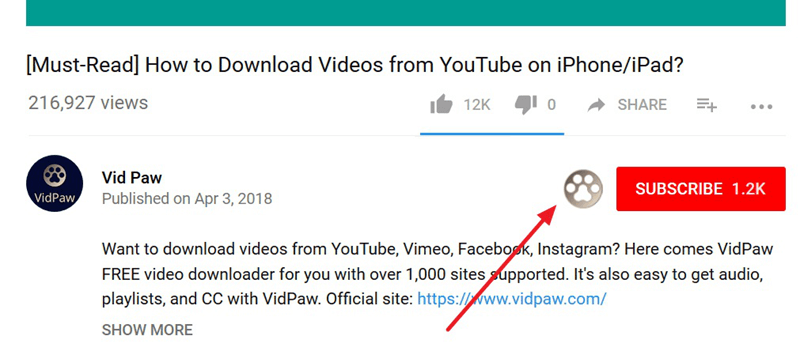 Part 3. Change the URL of YouTube Video & Audio on Firefox to Download Them
STEP 1. Head to the YouTube video or audio site you want to download in Documents.
With YouTube Video Downloader for Firefox Mozilla, the first thing you need to do is opening the Firefox, then head to the YouTube video or audio you want to download.

STEP 2. Change the URL of YouTube Video & Audio
Just directly add "paw" after "youtube" in the address bar like the photo shown below.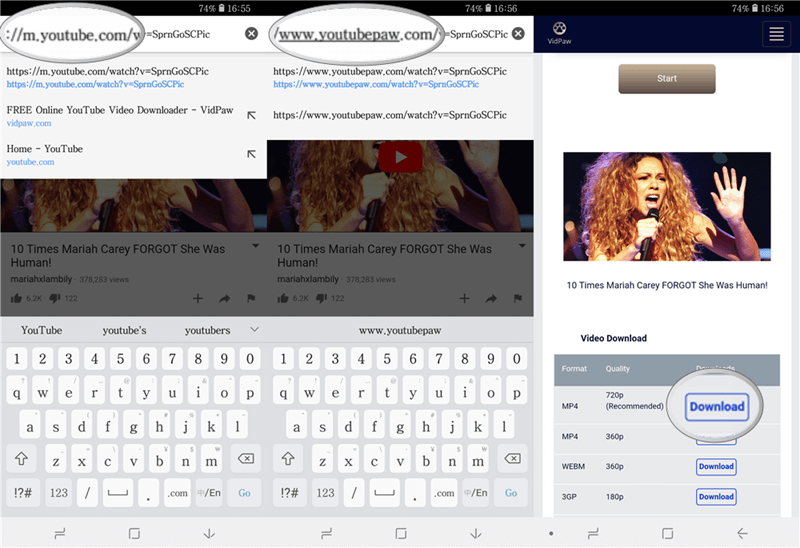 STEP 3. Press the "Enter" Key and Go to the Download Page
After giving it go, the screen will be transferred to VidPaw with the download interface for you. Then, get ready for downloading YouTube videos on Firefox.
Then choose your preferred video quality and format. Finally, click the "Download" icon. When it finishes downloading, you can enjoy your favorite videos or audios offline on any devices now.
After reading this article, have you got these reliable ways to download your favorite YouTube videos or audios on Firefox? So what are you waiting for? Let's get your downloaded videos or audios by the means of VidPaw!
Published on June 18, 2018
Excellent

Thanks for your rating.