Cartoon is one of the greatest entertainment invention in the world, and it is loved by not only children, but also adults. Watching the cute characters and the created fantastic world in cartoon, we can always feel healing, and regain the imagination in modern life. Cartoon gives us space for imagining, and it can also relax us through the positive stories contained.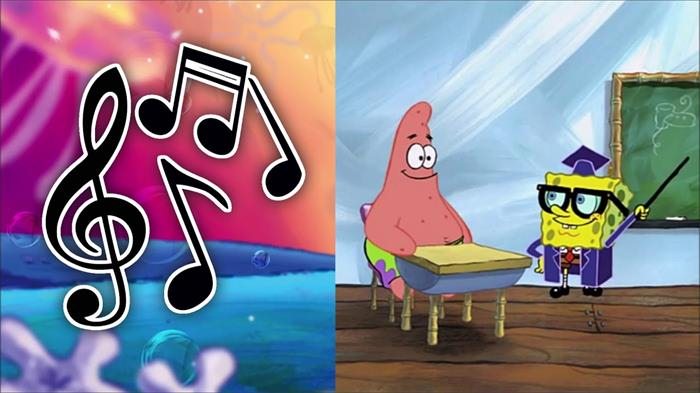 As we are watching cartoon, three things would most likely catch our attentions, including the characters images, stories happened in the cartoon, and the background music or its OST tracks. They are also the inspiration or good references when some people are designing works like videos, music, or writing articles. We would like to talk about them one by one, but today, we will focus on how can we get the royalty-free cartoon background music loop for editing videos or other personal purposes.
Part 1. Top 10 Royalty-free Cartoon Background Music Loop
It should be well-known that many cartoons or released tracks and videos are protected by copyright rules. Therefore, we can't task risk to break the rule only for taking a few of them. We should find those royalty-free contents that have been permitted for free using or downloading.
If you are searching for some royalty-free cartoon background music loop, we collect the top 10 for you. Don't worry that using them would cause any copyright infringement because the videos contained in this list are completely available for downloading (as you can see from the title of the videos). So if you like any of them, feel free to enjoy as well as download it (the download link is provided below the video).
1.Background Cartoon Music Loop | (Download and Royalty FREE)
2.Happy & Funny Cartoon Background Music Loop
3.Royalty Free Music ♫ | Background Cartoon Music Loop - Mattia Cupelli
3.Royalty Free Music ♫ | Background Cartoon Music Loop - Mattia Cupelli
4.Action Cartoon Music | (Download and Royalty FREE)
5.Funny Background Music For Games
6.Royalty Free Background Music - AudioJungle - Hippo Walk - Children's Music
7.Sneak a peek - Cartoon Music Loop
8.No Copyright Background Music 30min LOOP
9.Funny Background Music For YouTube Videos
10.Sneaky Background Music for Videos I Suspenseful & Comedic
Part 2. Download the Royalty-free Cartoon Background Music Loop on PC
If you want to download more royalty-free cartoon background music loop to edit your videos,
VidPaw
is a great tool you can rely on. The fact is that most online video resources platforms are not available users to download video/audio from the sites directly, so a reliable downloader is required. VidPaw is the popular online video converting and downloading platform, which allows users to download resources from over 1,000 platforms offline. Video sites like YouTube, Vevo, Netflix, etc. and social platforms, including Facebook, Twitter, and Instagram, are supported by VidPaw. When you discover any video you like on these sites, free download service are allowed to use without purchasing fee.
Various output formats are provided by VidPaw to enable users for free selection, which have MP3, MP4, WEBM, M4A and 3GP. Besides, the output quality of video and audio are also appreciated. People can select video quality ranging from 360p to 8K, while audio quality from 128kbps to 320kbps on VidPaw.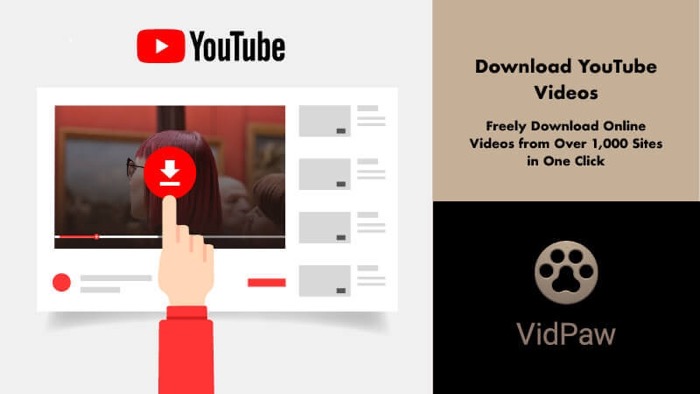 VidPaw online downloader can be used on devices that are equipped with different operating systems, including iOS, Android, Mac, and Windows, availing users to experience the excellent download service provided by VidPaw conveniently. This year, we also see surprising updates from VidPaw, which brings VidPaw App for Android and Mac to their users correspondingly. If you are one of those who need to download VidPaw App on Android or Mac, visit VidPaw App or VidPaw for Mac to get it right now.
It is also a highlight that VidPaw online downloader offers three different but all simple ways for users to save online videos easily. In the next, I will introduce the detailed guidance one by one.
Guidance 1. Download Royalty-free Cartoon Music Loop with URL
The first way to download the royalty-free cartoon music loop from the online platforms like YouTube is most common used one. That is to get the URL of the video, then turn to VidPaw for downloading it.
STEP 1. Copy the URL of the Cartoon Music Loop
We know that the first step we should do is to get the URL of the cartoon music loop video page. You can find resources on many platforms such as YouTube, Facebook, Instagram, etc. When you discover a cartoon music loop you like or need, copy its URL directly.
STEP 2. Paste the Video URL to VidPaw
When you get the URL of the cartoon music loop that you require for using offline, please open a new tab and navigate the page to VidPaw.com. You can directly enter the domain name or click the hyperlink above to go to the site. After the site is loaded, you will find a sear bar on top, where you need to insert the URL. After getting the URL into the bar, just click on the search icon on the right and VidPaw will resolve the URL automatically.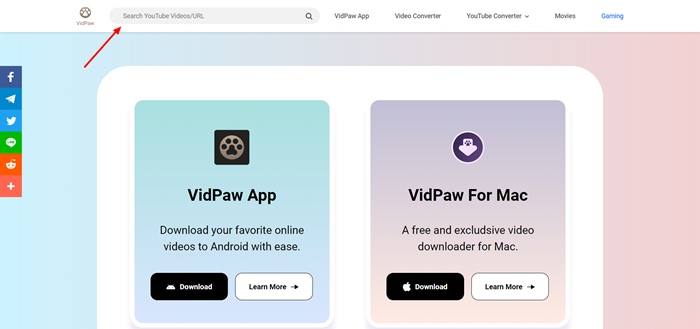 STEP 3. Download the Cartoon Music Loop
If VidPaw converts the video successfully, but a notice shows up to ask you to navigate to another site for downloading the video, directly click on the link named YouTube to MP3/MP4 Converter to re-analyze the link. When the conversion is done again, select an output format and hit the Download button to save the cartoon music loop offline.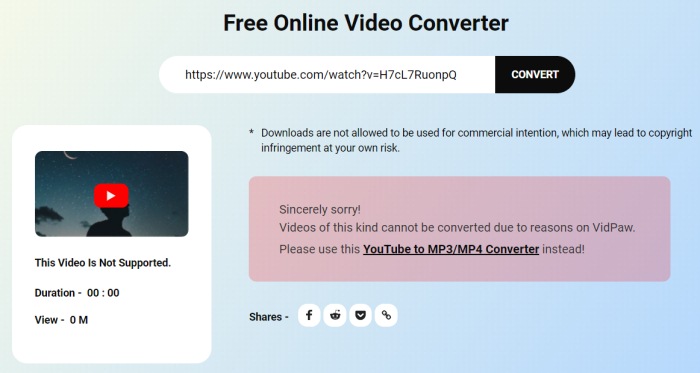 Guidance 2. Edit the Cartoon Music Loop URL to Download
This is an extremely quick hack, but currently it can only be used to download cartoon music loop from YouTube platform. You even have no need to open VidPaw official site manually before downloading the video. Let's see how.
STEP 1. First, go to YouTube in browser and find the cartoon music loop that is royalty-free so you can use it freely. When you find it, open its video page in YouTube platform.
STEP 2. Next, please move to the address bar, and now please add 'paw' behind 'YouTube' in the URL. Then the URL will be changed into 'www.youtubepaw.com'.
STEP 3. After edition, please press Enter key to redirect the page to the new address. After the page navigation, you will find that the VidPaw's download page is loaded, with the video converting automatically.
STEP 4. After the video conversion is done, output formats will be generated. Select one randomly and click on the Download button on the right to save the cartoon music loop directly.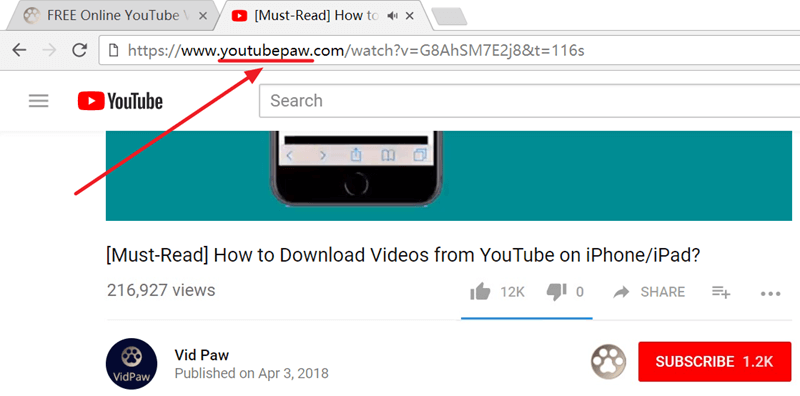 Guidance 3. Download Cartoon Music Loop with VidPaw Extension
For those who need to download more than one video at once, using VidPaw Extension is more suitable. By adding VidPaw Extension, a download button will be inserted under each online video, so you can download them simply by clicking on the icon. The preparation is not tough to do. Only three steps are required to follow.
STEP 1. Add Tampermonkey Extension
First, before adding VidPaw Extension, users are required to add another extension, Tampermonkey. It is a helper that enables users to manage the installed extensions in browser, meanwhile, provide a stable environment for VidPaw Extension to perform. As VidPaw Extension is available on Chrome, Firefox, Safari, and Microsoft Edge, you need to choose the matched version of Tampermonkey below to install it right now.
Google Chrome Tampermonkey
Mozilla Firefox Tampermonkey
Safari Tampermonkey
Microsoft Edge Tampermonkey

STEP 2. Install VidPaw Extension
After adding Tampermonkey, you should also install VidPaw Extension through clicking here: '
VidPaw Extension
'.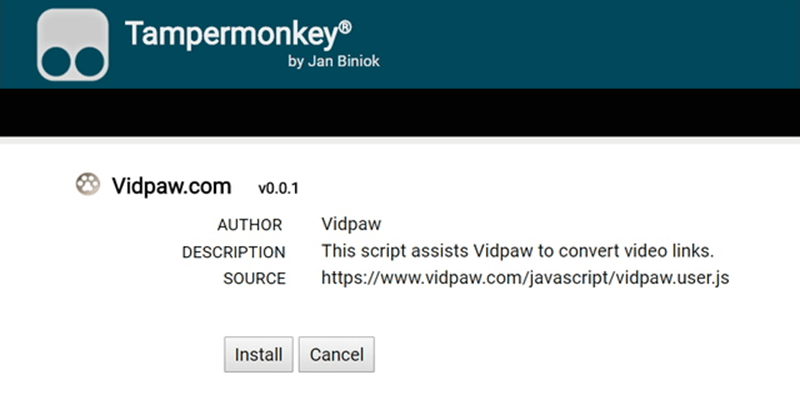 STEP 3. Download Cartoon Music Loop
Make sure that VidPaw Extension is added, then please turn to the cartoon music loop page in browser. Then scroll down the page to where the newly-added download icon is added, and click on the button. After that, the page will be changed to VidPaw with download options provided. Choose one and directly click on the Download button to save the cartoon music loop offline!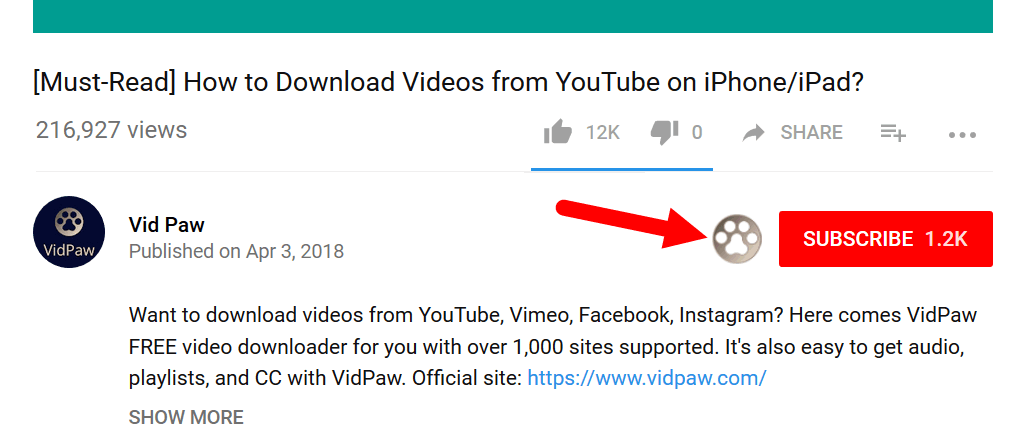 You can use the downloaded cartoon music loop for using as your own created video background, or save it as the ringtone on your mobile phone. The royalty-free cartoon music loop is completely free for downloading and using so you don't need to worry that you would against the copyright rule. So before downloading, make sure it is copyright free.