The Best Way to Download Bandcamp to MP3 on Mobile and Desktop
October 03, 2018
This essay will show you how to download Music/MP3 from Bandcamp on your Android/iOS devices and computer for free. As you already know, Bandcamp is a great platform for artists and labels to share and earn money from their music, and for music lovers to discover and enjoy it. Generally speaking, you need to pay for downloading music from Bandcamp. But for those who really like to save Bandcamp MP3 and escape the payment, this is what you're looking for.

Before we get into the three methods for effectively downloading Bandcamp to MP3, you should spend two or three minutes reading this brief introduction of the best Bandcamp downloader. It's the main piece of the puzzle.
Best Bandcamp Downloader - VidPaw
Standing out from many video downloader, VidPaw is the best Free Online Video Downloader with ad-free and user-friendly design. It will analyze the video/audio immediately and provide several download choices including all video/audio formats and qualities. You can download Bandcamp music without any quality loss.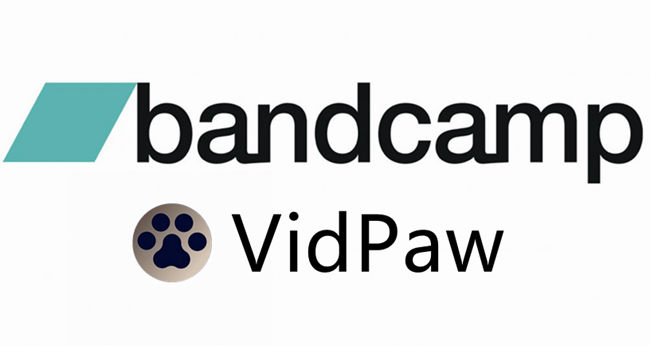 "You can't see a lot by just looking." - Bill Gates
Let's check the methods below step by step and start saving your first Bandcamp music for free. You will see how powerful VidPaw is and how easy to download Bandcamp to MP3, personally!
Part 1. Easy Steps to Download Bandcamp to MP3 on Android
The following will show you how to download Bandcamp songs from Bandcamp App on Android devices. If you're using online Bandcamp platform on a mobile browser, you can check Part3 because they share the same method. One stone for two birds!

STEP 1. Copy the Album URL on Bandcamp App
First, open Bandcamp App on your Android phone. Next, find the Album you want to download. And then tap on the "Share" button. The thing you're going to share is an address link. Just choose one as your receiver. "Notes" would be a good choice. After that, copy the link.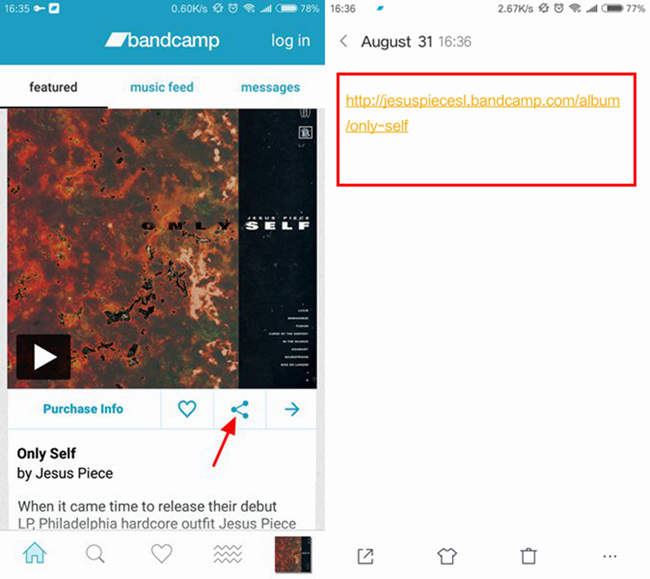 STEP 2. Paste the Link in VidPaw Bandcamp Downloader
Now, you need to open VidPaw on your mobile browser and paste the link in the search bar. And then tap "Start" if you're ready to go on.
STEP 3. Download Bandcamp to MP3 Immediately
It will take a second to analyze the link. Once it's done, a list of the Album songs will show up. Choose the song you want to download and it will pop up a new download window. The final step is to tap "Download" and you can enjoy the Bandcamp song on your Android phone.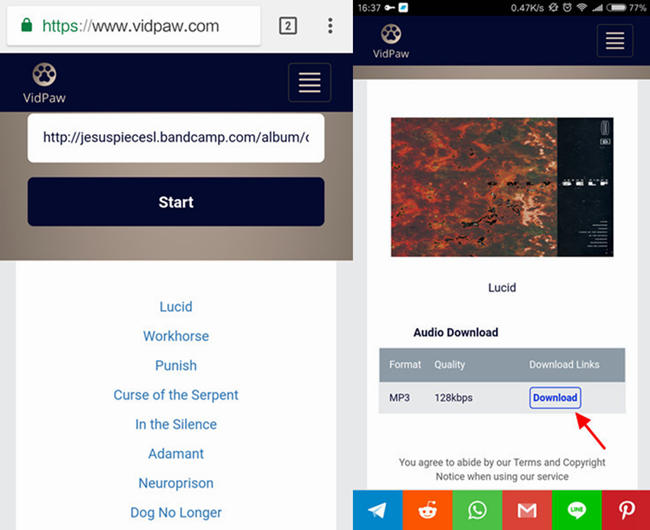 Part 2. Download Songs from Bandcamp to iPhone/iPad
Preparations
Documents App
Bandcamp App
www.vidpaw.com

Given the fact that iOS users are incapable of downloading files directly from ordinary mobile browsers, you need to download Documents App first on App Store. It has a special built-in browser that can save online files on your iPhone/iPad.

STEP 1. Copy the Bandcamp Album URL
Firstly, choose an album you want to download on Bandcamp App. Tap on the icon showed in the picture and then select "Copy".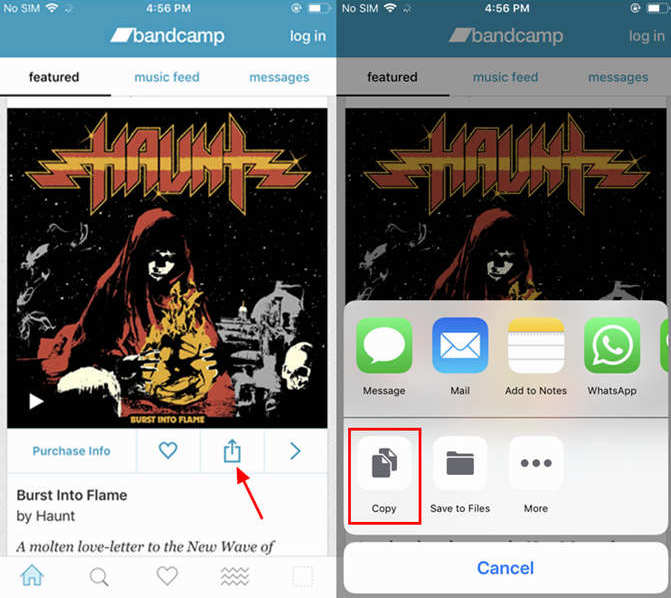 STEP 2. Open VidPaw on Documents Built-In Browser
Now, you need to open Documents App and go to their built-in browser. Type in the address www.vidpaw.com.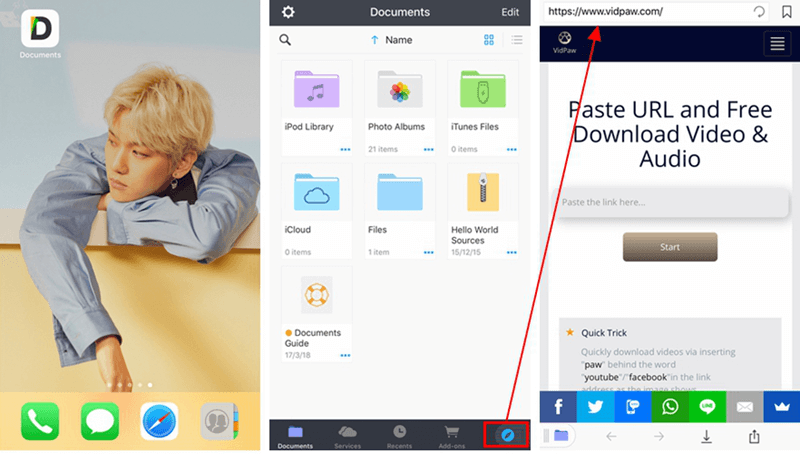 STEP 3. Paste the Link in VidPaw Bandcamp Album Downloader
First, paste the link in the search bar and tap "Start" to analyze the link. All songs in the same album will be able to download. Next, choose a song and tap on it. It will jump to the download page. The final step is to tap "Download".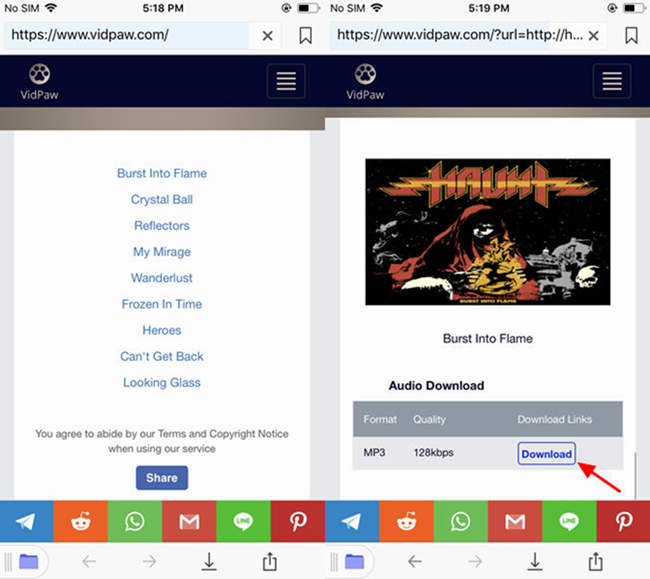 Part 3. The Best Bandcamp Downloader on Windows/Mac
Preparations
VidPaw Bandcamp Downloader
Bandcamp Official Site

Open these two sites on your browser and get yourself ready.

STEP 1. Search for Bandcamp Music
First, go to the Bandcamp official site and hunt for a fascinating music. I bet this is the most exciting part for you!

STEP 2. Locate the Music Link
After a few minutes of hunting, now you may find your target. What you should do next is to copy the music link. It will cost you about two minutes.

First, click the music and move your cursor to the right. Click "hear more" to jump to the detailed information page.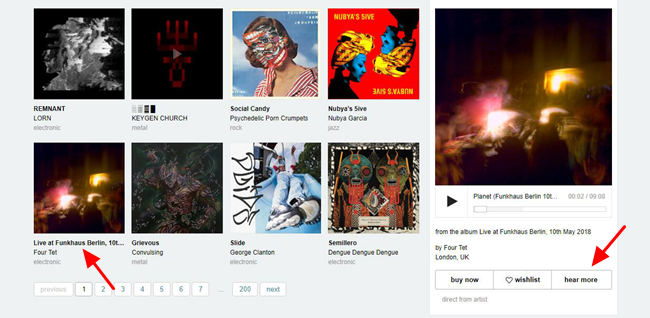 Next, copy the address link of this page directly from URL bar. It's the easiest thing for you to do here. Or if you like, you can slide down the page and locate the Share/Embed button. Normally it will be placed below the big picture in the middle. Click the button and it will show a music link at the bottom of the pop-up window. The final purpose here is to copy the link.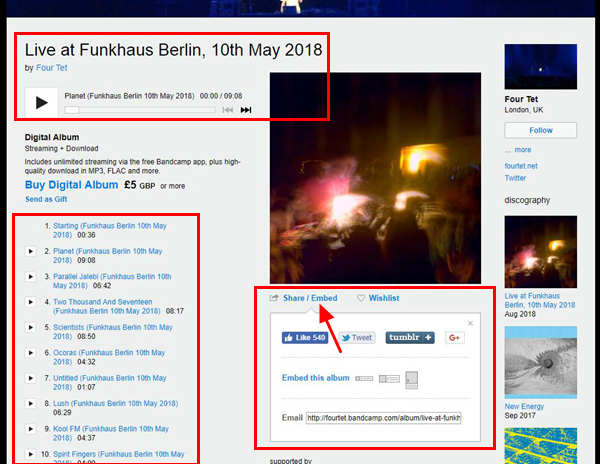 Note: The music I'm showing belongs to an album and you can see a music list on the lower-left. In this case, I'm telling you that you can download all the songs on the same list together.

STEP 3. Paste the Link in VidPaw Bandcamp Downloader
Now, turn to VidPaw and paste the link in the search bar. Simply click "Start" to load the download list for your Bandcamp music. As you can see, you can choose any song from the list and click on it to switch to the download page.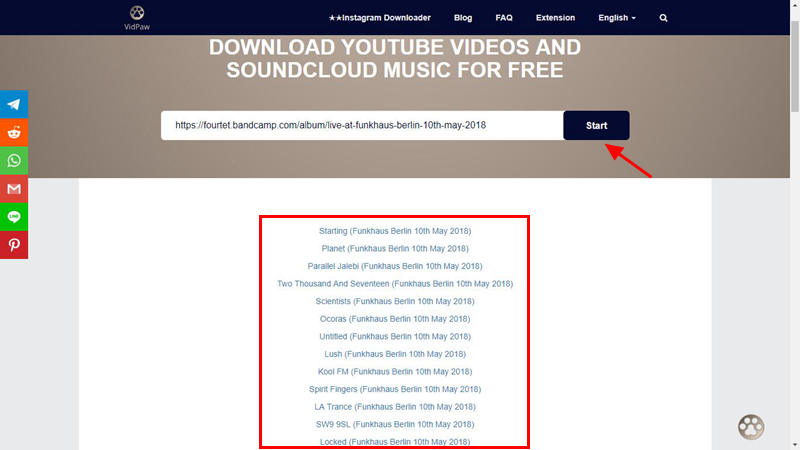 STEP 4. Download Bandcamp to MP3 Instantly
Take the second song "Planet" as an example. After I clicked on it, it shows me an information box related to the song quality and format. The final step I need to do is click "Download". It's the same for you. After that, congratulations! You have successfully made your first music download from Bandcamp for free.


It's very easy, isn't it? As you've tried the best methods to download Bandcamp Music/Songs/MP3 on your Android, iPhone, and PC, you must be very excited to enjoy the free music from Bandcamp.

Here we sincerely hope that you can share those great methods to those who also need to download Bandcamp songs for free. It would be appreciated if you introduce VidPaw to other people.
Published on October 3, 2018
Excellent

Thanks for your rating.