[List] 10 Best iOS Screen Recorder Apps for iPhone and iPad
April 06, 2020
There are so many reasons for wanting to take a screen recording. For instance, you may want to record a tutorial for your presentation or you want to record some gameplay footages and share with your friends. No matter for what purposes, a good screen recording app will surely help you in getting the assistance to record your iPhone or iPad screen.
For you who are running at iOS 11 or above, you can easily record video calls, presentations, or gameplays with Apple's built-in screen recording feature. However, despite using the built-in option, you may look for a screen recorder app of remarkable versatility. Therefore, this article includes some of the best and top screen recording apps for iPhone and iPad. Let's dig further to find out one that meets your needs.
1. iOS Built-in Screen Recorder
If your Apple devices are running at least iOS 11, Apple supports you to create a screen recording and capture sound easily. You only need to enable the screen recording feature in your Control Center. And this feature allows to you to choose record your voice while recording the screen. But if your Apple devices do not have a built-in screen recording feature, you can turn to third-party apps to achieve this.
* It's free, so you don't have to spend money on buying third-party app to record your screen.
* It is intuitive and easy to use.
* You can record your screen without any time limit.
* You need a third-party app if you want to do some editing.
* You cannot record your screen and use screen mirroring at the same time.
* The battery on your iPhone/iPad is depleted too quickly.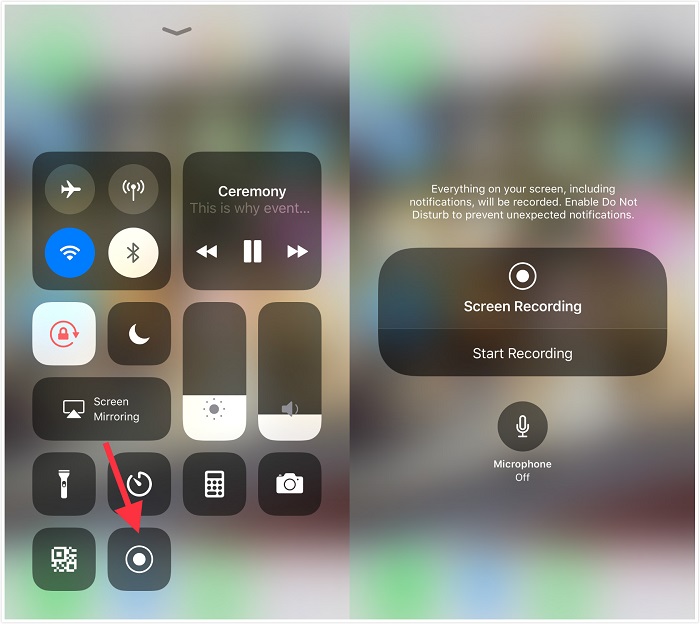 2. Screen Recorder + (RECGO)
Published by Softin, Screen Recorder + (RECGO) is a free and flexible recording app with user-friendly features. For instance, you can add Face Cam to make some video reactions after recording your screen. Also, RECGO provides you with different recoding settings so that you can record high quality screen videos according to your needs and upload it to multiple social apps.
* RECGO has many powerful video editing tools allowing you to add BGM or gestures stickers to your video.
* RECGO supports you to use microphone to add audio commentary to enhance your videos.
* You can clearly record gameplay video with no background noise.
* The recording video will have watermark, but you can pay to remove it.
* This app is compatible with iOS 11 or later.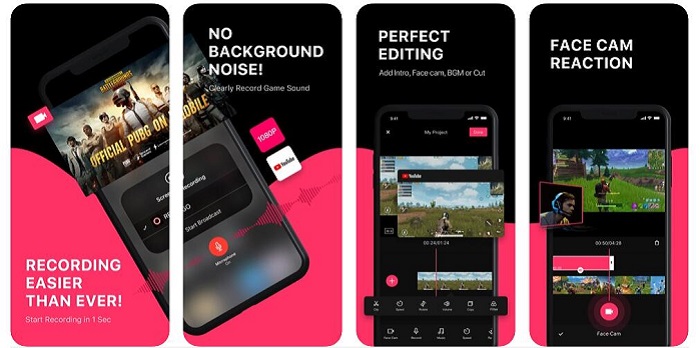 3. TechSmith Capture
TechSmith Capture is another powerful screen recorder app for iOS users. The app supports users to record the screen on iPhone or iPad running iOS 11. One of the highlights is that TechSmith enable users to import screen videos from the recorder or other apps and swiftly transfer the video to Camtasia and Snagit via Wi-Fi transfer.
* It is free and no in-app purchases.
* You can easily record web meetings, presentations or tutorials for demonstrations.
* TechSmith Capture has an organized library that facilitates the instant review and sharing of your video recordings.
* TechSmith Capture does not have an editing system for users to edit videos before importing them.
* It doesn't have many options for audio output quality.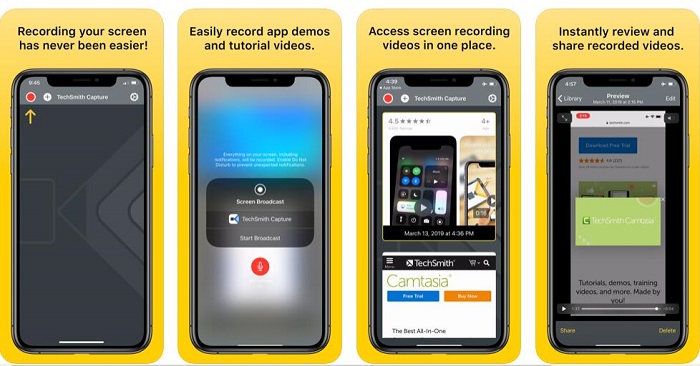 4. Screen Recorderº
Screen Recorderº is a preferable choice for users who want to add reactions and audio sound to the screens and recording videos. What is more, this screen recording app allows to adjust FaceCam Size and equips with a video editor which makes it convenient to produce a compelling video.
* Screen Recorderº features with recoding parameter setting like resolution, FPS, and orientation.
* Screen Recorderº allows you can easily share your recording videos with one simple click.
* This app may contain some pop-up ads.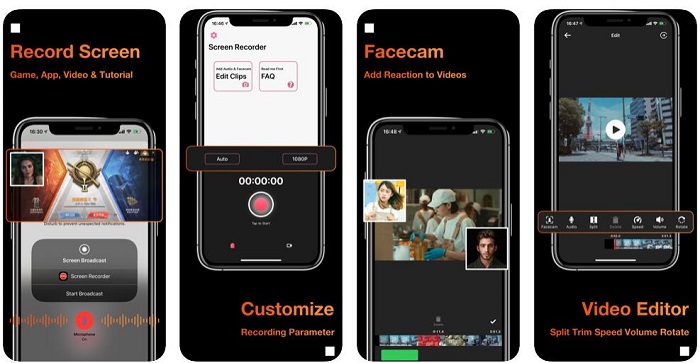 5. Record It!
Record It! Is a powerful screen recorder app that works perfectly on your iPhone or iPad. At a simple click of button, you will be up running your screen capture task. In addition, you can personalize your FaceCam reaction video by setting shape, position and size. In terms of sharing, you can directly share your video to YouTube, camera roll or to other apps via email or AirDrop.
* Record It! Also features a well-organized library where you can access all screen recordings in one place.
* Record It! has a built-in video editor that provides a range of useful tools to improve your video screening.
The free version only allows to sharing video that is limited to 3 minutes.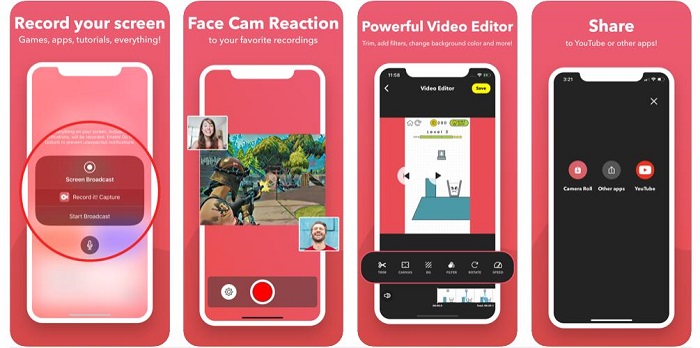 6. DU Recorder
Du Recorder is a popular screen recorder app available on App Store. Serval features makes the app impressive. For instance, it comes with a full array of editing tools including trimming, cutting, adding audio tracks, and more. With theses useful options, you don't have to download a video editor app and effectively create your own gameplay screen recordings then share to your friends.
* DU Recorder gives you control on the output quality that you prefer.
* No time limit on live stream as well as on recording.
* DU Recorder offers users a fluent and stable screen recording experience in comparison to other apps.
The app requires an in-app purchases for watermark removal.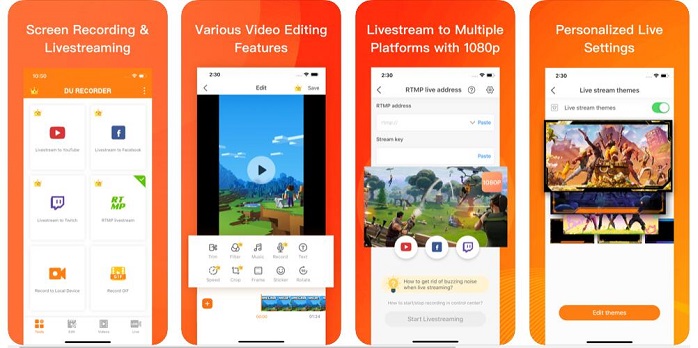 7. Airshou
If you are looking for a screen recorder app that performs well on your iPhone or iPad, don't miss Airshou. This screen recorder is developed by Shou.tv and serves with high quality recording. You are able to record a screen in up to 1080p at 60 frames per second. Besides, you are also provided with an option to set a specific file name before the screen recording actually starts.
* Simple and intuitive user interface.
* For gamers, Airshou is able to detect installed games on your iPhone or iPad and you can just tap to choose the game from the app then start recording your gameplay video.
When it is connected to microphone for audio recording, it may suffer noise.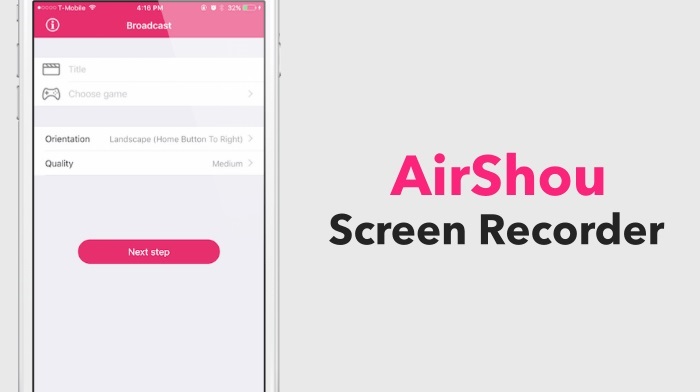 8. Go Record
With Go Record, either recording your screen or importing screen recordings from you photo library becomes much convenient. One of the amazing features of this screen recording app is that you can import multiple screen recordings and merge them into one video. To help you create a cohesive video, Go Record also offers some basic editing tools like trim and cut.
* The "Recent Recordings" feature helps you manage your screen recordings in an organized way.
* You are able to record your reactions to make your screen recording content much funny.
* The free version of Go Record may contain ads.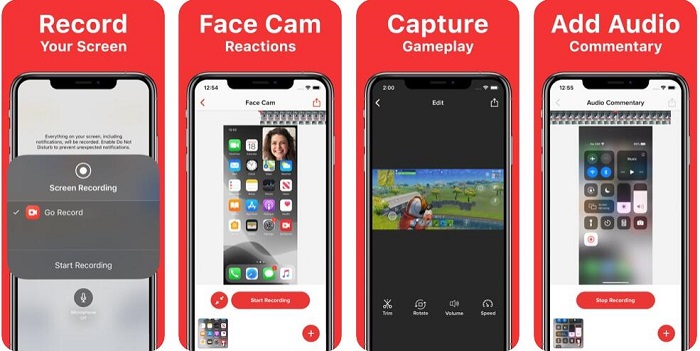 9. Apowersoft iPhone/iPad Screen Recorder
Apowersoft iPhone/iPad Screen Recorder delivers on exactly what its name promises. It is a professional and useful program that allows you to mirror your device to Windows and Mac OS and record your iPhone/iPad activities. And the process is based on AirPlay, so it is no need for cables.
* With Apowersoft iPhone/iPad Screen Recorder, you can record your screen activities with no limit.
* Apowersoft iPhone/iPad Recorder enables you to connect your phone to computer wirelessly.
* No editing tool is offered.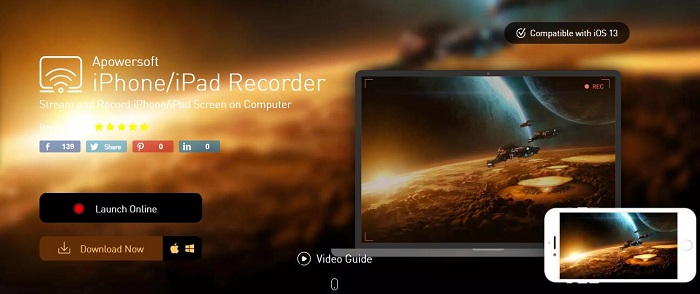 10. dr.fone - iOS Screen Recorder
Dr. Fone is also a professional tool for active users to easy mirror while recording. It is a wonderful app used for presentations, education, gaming, business and other recording needs. With a simple click, Dr. Fone will start to record your screen and help you create high resolution screen recording video.
* It supports on multiple iOS devices.
* Your output video file will not be saved in your Photos library so that you don't need to worry the file may occupy your iPhone storage.
* You need another editing software if you want to edit your screen recording video.
* The software doesn't available for Mac OS.

In the End…
Here are the best iOS screen recorder apps for iPhone and iPad. There are tons of tools out there to help you create an amazing screen recording. All you need to do is to pick one that satisfies your needs and start to capture your gameplay footage or record your presentation. Hope this article can help you figure out which screen recording app can assist you in producing creative screen recording contents. And don't forget to share this article with your friends if you find it helpful.
Excellent

Thanks for your rating.