When Mac Miller died, Ariana Grande suffered from cyber violence. After a hard time, Ariana Grande opens a new chapter with "Thank U, Next", a song about gratitude, growth and embracing oneself. The amazing song was released on November 3, in which Ariana Grande mentioned her previous love affair with Pete Davidson, Big Sean and her late ex-boyfriend Mac Miller.

Ariana Grande's "Thank U, Next" music video was released on November 30, 2018, which references the films Mean Girls, Bring It On, 13 Going on 30 and Legally Blonde.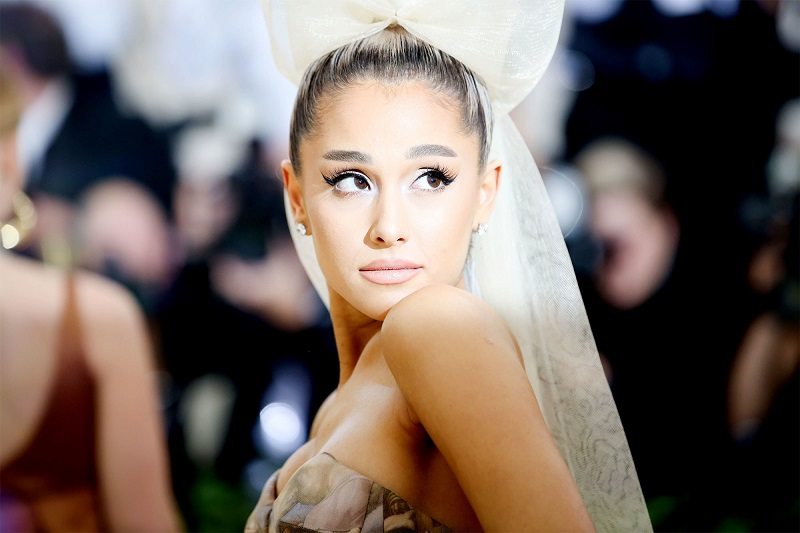 Do you think it is troublesome to open the YouTube page to view the YouTube music video of "Thank U, Next" every time? Besides, there are annoying advertisements and there must have a stable network to load a high-quality music video. To help overcome this, today's post shows you a way to simply download Ariana Grande YouTube videos so that you can easily watch them offline.
Part 1. Ariana Grande "Thank U, Next" Set A Record High on YouTube
It is reported that when the music video was first premiered on YouTube, 829,000 viewers watched and participated in the live premiere, making it the largest viewers since YouTube Premiere launched as a record high.

YouTube said on 1st December that Ariana Grande's "Thank U, Next" video broke YouTube Record for Most Views in 24 Hours. On the first day officially released on the YouTube, it received 55.4 million viewers, exceeding the 45.9 million hits of BTS's "Idol" music video, the previous record-holder.

It also became the fastest Vevo video that reached 100 million views on YouTube within just three days and 10 hours, surpassing Taylor Swift's "Look What You Made Me Do", which took 2 hours more to reach that milestone.

Part 2. Can I Download Ariana Grande YouTube Songs to Mobile?
You can download Ariana Grande's "Thank U, Next" YouTube songs with VidPaw in desired formats with optional quality. Read on for more details.

The Best YouTube Downloader - VidPaw

VidPaw is one of the best and free downloader, as long as you got the URL of the online videos/audios, you can download them from YouTube easily. As the VidPaw has added a search function on its page now, you can also search for Ariana Grande's songs on VidPaw directly.
Amazing features of VidPaw
1. Download Free Video/Audio from 1,000+ Sites
Except for YouTube, VidPaw also supports to download online video and audio files from other 1000+ sites, including Facebook, Instagram, Dailymotion, Vevo, and so on. Here's a list of VidPaw supported sites.

2. Online Video Searching and Streaming Function
As VidPaw has been up-to-date now, you can search for online videos and streaming them on VidPaw directly. Just enter the title or URL of the online video to the search bar on VidPaw, you can get it within seconds.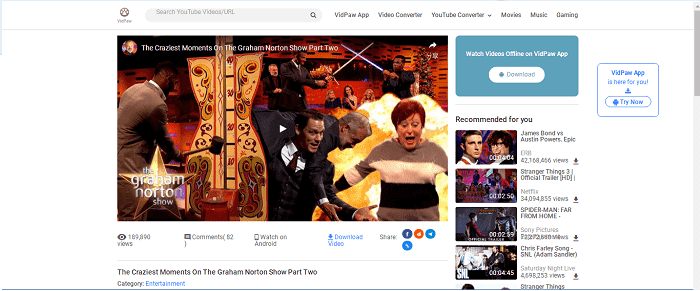 3. Customize your language version
VidPaw speaks 9 different languages: English, Français, Português, Español, Deutsch, 日本語, русский, 中文简体, and中文繁體.

4. Full Platforms
VidPaw is supported to run on any browser and at any platform, no matter you are using Windows, Mac or Linux, Android, or iPhone.

5. Optional Various Formats and Quality

| | |
| --- | --- |
| Video Formats | MP4, WEBM, 3GP |
| Video Quality | 144p, 240p, 360p, 720p, 1080p, 2K, 4K,8k |
| Audio Formats | MP3, WEBM, M4A |
| Audio Quality | 64kbps, 96kbps, 128kbps, 256kbps, 320kbps |
Download Ariana Grande YouTube Songs on iPhone/iPad
STEP 1. Download Documents on iPhone/iPad
At first, iPhone/iPad users need to go to App Store and download Documents. Then launch the app and open the Documents' built-in browser. In the browser, move to YouTube and browse the YouTube Ariana Grande YouTube songs you'd like to download.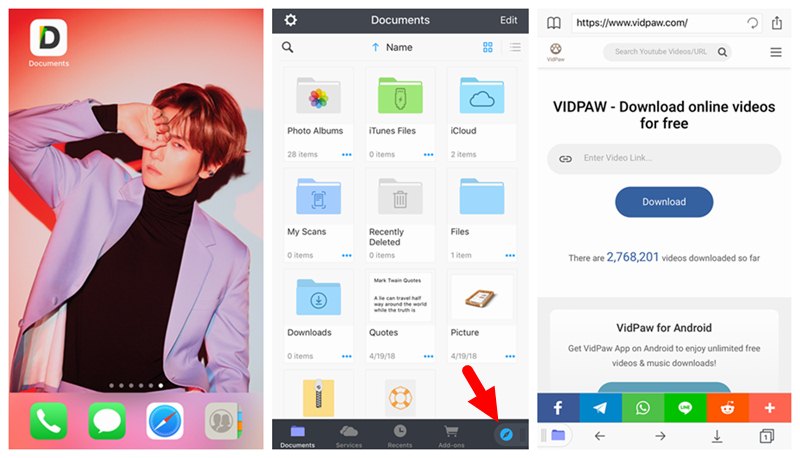 STEP 2. Copy and Paste the Ariana Grande YouTube Songs Link
Directly copy the link of the Ariana Grande YouTube songs and paste it to the bar on VidPaw interface. Then just tap on the "Download" button to load the video information. When the refreshed page is loaded, you can choose the audio or video format according to your needs.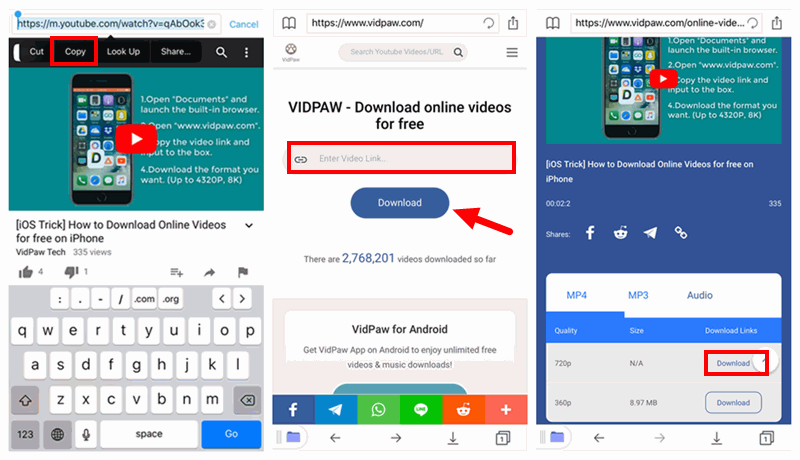 STEP 3. Download and Enjoy Ariana Grande YouTube Songs Offline
Tap on the Download button to start downloading the Ariana Grande YouTube songs.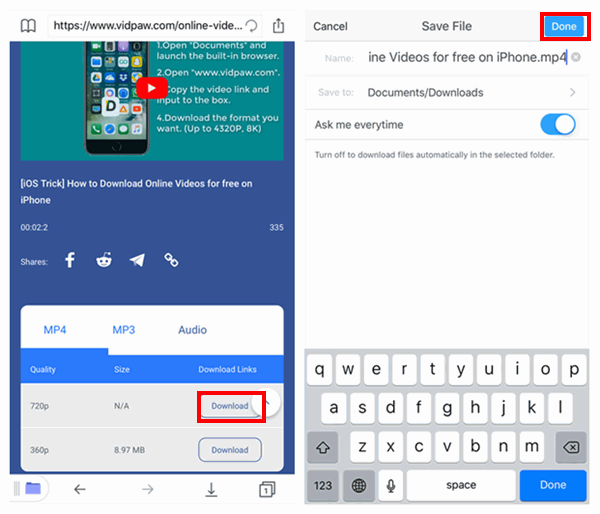 Download Ariana Grande YouTube Songs on Android
STEP 1. Go To the Ariana Grande YouTube Songs in Browser
Open the browser on Android and go to the Ariana Grande YouTube songs you want to download. Copy its URL from the top address bar.

STEP 2. Paste the link to VidPaw
Go to VidPaw homepage. Paste the link of the Ariana Grande YouTube songs into download box and tap on "Download" button. Then VidPaw will find the video and refresh the page instantly.

STEP 3. Select your desired quality
You can select your desired quality and tap on the Download, then the video will pop up in the new window. Just press the video long enough to click on saving the Ariana Grande YouTube songs from the pop-up menu.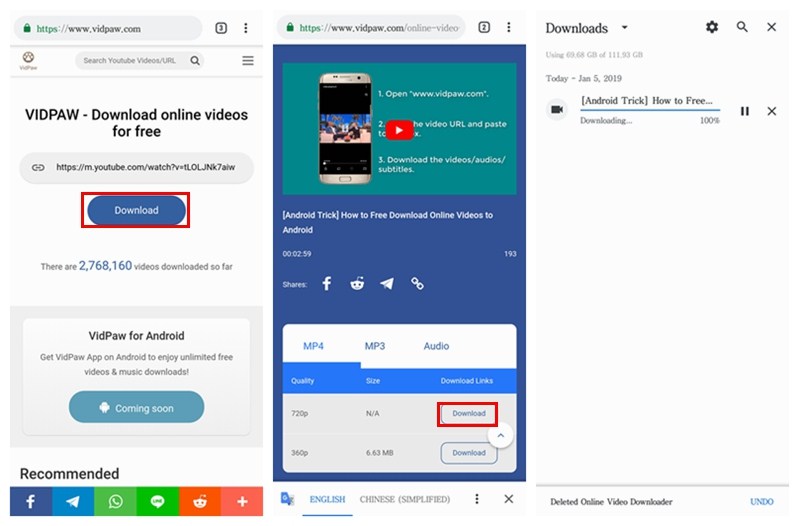 STEP 1. Move to the Ariana Grande YouTube songs video site you want to download (iPhone/iPad users should enter the site in Documents application).
STEP 2. Change the URL into www.youtubepaw.com.
STEP 3. Press Enter, and you can go to VidPaw to download the Ariana Grande YouTube songs directly. Select the format and quality that you want. Hit on the button "Download"

NOTE: This method is only available for the videos from YouTube at present.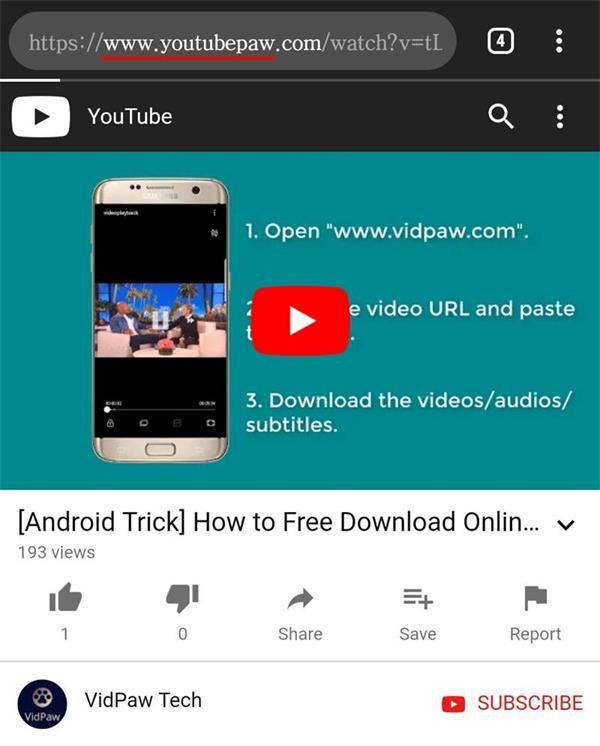 Part 3. Download Ariana Grande YouTube Songs to PC with Extension

STEP 2. When the installment of Tampermonkey extension is completed, now you need to install VidPaw extension as well. Just click here: VidPaw Extension and follow up the instruction to finish adding VidPaw extension to your browser.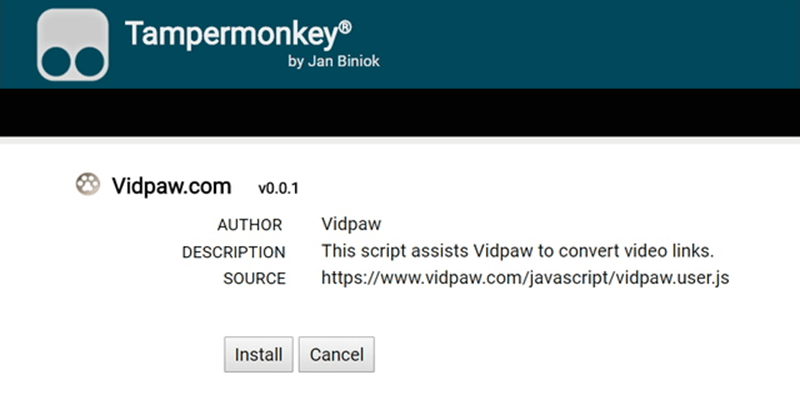 STEP 3. Open your browser and head to YouTube.com to find your desired Ariana Grande YouTube songs. Open the video page and scroll down, then you can see a VidPaw icon under the video now. You can download the song to your PC by clicking the icon.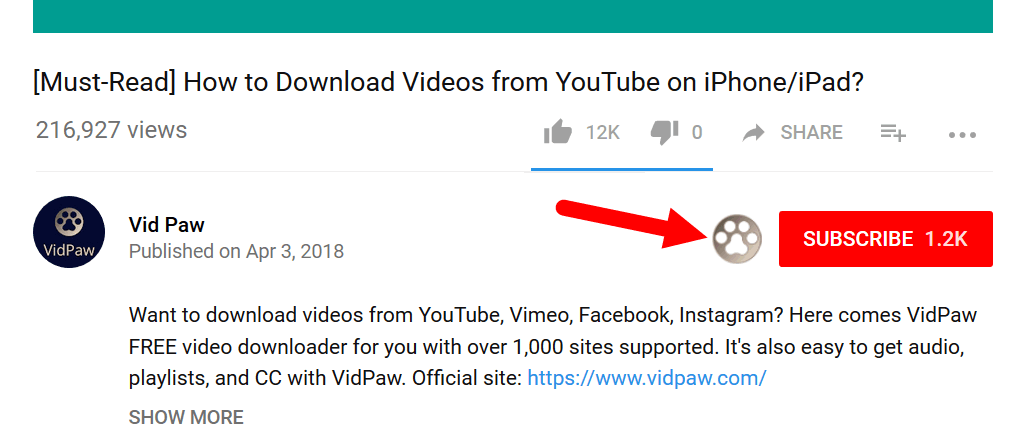 The above ways can help you download Ariana Grande YouTube songs on different devices. Now, just follow these detailed steps and you can say goodbye to Internet buffers and annoying advertisements via VidPaw.


Published on January 17, 2019