In the society, there are many inspiring movies, and such kind of movies always can attract a great number of fans because they portray upbeat characters and deliver motivational spirits, which encourages a generation to fight for their dreams and pursuits. Sing is a movie in this category. Released in 2016, Sing describes a story about the protagonist's efforts to revive his theatre by holding a competition and the participants' enthusiasm and devotion to chase their dreams.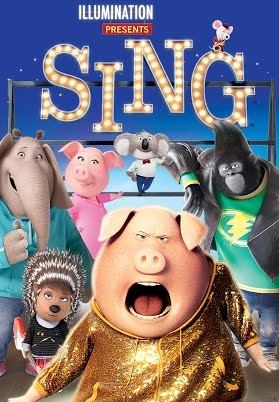 If you are an entrepreneur trapped by capital, if you are disappointed in a relationship, or if you are troubled by the difficulties in your life, this movie may give you the warmest comfort. With great meaning, this movie received praise of each of its aspect even though its plot is typical of the traditional style. Especially for its music, Sing won the outstanding music supervision award at Hollywood Music in Media Awards. Therefore, this blog would like to provide a free pathway for you to enjoy the Sing soundtrack online.
Part 1. 'Sing' Movie Introduction
Sing is a famous American computer-animated musical film which demonstrates that a koala Buster Moon (played by Matthew McConaughey) wants to save his theatre by the means of hosting a singing competition. As expected, this competition attracted many animals. After audition, several animals who respectively face annoyance and obstacles from life are selected.
Although the participants' situations are negative, they remain optimistic and finally make a big show. They never give up their dreams, strive to overcome the difficulties, and make great performance in the competition. Eventually, their performance impresses the audience, and due to the financial rewards, the theatre is rebuilt, renovated, and reopened.
Part 2. Full Album of 'Sing' Movie for Free Streaming
As mentioned, the Sing movie soundtrack has gained great popularity and success. No matter that you want to listen to the Sing soundtrack occasionally or that you are a fan who would like to collect them as your favourite, the full playlist of the Sing soundtrack below will definitely help you in that by tapping the first link, you can listen to the song and by tapping the second one.
Full Album of 'Sing' Soundtrack
Stevie Wonder & Ariana Grande

4

Let's Face the Music and Dance

Seth MacFarlane

Scarlett Johansson & Beck Bennett

Reese Witherspoon & Nick Kroll

Nick Kroll & Reese Witherspoon

15

Don't You Worry 'bout a Thing

Tori Kelly

16

Golden Slumbers/Carry That Weight

Jennifer Hudson

Have you also fallen into the attractive soundtracks of La La Land movie? The production of these soundtracks get really good comments from the public. Stream them for several times if you really like! Enjoy!