How to Record a Movie from Screen on Mac
Streaming movies is part of many movie lovers' daily lives to kill their time or relax. It may be difficult to keep on a smooth video stream because you cannot guarantee that you will always be in a good network environment. Fortunately, you can now record a movie on Mac or PC to enjoy them at any time by using video recording or capturing software. But relatively speaking, there is fewer recording software to capture screen on the Mac system than for Windows. Today, this article will introduce 2 ways for you to record movies on Mac conveniently.
Method 1. Record a Movie Using Screen Recorder
The first approach that should be highly recommended for Mac users is to record a movie with RecordeAnyVid, a remarkable program that allows people to record all kinds of screen activities on Windows and Mac without hassle.
4 reasons to choose RecordAnyVid to record your desired movie on Mac:
Both Windows and Mac versions are available for easy and high-quality recording;
Record all screen activities such as movies, TV shows, gaming, online videos, etc.;
Capture the screen and save recordings in mainstream formats such as MP4, MOV, MP3, WMA, etc.;
Highly advanced preferences settings provided for people to customize some functions as they like;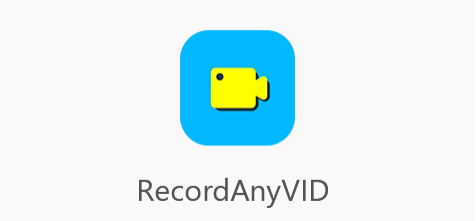 Now I'll walk you through how to record movies on your Mac using this powerful screen recorder, RecordAnyVid.
Step 1. Download and install RecordAnyVid on your Mac and launch it for pre-setting before you play the movie.
Note: RecordAnyVid provides both free and paid service, but the free version only allows you to record videos for up to 3 minutes. To record the full movie, you should subscribe to the registered version.
Step 2. Choose "Video Recorder" once you have entered the interface. Here you'll find there are four options for you to customize. If you want to record the entire screen, select "Full" in the display section. If you just want to record a specific area or window, click "Select Region /Window" and freely draw the capture frame to select the area you want to record by dragging the mouse.
Note: Except for DISPLAY and System Sound, the other two setting options are turned off by default. There is no need to change the default settings when recording a movie from the screen on your Mac.

Step 3. After setting, click the "REC" button to start grabbing the screen. A recording toolbar will be available at the lower right corner of the screen during the recording so that you can pause or terminate the recording at any time.
Note: If you are playing the movie on a full screen, you can choose to hide the floating panel using hotkeys.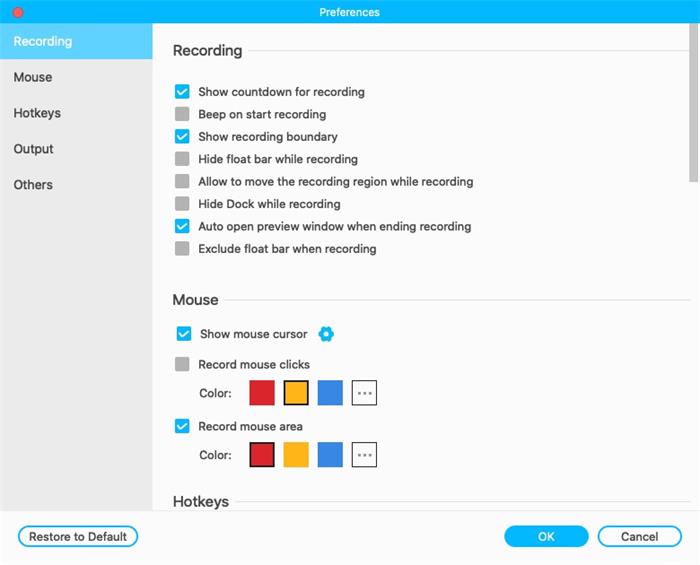 Step 4. Click the red button or tab Ctrl+Alt+S (or your preset hotkeys) to finish the recording once the movie is ended.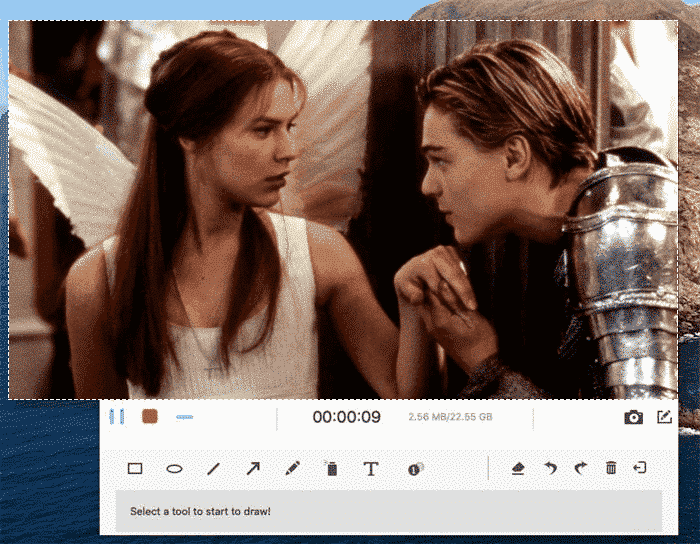 Step 5. After processing, you can preview and crop the video that is presented on the pop-up window. Then you can rename the video as the movie title and then click "Save" to store the recorded movie on your Mac.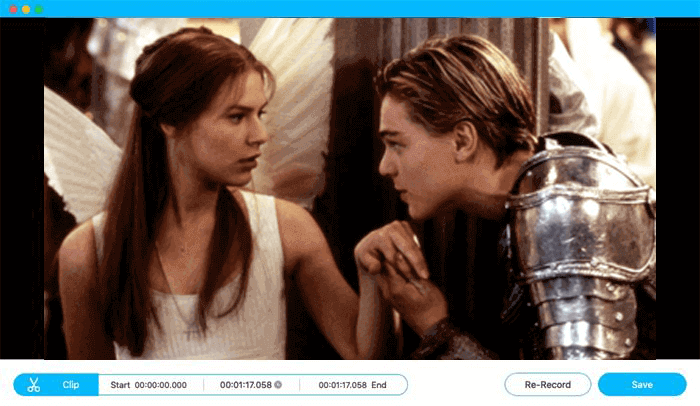 Method 2. Record a Movie Using QuickTime Player
Another way to record a full movie on your Mac is to use the QuickTime Player, which has been pre-installed on your Mac. It enables you to play, edit and share audio and video files freely.
The following part will show you how to create a new recording using QuickTime Player on Your MacBook to capture the movie when you are playing it.
Step 1. Searching for QuickTime Player in Launchpad and launch it to get ready for the movie recording.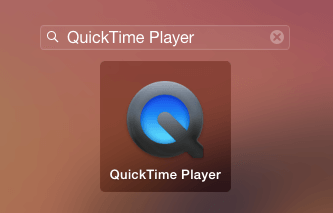 Step 2. Once you're in Quicktime, click "File" and select "New Screen Recording".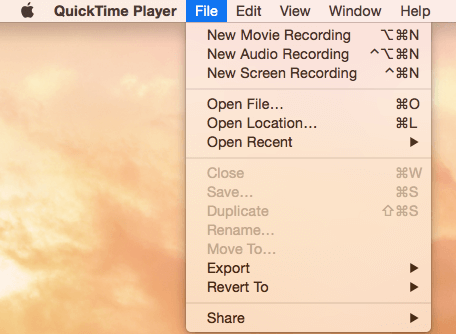 Step 3. Press the down arrow next to the "Record" button to customize the following recording options:
Microphone: Choose "Built-in Microphone" to record the movie on Mac with sound.
Options: Ignore this option unless you want your clicks to appear as a circle when recording the movie from the screen.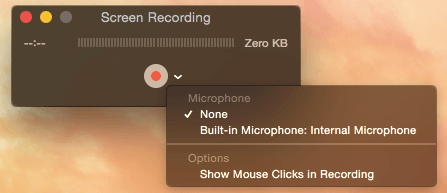 Step 4. Navigate to the movie that you want to record and click the "Record" button to choose the recording region.

Step 5. When the movie is over, simply click the "Stop" button in the menu bar to finish the recording. Then click "File", press "Save" to save the movie to your local folder.
Tips: Download Online Movies in HD with Video Downloading Software
Most movies are longer than 90 minutes, which means that it will take a long time to keep the movie windows in the front when you are recording a complete movie. In this case, directly downloading some free movies would be another great solution. Here I'd like to recommend VideoHunter as your first choice.
VideoHunter is a professional video/audio downloader which offers the best video download service for both Mac and Windows users. With this video downloading tool, you can easily save movies or videos from 1000+ video sites with high output selections, which can be up to 8K output quality and audio with 320kbps in maximum.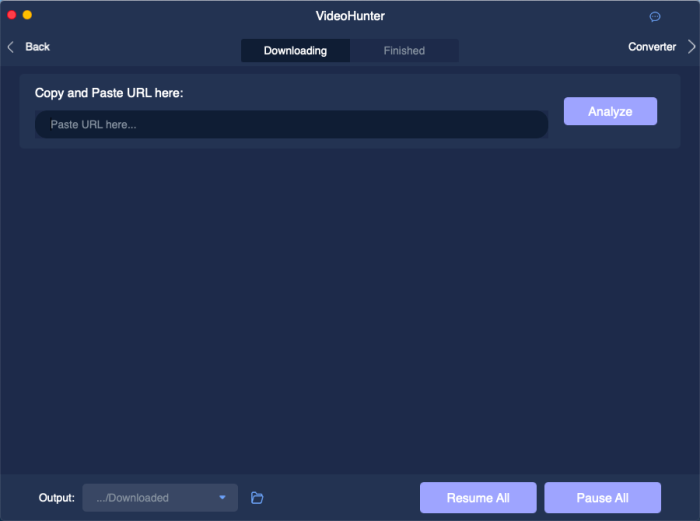 Downloading online movies for offline playback only requires 3 simple steps with VideoHunter.
Step 1. Copy the URL of the free movie and paste to the insert bar of VideoHunter.
Step 2. Select the desired output quality from the options provided by VideoHunter.
Step 3. Wait for the download to be completed and then you can enjoy the downloaded movie on your computer.
You may want or need to record some movies for viewing again on your Mac or PC when you find the interesting ones. Now you can do it without any limitation with the above tools. Enjoy a smooth movie playback on your Mac anytime and anywhere!
Topics:
Record Movie
RecordAnyVid
Screen Recorder
Excellent

Thanks for your rating.
RecordAnyVid
View Plan Options