How to Record Desktop Video and Audio for Free on Windows 10/Mac
During this unexpected and important period of COVID-19, most of our time will be spent at home with our computers. No matter you are a businessman or a student, you are inevitably involved in the use of online technologies. For example, if you are a student, you are asked by the school or university to take online classes. For businessmen, you will need to go through all the business materials and tasks with your colleagues by holding video conferences remotely.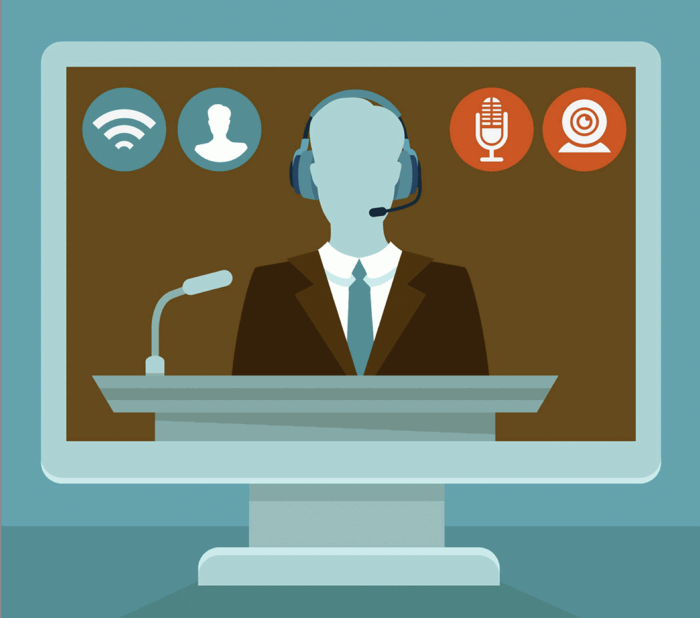 However, there will be some issues. What if we don't pay attention to one important moment during our meetings? What if we are the people who are responsible for recording the meetings? What can we do to ensure the accuracy and completeness of the meetings? The first approach that you can think of will be finding a tool to record the meeting after gaining the permission of the host of the meeting. So, what is the tool that can satisfy your needs? Check the following content for answer!
Part 1. Best Way to Record Desktop Video and Audio with Screen Recorder
In order to help you record a video or audio with high quality, we recommend you a professional and reliable video recorder, RecordAnyVid. As long as your device is Window 10/8.1/8/7/Vista/XP (32 bit or 64 bit) or OS X 10.9 or above, you can use this well-performing app for capturing the screen. The first outstanding feature is that RecordAnyVid designs an easy-to-use user interface which explicitly guides you to manipulate the app.
Some other significant features of RecordAnyVid are:
Easily record online video conferences in popular platforms like Zoom, Micrsoft Teams, and Skype;
Output videos and audios to ideal quality in formats of MP4, MOV, AVI, MP3, WMA;
Screenshot images in PNG, JPG, GIF, etc.;
Edit your videos and audios in real-time with various effects such as drawing, adding texts, and mosaic;
Customize recording area and volume in own preferences;
Direct your audience by adding a mouse click effect for making perfect video tutorials;
Although I claim that it is very easy to use, you will be clearer about this fact by following me to manipulate this app once.
STEP 1. Install RecordAnyVid
The step before using something is definitely to equip something. Therefore, choose the appropriate RecordAnyVid for Mac/Win to download and install it at first. Here the download buttons are offered to you.
STEP 2. Select Recording Area
Next, please open RecordAnyVid on your device. After you get to its user interface, please select Video Recorder. Subsequently, RecordAnyVid will show you a frame consisting of imaginary lines. You can adjust the size of this frame to set your recording area.

Once you have aimed at the area, you can also complete other adjustments of like customizing the volume of the system as well as microphone sound.

After you set the sound, you can click on the REC button in red to start recording. While recording, don't forget to make full use the real-time editing feature to paint and polish your video. The REC button can also stop recording a video. Therefore, if you think you finish recording, press the REC button again.

STEP 4. Save the Recording
Next, you are able to save the video in a destination folder that you prefer by clicking the Save button in the previewing window. Furthermore, you can share the video to your friends via social media platforms like Facebook and Instagram.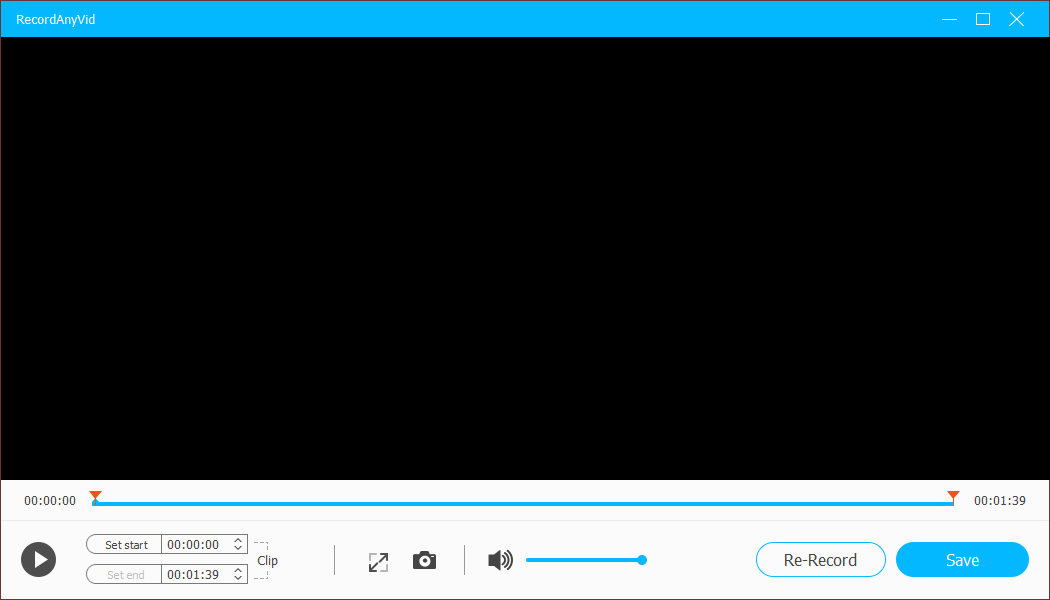 Video Tutorial for Instructions of Using RecordAnyVid
If you think the above instruction is too general for you, it will also be fun to follow this video tutorial to learn using RecordAnyVid.
Part 2. How to Capture/Record Desktop Video Using VLC Media Player
Another video recorder app that is worth mentioning is VLC Media Player. VLC allows you to customize the skin and add extensions to the browser, which will be convenient for users to use. It runs on many platforms such as Windows, Linux, and Mac.
Similar to RecordAnyVid, VLC Media Player provides you a simple user interface with direct buttons indicating what the next step is. So with such intuitive feature, VLC allows everyone to use the program easily. Now, let's see how simple it is to use.
STEP 1. Download and Install VLC Media Player
Please navigate to the official website of VLC Media Player. Here, you can download VLC Media Player for your device. From the drop-down list of download choices, you will have different options according to your operating system.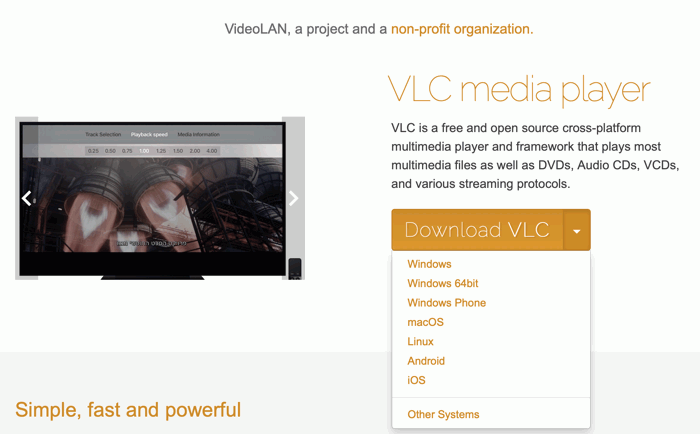 STEP 2. Start Using VLC Media Player
Next, please activate VLC Media Player on your desktop. In VLC, please click on Media >> Open Capture Device from the top menu. Then, VLC Media Player will display a small window named Open Media. Please refer to Capture Mode under the capture mode option of this window.
From the drop-down list of capture mode, please choose Desktop. Next, please move to Options where you need to select a frame rate for the video recording. We recommend 10 f/s to be the ideal choice if you are recording videos playing at a normal speed. Subsequently, please tap Play >> Stream in the bottom.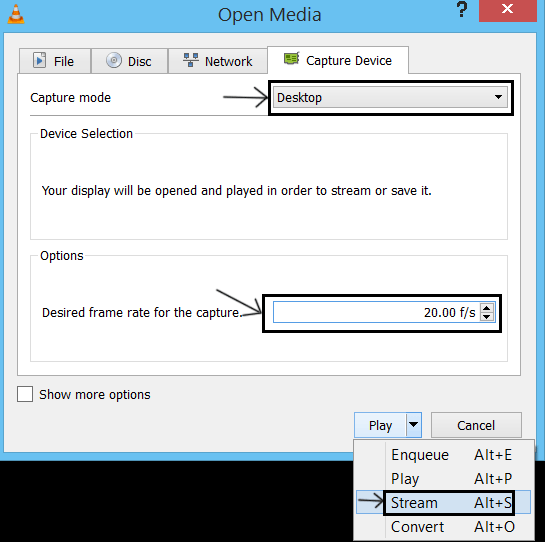 STEP 3. Record and Save the Video
Next, VLC Media Player will pop up a new window of New Destination. Please choose File from the drop-down list and click on Add. Also, please change the name of the file and find one place to save the video. Then please choose the video format and container under Profile option. Tick Activate Transcoding and continue.
The final step for you is to tap Stream and start recording. If you finish, click on the stop button to stop recording and save it locally.

Part 3. RecordAnyVid VS VLC Media Player, Which is Better?
RecordAnyVid and VLC Media Player are different with outstanding features, respectively. VLC Media Player is simple and free to use and gives you the power of customizing skin. RecordAnyVid can be highly compatible with both Win and Mac systems and is powerful to output recordings to different formats. Furthermore, RecordAnyVid provides users drawing panel to highlight the videos as they need.
If I have to say which one is better, I will prefer RecordAnyVid because I prefer to make my videos look more fantastic and share to my surrounding people. If you have the same idea with me, use RecordAnyVid to make your videos amazing and share them. Maybe we will meet on one of the video sharing platforms like Facebook or Instagram one day!
Excellent

Thanks for your rating.
RecordAnyVid
View Plan Options