Enjoy MP4 on iPod Through 2 Easy and Convenient Ways
iPod is a portable and smaller size device that is mainly used for enjoying music streaming and video playback. People like carrying a iPod while doing many activities such as doing sports, going to work, or taking a snap. That is mostly because iPod has a smaller and thinner size. For example, the latest iPod Touch 7th generation only has the size that is 123.4mm by 58.6mm by 6.1mm, and weighs 88 grams, which is much smaller and lighter than an iPhone 11. Therefore, iPod just works like the Sony Walker for providing people the easiest media playback experience.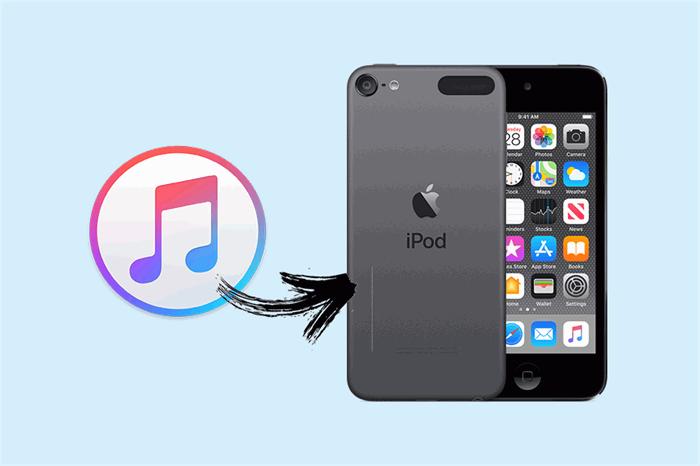 But when you want to import MP4 to iPod for playing, sometimes it may fail. And the reason is mostly resulted from the incompatibility caused by the MP4 video. The method you can solve this failure is to try convert the MP4 format to another supported by iPod. So in the following, 2 easy ways would be introduced to help you handle the issue. Let's see.
Part 1. [Recommend] The Best Tool to Transfer MP4 to iPod
If you want to make the MP4 video play fluently on your iPod, an converter that supports to turn MP4 to iPod supported format is needed. To handle this well, ConvertAnyVid is always the best mean for you.
ConvertAnyVid is a highly compatible converter which can help users convert videos or audios to more than 300 popular formats such AVI, MKV, MOV, MP4, MP3, WMV, WebM, M4V and FLV, etc. without hassle. Not only the clear interface attributes to its convenience, but also the fact that it has divided the countless formats according to devices, so users can choose the output devices directly without considering what formats would be the best.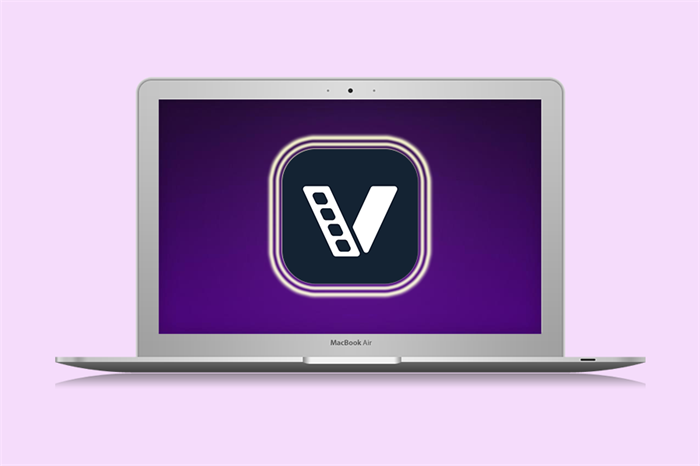 Other than the conversion feature, there are more accompanied tools embedded inside the program to enhance the videos you are going to convert, for example, the video editing tools, preference settings, and so on. For Windows users, an amazing feature should be the acceleration mode provided inside ConvertAnyVid, which can reach 6 times faster conversion speed.
Part 2. Transfer MP4 to iPod Supported Format on PC
After simply grasping the features of ConvertAnyVid, we can also have a look at how to convert MP4 to iPod using this brilliant converter. It takes only simple steps to get the iPod supported format from MP4.
STEP 1. Install ConvertAnyVid on PC
Go to the webpage ConvertAnyVid product and click the download icon to download the right version of ConvertAnyVid for your computer. There are both free and paid versions. For first-time users, the free trial is more recommended.
STEP 2. Add MP4 Video to ConvertAnyVid
Then, launch ConvertAnyVid on your computer. As you can notice the "Add File" option in the menu bar, give it a click and browse your computer to choose the MP4 video you want to convert to iPod. After selecting the video, click "OK" to submit adding into the program.
Note: It is convenient that directly dragging the video to ConvertAnyVid interface can add it simply.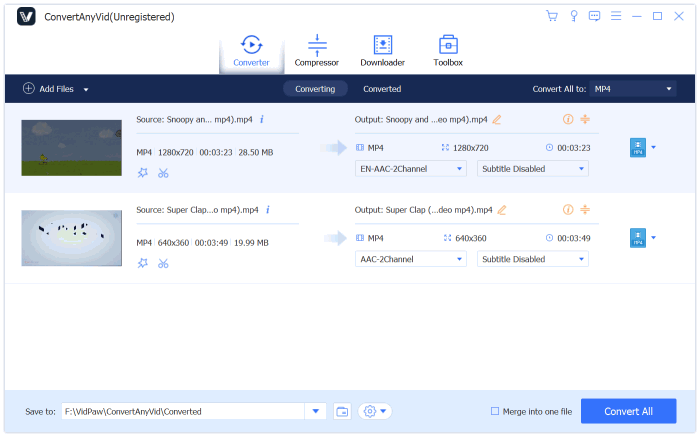 STEP 3. Select Output Device - iPod
Then, let's go to the "Convert All to" section, where by dropping down the menu, you can choose the output format for the video. Move to Apple devices, and you will surprisingly notice that ConvertAnyVid has also allowed you to select the output device directly. So just choose iPod and the program will convert the MP4 to the format that iPod supports.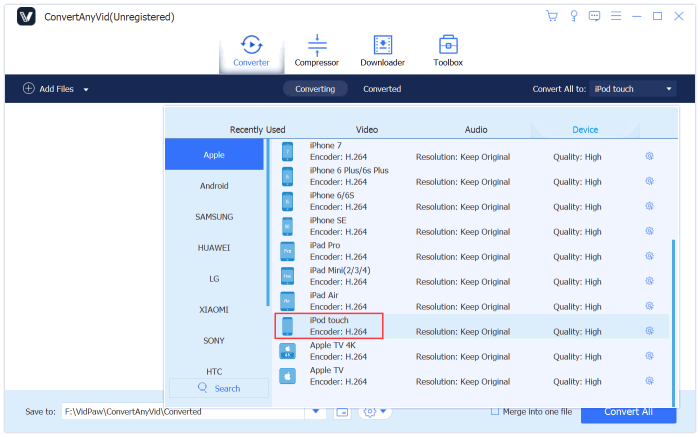 STEP 4. Convert MP4 to iPod
The final step here now! You just need to click the icon of "Convert All" to begin to convert the MP4 video to iPod supported ones. When finishes, you can get the videos for directly converting to iPod.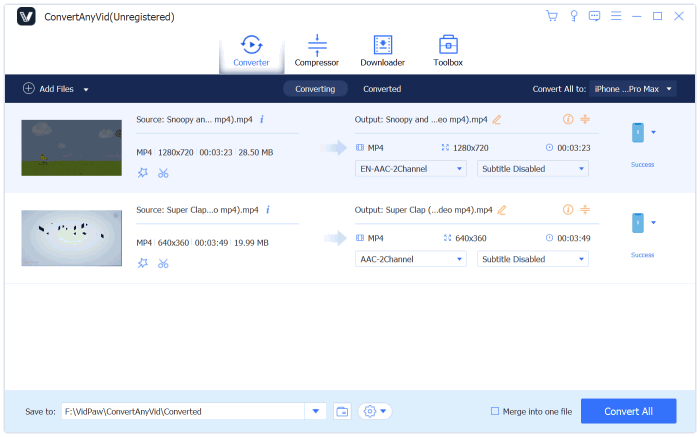 [Guide] How to Transfer MP4 to iPod for Playback
When you get the MP4 files converted to the iPod supported formats, you can transfer the files to your iPod for immediate playback. The steps are simple as you can see below.
STEP 1. Connect your iPod with the computer using an USB cable. After that, open iTunes on your computer and sync the data of iPod with it.
STEP 2. After opening the interface of iTunes, you need to click "File", then "Add File to Library". Then a window will come up and allow you to select the files you want to import. After getting to the location of your MP4 videos, select them and click "Open" for adding.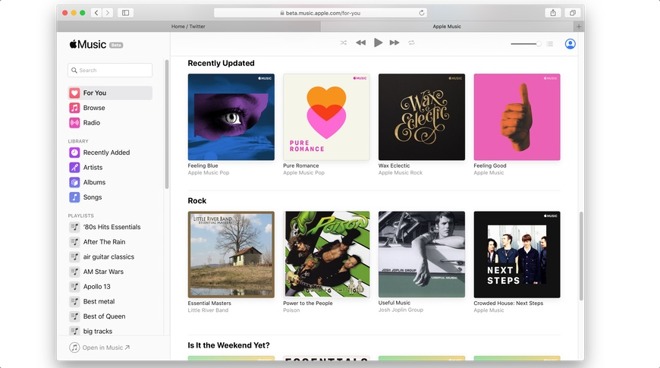 STEP 3. Then as you have connected to your iPod, the data will be synced automatically, with the converted MP4 videos. If you find that iTunes is not working properly to sync data with iPod, you should click the iPod icon in the iTunes Devices menu to manually start the synchronic.
STEP 4. If you are going to sync music, go to "Music" section in iTunes and click "Sync Music" and "Include Music Videos". Or you can heat to "Video Podcasts" or "Movies" tabs to submit "Sync" and "Automatically Include All" options. After that, click "Apply" and all your uploaded videos will be transferred to iPod.
When you get the MP4 videos you like converted to iPod, you can take them to anywhere and enjoy at anytime you want. ConvertAnyVid helps greatly to free the limitations brought by the format playback error. It deserves a try!
Topics:
Audio Converter
Video Converter
ConvertAnyVid
Excellent

Thanks for your rating.
ConvertAnyVid
View Plan Options