How to Install and Register RecordAnyVid on Windows/Mac
Recorder plays a quite important role in people's daily life today. Information and data are just always changing, and there must be a time you want to record the instant messages so that you won't miss some important details. That's how a recorder can help.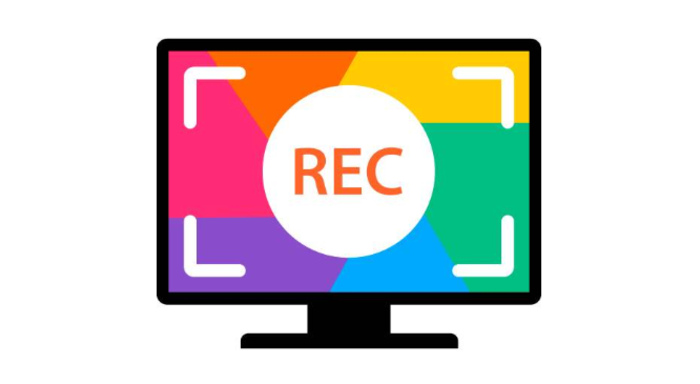 Today, in order to fit people's needs, there are many recorders people can access on the Internet. This also means that choosing an appropriate one from so many recorders is not an easy thing. However, RecordAnyVid just stood out from so many competitors, winning most users' choices. Why? In the next, we would like to introduce this amazing recorder, and teach you the ways to install and register RecordAnyVid for future use. If you are interested in RecordAnyVid, read the post now!
Part 1. Why Choose RecordAnyVid
Why so many users choose RecordAnyVid? The most direct reason is that RecordAnyVid is easy to use, and the quality of its recordings is pretty good.
RecordAnyVid can be used on both Windows and Mac stably, this lays a basic for having the good recording process. With RecordAnyVid installed on your computer, you can get the recordings of all kinds of activities happened on your screen, for example, online videos, blu-ray videos, video calls, gaming screens, etc., can all be recorded by RecordAnyVid easily. In addition, RecordAnyVid also allows users to record just audio if they need, and the output formats support multiple common ones, including WMV, MP4, MOV, AVI, AAC, MP3. M4A, WMA, and so on.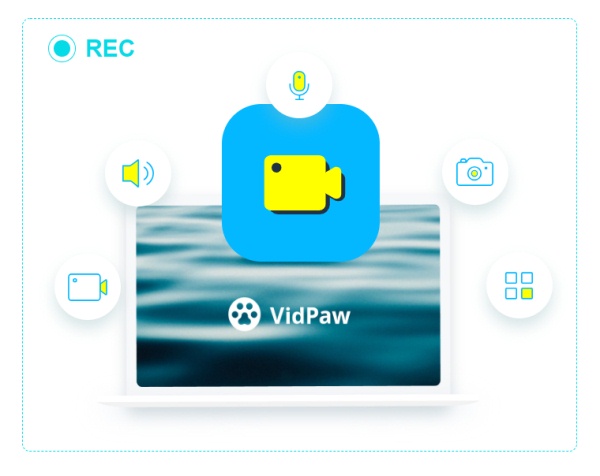 More tools are provided together inside RecordAnyVid to let the recordings to be more perfect. For example, there are many shortcuts users can use to have a convenient recording process; the video recording area can be set at any size just for fitting the original activity; users can also that snapshot by clicking a single button, then save the picture to formats like PNG, JPEG/JPG, GIF, TIFF, and BMP.
Part 2. The Differences Between Free Version and Register RecordAnyVid
If you go to RecordAnyVid's product page, you would notice that there is a free download icon as well as a purchase icon. Why there are two versions of RecordAnyVid? And what are the differences between them?
RecordAnyVid provides a free trial version for people who are the first time accessing and using this program. Users can experience the functions of it at first to see if this recorder is the one they need. If people can't try it for free at first, they may spend unnecessary money on the thing they don't need at all. To avoid this issue, RecordAnyVid sets both free and paid versions for choosing according to users' own need.
There are two main differences between the free RecordAnyVid and paid RecordAnyVid.
Firstly, you would have duration limitation on recording the video, which means that, you can only save the recording for up to 3 minutes if you use the free one.
Secondly, you can't clip the recording before saving it using the free version.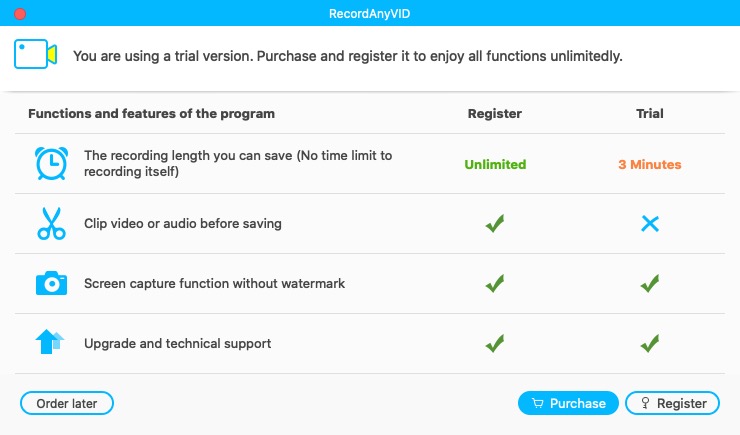 If you want to remove these restrictions and use the full functions of RecordAnyVid, you need to go to purchase the software, then these limitations will all be removed.
Part 3. How to Install and Register RecordAnyVid on Windows/Mac
So how to register the full version of RecordAnyVid if you want to purchase it for using the program freely? Here are the simple steps you should follow to get the registered RecordAnyVid on your computer.
STEP 1. Download and Install RecordAnyVid
Before stating anything else, you should go to VidPaw and find RecordAnyVid product page.
Choose the version according to your device system (Windows/Mac) and click download to download the free version of RecordAnyVid. Then also install it.
STEP 2. Purchase RecordAnyVid
Click the "Purchase" button next to the "Free Download" button, then you will be navigated to purchase the full version of RecordAnyVid.
While purchasing, you need to enter your correct email.
After payment is done, you will receive a license code in your email.
STEP 3. Register RecordAnyVid
Then open RecordAnyVid on your computer.
When you enter the interface, a window will pop up to ask you to register the full version.
Click "Register" and please enter the email you use to purchase the software, and also paste the license code you just got here.
Finally, click "Active" and you can start to use the full version of RecordAnyVid.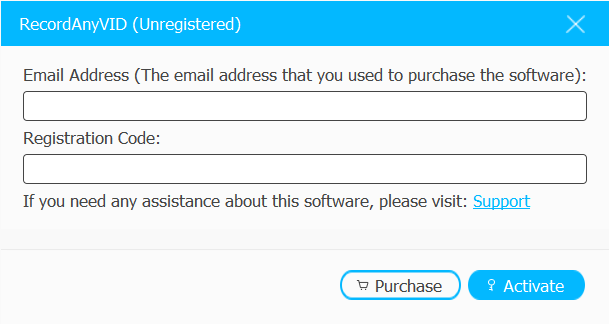 Whether need a full version or not basing on different people's needs. If you have more videos/audios that want to record for more than 3 minutes, you have to purchase the full version. If you just want to record some small video clips that are less than 3 minutes each, then free version is completely suitable for you. So you don't need to waste money on the thing that you don't need.
Anyway, RecordAnyVid is a good recorder for recording any screen activities happened on your computer screen. To save the interesting or important moments, it will always be here to help.
Excellent

Thanks for your rating.