Debut on August 8, 2016, BLACKPINK is a KPOP girl group formed by YG Entertainment, consisting of 4 members. BLACKPINK has not released lots of songs yet but every song of them is regarded as a masterpiece for its wide popularity. For example, their debut song 'Boombayah' is not only their first number-one song in South Korea but also their first number-one hit on the Billboard World Digital Songs chart.

Here comes a question, do you want to download the 'Boombayah' song by BLACKPINK?

Do you know how to download all BLACKPINK songs and videos without any limitation?

As for me, it's not a big task to save all BLACKPINK songs and videos on my all devices. What about you? Next, I'll show you how to make it!
Listen to 'Kill This Love' FULL ALBUM songs while reading this post. ↓
Part 1. A List of All BLACKPINK Songs to Enjoy
Since BLACKPINK debut in 2016, they have released one official album - Blackpink In Your Area and 2 EPs - Squre Up and Kill This Love. Although BLACKPINK just has one album, they still achieve huge commercial recognition and success.


To get a further understanding of BLACKPINK, you can listen to the following playlist to know their charms.
3

'Playing with Fire' (불장난)

5

'As If It's Your Last' (마지막처럼)

11

'Kiss and Make Up' (with Dua Lipa)
Part 2. Free Download BLACKPINK 'Kill This Love' MV to MP4, MP3
On April 4, 2019, BLACKPINK has released their 2nd EP - Kill This Love. The title song 'Kill This Love' sets a new record on YouTube.


According to YouTube, 'Kill This Love' music video is the fastest to gain 100 million views! Moreover, it gained 56.7 million views in 24 hours! Sounds incredible right?
Now, it's time to enjoy the latest BLACKPINK song - 'Kill This Love'!
BLACKPINK - 'Kill This Love' M/V
BLACKPINK - 'Kill This Love' DANCE PRACTICE VIDEO (MOVING VER.)
Part 3. Simple Steps to Download All BLACKPINK MP3 Songs, MP4 Music Videos With Ease
If you ask, how to download all BLACKPINK songs and videos for free, I'll say that VidPaw Online Video & Audio Downloader is the best choice for you.

Since it supports to download online video and audio from over 1,000 sites such as YouTube, Facebook, Twitter and so on, VidPaw can be your best YouTube to MP4/MP3 Converter, Facebook Video Downloader, and Twitter Video Downloader as well.

Moreover, the output settings of VidPaw will never make you down. HD output quality and well compatible output formats like (MP4 for video, MP3 for audio) are totally supported. Most importantly, all download services on VidPaw are 100% free!

Is VidPaw available on mobile devices? Yes! VidPaw is an online tool, helping users to download massive online videos on its website. Therefore, you can feel free to download any video from any site on any device. If you prefer using the application, you can try VidPaw App (ONLY for Android devices).

Next, let's see how to download BLACKPINK songs and videos by using VidPaw Online Video & Audio Downloader.
Way 1. Copy and Paste the Video Link
STEP 1. Go and get the BLACKPINK video link.
STEP 2. Paste the link to the download box on VidPaw site.
STEP 3. Choose a proper output format and quality for your downloaded BLACKPINK song or video.
STEP 4. Click "Download".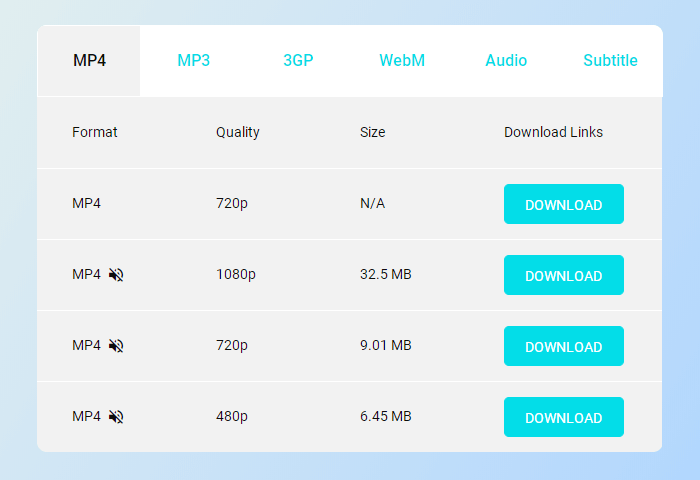 Way 2. Access BLACKPINK Videos on VidPaw
STEP 1. Directly search BLACKPINK videos on VidPaw.
STEP 2. Open your wanted video. > Click "Download Video" on the video page.
STEP 3. Select an output format and quality.
STEP 4. Click the download button.
Way 3. Quick Trick to Download BLACKPINK Songs and Videos (Only for YouTube)
STEP 1. Access BLACKPINK videos on YouTube.
STEP 2. Directly change the video URL on the address bar.
Add "paw" behind "youtube". > Change "m" to "www" for mobile users.
STEP 3. Navigate to the download page of your wanted BLACKPINK video.
STEP 4. Hit the download button.
This is all about how to download BLACKPINK songs and video by using VidPaw with no limit. Have you mastered all these solutions? Let's have a try!