[Solved] How to Convert WebM to MP4 Format Quickly
Due to the development of technology and all kinds of modern ways for saving contents, there are all sorts of media formats and code invented, which are used to store the media contents for convenient transfer. We must be familiar with some common media formats, for example, MP4, WebM, MOV, 3GP, etc. for video, and MP3, M4A, AAC, OGG, etc. for audio.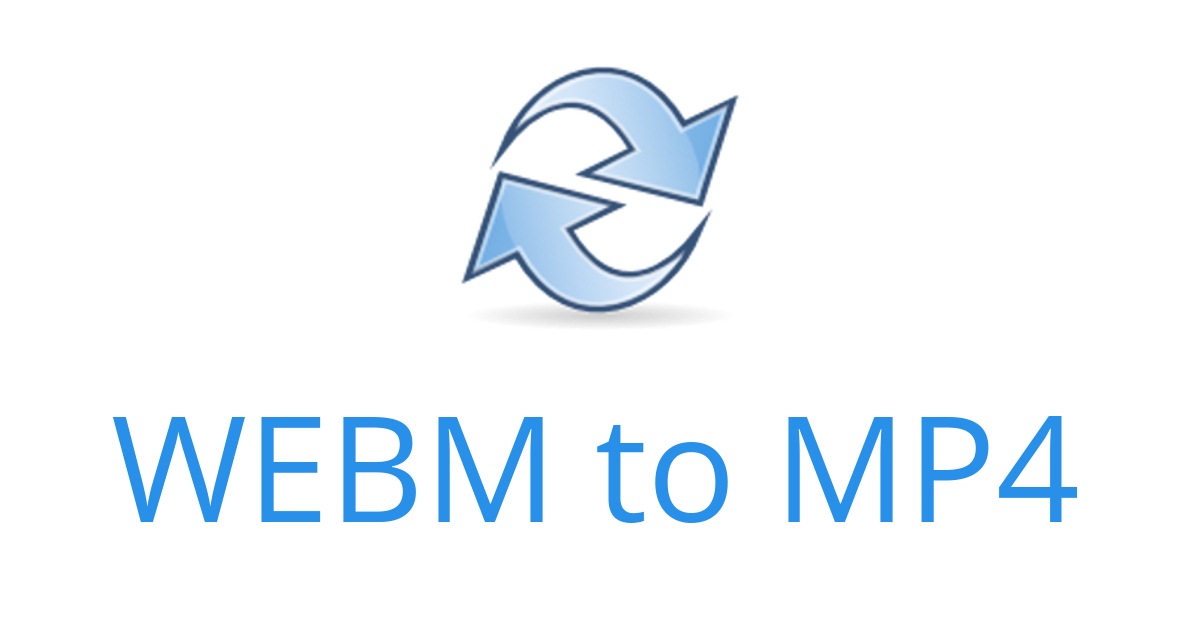 Among all video formats, MP4 can be the most widely-used one, and it is recognized as a standard. Almost all devices, media players, components, will support MP4 format. Although WebM is getting more common in recent years, it is not supported by all programs and devices. There must have some situations when you need to convert WebM to MP4 format. If you don't know how to do it efficiently, this blog is a guide for you. But at first, let's know something about WebM format.
Part 1. What Is WebM File?
Originally, WebM was a project supported by Google, which aims to build a free video file format that is used to improve the compression of the high-quality video, and it can be used cooperated with HTML5.
In 2010, WebM was released officially. Some programs like Firefox, Google Chrome, Opera, and IE, announced that they would support the WebM format. Later VLC, Miro, Moovida, and other several media players also began to support WebM format. Until today, WebM is being available on more and more programs as well as devices.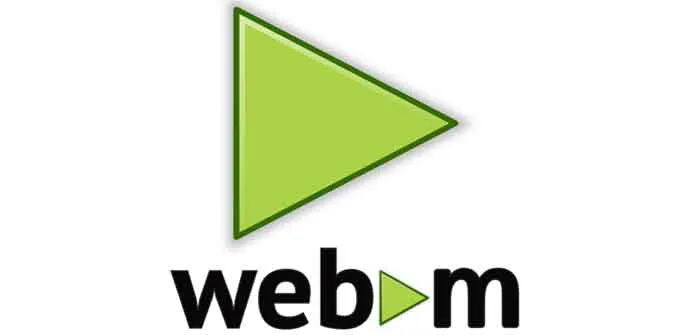 Although the future of WebM would be brighter than ever before, currently, users still find that WebM is not compatible with some media players. This also means that if you need to play the WebM videos, you may need to install a special media player or extension, which can cause inconvenience. To figure out this issue and bring convenience to users, in the next, we would like to introduce a reliable video converter to convert WebM file to MP4 format with really fast speed.
Part 2. How to Convert WebM to MP4 with 6X Faster Speed?
The video converter that can easily convert WebM to MP4 with great quality is ConvertAnyVid. At present, ConvertAnyVid is available on Windows and Mac system, so if you are using any of these two system, you are welcome to download ConvertAnyVid for using.
Why ConvertAnyVid?
ConvertAnyVid supports more than 300+ formats, and users are able to find the most frequently used formats here. When they need, only several clicks are required to get the video files with the formats they need. More importantly, ConvertAnyVid can perform with a really quick speed, no matter its acting fluency, or the video converting efficiency. To our surprise, ConvertAnyVid can reach 6X faster conversion speed with the help of a special acceleration function set in Windows version, without wasting much of your time while converting the file!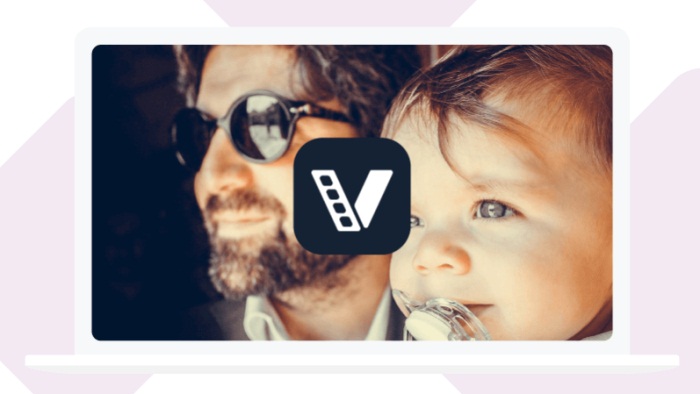 ConvertAnyVid gives free control right to users for making sure the quality of the files is just the one they need. Users are able to get the original quality video even after the conversion is done. You don't need to worry about that the quality will be compressed by ConvertAnyVid after the conversion, especially for those high quality videos such as the 4K and HD videos. ConvertAnyVid ensures you to get the original converted files.
So how to convert WebM to MP4 format with ConvertAnyVid's 6X faster speed? I will show you now.
Convert WEBM to MP4 with ConvertAnyVid
STEP 1. Download and Install ConvertAnyVid
First, go to VidPaw official website and navigate the site to ConvertAnyVid product page. Then select Win/Mac version according to the system you are using now. Then you can also choose to download the free trail version or the subscribed one. Free trail version can only convert video for up to 5 minutes.
STEP 2. Import WebM Video to ConvertAnyVid
After installing ConvertAnyVid on your computer, launch it and open the interface of the video converter. Then drag the WebM video you want to convert to MP4 to ConvertAnyVid directly, or you can select Add File option in the top left corner of the interface to select more than one file.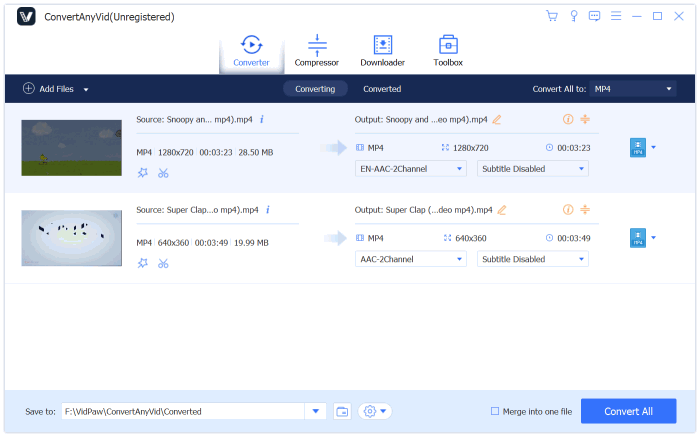 STEP 3. Select MP4 as Output Format
Now please move to select output format in the Convert All to section. Drop down the menu where you can choose from 300+ formats that ConvertAnyVid provides. Find MP4 and directly click to select it as your output format.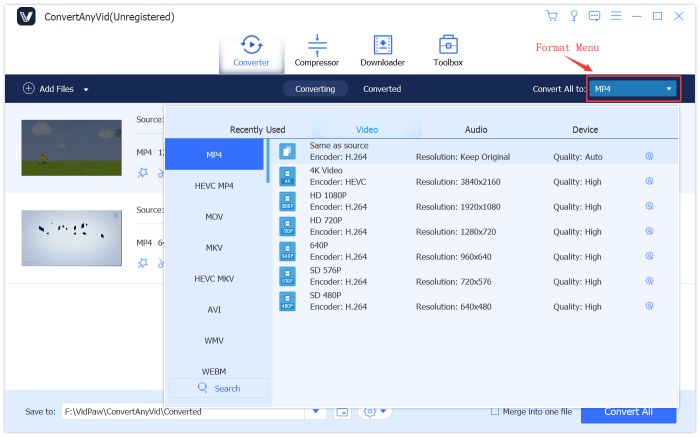 STEP 4. Convert WebM to MP4
When you have selected the output format as MP4, now you can directly click on the Convert All button below to start converting WebM video file to MP4 format! You can reach the output folder after ConvertAnyVid successfully converts the file for you.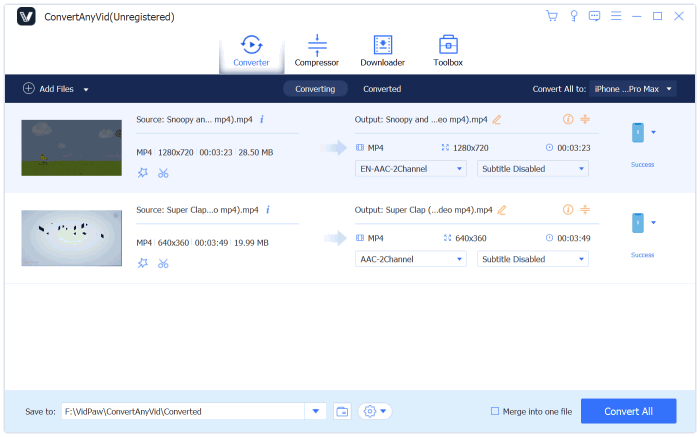 [Extra Way] Easy Access to Convert WebM to MP4 Online
Although ConvertAnyVid is the best choice when we need to convert video files to different formats on Windows and Mac, what if we are not using the devices with these two systems, like iOS and Android? Are there ways we can by virtue of to convert WebM to MP4 online so that we don't need to waste the storage of our devices?
Referring to online video converter, Convertio is the recommended platform to you. Convertio is an all-in-one online platform that offers 8 online converters to enable users for freely using online. For example, Audio Converter, Video Converter, Image Converter, Document Converter, and so forth. Only by operating online, people can easily get their files converted to the form they need. Now let's see how to use Convertio to convert WebM to MP4 here.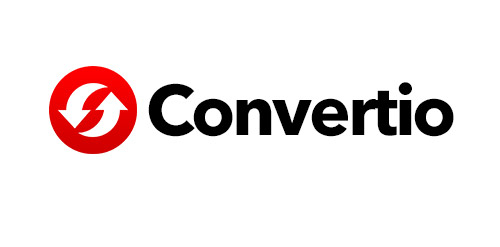 STEP 1. Add WebM Video to Convertio
First, open Convertio in your browser, and choose Video Converter from the toolbar set on top of Convertio interface. When you reach the Video Converter, please click the red box with words Choose Files in the middle of the site. Then Convertio would allow you to browse your computer for selecting the WebM file you want to convert to MP4. When you find the file, just select it and then it will be imported to Convertio Video Converter.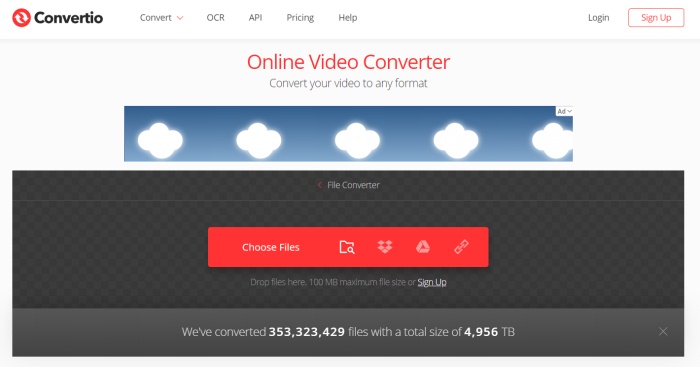 STEP 2. Select Output Format
After the WebM video is imported to the queue and waiting for conversion in Convertio, you can choose the output format by dropping the format selection list right beside the video name. Find MP4 in Video section in the list directly.
STEP 3. Set the Output File
After choosing the output format, a gear icon will show up right beside the format selection menu. You can click on the icon and reset the condition of the output video here.
STEP 4. Convert WebM to MP4
When you have made the settings mentioned above well, now comes to the final step. Directly click on the red Convert button set there, and Convertio will begin to convert the WebM video to MP4 for you. The time that the conversion process costs will depend on the duration of the video you need to convert. So please wait for it patiently if your video is long. After it's done, you can get the converted MP4 video on your device offline.

In the next time, when you need to convert WebM to MP4 for playing the videos in a media player that doesn't support WebM, you can use ConvertAnyVid for help, because it costs less time and can be more convenient. If you have got the convert MP4 video, enjoy it freely!
Excellent

Thanks for your rating.
ConvertAnyVid
View Plan Options